Days after firing head coach Hue Jackson and offensive coordinator Todd Haley, the Cleveland Browns will host the Kansas City Chiefs and their surging, multi-pronged offensive arsenal this Sunday. It's a matchup between two teams that are on opposite ends of the AFC standings; the Browns are trying to right the ship after three straight losses, and the Chiefs are looking to continue to keep their offensive juggernaut rolling in a season in which they have scored at least 27 points every week.
The two teams do have one thing in common though – a promising, young quarterback that stands as a cornerstone for future success. Baker Mayfield and Patrick Mahomes both come into their Week 9 showdown as new starters this season. Mahomes took over the reins from Alex Smith after a "redshirt" year in Kansas City, and Mayfield took over for an injured Tyrod Taylor in Week 3 and has not looked back.
With that, two exciting first-round quarterback selections are set to cross paths for the first time in the NFL. It isn't the first time that the two quarterbacks have faced off, though. On an October night in 2016, Mahomes and Mayfield combined for an FBS-record 1,708 yards of offense. Mahomes set FBS records with 819 yards of total offense and 734 passing yards. Mayfield broke a school record with seven touchdown passes. Together, they combined 133 dropbacks, 124 attempts, 79 completions, 10 big-time throws and 445 deep passing yards. In short, the pair put on a dazzling offensive display in a Big-12 showdown that viewers can only hope to witness again this week.

The two combined for 1,279 passing yards and 12 passing touchdowns under the lights in Lubbock that night. There was no stopping the men throwing the ball for the Oklahoma Sooners and Texas Tech Red Raiders. Mayfield came away with a 94.5 overall grade that week, and Mahomes picked up an overall grade of 80.4, both of which ranked in the top-20 at the position.
Mayfield was extremely efficient, as he was for the entirety of his college career at Oklahoma. Among 117 college quarterbacks with at least 500 regular-season dropbacks from 2015 to 2017, Mayfield ranked first in yards per attempt at 10.8. The next closest quarterback was Logan Woodside with 9.9 yards. His 70.1% completion percentage also ranked first among all quarterbacks over that span, as did his 96.2 overall grade.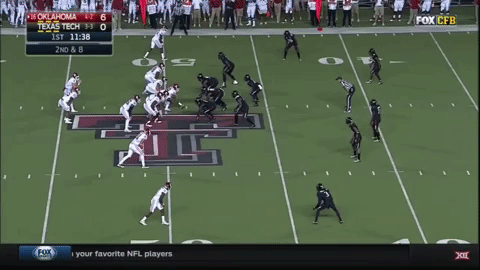 That night against Texas Tech was more of the same for Mayfield. He completed 75% of his passes and averaged a whopping 15.1 yards per attempt, throwing for 545 yards on just 36 pass attempts. He was consistently pushing the ball down the field with an average depth of target of 12.8 yards and that translated to a remarkable night when throwing the deep ball. On passes that traveled 20 or more yards downfield, Mayfield went 6-for-7 for 238 yards and four touchdowns against Texas Tech, on an average depth of target of 37.1 yards. Simply put, when Baker went deep, he went very deep, and he didn't miss.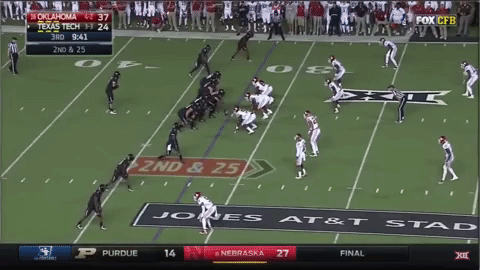 With how impressive Mayfield's night was from an efficiency standpoint, Mahomes' night was equally, if not more impressive from a volume perspective. Including plays that were nullified by penalty, Mahomes dropped back a whopping 103 times against Oklahoma and attempted 95 passes. No other college quarterback has attempted even 80 passes since. Not to mention that he put up all those pass attempts while playing through a significant shoulder separation in his throwing arm and a fractured wrist on his non-throwing arm that he suffered in the first half. Despite that, Mahomes dropped an FBS-high six big-time throws against Oklahoma en route to his 734 passing yards and five touchdowns.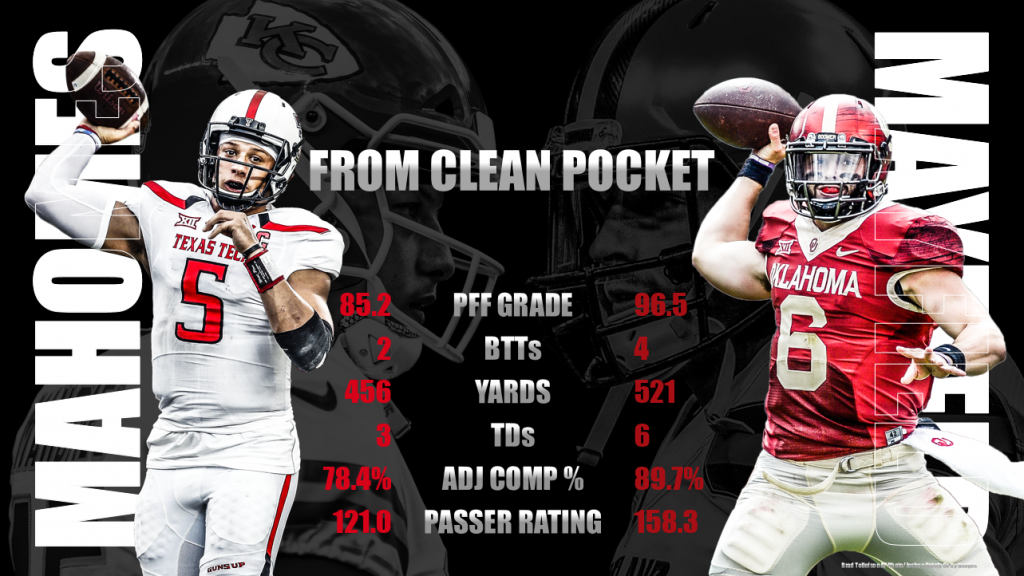 Both he and Mayfield were absolutely lights-out from a clean pocket. Mayfield had an overall grade of 96.5 when he was kept clean from pressure, and Mahomes graded out at 85.2. They combined for a 78.0% completion percentage, 12.1 yards per attempt and a passer rating of 154.0 when pressure didn't get home.
That has translated to their play thus far in the NFL, particularly for Mahomes. He currently leads the league with 22 touchdowns from a clean pocket to go along with only three interceptions. His passer rating of 129.6 when not pressured also leads the NFL.
Meanwhile, Mayfield has much less impressive NFL numbers when kept clean, including bottom-five marks in passer rating, yards per attempt and completion percentage. Those numbers don't tell the whole story, however. Mayfield is actually tied for the league lead with 14 big-time throws when kept clean. He hasn't received much help from his supporting cast, as 14 of his 166 pass attempts from a clean pocket have been dropped which adds up to a league-high drop rate.
On the other hand, when pressure did get home that night in 2016, both quarterbacks struggled a bit. Mahomes graded at 66.0 when passing under pressure in that matchup, while Mayfield was down at 43.1. The key caveat there was that Mayfield was under pressure on just six of his 37 dropbacks. Mahomes, on the other hand, was under more frequent duress. He was pressured on 45% of his dropbacks and displayed a boom-or-bust profile in those situations with four big-time throws to go along with two turnover-worthy plays.
So far in his time in the NFL, it's been a whole lot more boom than bust when Mahomes gets faced with pressure and must improvise. He ranks second in the league in passing grade under pressure, first in passing grade with a time to throw of 3.0 seconds or longer, and first in passing grade when outside the pocket. Mahomes has been a magician on extended plays where he can escape pressure, get outside the pocket, and use his big arm to make big plays down the field.
The tables may be turned for this meeting, as the Browns' offensive line has allowed 76 pressures on the season compared to just 66 by Chiefs' offensive line. Even with that being true, Mahomes has actually been under pressure on a higher percentage of his dropbacks than Mayfield by his own doing. He currently leads all quarterbacks with 20 pressures attributed to himself for holding on to the ball too long rather than the pressures being the fault of any of his blockers. Given Mahomes' success under pressure and extending plays, it's hard to fault the second-year quarterback for trying to make something out of nothing.
Regardless of who faces more pressure on Sunday, the matchup between Mahomes and Mayfield represents an exciting matchup between two quarterbacks who could be faces of the NFL for years to come. That night in Lubbock two years ago has given us a glimpse of the possibilities when the two share the field. Whether or not both quarterbacks play at that level on Sunday remains to be seen, but one thing is certain – round two is worth tuning in for.