In a numbers-driven league, touchdowns, interceptions, and sacks are oft-used to objectively evaluate player performance. Of course, Pro Football Focus goes beyond the box score to provide advanced statistics and grades that more accurately convey how a player has performed in any given game, season, career, etc.
Here, we've looked past box-score totals and unearthed the hidden gems in the PFF databases that are key stats to know following Week 5 of the 2018-19 NFL season.

Gareon Conley benched amidst big-play woes
Oakland Raiders' Gareon Conley, a second-year cornerback, and former first-rounder out of Ohio State, played just 12 defensive snaps in the team's loss to the Los Angeles Chargers in Week 5 after playing 31-plus snaps in Oakland's first four games. Per NBC's Scott Bair, Conley's "starting spot is in serious jeopardy, if not gone already."
Cutting the cord on Conley is likely a product of the seven passes of 15-plus yards he's allowed this season, but his veteran teammate, Rashaan Melvin, has allowed eight such passes and remains in the starting rotation. Conley also ranks tied-sixth in catch percentage allowed (45.5) and tied-13th in passer rating allowed (62.3) among qualifiers.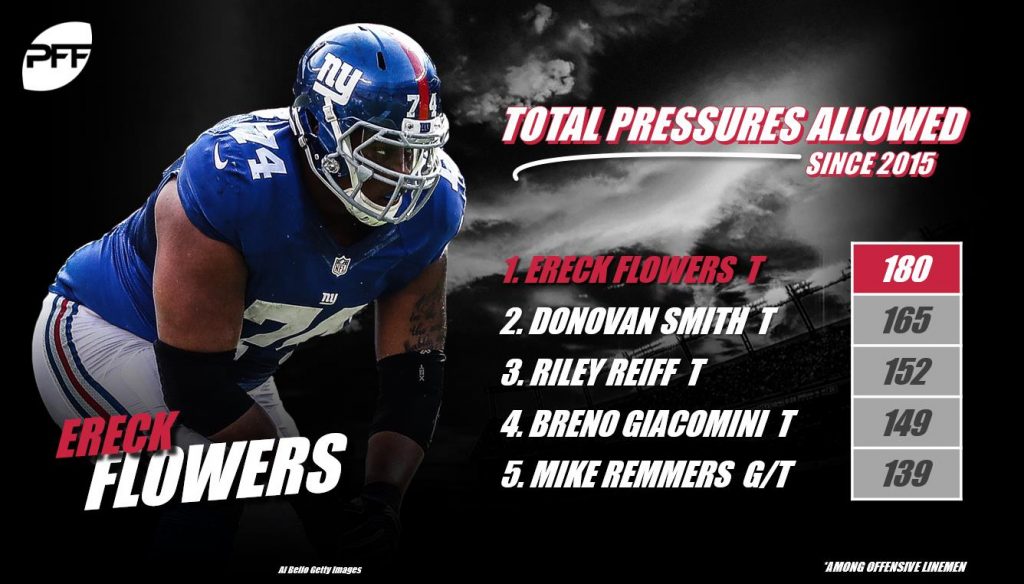 Ereck Flowers is leaving the Big Apple
Per ESPN's Adam Schefter, the New York Giants will either trade or release four-year veteran offensive tackle Ereck Flowers by 4:00 p.m. ET on Tuesday. Parting ways with the former first-round pick is the right decision, as Flowers has allowed the most pressures (180) of any offensive linemen in the NFL since the start of the 2015 season.
RELATED ARTICLE: Ereck Flowers is on his way out of New York, and for good reason
Vikings' Dalvin Cook is doing it all by himself
Second-year running back Dalvin Cook, a former first-round pick out of Florida State, leads the 75 NFL skill players with 30-plus touches in forced missed tackles per touch (0.400) through Week 5. However, he ranks dead last among the 56 running backs with 30-plus touches on the season in yards before first contact per attempt (0.19). In fact, he has rushed for a league-low seven yards before first contact this season.
Case Keenum at his best running play action, but he doesn't run a lot of play action
Dating back to last season, new Denver Broncos quarterback Case Keenum has recorded a 112.2 passer rating on play-action dropbacks, which ranks eight among the 47 quarterbacks with at least 25 play-action dropbacks in the last two seasons (2017-18).
Despite Keenum's success on such dropbacks, Denver has run play action on just 16 percent of his dropbacks this season – the fourth-lowest percentage among qualifying signal-callers. His passer rating on standard dropbacks (69.9) is also 53 points lower than his passer rating on play-action dropbacks (129.9) in 2018.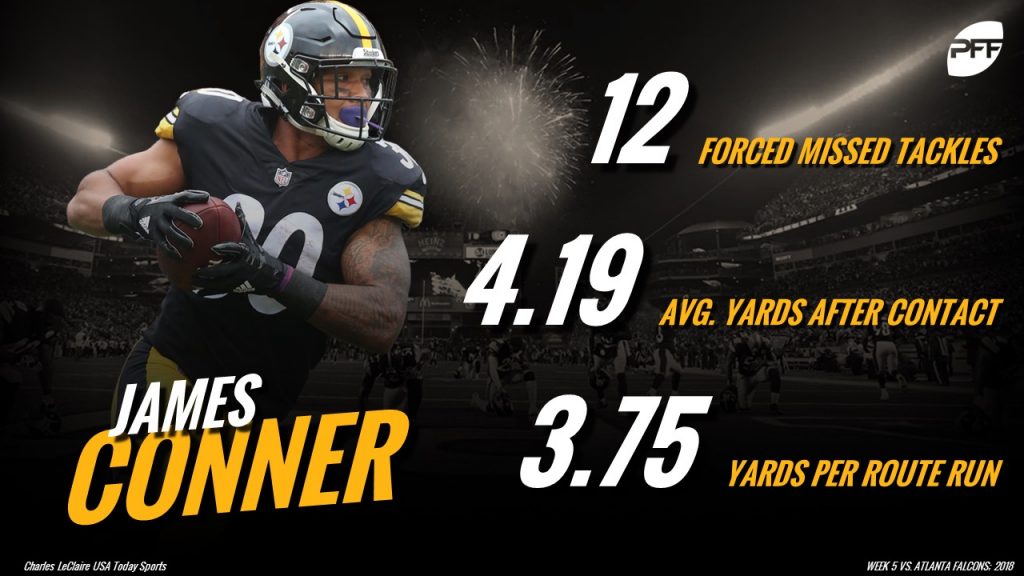 James Conner is doing just fine in Le'Veon Bell's shoes
Pittsburgh Steelers second-year running back James Conner has been tasked with filling the great Le'Veon Bell's shoes as the team's bell-cow back in the wake of Bell's holdout. Conner, however, has more than exceeded expectations as the face of the Steeler's rushing attack.
Conner forced an NFL-high 12 missed tackles in Week 5, improving his season total to 32 – another NFL-high. He has been one of the most elusive backs in football right now and giving Pittsburgh very reason to move on from Bell rather than sign him to a contract extension.
RELATED ARTICLE: James Conner showing why Steelers can move on from Le'Veon Bell
Aaron Jones isn't getting the love he deserves
Second-year running back Aaron Jones has made the most of his limited opportunities so far this season, yet he is still at the bottom of the totem pole in terms of touches in the Green Bay Packers' offense.
Jones has forced a whopping 11 missed tackles and averaged 3.29 yards after contact per attempt across his 28 touches this year, while the backs ahead of him, Ty Montgomery and Jamaal Williams, have combined for just nine missed tackles across their collective 92 touches. Jones has also yet to allow a pressure across his four pass-block snaps, while the leading duo has allowed two pressures in 29 combined pass-block snaps.
Texans' tackles are both playing at league-low levels, but a brighter future is ahead
Houston Texans offensive tackles Julie'n Davenport and Martinas Rankin have combined to allow a league-high 50 total pressures so far this season, a collective effort that would shatter previous PFF records if maintained throughout the season.
The Texans' future at tackle, however, is seemingly much brighter than it was before when both Davenport and Rankin were in starting roles. Four-year veteran offensive tackle Kendall Lamm started in place of Rankin in Week 5, and though his day wasn't perfect, he handled Dallas Cowboys star edge defender Demarcus Lawrence much better than was expected of him, as Lamm allowed just three pressures on the day. Lamm has now allowed just six pressures in his two starts (Week 4 & 5).
Robby Anderson is the king of the go route
In 2017, a whopping 41 percent of Robby Anderson's total receiving yards were earned on go routes, as the speedy New York Jets receiver proved to be at his best running in straight lines past the defense. After flexing his speed against the Broncos in Week 5, Anderson now has earned 65.8 percent of his 231 receiving yards on go routes.
RELATED ARTICLE: Kenny Golladay, Robby Anderson turn in outstanding performances in Week 5
Geno Atkins takes the lead ahead of Aaron Donald and everyone else
Cincinnati Bengals defensive interior Geno Atkins in on pace for career-high marks across the board, including total pressures. Recording five total pressures – including two sacks – against the Miami Dolphins, Atkins now leads all defensive players in total pressures (31) through Week 5. Of course, Los Angeles Rams' Aaron Donald is close behind with 29, but for now, Atkins is the man on top.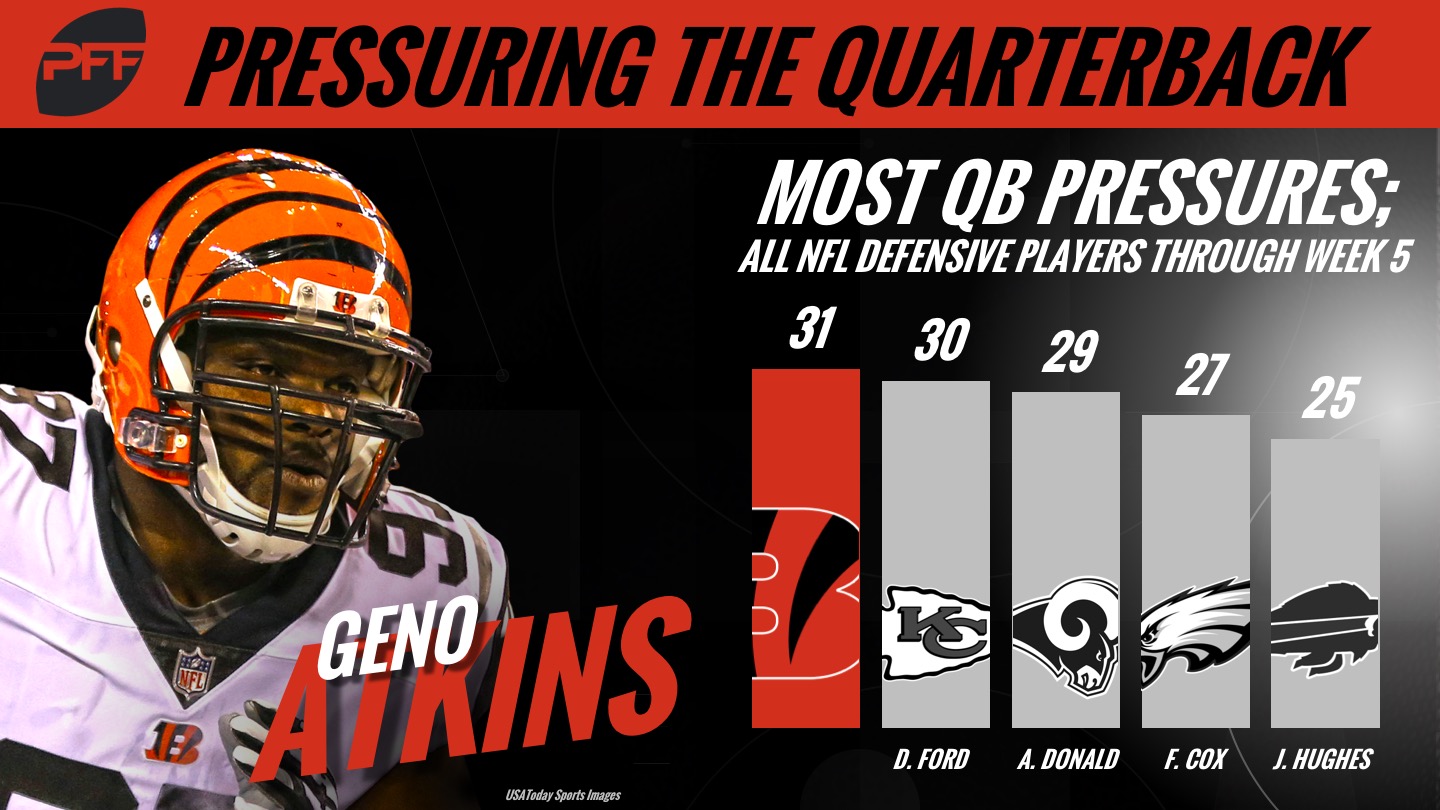 Bengals running backs having success without forcing too many missed tackles
Though the Bengals' leading duo of backs has combined for 584 total yards across 117 touches (4.99 yards per touch) this season, Joe Mixon and Giovani Bernard rank 54th and 55th in forced missed tackles per attempt at 0.043 and 0.042, respectively. The tandem has combined for just five total forced missed tackles through Week 5.
Raiders still dearly missing Khalil Mack
Per Ann Killion of the San Francisco Chronicle, Raiders coach Jon Gruden said forcing more defensive takeaways "starts with pressuring the quarterback, we've got to get more pressure on the quarterback" after his team suffered a 26-10 loss to the Chargers. While former Raiders edge defender Khalil Mack enjoyed a bye week with the Chicago Bears in Week 5, Oakland recorded just 11 total pressures against Los Angeles, ranking 24th among all 32 NFL teams.
Now five weeks into the season, Oakland ranks 32nd in total pressures (46) and is on pace to 94 fewer pressures than the team ever had in the Mack era (2014-17).
Andrew Luck keeping it short
Indianapolis Colts quarterback Andrew Luck has been cast under a magnifying glass because of the shoulder injury that has kept him away from the field all of last season, as many believe he's still a ways away from having the arm strength he had earlier in his career. Early signs point to Luck and the Colts protecting his shoulder, as he leads the NFL in throws that travel nine or fewer yards through the air through Week 5.
Uncle Sherm is doing just fine despite his age
At 30-years-young, San Francisco 49ers quarterback Richard Sherman leads all qualifying NFL cornerbacks in passer rating allowed (39.6) through Week 5. In fact, when targeted by a quarterback throwing from a clean pocket, Sherman is the only cornerback with at least two targets on said situations in to not allow a reception. He's allowed zero receptions from five clean-pocket targets.
RELATED ARTICLE: Richard Sherman is adding onto Hall of Fame career
Taylor Moton flying under the radar as one of the league's best pass protectors
Carolina Panthers second-year offensive tackle Taylor Moton has been the league's best when having to hold his block long after the snap in pass protection. Moton leads all offensive tackles in pass-blocking efficiency (99.3) when the throw is made 2.6 seconds or longer after the snap, as he's allowed just one pressure across 68 pass-block snaps in said situations.
Baker Mayfield isn't getting much help from his pass-catchers
Though Baker Mayfield has managed to exceed expectations in his limited play to start the season, the Cleveland Browns rookie signal-caller still can't catch a break from his receivers. Among the 32 quarterbacks with at least 50 attempts this season, Mayfield has had the highest percentage of his attempts dropped (10.3 percent).