A wide receiver who can explode upfield to turn a five-yard slant into a 70-yard score is a quarterback's best friend. Both Detroit Lions wide receiver Kenny Golladay and New York Jets receiver Robby Anderson filled those roles for their respective quarterbacks on Sunday.
Golladay and Anderson earned 89.6 and 87.9 single-game grades in Week 5, ranking fourth and fifth, respectively.
Golladay hauled in a 25-yard throw late in the first quarter against the Green Bay Packers before turning on the jets en route to a 60-yard catch-and-run, setting up an eventual touchdown. The budding second-year wideout also added a touchdown reception early in the fourth quarter and has already matched his scoring total from a year ago.
Anderson started the year quietly with no more than five targets or 50 yards in a game. But Sunday's matchup with the Denver Broncos proved to be a rebound performance for a receiver who led the league in 2017 with seven touchdowns on deep passes. Anderson was only targeted three times, but two were on throws of 20 or more yards, and both of those targets went for touchdowns. One went for 76 yards after Anderson burned the Broncos' secondary.
The 76-yard and 60-yard throws were the longest and fourth-longest completions of the day, respectively, with both receivers showing why they're dangerous when targeted.
As the Jets' leading receiver last year, Anderson caught all seven of his touchdowns on deep throws. With rookie quarterback Sam Darnold seemingly adjusting to his team's offense, Anderson's monstrous performance will certainly help continue to build rapport with his quarterback as the season progresses. Currently, he sits 21 targets behind wide receiver Quincy Enunwa, who has struggled with four drops on the year.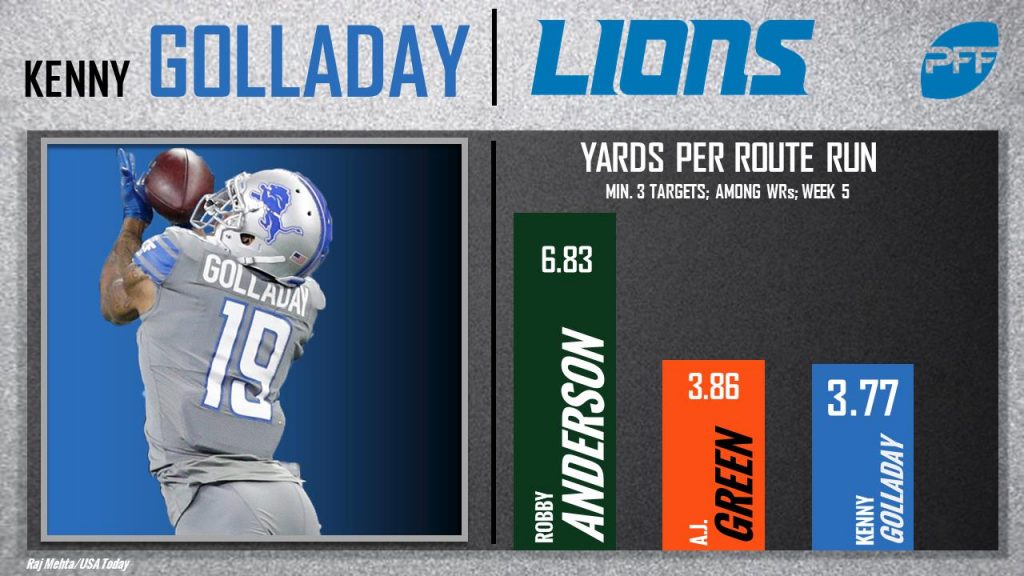 With Golladay, the Lions were well aware of his potential dating back to early last year — he's previously shown his ability to beat cornerbacks deep and run crisp routes in a 2017 season where he generated a 104.3 passer rating when targeted. Both he and Anderson sit in the top-25 this year in passer rating when targeted. But their performances Sunday showed more than just an ability to get open.
Efficiency at the receiver position is key for consistent offensive output — a receiver who logs 50 passing snaps only to amass a few targets for minimal yards isn't ideal. Golladay and Anderson were extraordinary in that sense. Despite being targeted just three times, Anderson led all receivers in Week with his 6.83 yards per route run — 123 yards on just 18 snaps in route.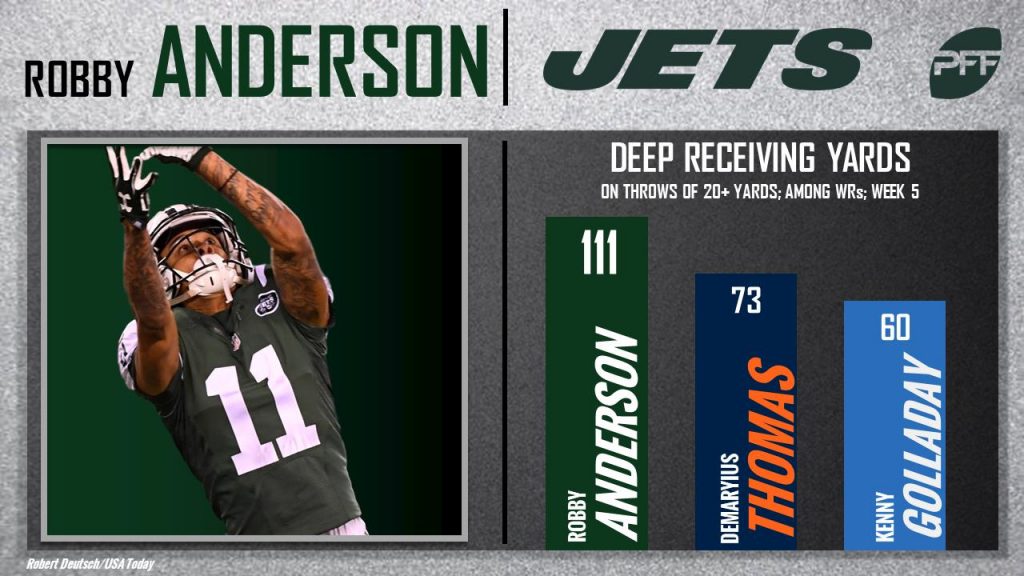 Golladay was similarly efficient, finishing with 3.62 yards per route run — third among receivers in Week 5 with three or more targets.
The Lions and the Jets sat at 1-3 in the basement of their respective divisions before claiming victory this week. While both are still at the bottom, Golladay and Anderson have provided a necessary spark — one that may just light a fire under two potentially explosive offenses.