Among the crowded locker rooms of all 32 NFL teams in preseason, a bevy of unproven talents — from all over the country — try to make a name for themselves throughout training camp and preseason. There isn't much time to do so, with a four-game slate and minimal snaps, but a handful always shine through, regardless of their draft stocks. Here are 10 undrafted free agents or late-round prospects who have a chance to make a 53-man roster as final cuts loom.

[Editor's Note: All of PFF's advanced stats and grades for every NFL player are made available in PFF's ELITE subscription. Subscribe today to gain access!]
Pick No: Undrafted
Preseason overall grade: 79.8
PFF has beaten a dead horse with the narrative that Jakobi Meyers has been one of the most talented rookies in the 2019 NFL preseason, but we'll continue to do so as a result of his meaningful impact in New England.
Meyers stands as our fourth-highest graded wide receiver (of 53) this preseason and leads all wide receivers in catches (19), yards (225), and touchdowns (2). The North Carolina State product's versatility will be his best friend as the roster cuts near. He played nearly the same amount of snaps in the slot (39) as he did lined up wide (46) and maintained the same efficiency in each area of the field. Not to mention, Tom Brady targeted Meyers on 25% of his total passing attempts this preseason, which only bolsters his case heading into 2019.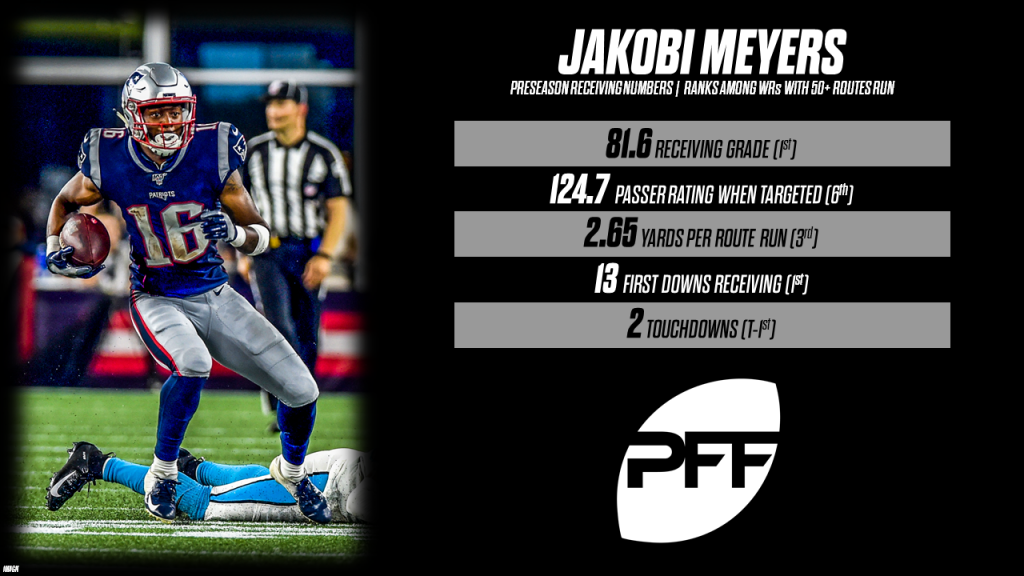 Pick No: Undrafted
Preseason overall grade: 90.4
Tuzar Skipper already has a spot on the All-NFL team of best names, but that may not be the only team he'll be apart of come early September. Skipper, an undrafted rookie out of Toledo, has taken the NFL preseason by storm and has registered the second-most quarterback pressures of any rookie defender.
Pittsburgh invested five 2019 draft picks in defensive players before signing Skipper, which could make it an uphill battle to find a spot on the roster With that being said, his versatility will do nothing but help him as he's earned an 85.4 run-defense grade as well as an 86.1 pass-rush grade through three games of NFL action.
Pick No: 247 (7th round)
Preseason overall grade: 80.8
Although Johnson has yet to see a target from starting quarterback Kirk Cousins, he has excelled with the few opportunities he's been given. On eight targets, he's amassed five receptions and 84 yards — 47 of which came after the catch. In fact, the Colorado State product secured a first down on each of his five receptions and obtained an explosive play on four.
The rookie wideout is competing with a Vikings receiving corps that could be labeled as top-heavy. When looking past Thielen and Diggs, their succeeding players include Jeff Badet, Chad Beebe, the oft-criticized Laquon Treadwell and a bevy of late-round 2019 draft picks. Johnson's efficiency with his small sample size suggests it would be exciting to see what he could do with an increased workload should he continue to trend upwards.
Pick No: Undrafted
Preseason punting grade: 66.3
Jamie Gillan, an undrafted rookie out of Arkansas-Pine Bluff, is the lone specialist on this list and for a good reason. Gillan has averaged the third-highest punt yard net average (45.8) among the 21 punters with 10-plus attempts this preseason. In comparison, current Browns' punter Britton Colquitt netted a 39.4 average across 16 games in 2018. In fact, Gillan also beats Colquitt in punt yards per attempt (47.9), percentage of punts returned (36.4%) and the rate at which the punt falls inside the 20-yard line.
The uncertainty is still there at the placekicker position for the Browns, but shoring up their punting would be a massive win for the Cleveland regime — truly a diamond in the rough.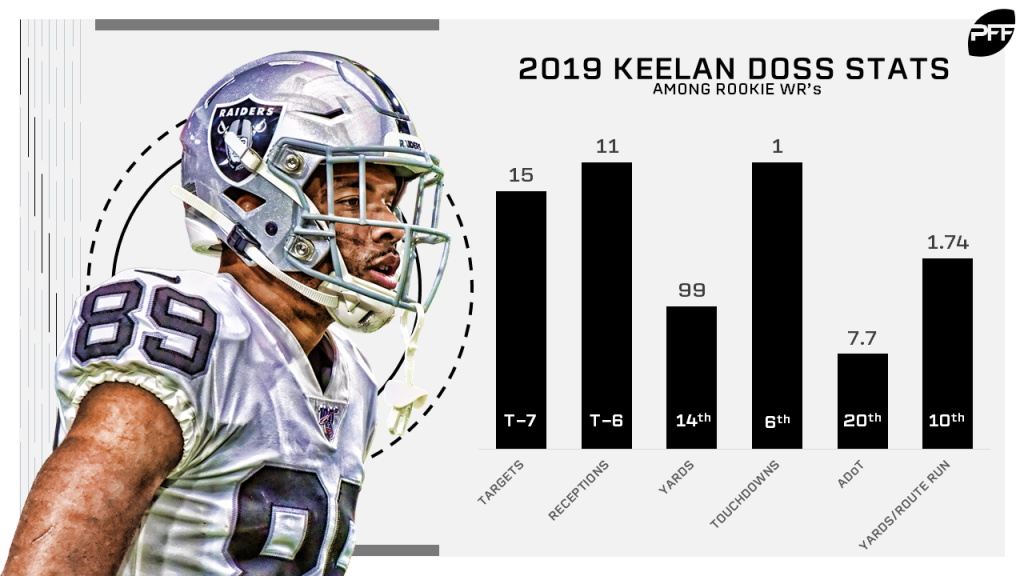 Pick No: Undrafted
Preseason overall grade: 79.8
There is a two-way tie for the highest-graded rookie wide receiver in the 2019 preseason, and Keelan Doss owns half of that stalemate. He's been a target magnet in his first three preseason games, seeing 15 throws come his way on 10 different routes run. The 6-foot-2, 211-pound receiver has also converted four first downs with a touchdown to boot. Doss, the Hard Knocks standout, has been developing a serious case to be a part of Oakland's loaded receiver depth chart entering 2019.
Pick No: Undrafted
Preseason overall grade: 87.7
Huggins, an undrafted interior defender, entered the preseason with something to prove after playing behind the star-studded unit that was the Clemson defensive line. He's done exactly that, amassing four run-stops, eight total pressures and an impressive 17.1% pass-rush win rate. At times, Huggins has had his way with opposing offensive linemen as his pass-rush win rate in his second game of NFL action reached a staggering 27.3%.
It will be a challenging task to make the roster, as it is for any undrafted rookie, but Huggins enters a favorable situation with the ongoing uncertainty of the Texans' interior defensive line.
Pick No: 213 (6th round)
Preseason overall grade: 93.7
PFF has been higher than anyone on Cowboys' rookie safety Donovan Wilson, and it's time for the media to take notice. Wilson has been our highest-graded rookie through three preseason games (93.7).
His league-leading grade isn't the case of one great game or a meager snap count. He's merited two 90.0-plus game grades across 102 preseason snaps and snagged two interceptions in the process. On 63 coverage snaps, Wilson has been targeted just three times while surrendering one reception and five yards. His lockdown coverage has resulted in a 2.8 passer rating when targeted — first among targeted safeties this preseason.
Pick No: 181 (6th round)
Preseason overall grade: 92.1
If it weren't for the herculean effort put forth by the Cowboys' Donovan Wilson, then Johnson would own the highest rookie safety grade this preseason. Johnson has shown steady improvement throughout Buffalo's preseason campaign. He's been targeted seven times but hasn't allowed a reception since the first week. He has also forced an incompletion in three straight games. His 42.9% forced incompletion percentage ties for first among all players with at least five targets.
Although his coverage prowess plays a significant role in his high ranking preseason grade, the strength that could play a vital role in him making the roster is his special teams ability. Johnson has been all over the place in special teams, recording 50 total snaps but seeing playing time in every aspect of special teams minus field goals. His 50 registered snaps ranks second among all rookies.
Pick No: 159 (5th round)
Preseason overall grade: 78.5
The former Maryland Terrapin has beaten the offensive player on 17.1% of his snaps when rushing the passer and has earned a 74.2 pass-rush grade as a result. Cowart's well-rounded abilities should have New England excited about him as a prospect after earning a 68.8 grade in run-defense, as well.
Pick No: Undrafted
Preseason overall grade: 80.9
There is no doubt that Wisconsin-grad T.J. Edwards has left his mark on the Philadelphia defense this preseason. Although he's played primarily in the box (110/121 defensive snaps), he has displayed his versatility to be able to be effective in both the pass and run game. Impressively enough, he's been able to get to the running back quicker than most, as his 0.17 average depth of tackle ranks third among rookies with at least five tackles.