As the annual NFL Scouting Combine winds down, the offseason gift that keeps on giving continues with the beginning of unrestricted free agency. This season, there are still some big names available, even with the recent re-signing and tagging of players like La'Veon Bell, Kirk Cousins, Kawann Short and Eric Berry, among others. While predicting what teams will do with their cap space can be a dubious proposition, there are some early free-agent splashes that seem more likely than others, given the distribution of free agent situations for all 32 teams.
Below we give 10 possible free agent splashes for the 2017 free agency period.
1. WR Alshon Jeffery to the New Orleans Saints
Jeffery has never shouldered the No. 1 receiver role for a team through an entire 16-game season. Luckily for him, the Saints don't need a guy to carry their entire passing game, as second-year wideout Michael Thomas is coming off the best season of any rookie receiver a year ago. With Brandin Cooks apparently on the trading block, it would make sense for the Saints to try to pair the former Bear with Drew Brees, who would become easily the most-accomplished passer Jeffery has worked with during the course of his career.
2. CB A.J. Bouye to the Chicago Bears
The Bears spent last offseason upgrading their front-seven, signing Jerrell Freeman, Akiem Hicks and Danny Trevathan, as well as drafting Leonard Floyd in the first round. The results were encouraging, but the Bears still struggled to 3-13 while finishing 16th in the league in yards per play allowed. Cornerback was an issue much of the year, with Tracy Porter giving up a 99.4 passer rating into his coverage and Kyle Fuller missing the entire season with injury. Bouye is the best cornerback in this free-agent class, surrendering a passer rating above 85.4 in just three of his 17 games in 2016. If Fuller can return to his 2015 form, where he surrendered just a 56.5 completion percentage and 86.9 passer rating into his coverage, he and Bouye would make for a good cornerback duo in the Windy City.
3. LB Dont'a Hightower to the Tennessee Titans
The Titans were arguably the league's most-improved team a year ago, going from the 20th-highest-graded team in the league in 2015 to eighth in 2016. Taking the next step will require upgrading their defense, a unit that finished 13th in the league in yards per rushing attempt (4.0) and 18th in net yards per passing attempt (6.4) allowed. Hightower's ability and versatility would immediately upgrade the linebacker corps in Nashville, where the combination of nickel linebackers Avery Williamson and Sean Spence allowed 786 yards (533 YAC) and five touchdowns into their coverage. Williamson was productive against the run, while Spence was good as a pass-rusher, meaning the addition of Hightower to play with Spence, Williamson and veteran Wesley Woodyard would provide the Titans with a well-rounded group in the middle of their defense.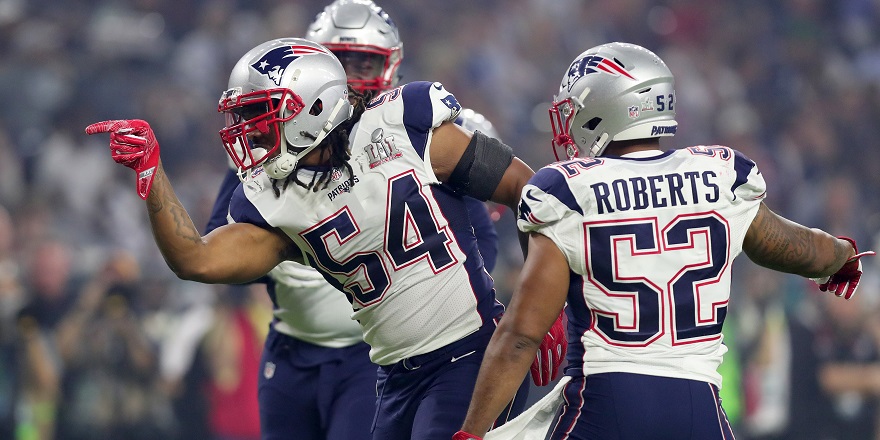 4. OT Andrew Whitworth to the Minnesota Vikings
There have been some rumors that the Bengals will likely pay to keep Whitworth in Cincinnati, but assuming he does walk, the Vikings (coached by former Bengals assistant Mike Zimmer) appear to be a ideal landing spot. After watching Matt Kalil (36.9), T.J. Clemmings (28.3) and Jake Long (63.9) produce a season for the ages (in a bad way) in 2016, the Vikings will likely be more than willing to overspend for simple competence at the left tackle position—let alone a player that has been among the league's best at his position throughout the PFF era. Whitworth's age (35) might be a concern, but it didn't keep him from grading positively as a run blocker in each game a season ago, or from posting the best pass-blocking efficiency (98.0) of any tackle in the league.
5. DI Calais Campbell to the Denver Broncos
The Broncos struggled a bit a year ago against the run, falling from first in the league in 2015 to 19th in yards per carry allowed in 2016. Much of this can be explained by the loss of Malik Jackson to Jacksonville in free agency and the poor play of Jared Crick (41.3), Sylvester Williams (43.5), Billy Winn (43.6) and Adam Gotsis (45.0) opposite Derek Wolfe (78.9) up front. Campbell, last year's 11th– and fifth-most productive 3-4 end against the run and pass, respectively, would provide an immediate boost to a Denver defense looking to propel their team back into Super Bowl contention after a year away from the playoffs.
6. G Kevin Zeitler to the Cleveland Browns
The Browns have an outrageous amount of cap room, but appear to want to spend responsibly on outside free agents. The addition of Zeitler, a young (26 years old), consistent (he's never earned a grade below 78.7) offensive lineman would surely fall into the realm of responsible spending. Of 62 qualifying guards in 2016, the Browns' two starters ranked 39th and 54th in pass-blocking productivity, while Zeitler finished sixth. His run blocking finished in the top 10 at his position, which would surely bolster an already-strong running game that finished last season averaging 4.9 yards per carry.
7. CB Stephon Gilmore to the New England Patriots
The reigning Super Bowl champion has substantial cap space, and while the Patriots often don't make splashes in free agency, they showed some interest in hurting a division foe on the open market by signing WR Chris Hogan last offseason. Gilmore would replace pending free agent Logan Ryan should he leave, and projects as the type of asset Bill Belichick likes to target—a talented player in need of some reclamation. After a season of poor play, it's not out of the question that Gilmore would be undervalued by some in the league, a scenario in which the Patriots could make sense as a suitor.
8. G T.J. Lang to the Jacksonville Jaguars
After another season of poor play and a pending top-five draft pick on the docket, the Jaguars' offense has substantial questions up front this offseason, having jettisoned free-agent and draft failures Kelvin Beachum and Luke Joeckel, respectively. Frequently-used backup guard Patrick Omameh is scheduled to be an unrestricted free agent, as well. Lang would immediately upgrade the position, having allowed zero sacks or hits in 2016, despite playing with a QB that held onto the ball in the pocket more than all but one quarterback in the league. His run blocking leaves a little bit to be desired, but even average play would be an upgrade for a Jacksonville team that finished 23rd in that category in 2016.
9. RB Adrian Peterson to the Oakland Raiders
While this signing may not be early enough in the free-agency period—or for the type of money that usually garners the word "splash"—one of the league's best offenses a season ago signing one of the premier runners of the PFF era would surely qualify as notable. While Peterson has only played in 21 games the last three seasons and provides little in the way of production as a receiver or pass protector, the Raiders use enough heavy sets and ancillary players in the backfield to suit him in a part-time role. His 767 yards after contact and 50 missed tackles forced in the running game were second in the league in 2015, and Oakland's fifth-highest graded run-blocking offense a season ago may be Peterson's only bet to approach his career 4.9 yards per carry in what is going to be his 11th season in the NFL.
10. S Tony Jefferson to the Tampa Bay Buccaneers
Tampa Bay's defense improved from the lowest-graded unit in 2015 to the 26th-highest-graded unit a season ago, helping springboard the Bucs to their first winning record since 2010. That said, they allowed the seventh-most yards per pass and the 10th-most yards per rushing attempt defensively, and their top safety, Bradley McDougald, is set to be a free agent. Jefferson had a fantastic season a year ago, finishing second among safeties in run-defense grade (earning 35 stops) and allowing less than an 80.0 passer rating into his coverage. Adding his veteran presence to a secondary trying to cultivate youthful players like Vernon Hargreaves III would go a long way towards elevating Tampa Bay's defense into the upper half of the league—and into the playoffs for the first time in a decade.