Every Tuesday, PFF will be releasing its Team of the Week, representing the highest-graded players at each NFL position for that week. But Senior Analyst Sam Monson gets a jump on that by picking out the 10 most impressive individual performances from Sunday's games.
Here are the 10 best players from Sunday's Week 12 action:
[Check out the 10 worst performances from Sunday of Week 12 right here, or access our Player Grades tool to see how every NFL player measures up through three weeks of the season.]
1. Justin Houston, Kansas City Chiefs
Houston is back from his injury, and that could provide the Chiefs with a huge boost down the stretch. He won't find many easier opponents than Denver's Ty Sambrailo to beat up on, but beat up on him he did in the Chiefs' overtime win on Sunday night. Houston recorded three sacks and four additional hurries, making a ridiculous 10 defensive stops. In just one game against Denver, Houston recorded one fewer defensive stops than Tamba Hali has all season — 444 snaps worth of it. Houston is one of the league's most devastating pass-rushers and the Chiefs got to see just how big of an impact he can make on a game when he is healthy. Check out PFF's full grades recap for the Chiefs' win over Denver.
2. Khalil Mack, Oakland Raiders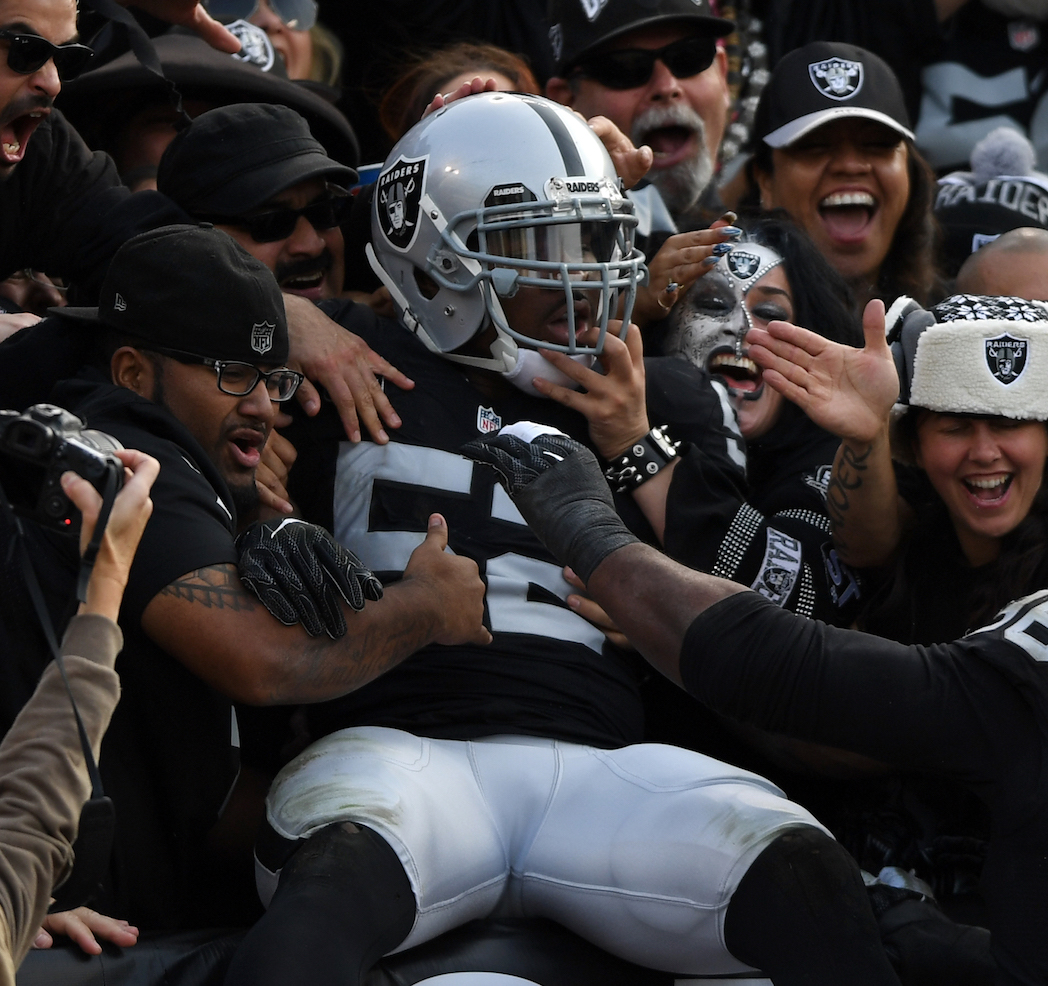 The AFC West has turned into something of a murderer's row of pass-rushers, and while the Carolina-Oakland game turned into a full drama involving QB Derek Carr and his dislocated finger, it was Mack who effectively took it upon himself to salt away the win at the end. Mack had already been making plays in the game — intercepting Cam Newton on a screen and scoring on the play himself — but inside the final minute he then stepped up to sack Newton, strip the ball and recover it to secure the three-point win and prevent any kind of Carolina comeback. Big plays can turn games, and in just two snaps, Mack accounted for the difference between winning and losing this game.
3. Lavonte David, Tampa Bay Buccaneers
Tampa Bay's defense stepped up in a big way against the Seahawks this week and led the Bucs to an upset win. And Lavonte David was a big part of that success. David notched a hit and a hurry on the blitz, but his biggest play of the day was forcing a fumble on Seattle tight end Jimmy Graham midway through the fourth quarter with the Seahawks driving inside Tampa Bay territory. David recovered the fumble himself and returned the ball 53 yards to completely flip field position and the outlook of the game.
4. Joey Bosa, San Diego Chargers
After a quiet week or two, Bosa was back with a bang this week against the Houston Texans. This week he notched a sack, two hits and five hurries for a total of eight pressures in 35 pass-rushing snaps. He was second on the team in both tackles (six) and defensive stops (four), and was a major reason the Houston offense sputtered all day and could only put up 13 points over the course of the loss. Bosa has been a force since he got on the field for the Chargers, and looks like one of the league's best defensive linemen just a few games into his rookie season.
5. Mike Evans, Tampa Bay Buccaneers
The Bucs defense did much of the work against the Seahawks, but they needed to put up some points, too, and Evans was the biggest contributor on that side of the ball. Evans beat four different Seahawks defenders for receptions, and caught eight of the 11 passes thrown his way for 104 yards and two touchdowns. One touchdown came on a pass against Richard Sherman, as the two were allowed to fight it out physically in the end zone, with Evans coming out on top on the play, beating Sherman for just his second touchdown allowed all season.
6. Von Miller, Denver Broncos
Miller is the fourth edge rusher from the AFC West on this list. Miller racked up three sacks, a hit and four hurries, as well as batting down a pass and recording nine defensive stops in Denver's "Sunday Night Football" defeat. From a pass-rushing standpoint he was every bit the equal of Justin Houston, going up against Mitchell Schwartz – a far better tackle, albeit one playing hurt. Miller did jump offsides twice in the game and missed a tackle, but those were his only real black marks.
7. Ryan Tannehill, Miami Dolphins
Miami's rejuvenation during its six-game win streak has been largely on the shoulders of running back Jay Ajayi, but in the past three weeks Tannehill has produced two of the best games of his career and thrown some spectacular passes. This week he posted a passer rating of 130.6, completing 66.7 percent of his passes and throwing three scores without being intercepted. When kept clean in the pocket, his passer rating was 150.3, and the 49ers were only able to generate pressure on eight of his 34 dropbacks.
8. Michael Thomas, New Orleans Saints
The second rookie to make the list, Thomas was the biggest beneficiary of Drew Brees' destruction of the Rams' defense in New Orleans' victory. Thomas caught nine of the 10 passes thrown his way for 108 yards and a pair of touchdowns. One of those scores was a perfect pass slotted in between zone coverage by Brees, but the other involved some hard work after the catch by Thomas, who for the game broke three tackles and gained 48 of his 108 yards after the catch. Check out PFF's 5 stats you need to know from Week 12.
9. Richie Incognito, Buffalo Bills
Against the Jaguars, Bills guard Richie Incognito was pretty close to flawless. He didn't allow any pressures over 29 pass-blocking snaps, despite quarterback Tyrod Taylor averaging a league-high 3.7 seconds with the ball in his hands. Incognito was also a force in the running game, helping Buffalo rack up 150 yards on the ground and routinely moving his man from the point of attack.
10. David Johnson, Arizona Cardinals
Arizona may have lost a key NFC encounter this week against Atlanta, but David Johnson recorded over 100 yards from scrimmage for the 11th consecutive time this season. He only gained 58 rushing yards, but they came on 13 carries (4.5 yards per attempt), and 43 of them came after contact. As a receiving weapon, he added 103 more, catching almost double the yardage of the next-best player on the team (Larry Fitzgerald's 53 yards). Johnson caught eight of the 10 passes thrown his way, and 74 of those yards came after the catch.