PFF Senior Analyst Sam Monson released his top 101 players heading into the 2016 season last week, and with it, we saw plenty of discussion about who the best players in the league are on both sides of the ball. Here we are going to focus in on the offensive talent in the AFC, and highlight the top 10 players on offense in that conference.
1. Rob Gronkowski, TE, Patriots
Where to start with Rob Gronkowski. Sam Monson described Gronk's dominance on offense in a similar manner to J.J. Watt's dominance on defense. While Gronk only forced 13 missed tackles in 2015 (including the playoffs), most of his damage is done to players hanging off him as he drags them 10 yards after the initial contact. Since his injury-plagued 2012 and 2013 years, he hasn't been the same dominant run-blocker as he was in his first two seasons, but that part of his game rebounded in 2015. After earning dominant grades in 2010 and 2011, Gronk was on his way to a similar season in 2012 before injury. He graded as the best run-blocking TE in 2015, and could conceivably return to his early-career form in 2016.

Gronk leads all TEs in yards per route run over the past two years (2.41), with second place Jordan Reed at 2.24. With good hands (11 drops in the past two years), great blocking, and dominance before and after the catch, Gronk is the AFC's best offensive player.
2. Antonio Brown, WR, Steelers
Antonio Brown is an exception to the norm, and asserts his dominance via quickness, smarts, and crisp route-running. As incredible as his Week 15 game against Broncos CB Chris Harris Jr. was, his Week 9 game against Oakland's D.J. Hayden and David Amerson was even better: 17 receptions on 23 targets for 284 yards. Over the course of the season, Brown was in a battle with Julio Jones as the best WR in football, but Brown separated himself in the second half of 2015. The Steelers wideout has just 10 drops the past two years on 276 catchable targets (3.62 drop rate) and 2.89 yards per route run in 2015 (3.12 in games with Ben Roethlisberger healthy). Take out the four-game stretch where Big Ben was hurt, and Brown still has a streak of 47 straight games with at least five catches. Brown dominates at all depths of the field and makes almost all cornerbacks look mediocre.
3. Le'Veon Bell, RB, Steelers
Le'Veon Bell has some insane vision.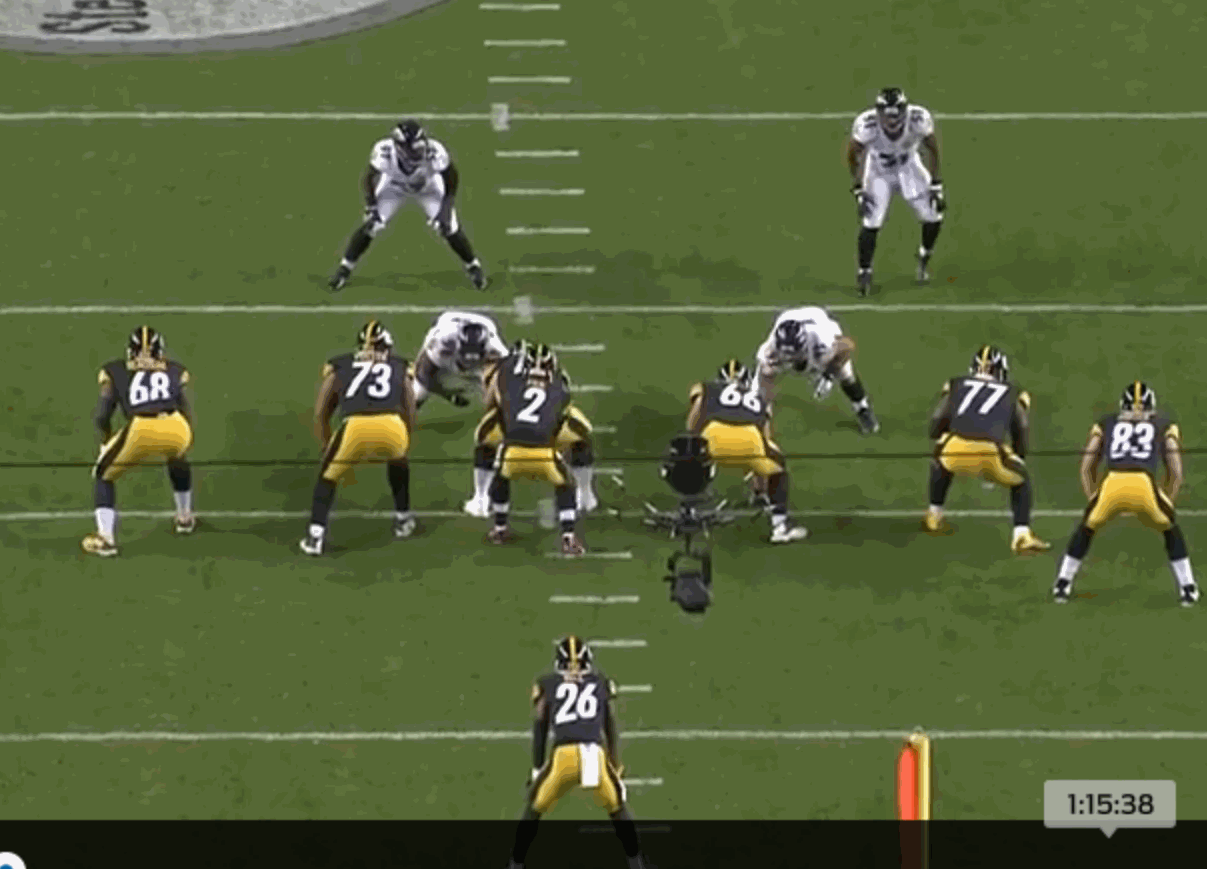 This play is pretty special from Bell on a few counts, and epitomizes why the former Michigan State Spartan is the best HB in the NFL. He shows patience, which is essential for a zone-running play. Some small holes open up initially, notably middle right and left guard, but hitting these quickly would result in minimal gains. Mid-right would get closed by Daryl Smith (No. 51) and possibly Lawrence (No. 93) Guy. Left guard looks to be open, but he is able to see Kendrick Lewis (No. 23) from beyond the opposite hash closing on the hole, along with Smith reading Bell's movements. Bell fakes left guard, which draws Smith and Guy left, and then creates magic by bouncing it outside right guard for a sizeable gain.
If Bell can return to pre-injury form in 2016, he'll add to the extremely powerful Steelers' offense. Just two HBs topped Bell in elusive rating last season, but no HB came close to matching Bell's success after first contact, gaining 3.41 yards after contact per attempt—Doug Martin was next closest at a distant 3.15. Bell's deadly combination of vision, patience, agility, and power makes him the NFL's best HB.
4. Joe Thomas, OT, Browns
While the LT position isn't flashy and doesn't iibute to wins like a skill position can, not having a good LT can derail an entire offense. With Joe Thomas, the Browns haven't had to worry about the most important position on the offensive line since 2007. Thomas has allowed 26 sacks in nine years—that's fewer than three sacks per season—and considering the massive turnover at the quarterback position, it's impressive that the number is that low. The No. 1 overall pick in the 2013 draft, Eric Fisher (Chiefs), has allowed 19 sacks in three seasons and could pass Thomas in sacks allowed by the end of 2016. While Thomas gets a lot of praise for his pass-blocking prowess, his run-blocking is very underrated.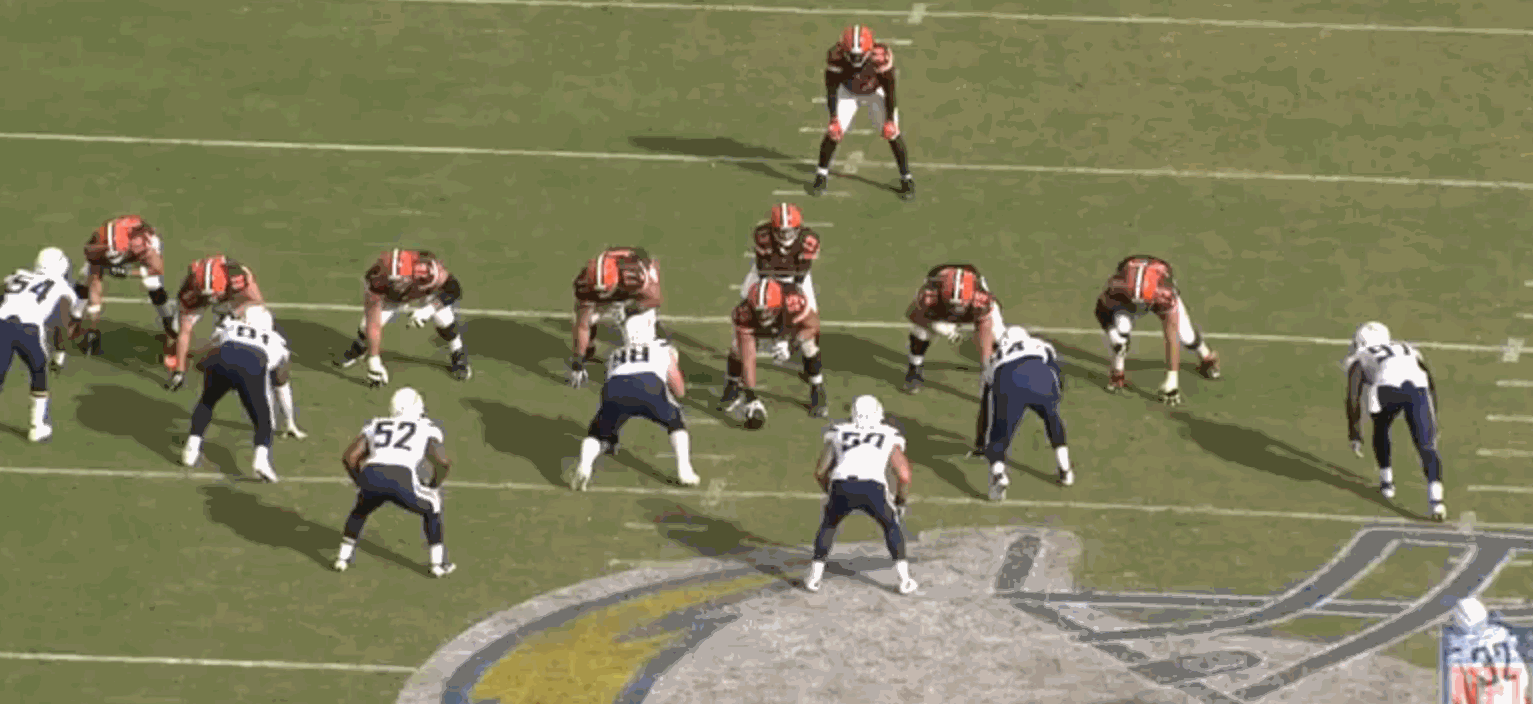 The gif doesn't really do this play justice for Thomas. He assists on the double team on Corey Liuget (No. 94), although "assist" isn't the right word—he pulverizes Liuget, and Joel Bitonio just happens to be a part of the block. With all his momentum moving down the line of scrimmage, Thomas is able to stop on a dime on his inside foot, pivot, and rotate his hips quickly to stonewall Manti Te'o (No. 50) and create a gap for Isaiah Crowell to run through. Thomas is still playing at a Hall-of-Fame level, and has shown no signs of slowing down.
5. Marshal Yanda, G, Ravens
Marshal Yanda has quietly put together an impressive career. Always a strong blocker, the Raven has improved as a pass-protector the last four years, allowing just five sacks compared to 14 in his first five seasons. In the past two seasons, Yanda has graded negatively in just one game—Week 11 versus Aaron Donald and the Rams. In four of his last five seasons, he has graded as either the first- or second-best guard in football. Needless to say, Yanda has solidified himself as the second-best offensive lineman in the AFC.
6. Tom Brady, QB, Patriots
Rumors of Tom Brady's demise were completely overblown (my mind is racing to remember who initially said that…), as the Patriots QB has taken his team to a Super Bowl victory and an AFC Championship game in the past two seasons. In fact, Brady looks like he is playing some of the best football of his career, and has been handed another talented TE in Marcellus Bennett this offseason. If the Patriots' offensive line continues to be a sieve, Brady might not get the time he needs to open up the offense. The Patriots added former second-rounder Jonathan Cooper and third-rounder Joe Thuney in the mix to help the mess. Brady is cool under pressure (16 TDs, four INTs) and can morph into any style of offense that is needed to beat the opposing defense. The past two seasons, he hasn't had a reliable deep threat, and utilized the talents of Julian Edelman and Danny Amendola underneath to average 8.3 yards per depth of target. In 2012 and 2013, Brady was almost a full yard deeper, at about 9.0 yards. The Patriot's versatility as a passer and instincts makes him the best QB in the AFC.
7. Ben Roethlisberger, QB, Steelers
Right on Brady's heels is Ben Roethlisberger. Even without Le'Veon Bell for all but two of the games Big Ben played in 2015, the Steelers' offense still ran at a highly-efficient level. This was stated in Monson's 101 article, but it's absolutely worth mentioning again since the impact an elite quarterback has on his team is perfectly highlighted with this stat: Antonio Brown averaged 9.7 catches per game, 132 yards, and caught 10 TDs when Roethlisberger was playing, compared to just 4.3 catches, 59 yards, and zero TDs per game without him this past season. Perhaps the only thing that continues to hold Roethlisberger back from being higher on this list are his injuries. Despite averaging over 10 yards per target, Roethlisberger still ranked in the top-10 in adjusted completion percentage—the only QB to be in the top 11 in both categories.
8. DeAndre Hopkins, WR, Texans
DeAndre "Nuk" Hopkins was third in receiving yards, third in receptions, and sixth in touchdowns despite having Brian Hoyer, Ryan Mallett, Brandon Weeden, and T.J. Yates throwing him passes last season. 63.1 percent of Nuk's targets were catchable—a rate that ranked 69th out of 86 eligible WRs. If new QB Brock Osweiler can bring some type of consistency and improvement to the position, Hopkins could challenge Antonio Brown and Julio Jones for the best WR in NFL and receiving yards champion. A knock on Hopkins' game has been his yards after catch (just 216 yards in 2015, second-lowest of the top 25 receivers in yards), but that could be attributed to Hopkins' making catches on poorly-placed throws, allowing for minimal room to run after the catch. Regardless of his lack of YAC, Hopkins was a monster in 2015, with the arrow pointing up in 2016.
9. A.J. Green, WR, Bengals
A.J. Green was drafted ahead of Julio Jones in 2011, but it's been Jones that has had the better career so far. Green took a leap in 2015, which coincided with Andy Dalton's career-year. While the Bengals lose their offensive coordinator to the Cleveland Browns and their No. 2 and 3 WRs from 2015 in free agency, they still retain their top two HBs and TE Tyler Eifert. If Dalton continues his growth, Green should have another elite season and improve on his 2.41 yards per route run in 2015. When Dalton targeted Green, he had a QB rating of 121.2, the sixth-best rate in the NFL for a WR, and highest among WRs with over 100 targets. If new offensive coordinator Ken Zampese can build upon the success Hue Jackson developed from the Bengals' offensive attack, Green will battle Hopkins for second-best WR in the AFC.
10. Andrew Whitworth, OT, Bengals
This list is dominated by the AFC North—a division that is regarded for its smash-mouth defensive battles. Seven of the AFC's 10 best offensive players reside in the AFC North, and finishing off the list is the most underrated and unheralded of them all. Andrew Whitworth saw a streak of 32 straight regular-season games without allowing a sack end in Week 10 of 2015. In fact, over that same span, he allowed just one QB hit. So, over the course of two seasons, Whitworth allowed his QB to be touched just once. I'll keep going: he also allowed just 17 hurries during those 32 games. Some LTs dream of those numbers for a season, yet he did it for essentially two. There really isn't much else to say about Whitworth's consistency and ability after showcasing that 32-game stretch of play, a feat that even Joe Thomas has never reached in terms of allowed pressure. In 2015 (min. 600 snaps), just one OT allowed zero sacks, three allowed one hit, and eleven allowed 17 hurries (surprisingly, you get the same exact numbers in 2014). If Joe Thomas is the gold-standard of pass-blocking LTs, Whitworth isn't far behind. The Bengal has benefitted from being on a much better team, consistency at the quarterback position, and a system that relies on the quick-passing game, but there is no doubt that Whitworth has been one of the best LTs in the game for the past nine years.
[More: To see the 10 best offensive players in the NFC heading into 2016, click here.]