Sir Alex Ferguson has stated his belief that Manchester United must sign a striker to allow Marcus Rashford to play at his better-suited role on the left wing.
The comments by Ferguson came in the wake of United's Carabao Cup triumph at Wembley, a game in which Rashford scored his 25th goal of the season, and involved the legendary manager of the club saying, "I don't think he's a striker."
Ferguson, who led United to 13 Premier League titles and two Champions League trophies, believes the qualities of Rashford are best served in a role on the left wing.
This was not lost on current manager Erik ten Hag, who gave the green light for the club to hold talks with Burnley and Beşiktaş over a move for target man Wout Weghorst in January that would see a compensation package agreed upon for his loan at the Turkish club to be terminated.
Bringing in Weghorst was not an obvious move but was one required after the departure of Cristiano Ronaldo on the eve of the FIFA World Cup and Anthony Martial's inability to stay injury-free. He is not the long-term answer, United have been one of the clubs speculated to hold an interest in Napoli star Victor Osimhen, but to ten Hag's credit United have overcome cutting ties with Ronaldo and a serious injury to midfielder Christian Eriksen to remain on solid ground in the pursuit of qualifying for the Champions League and challenging for trophies.
That is quite the change in prospects for Weghorst, relegated from the Premier League last season with Burnley. Goals had not been easy to come by, just two in 1,529 minutes of play which led to a PFF shooting grade of 62.4 – ranked 32nd out of 38 strikers.
The same is true of his time so far at United, goalless in 491 minutes in the Premier League that has produced a grade of 65.5 (rank 34 out of 63), with his only goal coming in the Carabao Cup semi-final against Nottingham Forest.
When Sean Dyche was manager at Burnley he was asked about Weghorst's lack of goals and gave a straight-forward response: "I think – and it is a positive, but it is a strange thing to mention – Wout is almost too team-bound at the minute. We need to get him to focus on him and his game."
Ten Hag has seen that for himself but has not stood idle. Instead, in United's last Premier League game we saw ten Hag start Weghorst as a No.10 against Leicester City playing behind Rashford and seeing Bruno Fernandes given a right wing role. The same deployment he had made in the Europa League first leg against Barcelona.
Is this a role that could stick for Weghorst and ten Hag's offensive plan?
What purpose does Wout Weghorst serve for Manchester United?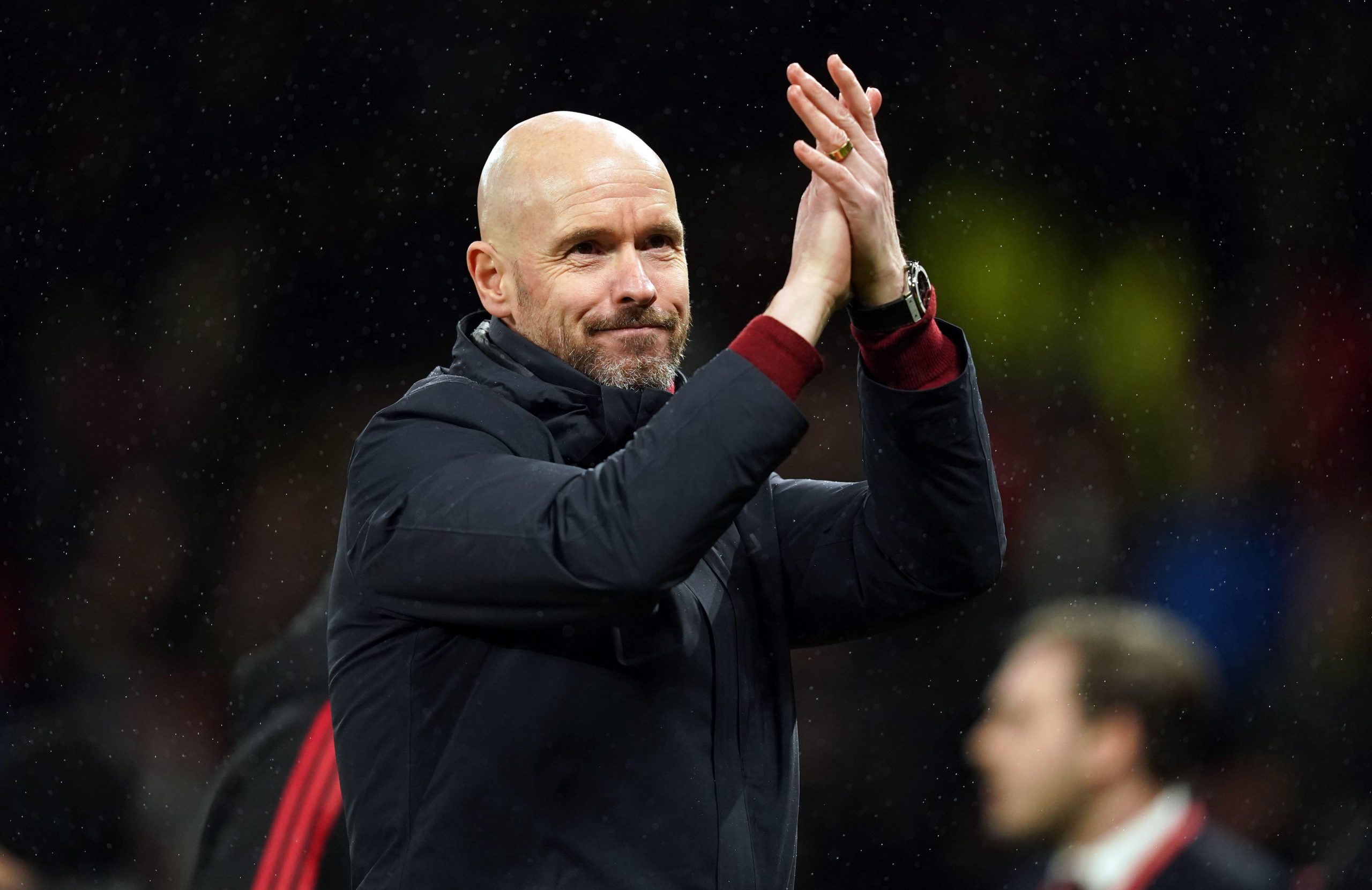 The sheer brilliance of Casemiro in and out of possession has given ten Hag licence to play Rashford and Weghorst how he sees fit. At 6'6", Weghorst is an obvious box presence as he has been throughout his career at AZ Alkmaar, Wolfsburg and Burnley.
His physicality is key to offset the weaknesses in contact of Marcus Rashford, Bruno Fernandes, and Antony. The challenge grades for Rashford and Antony rank no higher than the 13th percentile among all players; Rashford has graded out at 51.6 and Antony 54.8, while Fernandes has been better at 65.2.
Weghorst stands at 60.8, that is not great, but is also is not terrible. Only Fred, Marcel Sabitzer and Casemiro have higher challenges per-90 rates than Weghorst's 13.9, with Fred leading the way on 15.7. There is clear daylight between Weghorst and the rest of United's attacking ensemble.
| | | | | |
| --- | --- | --- | --- | --- |
| Name | Challenges | Challenges p-90 | Challenges won p-90 | Minutes played |
| Bruno Fernandes | 266 | 10.8 | 4.4 | 2223.9 |
| Alejandro Garnacho | 53 | 10.6 | 2.0 | 449.6 |
| Anthony Elanga | 54 | 10.5 | 4.2 | 463.3 |
| Antony | 84 | 7.8 | 2.4 | 962.8 |
| Marcus Rashford | 181 | 7.8 | 2.1 | 2086.2 |
| Jadon Sancho | 64 | 6.4 | 1.1 | 892.8 |
All ten Hag needs from Weghorst is to ease the burden on Rashford and Fernandes and he has done that from a pressing perspective, too. His 38.7 pressures per-90 ranks 12th among all strikers and third upon those recognised as a traditional No.9.
Bournemouth's Kieffer Moore lies on 47.2 and West Ham's Michail Antonio is on 41.2.
What did Weghorst do against Leicester?
In a target man No.10 role, Weghorst was at his most active in winning the physical battle in the 3-0 win at Old Trafford. His 23 challenges were five more than his previous season-high of 18 and earned the Dutchman a 77.1 challenge grade. This was a marked improvement on his previous best of 65.2.
It was a move made by ten Hag to expose the Leicester defense through Rashford's pace rather than Weghorst's height and physical build. Why play Weghorst as a striker when Leicester have Harry Souttar at the back? A defender with a 76% success rate on aerial duels.
This role for Weghorst not only offered an outlet for United defenders, but it also caused Leicester to pour men into the central area when they traditionally instruct Harvey Barnes and Tetê to utilize the full width of the pitch when in possession. This freed Rashford and Fernandes, both competed in their fewest number of challenges (Rashford, 6, and Fernandes, 5) in games which they have started alongside Weghorst. The aerial battle was still one which United dominated, with Leicester's 28% success rate on aerial duels their third lowest in a match this season and below their average won per-game of 43%.
The pay-off was there for Rashford's goal as movement by Weghorst and Fernandes drew in defenders and created space for Rashford to run in behind, beating the offside trap laid by a desperate Souttar.
As we saw Weghorst return to a No.9 role in the Carabao Cup final, this tactic will not be suitable against all opponents. But against teams who like to play with width while not being the most physically imposing team, like Leicester and Barcelona, it can be very helpful to ten Hag even if Weghorst is not anywhere close to the goalscoring form of Rashford.
If United make signing a No.9 a priority in the summer, does Victor Osimhen make sense?
Without a shred of doubt, Osimhen would be a huge signing for United. His 19 goals for Napoli lead all Serie A players, six clear of Inter Milan's Lautaro in second.
This has led the Nigerian top the league's shooting grade at 89.6 from 61 shot attempts, as he spearheads Napoli's runaway charge towards a first Scudetto since 1990 when they were defeated only four times and led by Diego Maradona.
Got that @victorosimhen9 goal on replay ????#NapoliRoma pic.twitter.com/F41hXnjvyq

— Lega Serie A (@SerieA_EN) January 30, 2023
Osimhen, signed by Napoli from Lille in £63.4m ($76m) in 2020, has graded similarly to Weghorst with a 60.3 challenge grade albeit on a much larger sample size of 181 events compared to the United striker's total of 70.
Much like Osimhen has been a revelation this season, so too has been Napoli's wing sensation Khvicha Kvaratskhelia who operates as a left-side forward who likes to cut in in much the same way you see Marcus Rashford attack when played wide under ten Hag.
Together with Kvaratskhelia, he and Osimhen have contributed 29 league goals for Napoli.