When Everton came from behind to beat Crystal Palace in May of last year to secure their Premier League status, it was Dominic Calvert-Lewin who scored the winning goal to send Goodison Park into frenzy.
Fast forward almost 12 months and Everton are faced with the same predicament as the team currently sat in 19th, one point off survival.
For every team facing the threat of relegation from the Premier League, each has four games left in their fight to avoid dropping into the EFL Championship. Unlike at the top of the table, there are no teams who hold a game in hand and no advantage of an additional lifeline to aid their bid.
On current form, Everton do face an uphill task as the holders of the worst goal-scoring record in the Premier League with a total of 27 goals. Their struggles have been so bad in the final third that Everton have scored more than one goal in a match on just five occasions this season.
Everton's lack of goals has gone hand-in-hand with the absence of Calvert-Lewin with a series of injuries which have kept him sidelined for periods of months rather than weeks. Opportunity has remained primarily for Neal Maupay, who has played the most minutes up front in Calvert-Lewin's stead, but without much success despite the best efforts of Alex Iwobi (60) and Dwight McNeil (42) as players in the top-30 for chances created.
Calvert-Lewin has returned from injury to start the last three games and scored his first goal since October against Leicester on Tuesday, in a match where Everton's 22 shots was the highest recorded all season.
Games against Brighton and Manchester City await them next week followed by clashes against Wolves and Bournemouth – two teams who appear secure after having relegation fears of their own for much of the season.
If we consider Wolves as a team that is safe on 37 points, there are still six teams at the lower of the table battling against relegation. How has the team's attack, bare of options with Dominic Calvert-Lewin injured for a vast majority of their games, been a hindrance under Frank Lampard and current head coach Sean Dyche?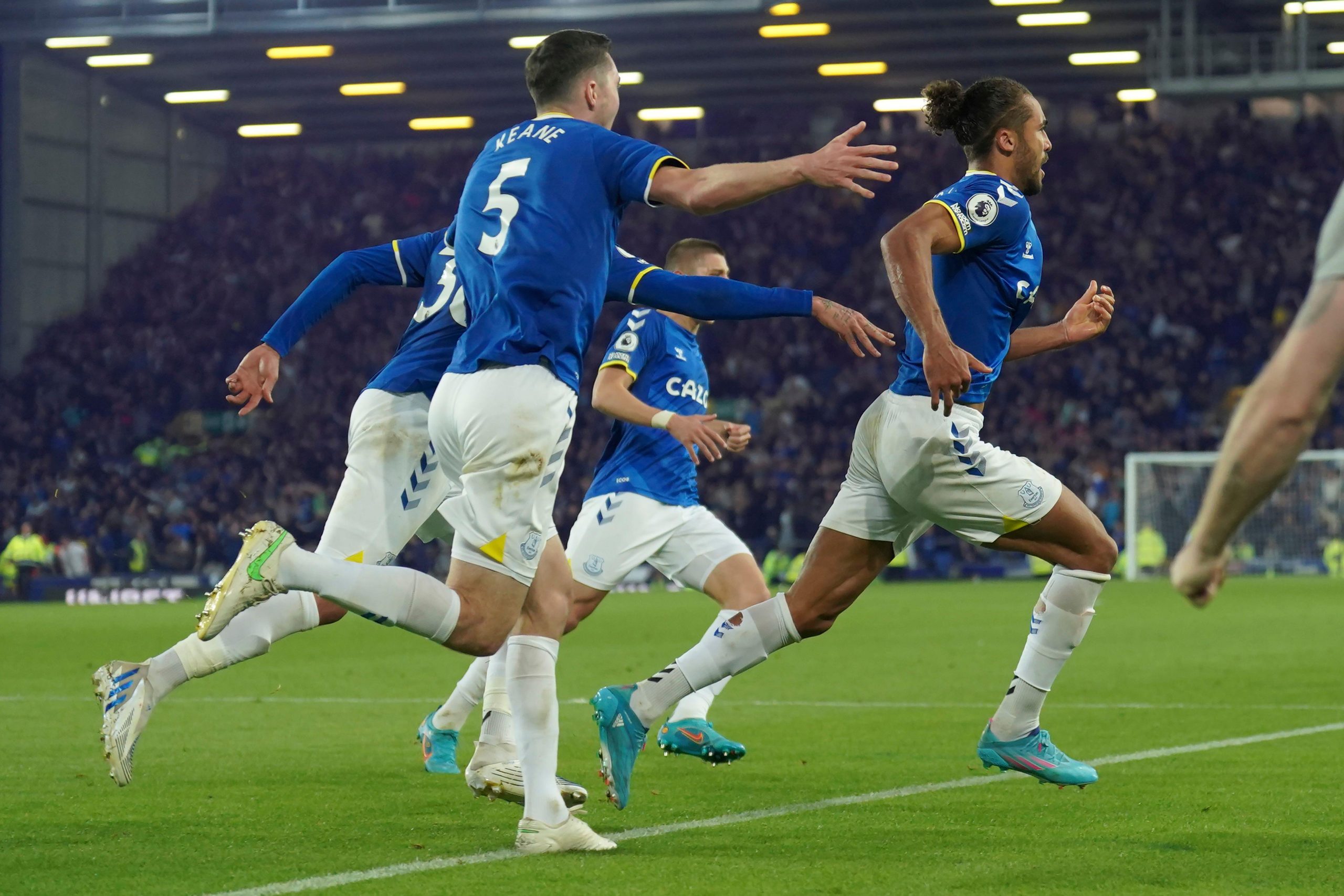 Dominic Calvert-Lewin
PFF shooting grade: 68.0 (position rank: 40th/69)
The main man in Everton's squad in terms of attacking options, Calvert-Lewin has been capped 11 times by England but has been thwarted over the last two seasons by a series of injuries.
Everton's attack has faltered in the absence of their top goalscorer for 2019-20 and 2020-21 as a result of knee and hamstring issues.
He did convert a penalty against Leicester to give Everton the lead and recorded four shot attempts, but Calvert-Lewin's shooting grade for the match of 64.0 fell in line with a level of quality that leaves him well short of ranking amongst the league's best finishers.
A shots per-90 rate of 2.3 sees Calvert-Lewin rank tied-15th out of the 28 forwards to have played between 1,000 and 2,000 minutes. Coincidentally, this is the same rate as Calvert-Lewin recorded last season.
The difference being he did grade out better at 72.8 which, though may seem marginal compared to his seasonal grade for 2022/23 of 68.0, saw him rank 24th out of 60 strikers last season.
Two of Calvert-Lewin's top-three best grades in PFF's shots model have come in his last three games, generating a season-best grade of 85.7 in the 4-1 defeat to Newcastle and 73.4 in the 0-0 draw with Crystal Palace.
In a season where a regular run of games and consistent, high quality shot grading has been a little hard to come by, could Calvert-Lewin repeat his heroics of a year ago?
Neal Maupay
PFF shooting grade: 63.0 (position rank: 53rd/69)
Goals have been a rarity for Neal Maupay since his arrival at Goodison last summer as a free transfer, with only Southampton's Adam Armstrong (1,408) being present for more minutes on the pitch but having one goal to show for it.
Maupay's shots per-90 rate equals that of Calvert-Lewin's, as well as the number of shots which find the target (0.9), but he has seen a slightly lower grade overall on the quality of his shots at 63.0 compared to that of Everton's No.9.
Ellis Simms
PFF shooting grade: 58.3 (position rank: 65th/69)
There is a very low sample size of five shots for Simms, but his recall from being on loan at Sunderland perhaps typifies Everton's worries in attack and the jettisoning of Salomon Rondon in January.
Simms, aged 22, had impressed in the Championship with Sunderland where he scored seven goals in 17 appearances and earned a shooting grade of 71.9.
But aside from a key equaliser to record a point for Everton against Chelsea in March, he has returned to a bench role since the return of Calvert-Lewin.