During Manchester United's FA Cup Semi-Final against Brighton last weekend, Leicester City midfielder James Maddison tweeted out that in his opinion Aaron Wan-Bissaka 'is one of the best in the world at one-on-one defending'.
"So many wingers run out of ideas when playing directly against him" Maddison said. That's a big compliment, but is Wan-Bissaka the best full-back in the Premier League at defending dribbles? And if not, who is?
AWB is ridiculously good at 1 v 1 defending. Probably the best in the world bar none. So many wingers run out of ideas when playing directly against him.

— James Maddison (@Madders10) April 23, 2023
Wan-Bissaka is clearly a very good defender. For everything that's been levied at him for his struggles as an attacking full-back and his off-ball defensive issues, he's always had a reputation as a great tackler.
Unfortunately, with only 14 dribbles defended in his 13 Premier League appearances this season, he doesn't qualify for our list as the sample size is too small to get a reliably accurate grade compared to his competition. However, it is worth looking at the grade that he has achieved in those 13 games as it can still give an indication of how he has performed.
Wan-Bissaka currently has an 80.1 defending dribbles grade, which would be good enough for 16th among full-backs if he qualified. However, given he has a 64% win rate in those dribbles that he's faced, if he keeps that up his grade will continue to rise.
Our season grades aren't simply an average of a player's performance in each game but an overview of their year as a whole. If Wan-Bissaka keeps performing at this level with a larger sample size his grade will increase and he'll shoot up the rankings.
So, who are the best full-backs at defending dribbles in the Premier League?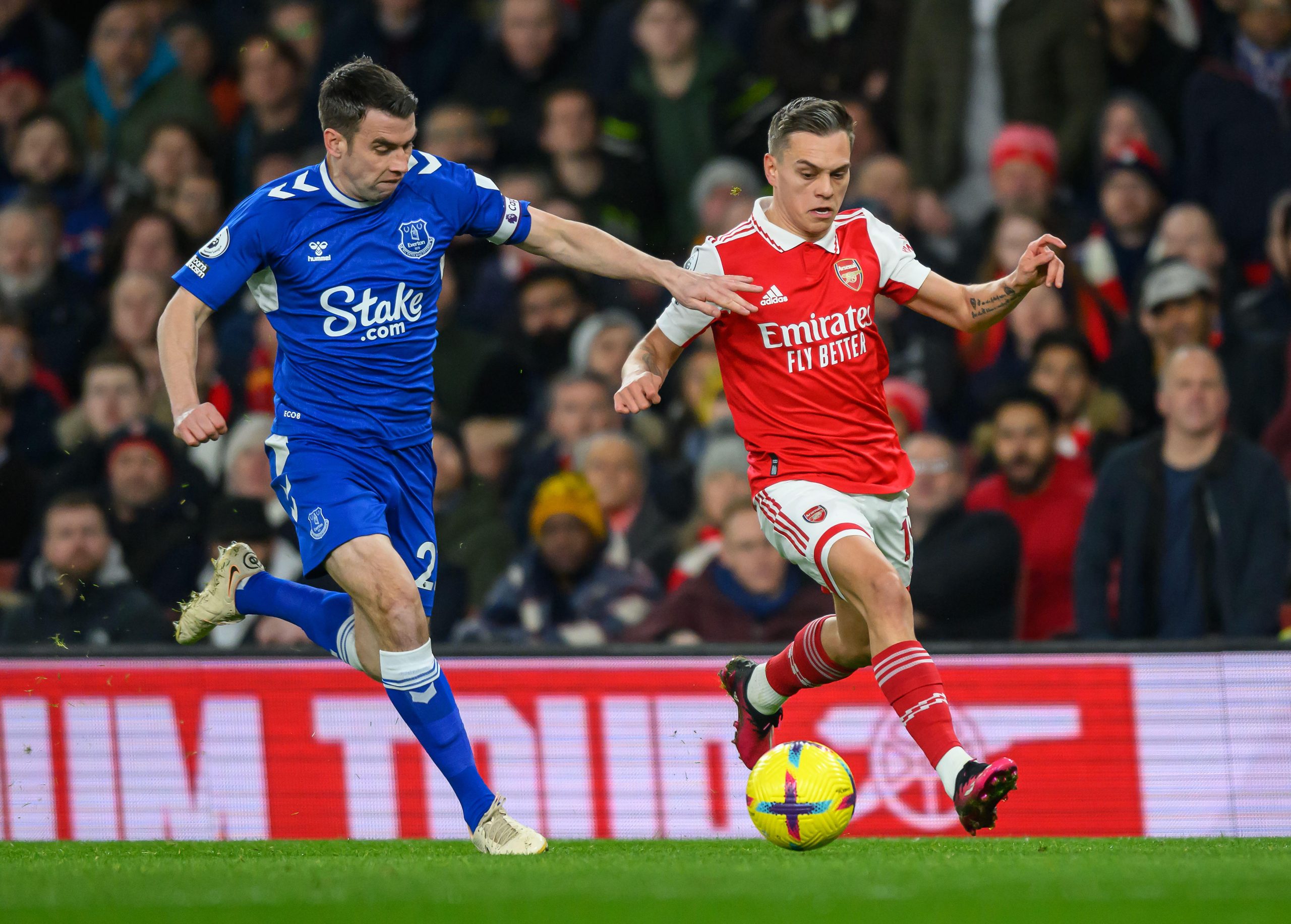 1. Seamus Coleman, Everton
PFF defending dribbles grade: 89.7
The Everton captain probably wouldn't be the first name you think of as a defender that is excellent at defending dribbles but he's rarely been beaten this season. Like Wan-Bissaka, he has a 64% win rate when dribbled at and uses his years of experience to make sure wingers don't get the best of him.
Coleman isn't exactly slow, but he is not the fastest defender in the league. He certainly doesn't have the speed to match some of the Premier League's fastest forwards. When a winger tries to beat him, Coleman tracks the ball well and doesn't lose sight of it. He rarely allows the ball to get knocked past him, preferring to win it after the carrier's first touch rather than get into a foot race. If the dribbler does get the ball past him, Coleman immediately uses his physicality to protect it and not let the winger collect it on the other side of him.
2. Vitaly Mykolenko, Everton
PFF defending dribbles grade: 89.5
You certainly wouldn't expect two defenders whose side sits near the bottom of the table to top the grades in this list but, like Coleman, Mykolenko is excellent in 1-v-1 situations.
Mykolenko tends to defend dribbles by giving the winger a yard or two of space and allowing himself time to react to what they do with the ball. Whether the winger goes inside or outside of him, his extra yard of space allows him to sweep his foot across and knock the ball away from the carrier before it beats him. Whereas his older teammate uses his strength to protect the ball if it goes the wrong side of him, Mykolenko has the speed to turn, recover and tackle before the defender can leave him behind.
3. Matty Cash, Aston Villa
PFF defending dribbles grade: 88.7
The Poland international right-back had just had his first consistent run in the side since Unai Emery took over before a calf injury during international duty sidelined him for the last couple of weeks.
Looking at the dribbles Cash has successfully defended this season, he's an active defender when being dribbled at. He tries to put the challenge in as soon as possible, if he isn't already flying towards the dribbler coming the other way. While this is a risky approach and he tends to get taken out of the game on the few occasions he's been beaten this season, he does have a 56% win rate showing he's been successful the majority of the time.
4. Antonee Robinson, Fulham
PFF defending dribbles grade: 88.2
Robinson is in his second season as a regular Premier League player following Fulham's bounce-back year in the Championship and he's stepped up to show he belongs in the top flight. He's been one of his team's best performers in their surprising push for a top-10 finish.
One of the USMNT star's  key strengths in defending dribbles is his speed but he very rarely needs to use it. He's fantastic at winning the ball with an early challenge as the carrier starts to attack him. This means he doesn't need to win the ball as he recovers, but it's useful to know he has that ability even if the dribbler can beat his initial attempt to win the ball.
5. Emerson Royal, Tottenham
PFF defending dribbles grade: 87.8
The 24-year-old Brazilian has spent most of the season playing right wing-back and has a 54% win rate when defending dribbles to go along with his excellent grade.
After watching the dribbles that Emerson has defended successfully this season, the first thing you notice is that he's quick to react to a dribbler trying to come inside and doesn't get beaten by quick feet. He's also not afraid to use his strength and go shoulder to shoulder with the winger if they want to try and take him on outside, either shrugging the defender off or letting the ball run out of play to win his side a throw-in.