Each week, we at PFF will break down all of the notable, draft-eligible quarterbacks and how they performed the weekend prior. Be it good or bad, get the exclusive PFF take on each of those quarterbacks you will be certain to hear about come April.

Sam Darnold, USC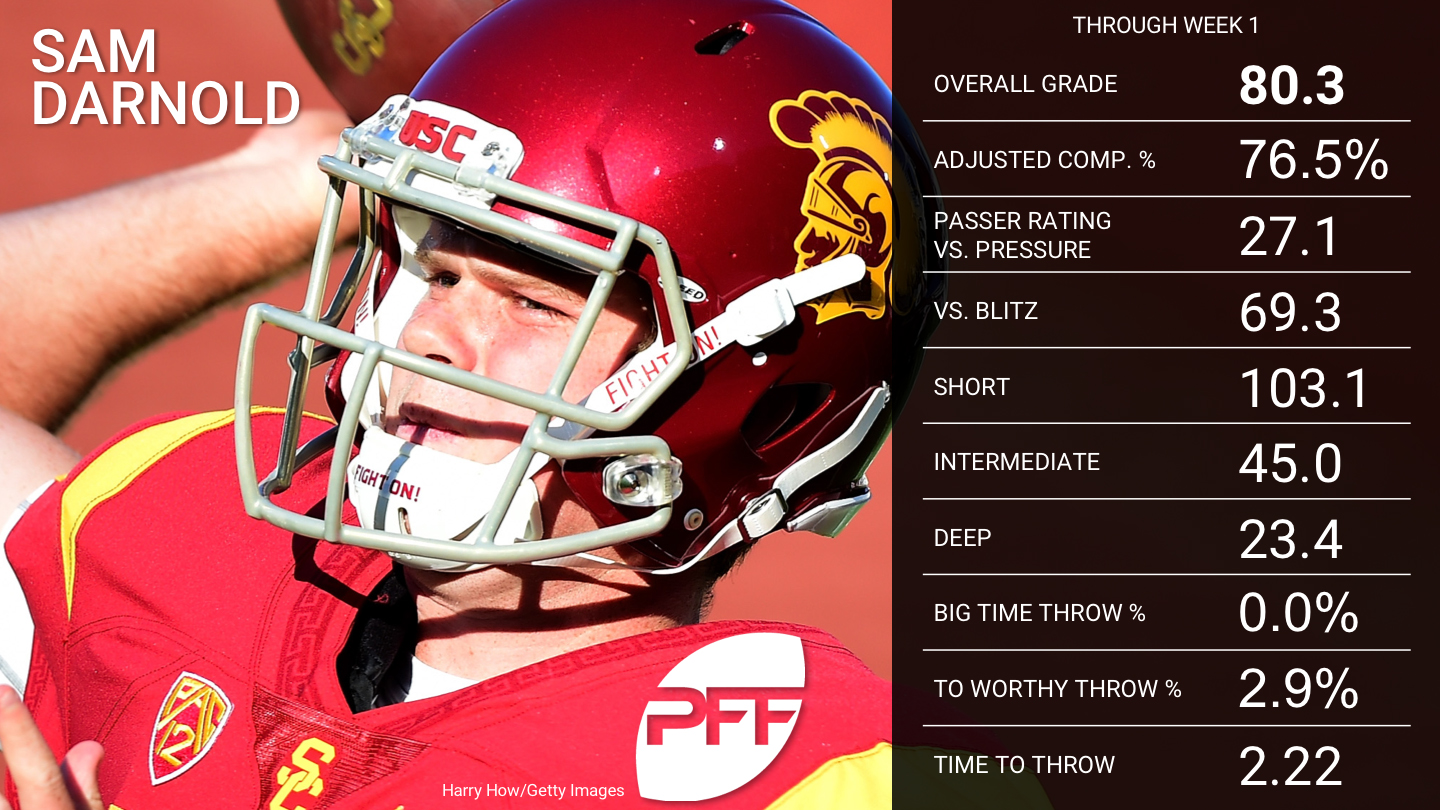 Steve Palazzolo: It wasn't the finest we've seen from Darnold who continues to struggle with the deep ball. Last season, he graded at only 46th out of 116 qualifiers on deep (20-plus yard) passes and those struggles continued with a 2-for-8 effort that included an interception on a floated underthrow. Darnold's other interception came on an uncharacteristic poor decision over the middle of the field, an area in which Darnold usually dominates with precision. Keep an eye on Darnold's deep passing as the season progresses.
Luke Falk, Washington State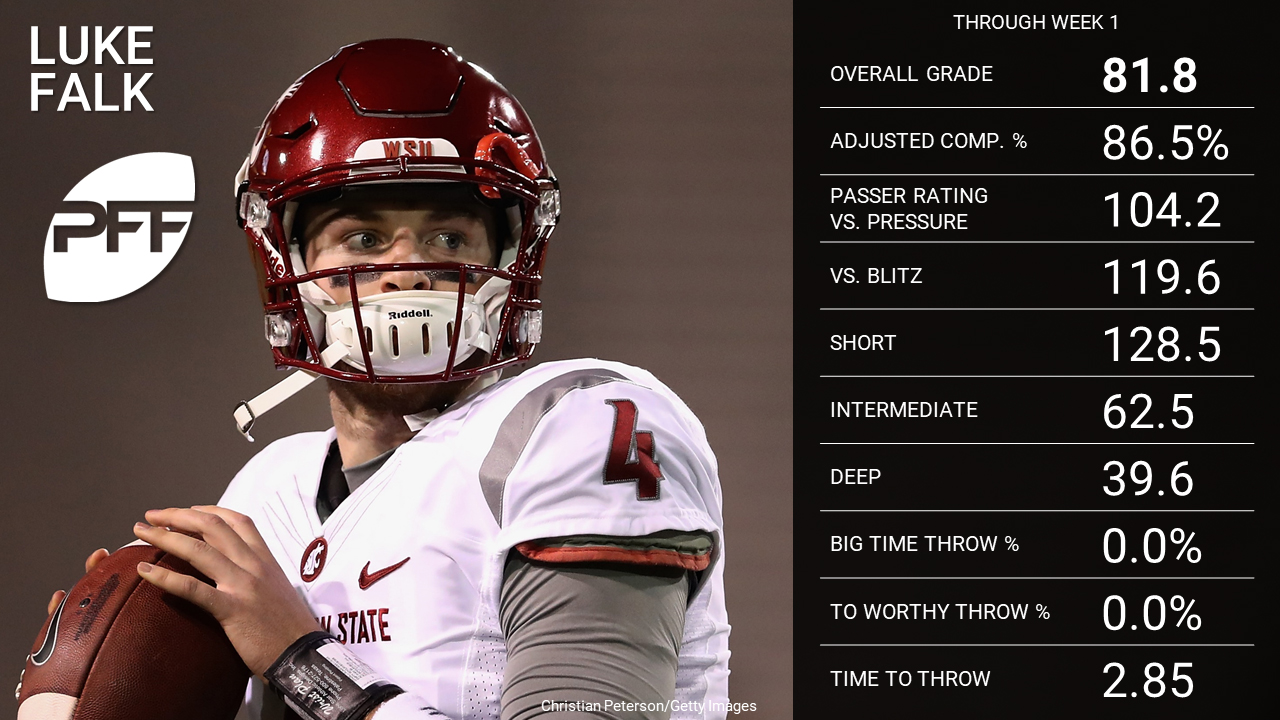 Steve Palazzolo: There wasn't a lot of heavy lifting for Falk who completed 32-of-38 passes for 307 yards and three scores, with that breaking down to a 31-of-32 effort on passes thrown up to nine yards. He was only 1-for-5 on anything thrown 10 yards or deeper. It was a healthy dose of screens, shovel passes, and check downs for Falk who will have more important games as far as evaluation goes.
Lamar Jackson, Louisville
Steve Palazzolo: It was a strong game for Jackson who showed excellent accuracy on a number of passes, particularly in the middle of the field. Aside from one poor decision in which he tried to force a pass through multiple Purdue defenders, Jackson dominated in between the numbers, going 20-for-28 for 282 yards and two touchdowns, good for an NFL passer rating of 127.4. Jackson also did damage throwing the ball outside the pocket where he had an adjusted completion percentage of 71.4 percent and one of his misses was a spectacular effort that barely led the receiver out of bounds along the sideline.
Baker Mayfield, Oklahoma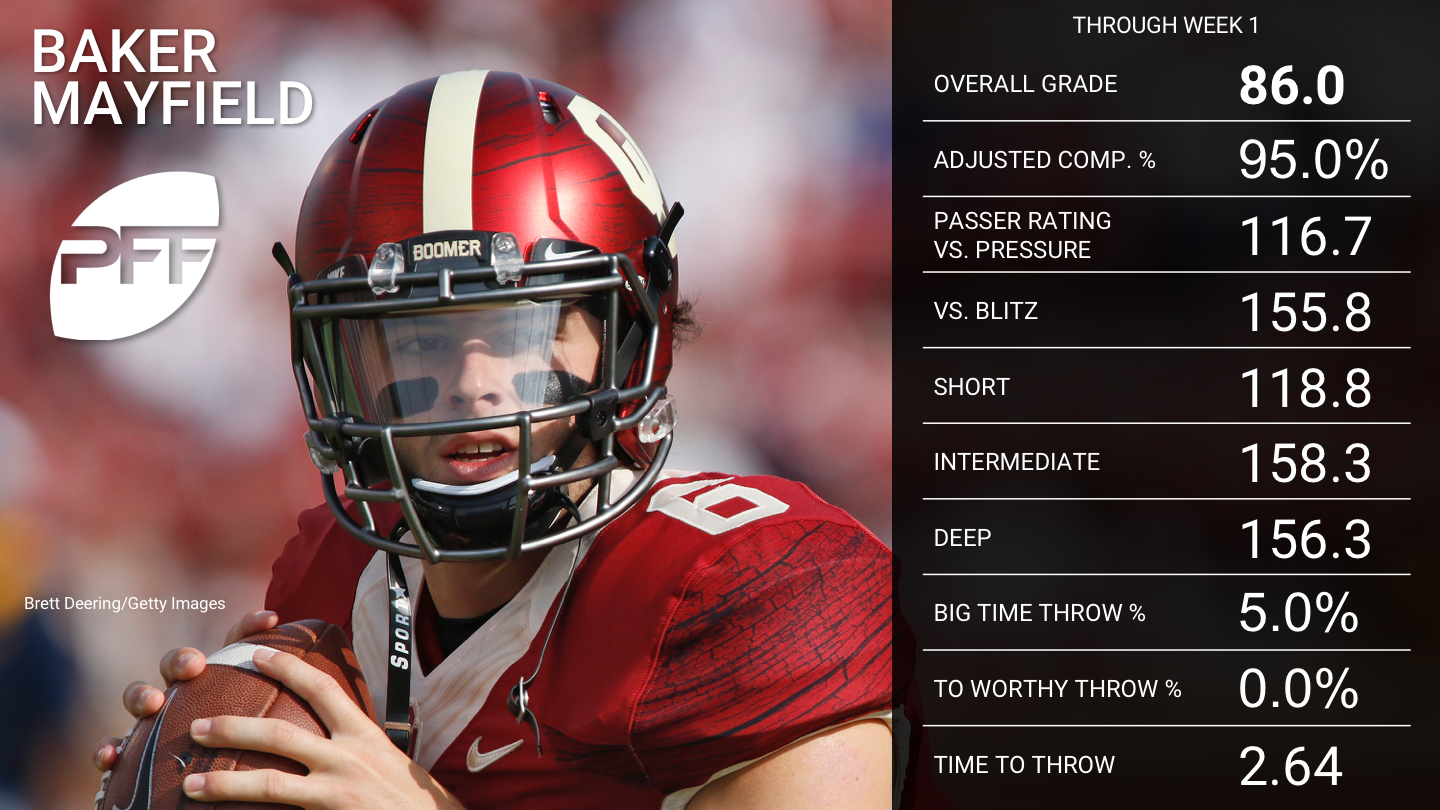 Zac Robinson: Breaking in a relatively new cast around him, Mayfield was sharp completing 95 percent of his passes with the lone incompletion on a 20-plus yard attempt. Mayfield benefited from great protection – under pressure just one of his 20 attempts – and perhaps some scheme-help with receivers running open against an outmatched UTEP team. Nonetheless his ability to consistently hit receivers in stride for run after the catch opportunities is what makes him one of college football's best.
Josh Rosen, UCLA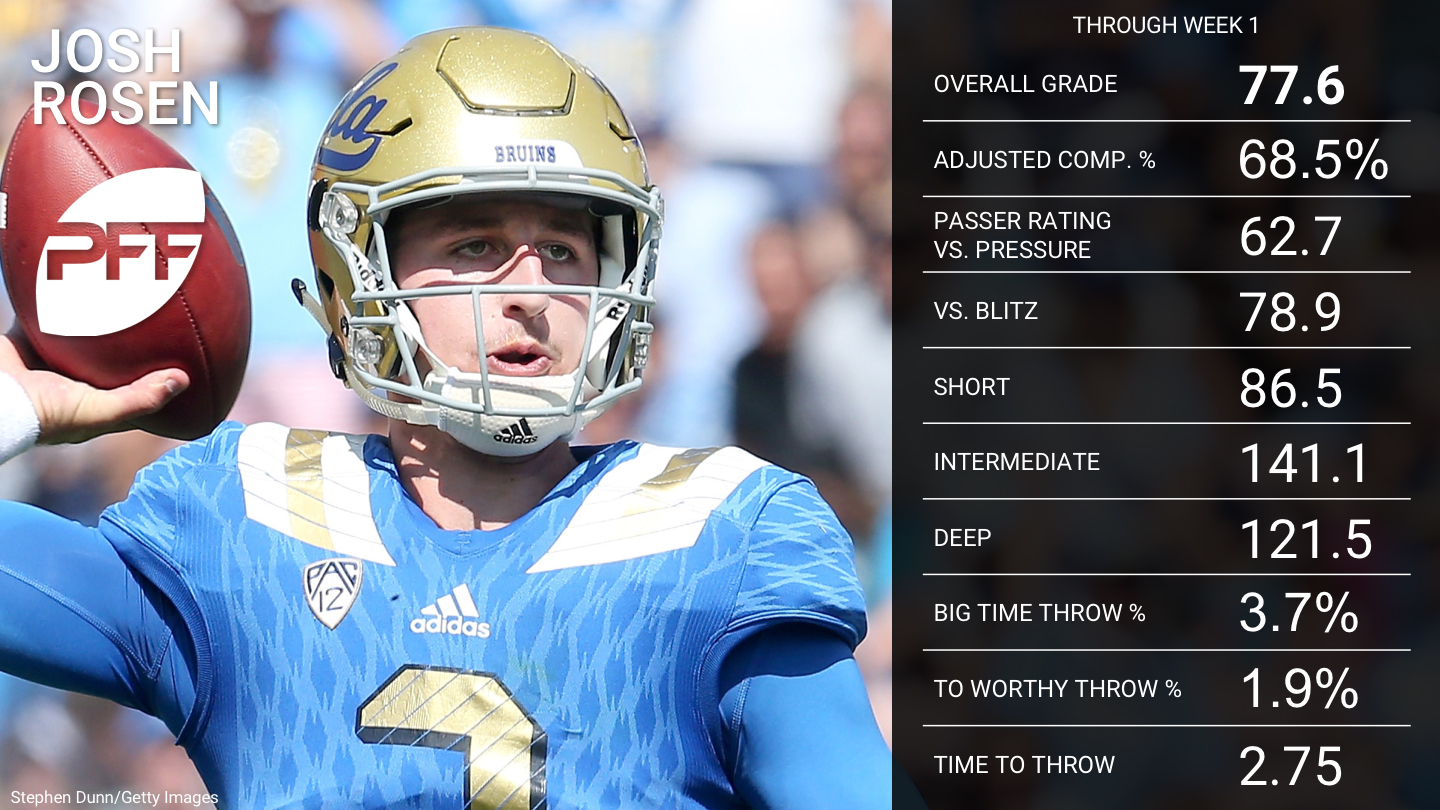 Steve Palazzolo: Rosen led one of the most incredible comebacks in college football history, but the tape wasn't nearly as good as the credit he got in the aftermath. The comeback was fueled by two of the luckiest touchdowns you'll see, including one that should have been a game-ending interception that snuck through a safety's hands for a score. However, there were some positives, including Rosen's toughness and his work at the intermediate level where he went 13-for-19 for 214 yards and an NFL passer rating of 141.1. Despite the hype, this game showed how much work Rosen still has to do before being locked in as a top prospect.
Mason Rudolph, Oklahoma State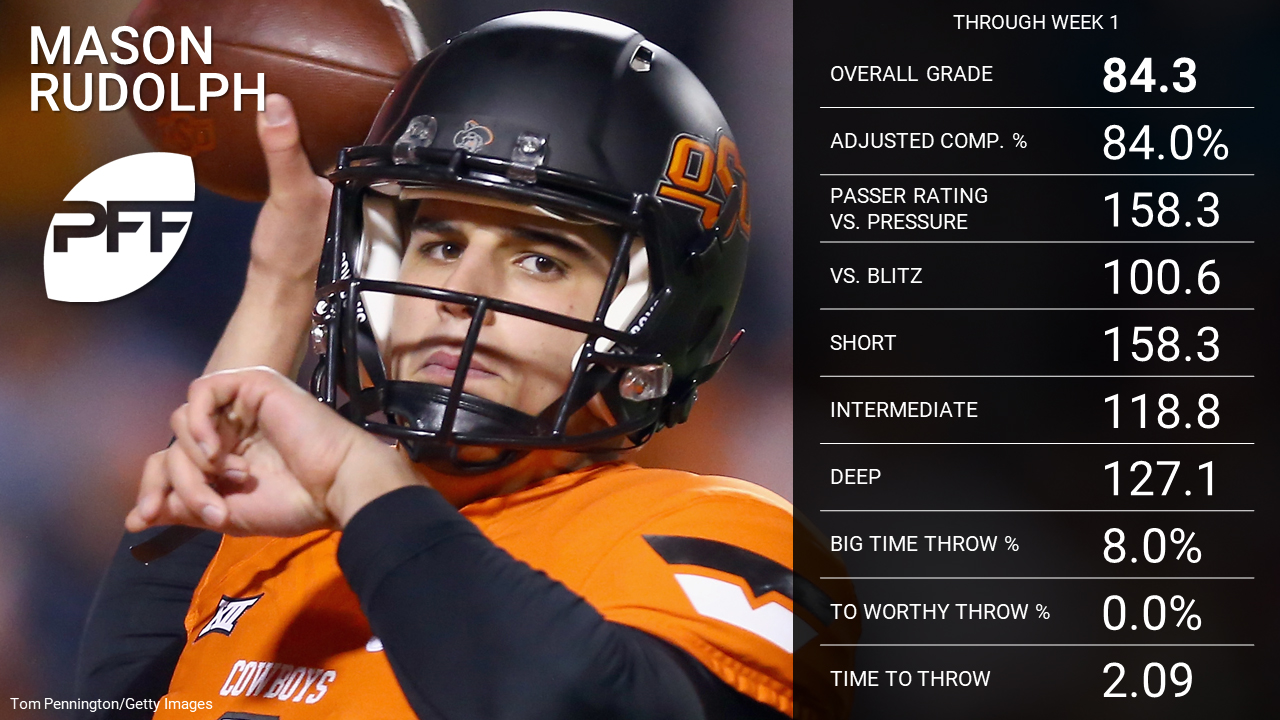 Zac Robinson: Rudolph got off to a fast start connecting on a "go" route to Tyron Johnson and a perfectly placed post to James Washington early in the game. He littered the field with touch and well placed timing and rhythm throws outside the numbers throughout. Rudolph was at his best passing under pressure, going 4-of-5 for 176 yards and two touchdowns. While he did have a sack fumble against him trying to extend the play, it was a pretty clean night overall.
Josh Allen, Wyoming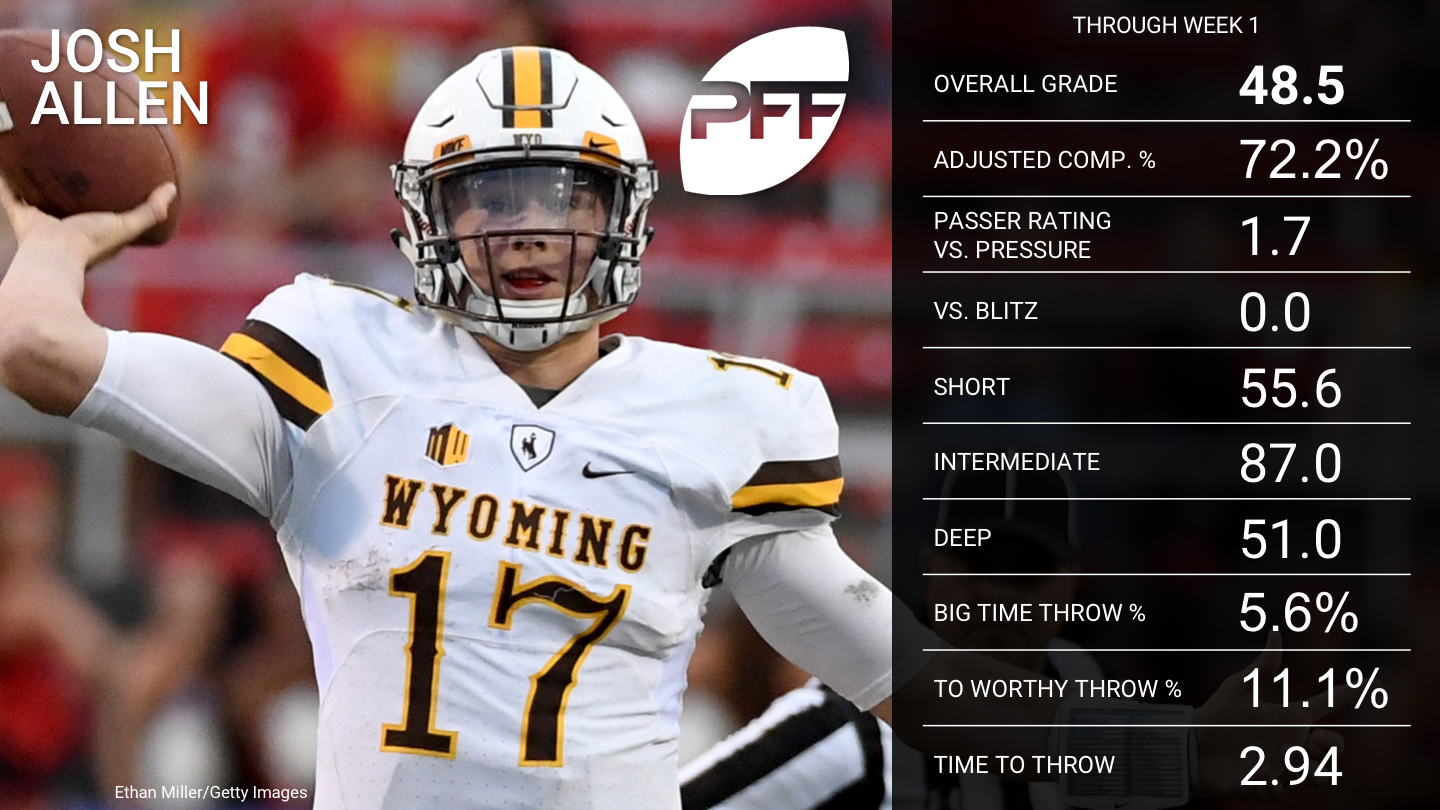 Steve Palazzolo: It was an ugly debut for Allen who finished with four turnover-worthy plays, two of which were intercepted. He flashed his big arm and athleticism, putting deep ball on the money for a dropped interception and zipping strong passes outside the numbers, but he still missed on far too many throws and put the ball in harm's way more than should be expected from a top quarterback prospect.
Mike White, Western Kentucky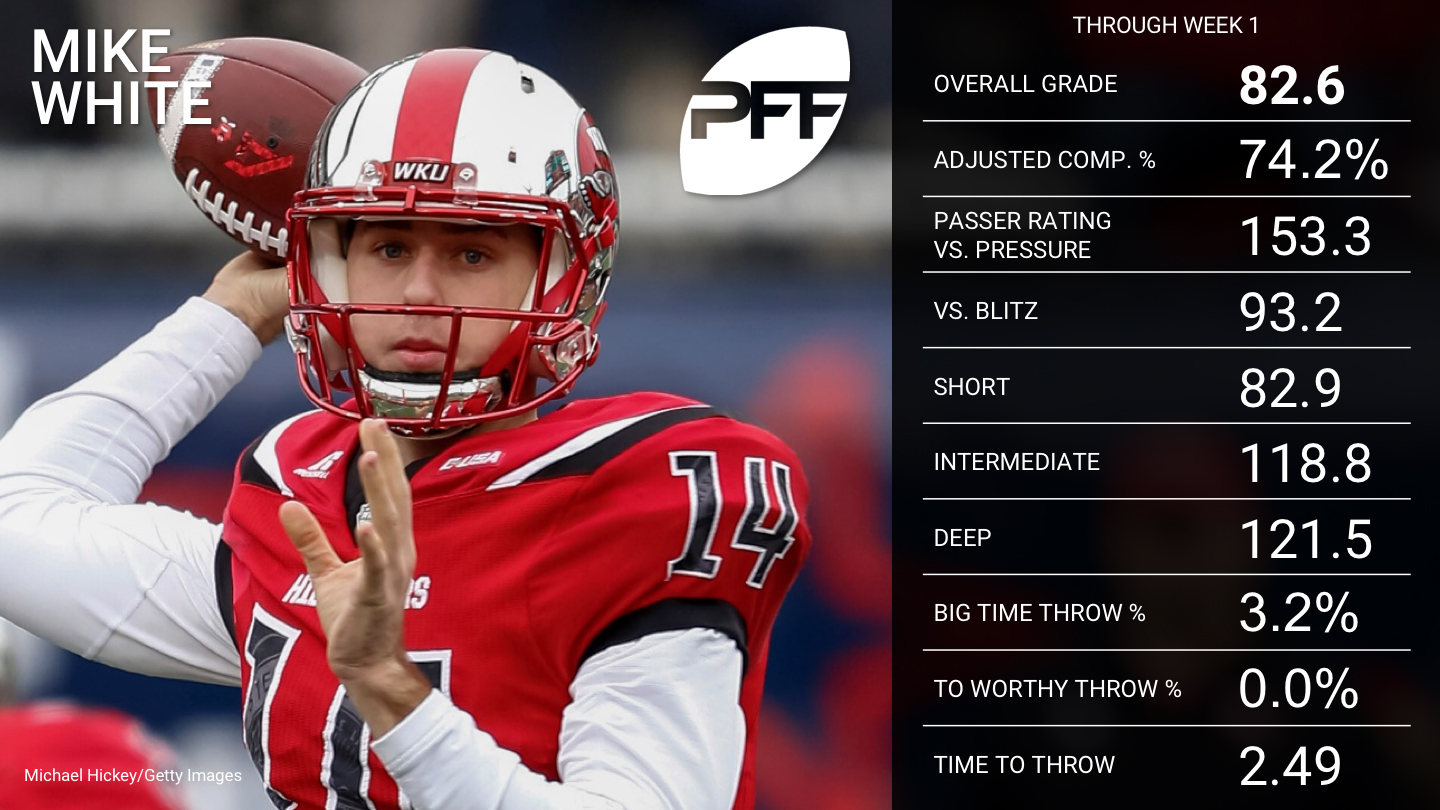 Steve Palazzolo: White had a fine game against Eastern Kentucky, hitting 5-of-6 intermediate throws while connecting on a beauty of a 66-yard touchdown on a post route. That was his only completion beyond 20 yards (1-for-3 for the game) as he generally took care of business in the short game. White has a chance to be a rising name as the season progresses and this was a good first step.