Every year, talented true freshmen make their names known on the national stage with strong performances in their debut seasons at the collegiate level. While these strong impressions are usually made from those players who dominate the box scores on Saturday nights, we at Pro Football Focus are in a great position to highlight all the true freshman players who have performed at a high level no matter their position during their first year on campus.
This list is brought to you by Eckrich, the Official Smoked Sausage of the College Football Playoff.
With our grading of every player on every play of every game at the FBS level, here are the top-graded true freshmen through three weeks of football:
1. Alan Bowman, QB, Texas Tech
2018 season grade: 91.7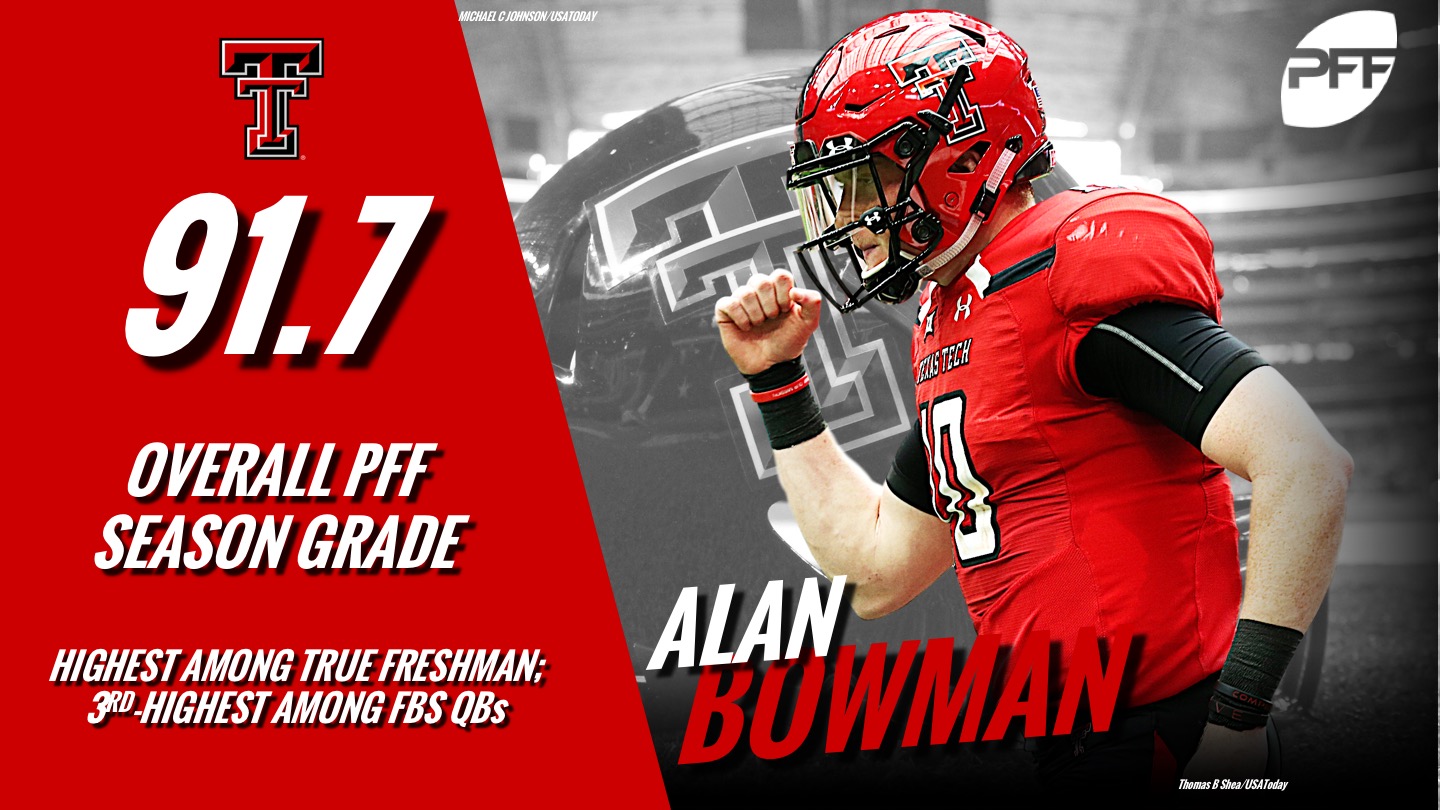 Bowman isn't just the top-graded freshman here but he is also the nation's third-highest graded quarterback across the entire FBS landscape. Displaying remarkable poise in his first season at Texas Tech, Bowman has thrown eight big-time throws while he has not had a turnover-worthy play on his 137 dropbacks this season. Not even the starter when the season began, Bowman may have done enough already to keep McLane Carter off the top of the depth chart even when he's healthy.
Bowman's 80.2 percent adjusted completion percentage ranks 15th in the nation among qualifying quarterbacks, but second to only Mason Fine among quarterbacks with at least 100 attempts through three weeks.
2. Jamien Sherwood, S, Auburn
2018 season grade: 91.0
Sherwood's 60 snaps are among the lowest on this list but he's impressed all over the field in limited duty. He's made the splash plays in coverage that you'd expect from a breakout star including an interception and a pass breakup on his three targets as the primary coverage defender. All told, he's allowed a passer rating of just 2.8 on targeted passes and he hasn't missed a tackle all season long.
3. Pooka Williams Jr., RB, Kansas
2018 season grade: 90.9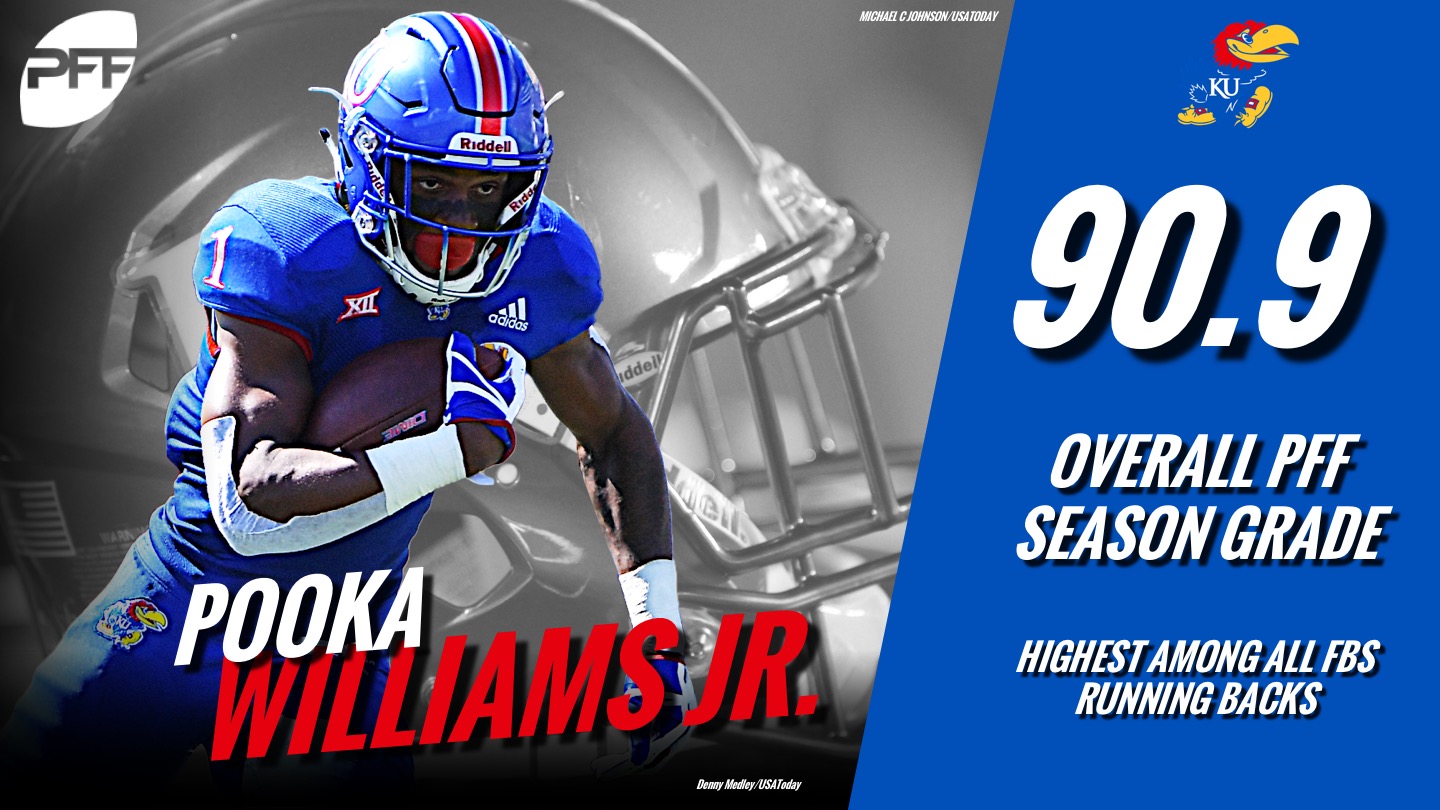 Williams may be third on this list but he currently ranks as the nation's highest-graded running back through three weeks. A major component to Kansas' 2-1 start, Williams has forced or avoided 16 tackles on just 33 attempts this season while he's also gained 158 of his 306 yards after contact. Diving deeper into Williams' success reveals that he is currently the nation's highest-graded running back on draw plays.
There have been 22 running backs across college football to log at least two attempts on draws and Williams' leads the pack with 134 yards, 59 yards after contact, three touchdowns, three additional first downs, four missed tackles forced and a 95.9 grade on such plays. Clearly the bread-and-butter of the young running back's arsenal, Williams has been more than impressive through three weeks.
4. Justin Fields, QB, Georgia
2018 season grade: 90.6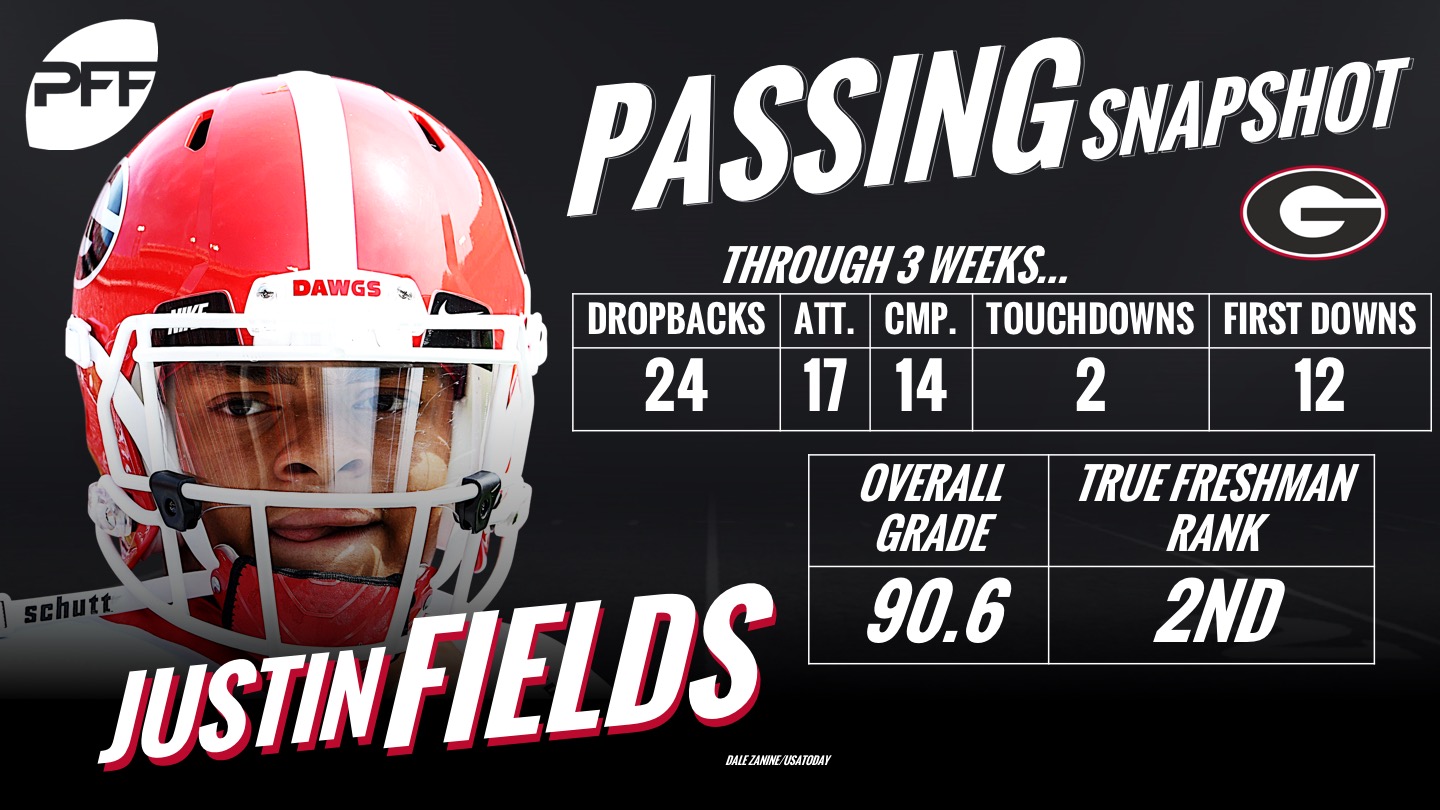 Playing in a rotational role with Jake Fromm, Fields has looked incredibly sharp through three weeks. He's only attempted 17 passes but he's completed 14 of them as all 14 completions have gone for either a first down or a touchdown. That's an impressive stat line no matter who you are or how many snaps you've played.
5. Andre Cisco, S, Syracuse
2018 season grade: 88.8
Like his fellow safety on this list, Cisco has also made all the splash plays you'd expect. In coverage as the primary defender, Cisco has brought in three interceptions and two pass breakups. That interception total leads the nation's safeties as does his five combined plays on the ball. He's also accounted for two stops for an offensive failure as he's limited receivers to just 13 yards on two receptions in coverage as well.
6. Sam Hartman, QB, Wake Forest
2018 season grade: 88.2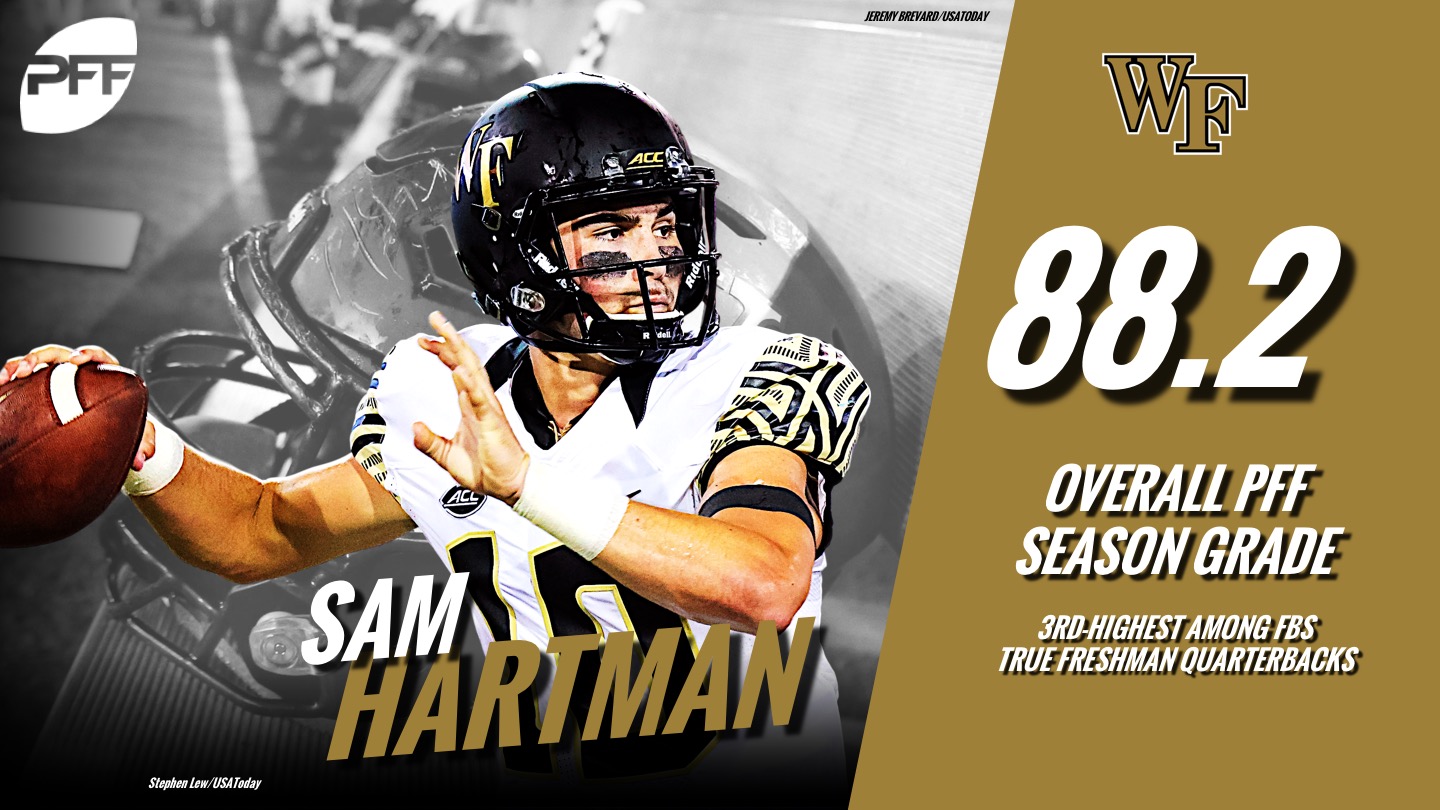 Currently the 16th-highest graded quarterback in the nation, Hartman has been tasked with replacing John Wolford in the potent Wake Forest offense. He's done so admirably despite being bitten with a little bad luck. He's only thrown what we'd classify as a turnover-worthy pass on three attempts, yet he's seen five passes of his intercepted, hurting his overall passer rating. He's done more than most this season, seeing only 30.0 percent of his passing yards come after the catch, the 14th-lowest rate among qualified FBS quarterbacks.
7. Amon-Ra St. Brown, WR, USC
2018 season grade: 84.1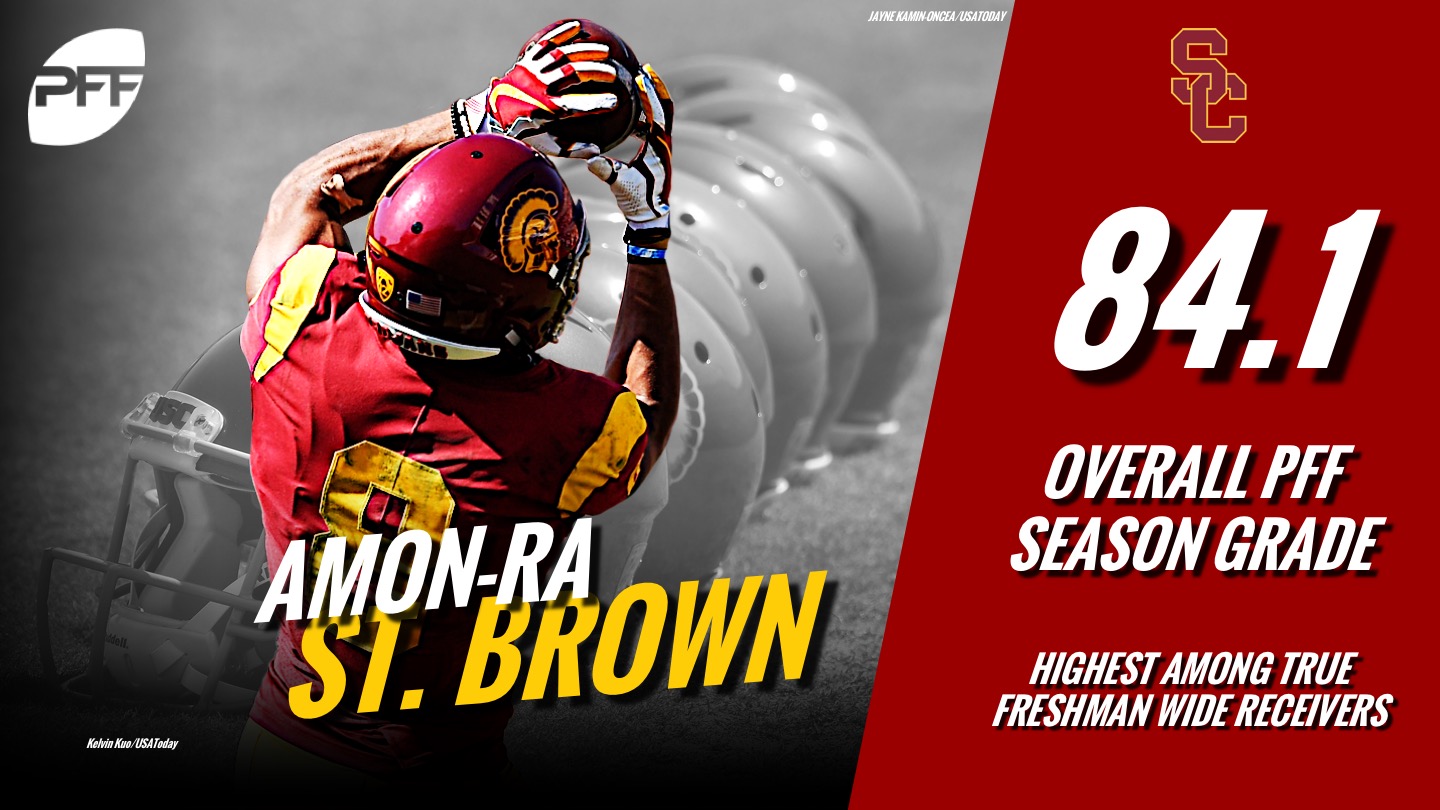 Carrying over his connection from Mater Dei High School with fellow true freshman JT Daniels, St. Brown has made highlight-reel plays despite USC's 1-2 start this season. In total, he's hauled in 18-of-27 passes for 304 yards and just one touchdown but he's accounted for 10 other first downs and racked up 105 yards after the catch. His four missed tackles forced after the catch are tied for fourth-most in the Pac-12.
8. Bryce Thompson, CB, Tennessee
2018 season grade: 83.2
Thompson has been targeted 12 times already in his debut season at Tennessee, allowing just six of those to be caught for under 10.0 yards per reception. He's allowed a touchdown in coverage but he's also intercepted and broken up another. Thompson has also recorded seven total stops in coverage and in run defense.
9. Jarron Morris, CB, Texas State
2018 season grade: 82.0
Morris has shined brightest in coverage this season for the Bobcats. On 20 targets into his coverage, he's allowed 13 receptions and just 32 yards after the catch. He hasn't allowed a touchdown while he's intercepted a pass and broken up one more. He's accounted for another turnover as well as he forced a fumble and has recorded nine defensive stops, the second-highest total among cornerbacks so far.
10. Jacquez Jones, LB, Ole Miss
2018 season grade: 81.1
Playing linebacker in the SEC is hard enough. Playing 88 snaps through three games at linebacker in the SEC in your debut season is a completely different animal. Jones has not only played 88 snaps, but he has also done so at a high level across all facets of the game. In coverage, he's limited receivers to just five yards after the catch. He's recorded a run stop every 8.6 snaps in run defense but Jones has put forth his best effort on the blitz.
On just six pass-rushing snaps, Jones has gotten home with three total pressures including a sack and two additional QB hits.
Others near the top of this list:
Will Choloh Jr., DI, Troy – 80.4 season grade
Rondale Moore, WR, Purdue – 80.3 season grade
Talanoa Hufanga, S, USC – 80.0 season grade
KeSean Carter, WR, Texas Tech – 79.8 season grade
Dennis Osagiede, DI, UMass – 79.7 season grade