Below is the third installment of our weekly PFF ELO rankings for college football. Like all ELO systems (including our version for the NFL), PFF ELO is an iterative system that updates each team's rating after each game based on two things: how well they played against their opponent and how well they were expected to play against their opponent. The PFF ELO rating system measures the former using our unique offensive, defensive and special teams grades, while the latter is determined by the PF FELO ratings leading up to the game and where the game is played.
For example, a heavy favorite playing at home is expected to outplay the visitor, so a victory would result in only a small rise in their PFF ELO rating and a similarly-small decrease in the defeated team's, but if an upset were to happen, the visiting team would see their PFF ELO rating rise substantially, and the home team's see a similarly-sized drop.
Week 3 gave us an exciting game between TCU and Ohio State, while Alabama continues to make us think there should be something better than a No. 1 rating we can give them. Wisconsin (our then-No. 2-ranked team) fell outright to BYU at home, even though the grades would suggest a score a bit more in their favor. Our high rating of LSU at the beginning of the season continues to bear fruit, as they beat Auburn for their second win against a top-25 team, contributing to our winning week against the spread on this site. 
Sometimes in football, the best team does not win, and PFF ELO accounts for these oddities by using our grades. Hence there will be teams rated higher or lower in this system than their win-loss record would suggest. Since PFF began charting college football in 2014, the difference in PFF ELO values alone has been able to explain over three-fourths of the variance in the closing Vegas line. Check back on our site for weekly college spread picks using this model (as well as other information) and check out PFF Greenline for our NFL version of the product.
The PFF ELO College Power Rankings are brought to you by Eckrich, the Official Smoked Sausage of the College Football Playoff.
The rankings:

It's hard to believe we could be any higher on a team, but Alabama is clear of the rest of college football by about 40 PFF ELO points. Tua Tagovailoa is generating a big-time throw on roughly 12 percent of his dropbacks so far, which is second in the SEC through three weeks. His supporting cast is helping him as well, as every air yard is being converted into 1.46 passing yards so far (kudos to Josh Hermsmeyer for this stat), making the Alabama passing game efficient on over 55 percent of early-down plays.
Led by Quinnen Williams (nine pressures and 12 stops), the Crimson Tide defense has generated 74 total pressures so far, and limited opposing offenses to -0.47 EPA on early-down passes and -0.37 EPA on early-down runs.

Georgia put up 40 points or more for the third consecutive game Saturday, with Justin Fields generating the highest per-dropback grade of all quarterbacks in the SEC in relief of Jake Fromm, who has been positively-graded as well. Their 0.61 EPA per early-down passing play is easily the highest in the conference, while they have also been positive in the running game, generating success on roughly 47 percent of early-down plays in the ground game.
There are zero players on the Georgia defense that has a significantly negative grade, a testament to the fact that they've missed only 11 tackles through their first three games, versus 70 stops. Their lack of a pass-rush (only 16 total pressures) is a bit concerning and teams have been successful on roughly 48 percent of early-down passes, so look for how this evolves as they get into the heart of SEC play before fully buying into them moving forward.

Kyler Murray has generated over half an expected point per dropback so far this season while producing only one turnover-worthy play in the process. Oklahoma has been successful on over 55 percent of early-down passing plays, while also averaging a positive EPA on early-down running plays.
They've struggled a bit defensively, allowing the second-most EPA per passing play in the Big 12 so far. Their coverage grade is currently 77th in the nation, despite an impressive 52 total pressured generated through three games. Their 34 missed tackles are a concern and will have to be corrected if they want to contend here moving forward.

Ohio State won a thrilling "neutral" site game against No. 20 ranked TCU as their passing offense continues to impress, generating an EPA per dropback of 0.42 on early downs, by far the best in the Big Ten. Dwayne Haskins has been exceptional from a clean pocket with 11 touchdowns and zero interceptions, posting a passer rating of 148.1 (first among all FBS quarterbacks).
Very little has been said about the injury to Nick Bosa, our No. 1 overall player heading into the season. If he misses significant time, the success that Ohio State has had in pass defense will be adversely affected. Through three weeks, they have allowed a successful pass on only 38 percent of early down dropbacks. Pair this with a successful rush allowed on 27 percent of attempts and you have a tantalizing defense now dealing with a frustrating injury problem.

Trace McSorley is playing exceptionally to start 2018 with a big-time throw on eight percent of his dropbacks. He has also discovered the cheat code to rushing EPA, delivering an EPA per rushing attempt of 1.15 on 23 attempts in 2018, essentially becoming the best dual-threat quarterback outside of Oklahoma in 2018. Miles Sanders continues to impress, forcing seven missed tackles in Week 3. As a rushing unit, Penn State has a successful rush on 53 percent of early downs.
The Nittany Lions defense has stifled early downs, allowing a successful pass on 38 percent of attempts and a successful rush on 37 percent of attempts. Tariq Castro-Fields has stood out in coverage allowing a passer rating of 71.4 and a minuscule seven yards after the catch.

Clemson played in the midst of Hurricane Florence which resulted in quick work of an overmatched Georgia State team at home. Trevor Lawrence out-snapped Kelly Bryant for the first time this season as the coaches continue to try to prepare him to play meaningful snaps later this year. As a passing offense, they continue to search for the right identity posting a neutral passing EPA on early downs to start 2018. Travis Etienne impressed on Saturday forcing six missed tackles and 57 yards after contact, joining our Team of the Week in the process. With a rushing success rate of 64 percent on early downs, Clemson has no problems dismantling inferior teams.
The question remains how they will fare against a quality opponent relying on their rushing attack to make up for their middling passing success.

Auburn largely controlled their game against LSU Saturday but did not come away with the victory in large part due to the ineffective play of their quarterback Jarrett Stidham (a fate we largely predicted here). He's had more turnover-worthy plays (4.6 percent of his dropbacks) than big-time throws (3.4 percent), which will significantly limit them moving forward if they can't get that corrected.
They've allowed early-down success at a rate of roughly 30 percent so far this year, and even under mild regression, this will make them one of the best defenses in the league for the foreseeable future. Deshaun Davis has been a monster, with 19 stops and just one missed tackle, while chipping in five pressures as well.

LSU was able to beat Auburn on the road as Joe Burrow did not throw a single turnover-worthy pass against the vaunted Auburn defense. To start 2018, Burrow has one such throw in three games and LSU won by being aggressive; throwing on 56 percent of first downs and generating an EPA per first down dropback of 0.38. Burrow has been up to the challenge when tasked with throwing downfield, logging a passer rating of 125.0 on throws 20-plus yards downfield. 
LSU's secondary played exceptionally well in coverage with a passer rating allowed of 62.8. Logging pressure on only 25 percent of dropbacks, the defensive backfield was largely responsible for the successful coverage plays. Greedy Williams made the big plays with one interception and one pass breakup on six targets and Kristian Fulton blanketed his matchup seeing only one target on 28 coverage snaps.  

After picking Wisconsin to cover 21.5 points and having them highly ranked in our model, the Badgers severely disappointed on Saturday. Wisconsin played an uninspiring game and lost at home to BYU. The Badgers have relied heavily on the run to generate offensive success on early downs in 2018 with 58 percent rushing success. Saturday's game provided yet another example of rushing being futile in a losing effort from an EPA standpoint in a football game. Alex Hornibrook did not record a big-time throw and had exactly one pass attempt travel 20 or more yards downfield. It was a recipe for disaster as the Wisconsin passing attack continued to struggle on early downs with a successful pass on only 42 percent of dropbacks.
Wisconsin will need to right the ship quickly as they head into conference play. Any shot at a big-time bowl game will require running the table in the Big Ten.

Rank: 10 / Week 2 Ranking: 10th (no change)
Notre Dame survived against an above-average Vanderbilt team Saturday and remains in our top 10. They are going to have to get better play from Brandon Wimbush if they want to stay there, though. He has thrown a negatively-graded pass on almost 30 percent of his dropbacks so far this year, and the Irish have struggled to a -0.10 EPA per early-down pass play.  
Luckily, their defense has been stout so far, allowing early-down success on just 42.4 percent of passes and 36.47 percent of runs. Their defense has generated 66 total pressures and 82 stops through three games, with Te'von Coney (eight pressures and 18 stops) especially impressive.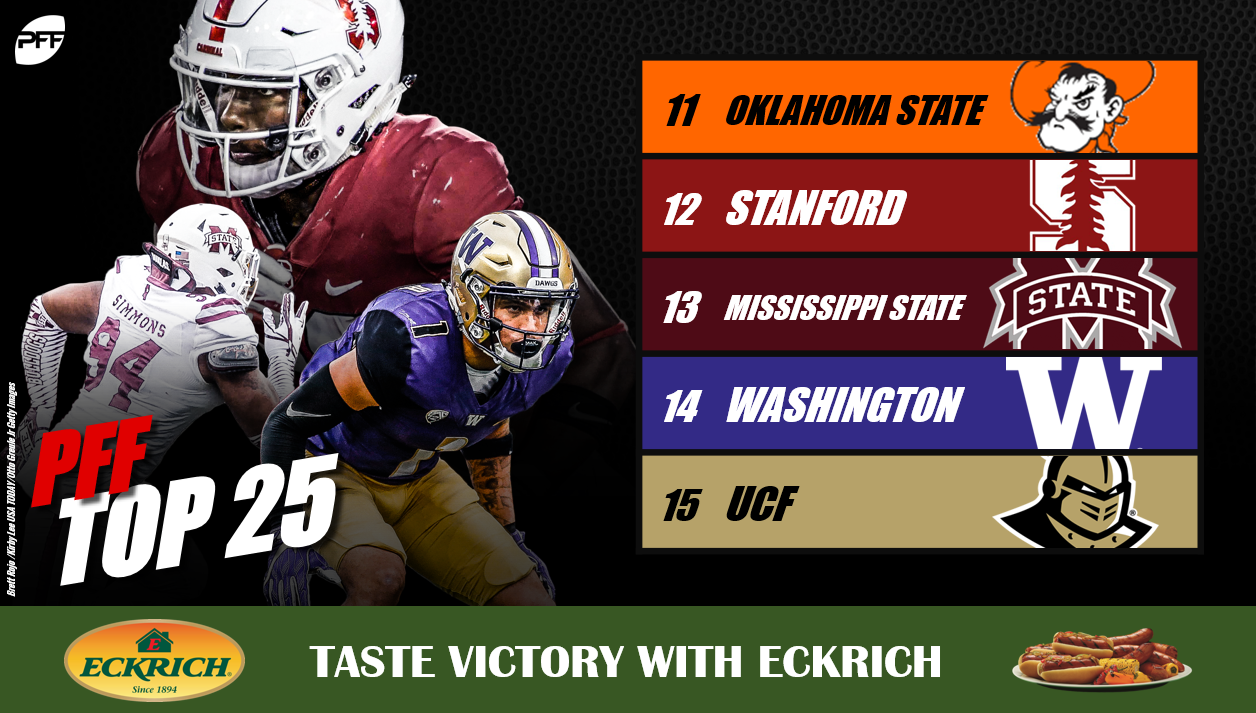 11. Oklahoma State (+2)
12. Stanford (-3)
13. Mississippi State (+5)
14. Washington (+1)
15. UCF (-3)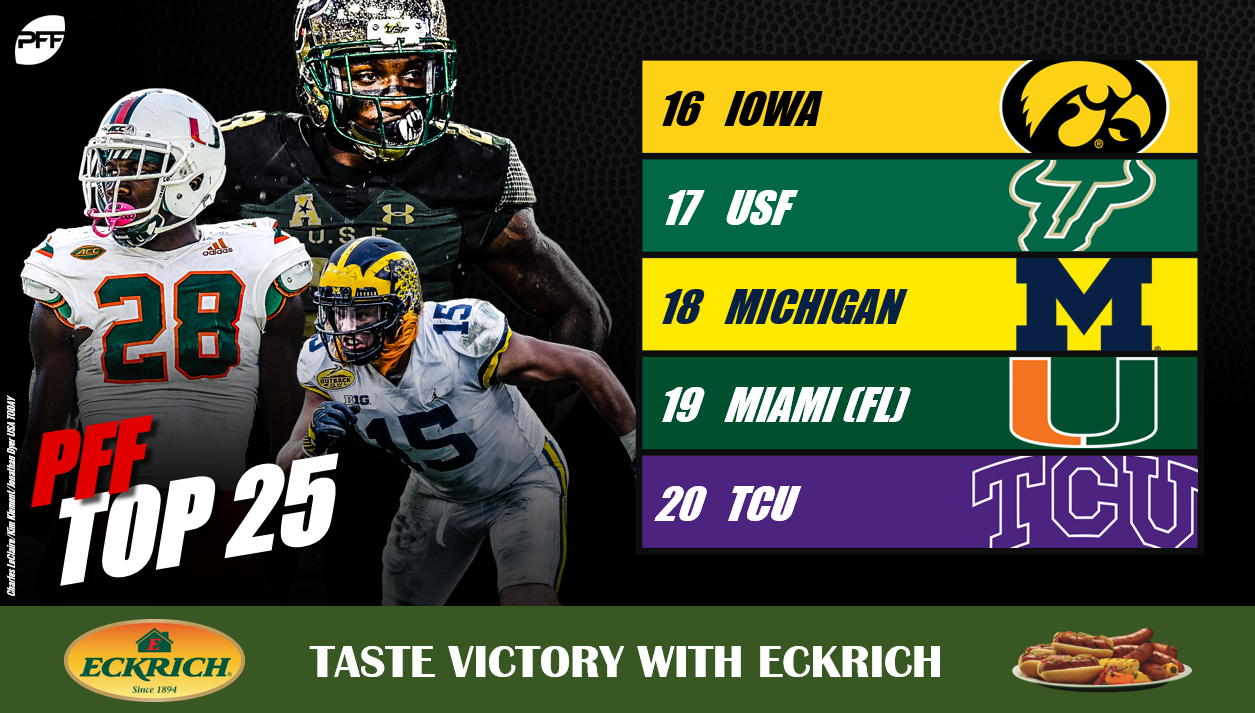 16. Iowa (-1)
17. USF (-)
18. Michigan (+4)
19. Miami  (+5)
20. TCU (-2)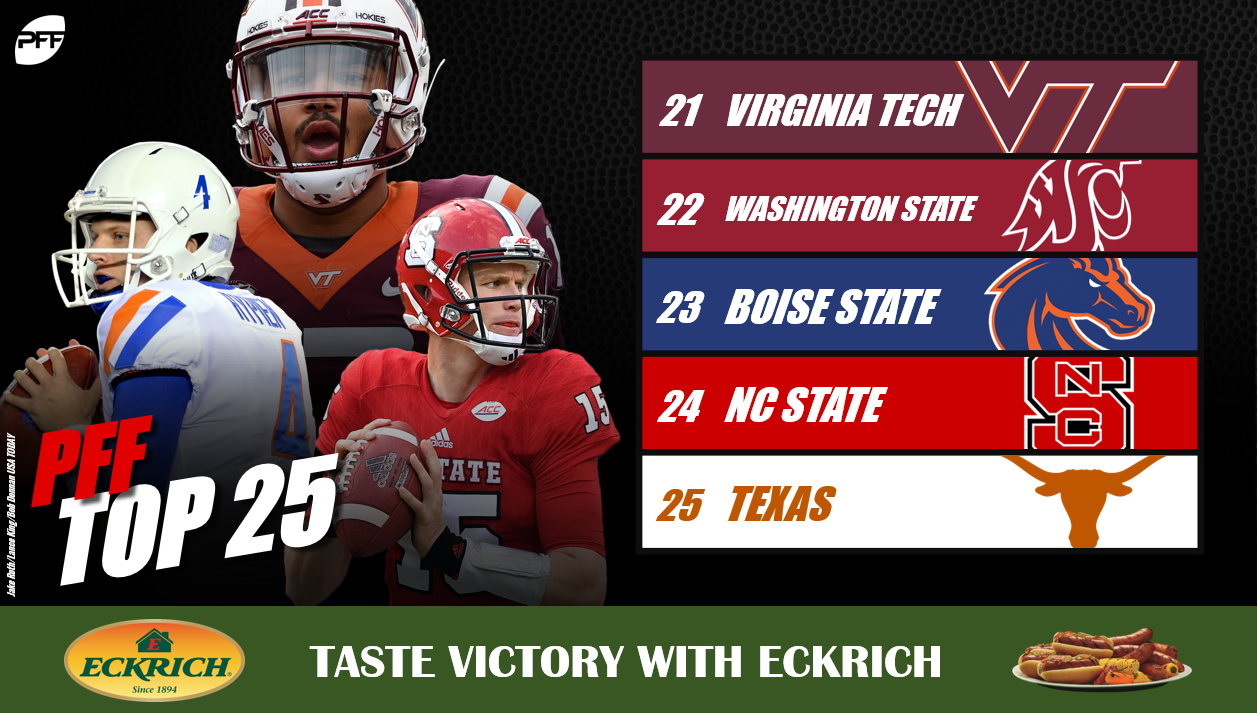 21. Virginia Tech (-)
22. Washington State (+5)
23. Boise State (-7)
24. NC State (-1)
25. Texas (+21)