Week 3 of the 2018 college football season is upon us! While we were able to get Cal against the spread (they even won straight up) and Iowa versus Iowa State, we were unable to hit either of our totals and are still looking for our first winning college football week for 2018. We've obtained closing line value (the market has moved towards our pick) in six of our 10 picks so far, with the number staying put once, so we continue to be confident in our process moving forward.
Our models rely heavily on our aforementioned PFF ELO rating system for college football, and thus we continue to be optimistic as we head into Week 2. We also include situational information like crowd size and travel distance, along with opponent-adjusted information on things like PFF passing grades when clean.
This week we're going to tackle a few large spreads, laying a ton of points with Wisconsin and taking three touchdowns with Colorado State. We go against Auburn for the second time this season and back an over with San Diego State and Arizona State again. 
Our analysis will involve a point-counterpoint analysis between the two of us, using perspectives that only the PFF grades and data can provide. For more picks-related opinions, follow us on Twitter at @BrownBenjamin22 and @PFF_Eric.
All lines available through our sponsor, MyBookie.ag.

LSU at Auburn (-10)
Prediction: Auburn 27-21 (LSU covers)
Point (Eric Eager): We're going against the Tigers for the second time this season, with hopefully better results. These teams are separated by a mere 7 points in our PFF ELO rating system (and three spots in the standings), which would imply that this game as more like a four or five-point spread in Auburn. LSU's quarterback Joe Burrow has been very good from a clean pocket so far (posting a 116.1 passer rating), has taken care of the ball (only one turnover-worthy play so far) and Auburn's pass-rush has been negatively graded through two games, despite one of them being against Alabama State. If he and running back Nick Brossette (6.4 yards per carry, 14 missed tackles forced) can get their score into the 20s, look for the limitations of Jarrett Stidham (fourth-highest percentage of turnover-worthy plays in the SEC) to keep this game within a score Saturday.
Counterpoint (Ben Brown): Auburn is stacked defensively allowing a successful pass on 33 percent of early downs and a successful rush on 25 percent of early downs. 3rd & long is a common occurrence against this defense and the reason Washington couldn't put the game away when they were up in Week 1. On the road to open conference play, the expectation is that nothing will come easily for the LSU offense. Based on the play of Jarrett Stidham, the expectation is the Auburn offense cannot blow LSU out. However, if a couple costly turnovers occur at the wrong time, this game could get ugly quickly for LSU on the road.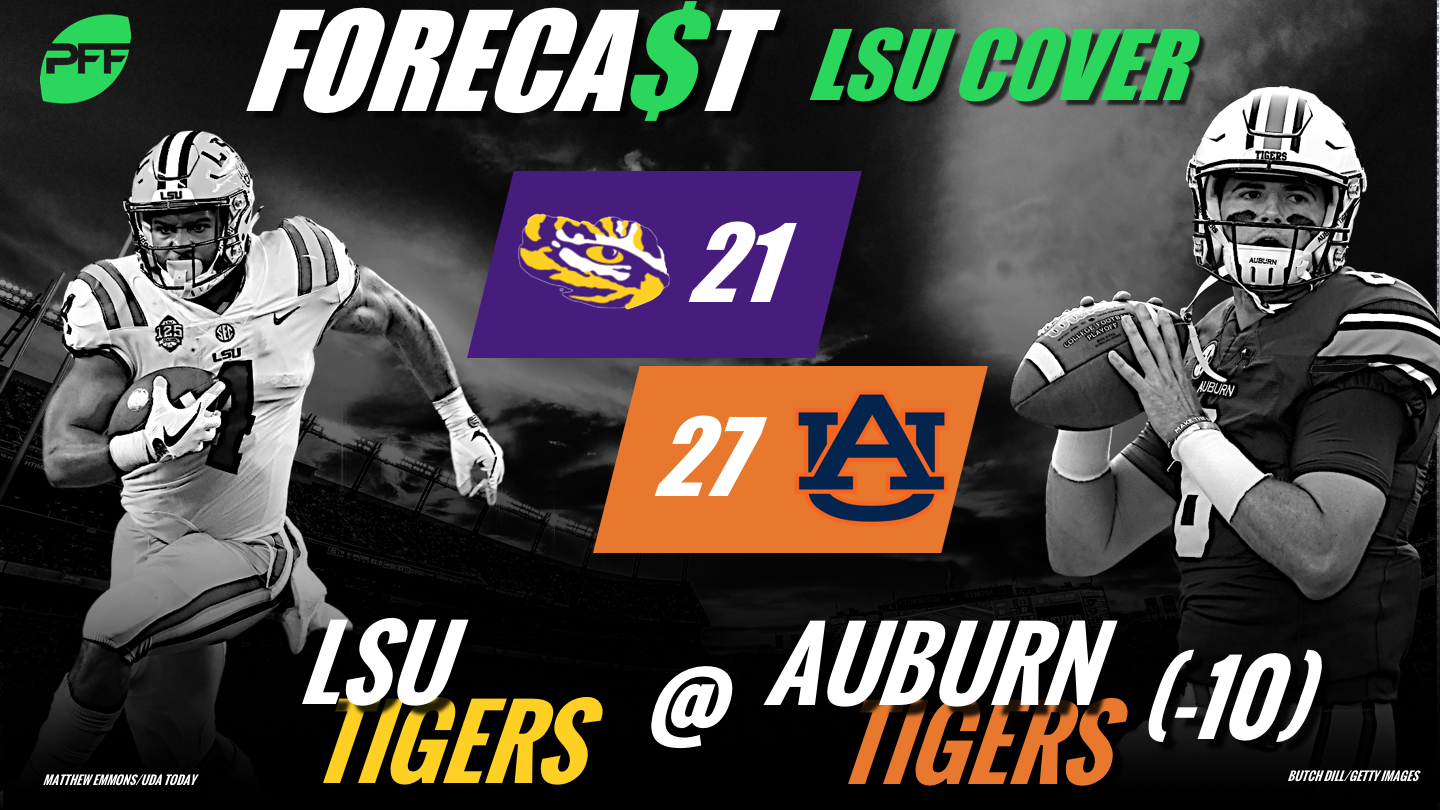 BYU at Wisconsin (-21)  
Prediction: Wisconsin 35 – 10 (Wisconsin covers)
Point (BB): We are quite simply higher on Wisconsin then the consensus market having them second overall in our PFF ELO rankings. They have been balanced and consistent with Alex Hornibrook having 44 percent of his throws positively graded. They have a successful rush on early downs 65 percent of the time and this leads to a very high percentage of 3rd & short plays. BYU quarterback Tanner Mangum has a turnover-worthy throw eight percent of the time and has more negatively-graded throws then positively-graded throws. Although -21.5 feels like a lot, this game could get out of hand early and Jonathan Taylor should roll in the second half blowing this game wide open.
Counterpoint (EE):  This number is pretty big, and after drifting towards 21 has come back towards our pick recently. BYU has played two close games so far, despite the fact that Mangum has generated a positively-graded throw on fewer than 20 percent of his dropbacks so far this season. They have their defense to thank for his, as they have afforded their two Pac-12 opponents negative early-down expected points added (EPA) on both pass plays and rushing plays through their first two games. If they can slow a Badgers offense that has been brilliant both running and passing the ball (with early-down EPA both greater than 0.2 per play so far) they might be able to keep this close in Madison.
Florida State at Syracuse (+3)
Prediction: Florida State 31-30 (Syracuse covers)
Point (EE): There's a lot here to like about a Syracuse team that's put up 55 or more points twice so far this season. QB Eric Dungey has been terrific both throwing the ball (generating a 133.6 passer rating when clean) and running (averaging over 10 yards a carry). There may be something to Florida State "being up" for a game like this, given how poorly they've played so far (losing roughly 15 PFF ELO points), but there could also be a let down generated by undeserved relief felt by beating Samford. Take the points and the better quarterback here.
Counterpoint (BB): Florida State was beaten badly by Virginia Tech in Week 1 which gives this game the feeling of being a must-win. Deondre Francois has not performed well to start the season with an EPA of -0.17 on early down dropbacks. Thankfully, the Syracuse pass defense hasn't exactly played well to start the season either as Dungey's hot start may be overblown. He has been productive running but hasn't provided much more then what the defense has given him in the passing game. Florida State's defense has been a bright spot allowing a successful early down run just 37 percent of attempts. If they can force Syracuse into third and long consistently, it will be a long day for Dungey and the Orange offense.
Colorado State at Florida (-20)
Prediction: Florida 37-20 (Colorado State covers)
Point (BB): K.J. Carta-Samuels has been brilliant in two games and had one absolute disaster to start the season. His passer rating from a clean pocket is encouraging at 113.4 but he has struggled when under pressure, helping to explain some of his issues in the Colorado game. Florida has a high blitz percentage at 47 percent and they have been relatively productive applying pressure. If Colorado State can limit the pressure applied to Carta-Samuels, they should be able to stay in this game long enough to cover the 21 points on the road.
Counterpoint(ish) (EE): Florida is probably embarrassed by losing outright to Kentucky as double-digit favorites and is the better team, separated by roughly 40 PFF ELO points. Feleipe Franks has been productive so far, especially from a clean pocket (119.1 passer rating there). If he can hit a few more deep shots against a poor Colorado State defense (surrendering 0.27 EPA on early-down passes), this game could get out of hand quickly. Be that as it may, Colorado State got down big against Arkansas last week and came back not only to cover, but to win, so we both like this one in the swamp this weekend.
Arizona State at San Diego State (over/under 45.5)
Prediction: Arizona State 27-26 (the over hits)
Point (BB): Arizona State continues to draw us in with the high point expectations we have with their games. As a passing offense, they provide 0.33 EPA on early down dropbacks and Manny Wilkins has a big-time throw on over five percent of his dropbacks in 2018. Defensively, they have been exceptional but seem to be more beatable through the air. San Diego State's Christian Chapman has consistently graded well in 2018 receiving a positive grade on 36 percent of his attempts but he'll be out for this one as a knee injury could sideline him for up to six weeks. Our model likes Arizona State to jump out to an early lead forcing San Diego State and backup QB Ryan Agnew to pass consistently. If this scenario occurs, we should have no problem hitting the over 45.5.
Counterpoint (EE): Oof. We haven't done very well on over/unders, and while some have been truly bad beats (I'm looking at you, USC), it's still tough to go back to that well, especially with teams we've dealt with before. With Arizona State last week, the rain was surely a factor, but until Wilkins can be a bit more efficient (just 30-of-48 against Michigan State), I'm going to be a bit skeptical of his ability to generate four-plus touchdowns, even with how good N'Keal Harry (who caught 6-of-9 targets against MSU) has been on the outside.