The best tight end in the NFL through three weeks is O.J. Howard. Not Rob Gronkowski, not Travis Kelce, but the Tampa Bay Buccaneers first-round draft pick from a year ago. While the focus has been on 'Fitzmagic' and the big play ability of Mike Evans and DeSean Jackson, Howard has been uncoverable in the middle of the field, showcasing his own big play capabilities and proving to be a nightmare for opposing defenders to guard.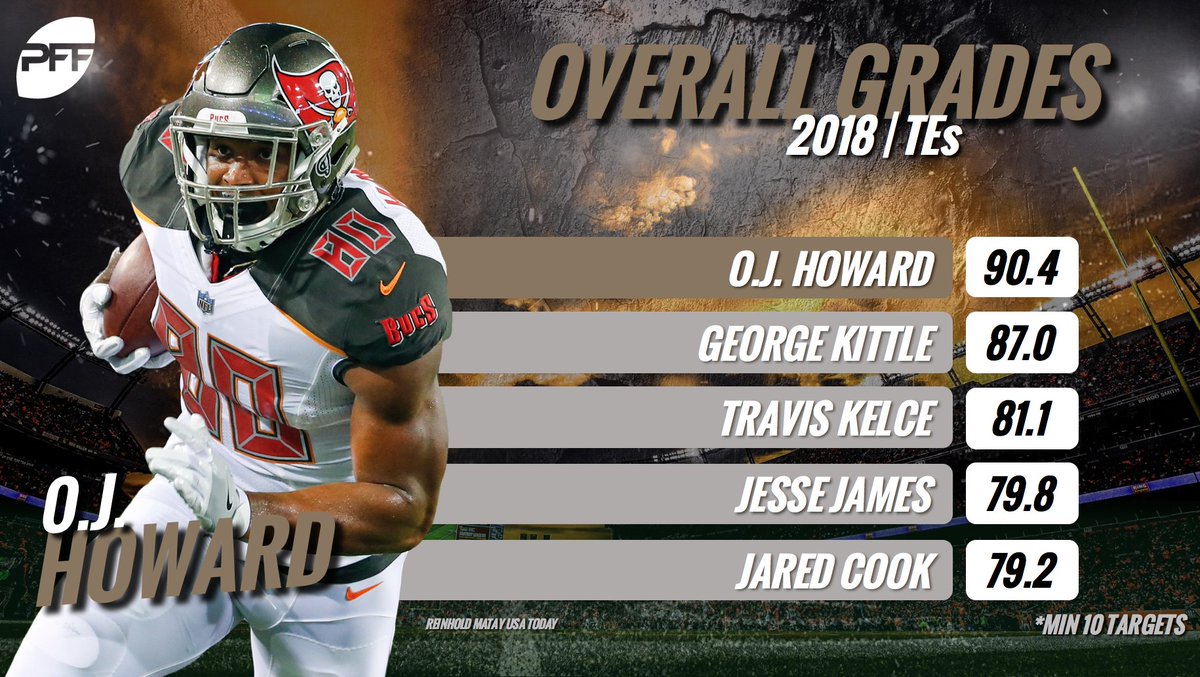 Through three weeks, Howard is second in the NFL in receiving yards among tight ends, trailing Jared Cook of the Oakland Raiders. He has racked up 222 yards on just 67 snaps as a receiver though, leading all tight ends with at least 50 receiving snaps with a yards per route run average of 3.31. For context, Rob Gronkowski led all tight ends in this category averaging 2.43 yards per route run a year ago, so Howard is currently almost a full yard ahead of that pace. While it's unlikely that he can sustain that, no tight end with at least 40 targets over a season has averaged even 3.00 yards per route run, so the fact that he is off to a historic start is great news for Buccaneers fans. It's also worth noting that among tight ends who have seen at least 14 targets over the first three weeks of the season since 2006, Howard is the only player who has averaged 3.30 yards per route run or more.
What's impressive for Howard is that he has yet to see a target 20-plus yards downfield this season, something that would help inflate those early season numbers. While Howard has averaged 20.2 yards per reception, this has mostly come from his ability to make plays with the ball in his hands. Through three weeks, Howard has averaged 10.5 yards after the catch per reception and has already forced four missed tackles on just 11 receptions, both of which rank among the top two among qualifying players at the position.
His success shouldn't come as a surprise, given that on athleticism alone he is a terrifying prospect for opposing defenses. There aren't many players who can run a sub 4.6 40-yard dash at 6'6" and 251 pounds, but that's exactly what Howard can do. Too big for cornerbacks to cover effectively, and too fast for most linebackers, he is developing into one of the biggest mismatch weapons in the entire NFL in 2018. Take the play below as an example. This is just a case of quarterback Ryan Fitzpatrick putting the ball where Howard can use his size and athleticism to get to a point where the linebacker doesn't have a chance. T.J. Watt is right there with Howard, but can't do anything to stop him coming down with the ball. Unless you have an elite coverage linebacker like Luke Kuechly, Bobby Wagner or Reuben Foster, I'm not sure how you stop that play, and even with those three nothing is certain.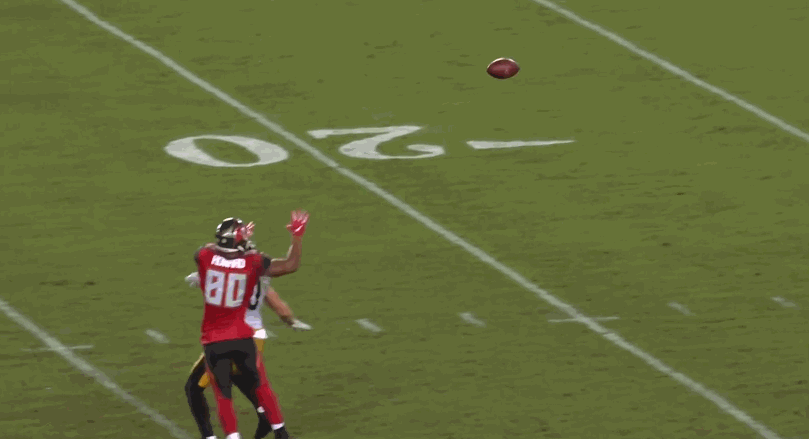 "But PFF gave Howard a low grade last year!" I hear you yell. This is true, and it's important to remember that at PFF we aren't grading talent, we're grading performance and production. We had Howard as our the 18th ranked player on our final big board heading into the 2017 draft, and despite his struggles in 2017, we still viewed him as a player we expected to see a bounce back from in 2018. Howard didn't produce a PFF grade of 61.4 because he wasn't talented, something which would be a ridiculous claim given he averaged 16.6 yards per catch and scored six touchdowns, but the fact of the matter is that from 26 receptions as a rookie, he fumbled three times. Fumbling on 11.5 percent of your receptions is a good way to ensure that your overall grade takes a hit.
Despite that, the fact that it was always unlikely that he would repeat his fumble struggles and had already proven himself to be a playmaker is why we expected big things from Howard this year. Through three weeks he is the highest graded tight end in the NFL at 90.4 and is well on his way to proving us, and the Buccaneers who drafted him in the first round, right in his second year in the league. He's seen his targets increase from two in Week 1, to four in Week 2, to eight this past week. He's now a huge part of Tampa Bay's booming offense, and there's no reason to expect him to slow down anytime soon.