Performances like Justin Jefferson's debut with the Minnesota Vikings in 2021 don't come around very often. However, we have seen several rookies produce at a high level early in their NFL careers over the past several seasons, including nine rookie wideouts from the last two classes who have put up 750-plus receiving yards in their first year.
Subscribe to
Rookie wide receivers with at least 750 receiving yards since 2018
| | | |
| --- | --- | --- |
| Player | Year | Receiving yards |
| Justin Jefferson | 2020 | 1,400 |
| A.J. Brown | 2019 | 1,051 |
| CeeDee Lamb | 2020 | 935 |
| Terry McLaurin | 2019 | 919 |
| Tee Higgins | 2020 | 908 |
| D.K. Metcalf | 2019 | 900 |
| Chase Claypool | 2020 | 873 |
| Jerry Jeudy | 2020 | 856 |
| Deebo Samuel | 2019 | 802 |
Rookie wideouts have historically hit the ground running compared to their offensive and defensive line teammates. That trend should continue this season with a talented class of incoming first-year wide receivers.
The goal of this piece isn't to rank the most productive rookie wide receivers, as PFF's thoughts on that topic can be explored in-depth through our fantasy projections. Rather, this article's goal is to look at which players' absence would hurt their teams the most in 2021. In other words, which rookie wide receiver means the most to their respective offense next season?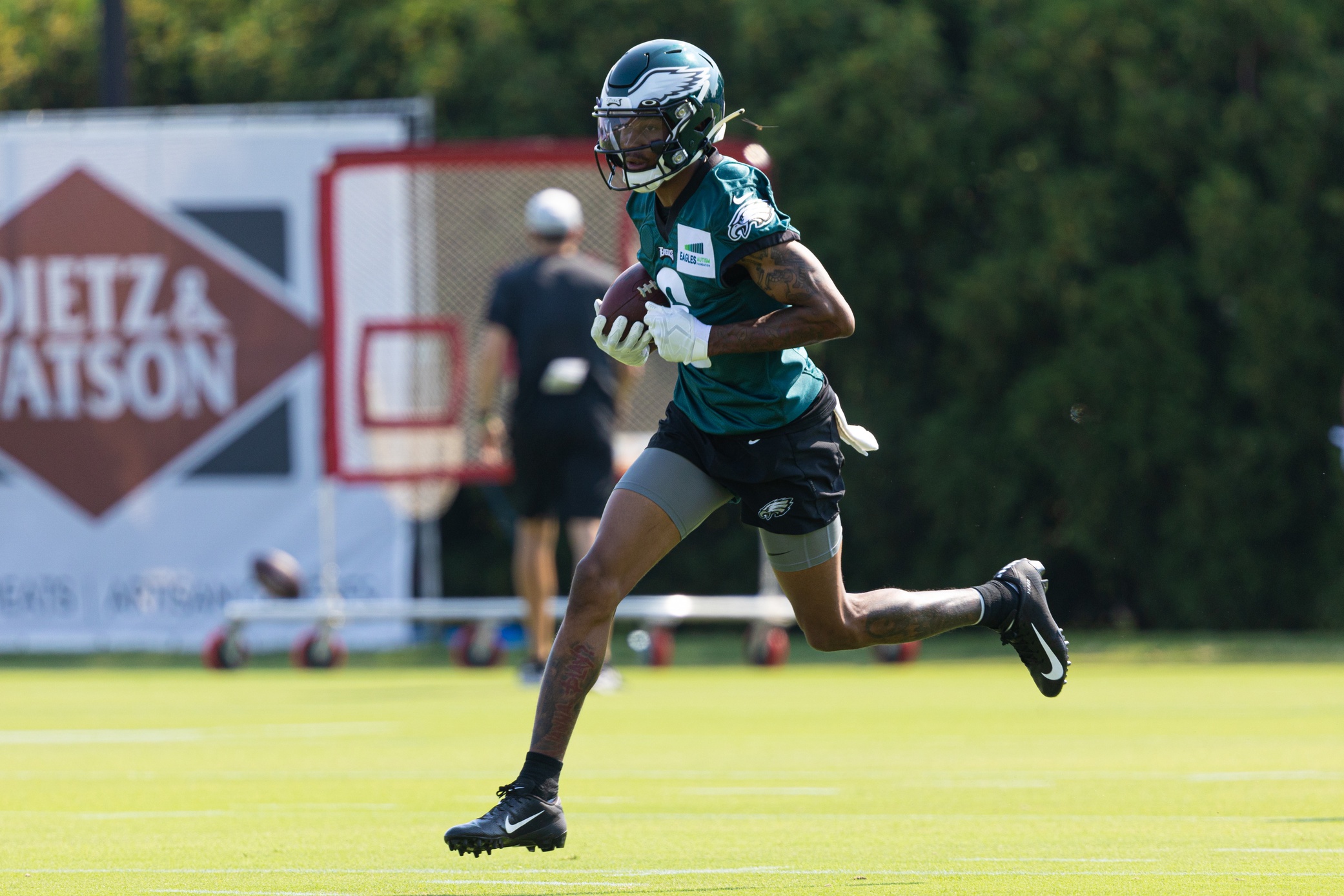 This piece began by highlighting rookie wide receivers who have recorded at least 750 receiving yards in their first NFL season. Well, Greg Ward leads all Philadelphia wide receivers with 673 receiving yards over the past two seasons combined.
Philly's passing offense has relied heavily on the tight end position with Zach Ertz and Dallas Goedert leading the way. Even if Ertz does end up playing the 2021 season with Philadelphia amidst unrelenting trade rumors, he clearly wasn't the same player in 2020 that he was two years ago.
The hope is 2020 first-round pick Jalen Reagor takes a step forward in his second year with better health and quarterback play. Maybe Travis Fulgham recreates his dominant five-week stretch during the first half of last season over a more extended time frame, too.
However, the clearest path to an improved Eagles passing attack is through Smith. He will elevate the entire offense if he looks like the player who won the 2020 Heisman Trophy. Smith is the best route runner in this year's class, as shown in his receiving numbers against single coverage over the past two seasons.
DeVonta Smith vs. single coverage since 2019 | Ranks among FBS wide receivers
| | |
| --- | --- |
| 65 receptions | 2nd |
| 1,680 yards | 1st |
| 23 touchdowns | 1st |
| Receiving grade rank | 1st |
Only Arkansas State's Jonathan Adams Jr. had more receptions (66) against single coverage while Smith had a firm lead in nearly every other category of note. His weight may make him an outlier if he goes on to have a successful NFL career, but there's reason to bet on his release package, route running, ball skills and history of college production in the SEC.
That's the bet Philadelphia made when they leapfrogged the New York Giants in a trade to draft Smith. They're relying on him to step in and elevate the group.
Bateman's importance to the offense is already being put to the test. Baltimore's first-round selection underwent surgery to address a groin injury suffered in training camp and is expected to return at some point in September, per Ravens head coach John Harbaugh.
Bateman brings a translatable NFL skill set to the Ravens — one of the best release packages in the draft class, polished ability as a route runner and a proven track record of success both in the slot and outside at Minnesota. He is one of six wide receivers in the FBS to average at least 2.5 receiving yards per route run in both the slot and out wide on at least 100 routes.
Bateman also showcased his vertical speed early on in training camp against one of the league's top cornerbacks, Marlon Humphrey.
Rashod Bateman beat Marlon Humphrey 1-on-1 yesterday for 6️⃣

Star in the making ⭐️pic.twitter.com/LobafAxa7x

— PFF (@PFF) August 1, 2021
Fellow additions Sammy Watkins and Tylan Wallace were also brought in to bolster a unit that was led by Marquise Brown in 2020, but Bateman is the key to potentially unlocking the group. He has a better chance than any other wide receiver on the team to develop into a legitimate No. 1 option and primary target in the passing game.
Baltimore wide receivers collectively earned a 68.6 PFF grade across the past two seasons with Lamar Jackson as a full-time starter — 30th in the NFL, ahead of the Las Vegas Raiders (67.9) and Philadelphia Eagles (62.3).
Jackson's individual brilliance was enough to overcome an overall lack of pass-catching talent in 2019, but it caught up to him in 2020 (19th in EPA per pass play). Baltimore clearly recognized the deficiency and attacked it this offseason. Now, they'll have to hope Bateman is ready to go when they open the season on Monday Night Football in Las Vegas.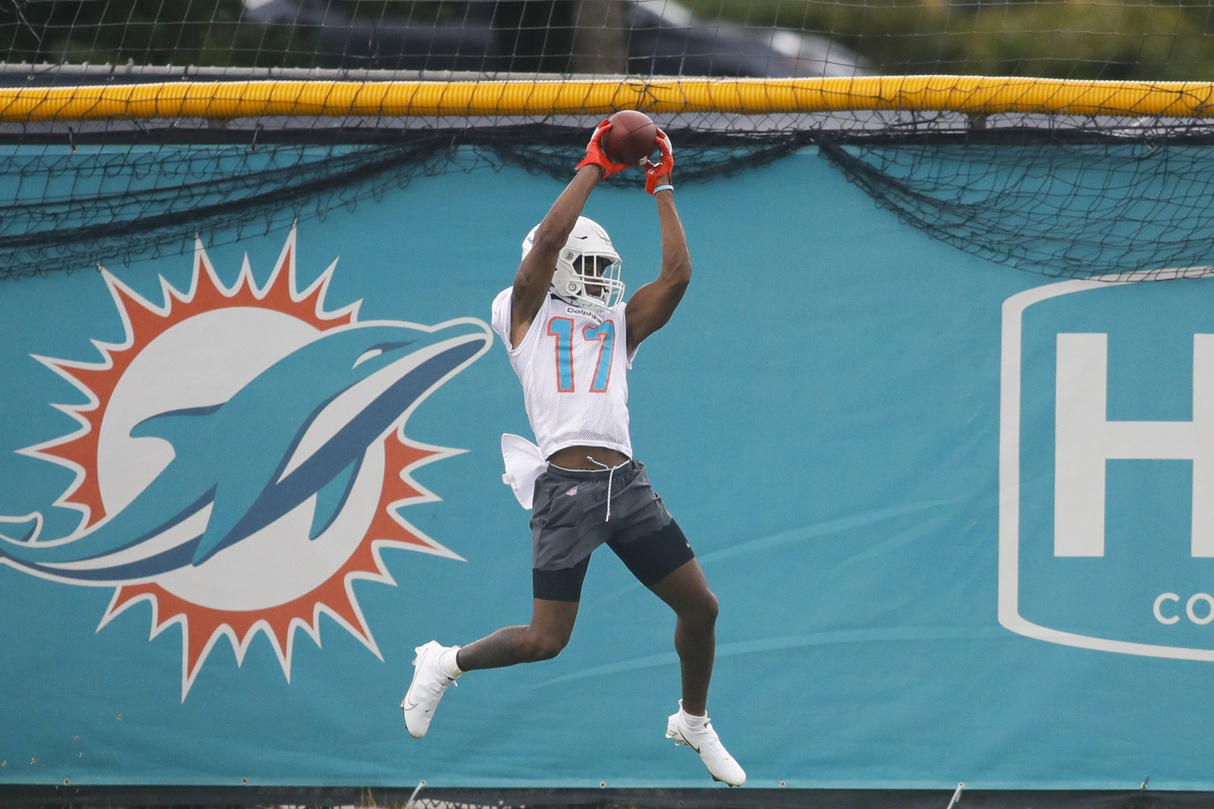 Few quarterbacks face the same level of pressure as Tua Tagovailoa in Miami this season. Tagovailoa finished his rookie year ranked just 27th out of 32 qualifying quarterbacks in PFF grade (65.4), leading to chatter this offseason about whether Miami would be in the right to select another quarterback early in the 2021 NFL Draft.
Granted, it wasn't an ideal situation for Tagovailoa, who was coming off a major injury and took over the starting job midseason. He operated behind the 28th-ranked offensive line in the league and threw to a collection of wide receivers and tight ends who provided little behind DeVante Parker and Mike Gesicki. It's certainly too early to write off the fifth overall pick in the 2020 NFL Draft with those caveats in mind, but it's also difficult to deny that 2021 is a massive year for Tagovailoa's future in Miami.
Miami's overhauled its receiver room, bringing in Waddle and Will Fuller V  to help boost Tagovailoa as much as possible.  The speed from that duo is undeniable.
"In talking to some teams around the league, Waddle had the fastest GPS of any receiver in the country," NFL Network's Daniel Jeremiah said during a conference call before the draft.
The most obvious place speed shows up is in Waddle's ability to win vertically as a deep threat. He brought in an absurd 21 of 26 targets 20-plus yards downfield over the past three seasons at Alabama.
However, his blend of speed and quickness also made him one of the most dangerous players in the country with the football in his hands.
Most yards after the catch per reception since 2018 by a Power 5 WR | Min. 100 receptions
Waddle's ability to provide Tagovailoa with open targets and create after the catch is massive for an offense whose wide receivers ranked 30th collectively in yards after the catch per reception last season (3.3), ahead of only the New York Giants and New Orleans Saints. Miami needs Waddle to continue to make the most of underneath targets as a rookie in 2021.
There is every reason to expect Chase — the fifth overall pick in the 2021 NFL Draft — to factor heavily into Cincinnati's offense as a rookie. PFF's fantasy projections have Chase with over 70 receptions and 1,000 receiving yards entering next season.
No projection is required to imagine what the connection between Joe Burrow and Chase could be. Chase put up over 1,700 receiving yards and 20 touchdowns during LSU's national championship run in 2019 with Burrow at the helm. No duo in college football came close to matching Burrow and Chase's downfield connection.
Joe Burrow passing 20+ yards downfield
| | | | |
| --- | --- | --- | --- |
| | Attempts | Completions | Touchdowns |
| To Chase in 2019 | 36 | 24 | 14 |
| To anyone on CIN in 2020 | 48 | 9 | 1 |
The fall for Burrow as a deep passer from his final season at LSU to his rookie season with Cincinnati was staggering. Burrow and Mitchell Trubisky were the only two qualifying quarterbacks to complete fewer than 20% of their deep passes in 2020, and C.J. Uzomah caught Burrow's only touchdown pass that traveled more than 20 yards downfield last season.
Even if the early reports out of training camp are that Chase "hasn't shown as much separation as you'd hope," the Bengals have to hope the rookie will be able to recreate some of that downfield magic with Burrow in 2021.
Cincinnati had a relatively strong collection of talent at wide receiver before drafting Chase. Tyler Boyd and Tee Higgins both earned PFF grades of 75.0 in 2020, hence Chase's low spot on this list. While he's clearly a big part of the Bengals' plans in 2021, Cincinnati is better suited than most offenses to make it through any missed time from Chase next season.
Few players have made a better first impression in training camp than Moore. By all accounts, the second-round rookie wide receiver out of Ole Miss has looked like one of the best players on the field.
I think the craziest thing about Elijah Moore is every day I come here saying I'm going to focus on someone else. Then he makes that impossible #Jets

— Connor Hughes (@Connor_J_Hughes) August 4, 2021
PFF's lead draft analyst Mike Renner labeled Moore as the best slot receiver in the class after putting up over 1,700 receiving yards when lined up inside since 2019 — more than any other player in college football. His combination of sure hands, toughness and speed is ideal for the position. There's a good chance he becomes "Moore" than a slot-only guy in the NFL.
The Athletic's Connor Hughes wrote of Moore's role in the Jets' offense for a recent feature piece:
"With Crowder dealing with contract issues, Moore played in between Keelan Cole and Corey Davis. But then [Jamison] Crowder returned, and the Jets started adding to his plate. The more they asked him to do, the more they found out he could do. At Tuesday's camp practice, Moore wasn't working behind or in place of Crowder. He was alongside him and Davis."
Moore entered camp with no guarantee at a starting job with Davis, Cole and Denzel Mims outside to go along with a returning Crowder in the slot. However, it's becoming increasingly difficult to imagine that Moore won't have a starting job when Week 1 gets here, as he could end up being Zach Wilson's top target in 2021.