The football world seemingly came to a collective standstill Sunday afternoon.
As Dallas Cowboys quarterback Dak Prescott sat on the field, the replays showed a type of injury that you just knew was serious in nature, and you didn't need to be a doctor in order to figure that out. With former head coach Jason Garrett rushing over from the opposite sideline and meeting current head coach Mike McCarthy at Prescott's side, it was impossible not to think about what the future will hold for one of the most beloved quarterbacks in the National Football League.
ELITE subscribers can view player grades, advanced statistics, positional snap counts and more in Premium Stats 2.0.
That's because that same quarterback has been at the forefront of one of the most public contract negotiations in modern memory.
By all accounts, the Cowboys have misread where the quarterback market was headed for multiple offseasons. They reportedly made offers in the neighborhood of $30 million a year prior to the 2019 season, and at the time, that would have put him in the neighborhood of what Kirk Cousins had just signed on a three-year, $84 million deal before 2018.
Prescott, on the other hand, correctly recognized that the market was about to explode. Patrick Mahomes and Deshaun Watson inked deals worth $45 million and $39 million per year, respectively, this offseason, each with well over $100 million guaranteed. Compared to those two, Prescott's performance level is obviously a debatable topic, but even a low-end reading puts his price tag now well over $30 million a year.
Prescott then bet on himself, but passing up that guaranteed money to play on the franchise tag is a two-fold parlay bet. The first bet is obviously performance-based. Since that reported offer prior to the 2019 season, Prescott put up his highest-graded season since his rookie year and was on pace to even beat that through five games before his injury. His 1,856 passing yards are 357 more than anyone else in the NFL, and he did it behind a beat-up offensive line that's arguably the worst he's played behind in his career. That bet, Prescott passed with flying colors.
The other bet was obviously health. Despite the gruesome similarities to Alex Smith's injury from late in 2018, Prescott's injury is not the same. According to former Chargers team doctor David J. Chao, the injury is far more similar to the one running back Darren Sproles suffered in his second season in the NFL. Sproles went on to make a full recovery and play 13 more years at a far more physically demanding position than quarterback, suggesting that Prescott's odds of regaining full form seem high.
Reports are that surgery this morning was a success, and PFF's injury analyst Mario Pilato believes that there are unlikely to be any lasting effects. So while the moment was visually jarring, the injury is unlikely to seriously impact his long-term value.
That leads us to where we are now, with the Cowboys and Dak Prescott at a crossroads. There are four major issues at play in this situation as it evolves into the offseason. And truthfully, Prescott's injury likely won't even be one of them.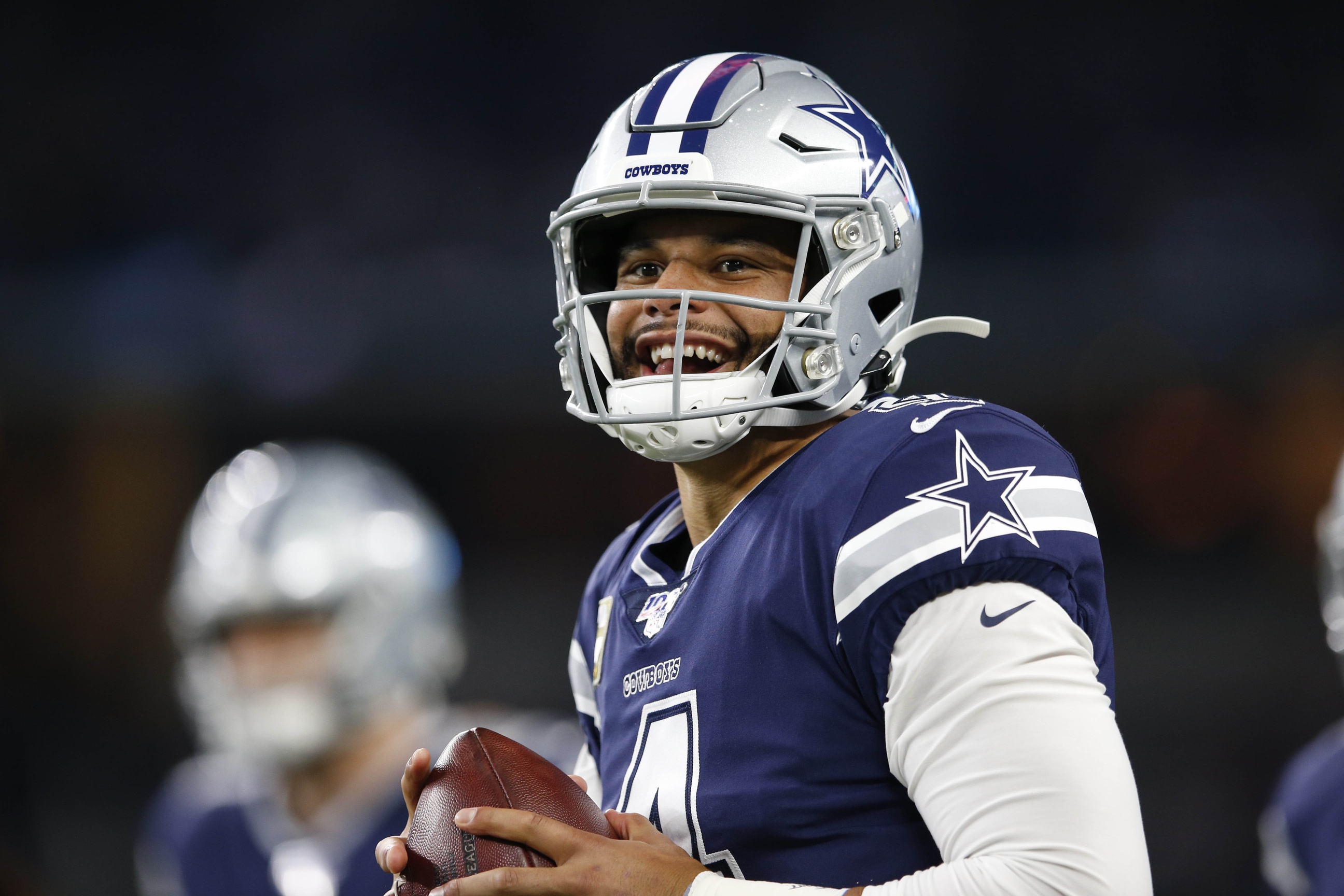 The Pandemic
Over the past decade, if you operated until the premise that the salary cap was only going to go up by leaps and bounds, then you were ahead of the curve when it came to building a franchise. After the uncapped year before the CBA signed in 2011, the cap started to build slowly before skyrocketing over the second half of the decade.
| | |
| --- | --- |
| Year  | Salary cap |
| 2020 | $198.2 million |
| 2019 | $188.2 million |
| 2018 | $177.2 million |
| 2017 | $167 million |
| 2016 | $155.27 million |
| 2015 | $143.28 million |
| 2014 | $133 million |
| 2013 | $123 million |
| 2012 | $120.6 million |
| 2011 | $120 million |
That massive increase has led to a popular narrative that the salary cap "isn't real" because of how teams have manipulated it in recent years. That's going to come to a screeching halt with revenue plummeting league-wide without fans in the stands. The only cap-smoothing effort that the NFLPA and NFL have agreed to ahead of 2021 is that it won't go below $175m. Still, an 11.7% decrease when teams were likely budgeting long-term for another 5.0% increase could put many teams in salary-shedding mode.
Cap Health
The Cowboys rank 25th in PFF's cap-health metric. They already started to restructure the contracts of Demarcus Lawrence, Tyron Smith and Zack Martin to clear more space for 2021. Even after that, they still only have the 19th-most projected cap space in 2021.
If we use that $175 million figure as the projected cap, the Cowboys have a little over $20 million in space with their current contracts. And because so many of their big-money veteran deals are so new, the only players they could cut that would give them $3 million or more in space are Tyron Smith ($5.16 million) and Dontari Poe ($4.0 million), per OverTheCap.com. While the latter seems feasible, the former does not if they plan on winning. Even if they figure out a way to fit what figures to be a massive deal for Prescott under their cap, it will come at the expense of re-signing anyone else or plugging the holes throughout the roster.
10-11
That's the Cowboys' record since the start of 2019. As good as Dak has been, he's not been able to carry a poor defense over that span. From a grading perspective, he's not touching the upper echelon of quarterbacks in the NFL. Below are his overall grades and ranks for his career.
| | | |
| --- | --- | --- |
| Year | PFF overall grade | Rank |
| 2016 | 81.5 | 8th |
| 2017 | 72.2 | 16th |
| 2018 | 74.6 | 18th |
| 2019 | 80.1 | 9th |
| 2020 | 85.2 | 7th |
He's played well enough for the Cowboys to win, but at the same time, he's not played well enough to carry them to victory on his own. We identified him firmly as a Tier 3 quarterback prior to the 2020 season, the same tier that included signal-callers such as Derek Carr, Matthew Stafford, Kirk Cousins and Jared Goff. Yes, you can win with those guys, but almost none of them have elevated above their situation in their careers.
That's why arguably the biggest decider in the Prescott contract saga won't be Prescott's ankle, but rather Andy Dalton's right arm. Dalton was thought of in a similar tier no more than a few years ago when the Bengals went 12-4 back in 2015. He's had overall grades of 80.4 (2015) and 81.9 (2018) in the past, but more often sat in the low 70s. If Dalton can replicate — or even come close to replicating — Prescott's success, the Cowboys may decide to spend their cap dollars elsewhere.
Supply and Demand
The fact of the matter is that there's never been more competent talent at the quarterback position in the history of the NFL. Gone are the days of teams being forced to head into seasons with the likes of Brian Hoyer or Josh McCown as their starter.
Guys who have shown that they can be competent starters in the past, players like the aforementioned Dalton or 2019's leader in passing yards, Jameis Winston, are currently sitting on the bench as backups. Cam Newton was signed for a measly $1.75 million this past year. The 2021 quarterback class looks like an all-timer, too, with three uber-talented options at the top (Trevor Lawrence, Justin Fields, and Trey Lance) along with two more guys playing like possible first-rounders (Zach Wilson and Kyle Trask). There's no hard and fast franchise quarterback distinction anymore where if you don't have one, you're screwed. If the Cowboys and Prescott do part ways, Dallas will have options.
What to do if you're the Cowboys?
Obviously, this isn't a decision that needs to or even should be made today. How the Cowboys finish with Andy Dalton at quarterback, where they end up drafting, Prescott's recovery, the pandemic's effects on the salary cap, how the 2021 quarterback draft class shakes out and how the 2021 quarterback free-agency ends up are all things that should be factored into what the Cowboys do going forward.
Letting Prescott walk and collecting the compensatory pick is an entirely unrealistic scenario with how valuable an asset he is, so the Cowboys have three ways to play this:
Tag and play it out
Tag and trade
Extend
They should avoid Option 1 at all costs. That is precisely the route Washington chose with Kirk Cousins, and that should serve as a distinct cautionary tale for any franchise going forward. Washington's inability to assess that they weren't a Super Bowl contender with Cousins at the time and that they weren't going to get a deal done led to them getting the 96th pick in the 2019 draft in return for a franchise-type quarterback.
Make no mistake, Prescott is still going to get paid, but there's a very good chance the Cowboys will have to tag him once again. A second franchise tag boosts his initial tag by 20%, so Prescott would make $37,690,800 next season. As we outlined earlier, that's a number that will be difficult for Dallas to fit under the cap, but it's not solely about Prescott. Tyrone Crawford, Everson Griffen, Aldon Smith, Sean Lee, Jourdan Lewis, Chidobe Awuzie and Xavier Woods are all hitting free agency, as well. While Cowboys fans may be fine to see some of those guys go, that's a ton of snaps to have to replace on what's been easily the weaker side of the ball already.
Tagging and trading Prescott would not only allow them to retain some talent with the cap space they'd save, but also add cheap, young talent via the added draft picks. While there is a hefty supply of quarterbacks in the league, there are still teams like the Bears, 49ers, Saints and Colts that have rosters ready to win now but uncertain quarterback situations heading into 2021.
You can see the most comparable quarterback trade deals in recent history below:
| | | |
| --- | --- | --- |
| Player | Year | Compensation |
| Jay Cutler | 2009 | 2009 first-round pick, 2009 third-round pick, 2010 first-round pick and QB Kyle Orton |
| Carson Palmer | 2011 | First-round pick and a second-round pick |
| Sam Bradford | 2016 | First-round pick and fourth-round pick that could escalate to a second- or third-round pick |
| Alex Smith | 2018 | Third-round pick and CB Kendall Fuller |
You can see from this list why Washington made such a massive blunder with their handling of Cousins. The Cowboys could get a massive haul for Prescott if they so choose because Prescott compares most similarly to Cutler and Palmer on that list from a performance and age standpoint.
Of course, all the tag talk will be a moot point if the Cowboys can come to an extension agreement at some point next spring. That would also be their best bet from a cap perspective, as an extension could have a lessened 2021 cap hit in exchange for likely more guaranteed money throughout the deal.
Brad Spielberger, PFF's salary cap consultant, pegs Prescott's projected contract at four years, $155 million with $70 million guaranteed. While that may make it easier for them to get under the cap in 2021, it means there's almost no way they can add talent through any avenue other than the draft over the life of that contract.
Ultimately, the decision is going to come down to the Cowboys being honest with themselves about where they are as a roster, and that's something they'll obviously be able to evaluate better after the next 11 games. If the offensive talent is so rich that Andy Dalton can replicate Prescott's results, then maybe they don't need to throw a ton of money at a quarterback when there's never been more talent at the position in NFL history. If the defense makes a massive turnaround over the second half, and you see signs of life from their young cornerbacks, then maybe the roster is only a healthy Dak Prescott away from winning a Super Bowl.
As it stands right now, there's little to suggest this is a Super Bowl-caliber roster. Unless things change, they should explore every avenue they can to improve elsewhere, even if that means parting ways with their franchise quarterback.