In a back and forth game bereft of any explosive plays, the New Orleans Saints kicked a field goal with 1:40 left in overtime to sneak out of Chicago with their fourth-straight win.
The game went to overtime after the Bears staged a 10-point comeback with under four minutes remaining. Chicago had a 10-point lead itself in the first half before Drew Brees found Jared Cook for a late second-quarter touchdown to cut the lead to three at halftime.
Editor's note: All of PFF's grades and advanced stats from this game will be finalized and made available to ELITE subscribers within 24 hours of the final whistle.
Story of the Game
The Saints offense played without Michael Thomas, Emmanuel Sanders and Marquez Callaway, so Brees and Sean Payton called on Alvin Kamara early and often. Kamara rushed 11 times for 46 yards and broke a tackle on the ground, with 19 yards coming after contact. He also added eight catches on 10 targets for 88 yards — all 88 came after the catch.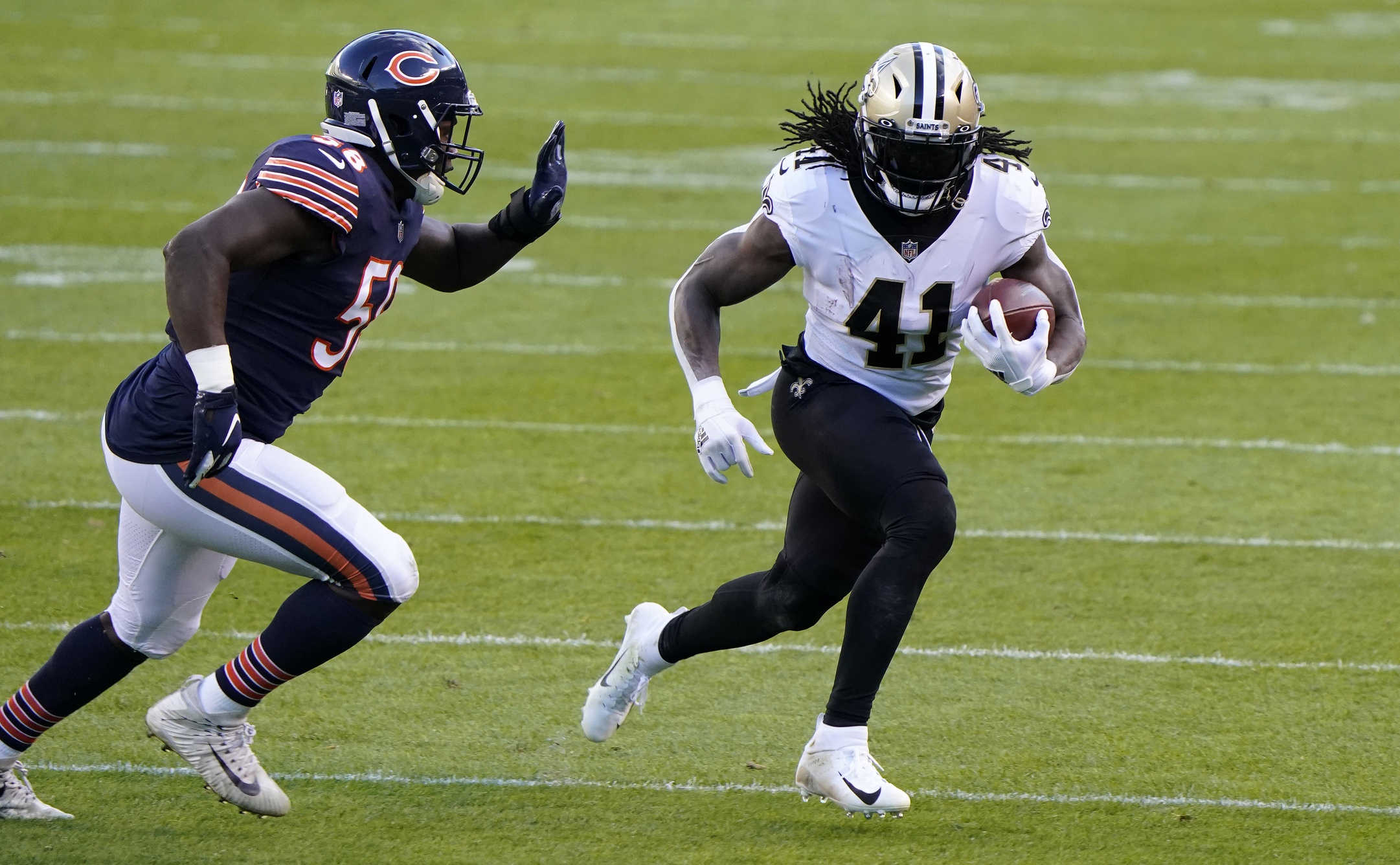 Brees completed 75% of his passes but really didn't create anything downfield. His average depth of target was 5.4 yards, and 75% of his throws were caught short of the sticks. He was pressured 13 times — Bears lineman Akiem Hicks, a former Saint himself, picked up five of them. Khalil Mack was held to two pressures although he did pick up a sack.
The Bears offense continued to struggle, putting up a measly -.11 expected points added per play. Every unit was a mess for Chicago. Nick Foles' 6.6 yards per attempt was low, but he wasn't helped by his receivers who dropped five balls. Anthony Miller was the most targeted receiver with 11 on the night. Star receiver Allen Robinson was only targeted seven times and appeared visibly upset on the sideline during the game.
David Montgomery had nowhere to go on on the ground but still forced eight missed tackles on his 21 carries. He rushed for 89 yards with 84 coming after contact. The offense tried to pick on Marshon Lattimore, who saw 12 targets come his way and surrendered seven catches for 85 yards — although did have a big interception.
Rookie Watch
Rookie sensation Jaylon Johnson played the entire game for the Bears defense. He allowed three catches on three targets for 33 yards and made a tackle on all three completions. Darnell Mooney and Cole KMet saw 65 and 29 snaps, respectively, with Mooney catching five of his six targets for 69 yards and Kmet catching his lone target for two yards.
For the Saints, Cesar Ruiz started again and played the whole game at right guard. Receiver Juwan Johnson got a lot of action, seeing the field for 58 plays. He caught a 5-yard pass and had another target. Rookie tight end Adam Trautman played 15 snaps, but only one was a pass play.
ELITE subscribers can view player grades, advanced statistics, positional snap counts and more in Premium Stats 2.0.