Week 6 is typically the point in the NFL season where we know exactly who each team is — we know roughly which teams are poised for a postseason run, and, for the less fortunate few, we know which teams will be in the running for the No. 1 overall pick of the NFL Draft.
PFF is here to break the 2020 Week 6 slate down for you in greater detail using advanced data and our unique play-by-play grading. Below, you'll find key takeaways from the Sunday slate of NFL action as well as the Week 6 PFF Team of the Week and numerous player awards.
ELITE subscribers can view player grades, advanced statistics, positional snap counts and more in Premium Stats 2.0.
PFF TEAM OF THE WEEK
Offense
QB: Ryan Tannehill, Tennessee Titans
RB: Derrick Henry, Tennessee Titans
WR: Justin Jefferson, Minnesota Vikings
WR: A.J. Green, Cincinnati Bengals
TE: Anthony Firkser, Tennessee Titans
FLEX: Rob Gronkowski, Tampa Bay Buccaneers
LT: Garett Bolles, Denver Broncos
LG: Laken Tomlinson, San Francisco 49ers
C: Corey Linsley, Green Bay Packers
RG: Graham Glasgow, Denver Broncos
RT: Mike McGlinchey, San Francisco 49ers
Defense
DI: Shelby Harris, Denver Broncos
DI: Stephon Tuitt, Pittsburgh Steelers
EDGE: Trey Flowers, Detroit Lions
EDGE: Bradley Chubb, Denver Broncos
LB: Deion Jones, Atlanta Falcons
LB: Jamie Collins Sr., Detroit Lions
CB: Jason Verrett, San Francisco 49ers
CB: Jamel Dean, Tampa Bay Buccaneers
S: Minkah Fitzpatrick, Pittsburgh Steelers
S: Marcus Maye, New York Jets
FLEX D: Jonathan Jones, New England Patriots
BIG TAKEAWAYS
1. This Titans offense isn't regressing towards the mean; they are further separating themselves from the pack
Regression was seemingly inevitable for Ryan Tannehill and the Tennessee Titans in 2020. After stumbling to a 42.4 passing grade with the Miami Dolphins in 2018 — one of the worst-graded seasons we have ever recorded — Tannehill came off the bench in relief of Marcus Mariota and posted a 91.0 passing grade over the remainder of the regular season with the Titans last year. It was the largest year-to-year improvement we have ever recorded at the quarterback position.
To say that it was a tough act to follow would be an understatement. But instead of taking a step back in 2020 like many expected, Tannehill has maintained his high-level play, and the Titans have produced the most efficient offense in the NFL.
Tannehill posted an 88.2 PFF grade against the Houston Texans in Week 6, bringing his season-long mark to 89.1, the fourth-best at the position. He and Derrick Henry helped generate more expected points added (EPA) per play than any offense in a single game this season, at 0.42. That brings their EPA per play mark for the year up to 0.22, which is on pace to be the most efficient offense in a season since the 2007 New England Patriots — who went 16-0.
Green Bay Packers quarterback Aaron Rodgers kicked off his 2020 season with the best start we have ever seen — his 96.3 PFF grade was the best mark ever recorded through the first five weeks of a season since 2006. On top of that, he came into Week 6 as the only quarterback in the league without a turnover-worthy play.
Rodgers then proceeded to fall apart against the Tampa Bay Buccaneers in Week 6, sputtering to the fourth-worst passing grade of his NFL career (45.8) while turning his turnover-worthy play count from a goose egg to three. He was all over the map as a passer, and after entering the week as the league's most accurate passer, just 33% of his passes were deemed accurate in Week 6, the worst rate of the week.
Rodgers had faced the easiest slate of coverage units in the NFL in those first four games (Minnesota, Detroit, New Orleans and Atlanta). Then, in Week 6, he had a far more difficult test in the Tampa Bay Buccaneers, which brings me to my next point.
There was a reasonable debate entering Week 6 as to who really had the best defense in the NFL, with teams like the Buccaneers, Baltimore Ravens, Los Angeles Rams, Indianapolis Colts and Chicago Bears all having a convincing argument. But after Week 6, it's quite apparent that one of those is better than the rest.
The Buccaneers picked apart Rodgers and the Packers in Week 6 and now have allowed -0.15 EPA per play this season — the best in the NFL by a good margin (second is at -0.09) and on pace to be the fifth-best in the last five years.
Tampa's defense features the most underappreciated cornerback duo in the NFL in Jamel Dean and Carlton Davis. Those two combined to allow just four catches on 13 targets against the Packers while intercepting one (a Dean pick-six) and forcing four incompletions. All told, the mighty Aaron Rodgers managed just a 10.1 passer rating on throws into their coverage.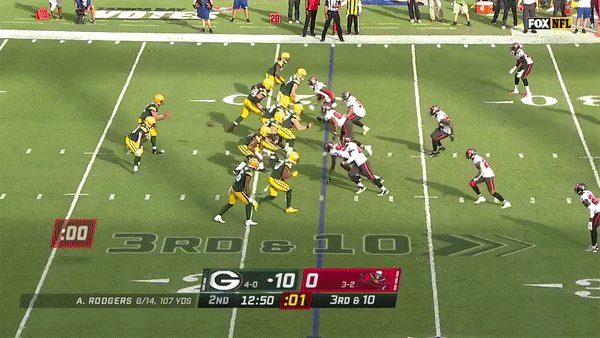 After this dominant showing, Davis is tied for first in combined pass breakups and interceptions with 10, and Dean is the league's highest-graded corner in coverage at 90.7. At this point, it really is no debate — Tampa's defense is the best in the NFL.
4. A game of two storylines: Philip Rivers is a rollercoaster, but he can lead a potent offense with high-end play, and Joe Burrow continues to excel throwing to the short and intermediate range
The 38-year-old veteran quarterback has had a wild start to his tenure in Indianapolis. He started the year with three solid games, earning an 83.1 PFF grade — seventh in the NFL — over that span. He then followed those games up with two poor performances, recording single-game grades of 56.1 and 36.7 in Weeks 4 and 5, respectively.
Rivers then lit up the field against the Cincinnati Bengals in Week 6. He had five big-time throws to just one turnover-worthy play en route to the third-best passing grade of the week at 84.4. In addition, Rivers helped the Colts passing offense generate seven 20-plus-yard plays on the day (their most in a single game since Week 5 of 2016) and dropped some beautiful passes downfield all game long, like so: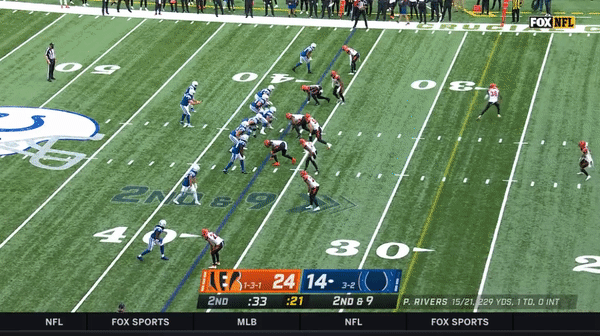 Rivers clearly has some gas left in the tank, but he comes with some consistency issues at this stage in his career. On his better days (like Sunday), this Colts offense can go toe-to-toe with anyone. On his worst, they can get beat by just about anyone.
Entering this matchup, it was widely known that Burrow's deep ball was not in tune — he had completed just one of 24 deep (20-plus-yard) throws through Week 5. Burrow did connect on one to Tee Higgins in the first quarter against Indy, but that'd be his only deep completion of the day. He did, however, continue to deliver accurate balls to the short and intermediate levels.
Burrow threw an accurate pass on 71.4% of his attempts to the 1-19 yard range, the third-best rate of the week. Hitting those throws has been Burrow's bread and butter in his rookie campaign, and he now has a 92.2 passing grade on throws of under 19 yards downfield. Not only does that lead the NFL, but that's on pace to be the fourth-best grade in a single season on such throws in the last 10 years.
The Bengals might be 1-4-1, and we may not have many of those highlight-reel deep bombs from Burrow, but he is doing special things in his rookie campaign.
5. The Jets offense is at historically bad levels, but that's a great thing
To no one's surprise, the New York Jets had an ugly offensive showing on Sunday. They generated the lowest successful play rate (plays that generated positive expected points added) among all offenses on Sunday and now have produced -0.2 EPA per pass play on the year, which currently stands as the seventh-worst mark in the last 10 years. Their explosive-pass (15-plus-yard gain) rate is on pace to be the second-worst in that same span.
The good news for the Jets is that they are now the sole team in the NFL without a single win through the first six weeks of action. This, of course, means that they are now the clear front-runners to secure that highly coveted first overall pick in the 2021 NFL Draft. Jets fans, if you want some positive reading about the franchise, your quarterback of the future — Trevor Lawrence — just won PFF College Offensive Player of the Week for the third time this season.
OFFENSIVE PLAYER OF THE WEEK
Firkser has made a modest impact throughout his NFL career, but he made a massive one against the Texans on Sunday. He had twice the amount of catches he's ever had in a single game of his career, with eight. He picked up six first downs and generated a 155.8 passer rating when targeted — all en route to a 93.4 PFF grade on the day. Firkser ran five more routes than he ever has in a single game in his career and averaged 4.19 yards per route run, the third-highest mark by a tight end in a game this year.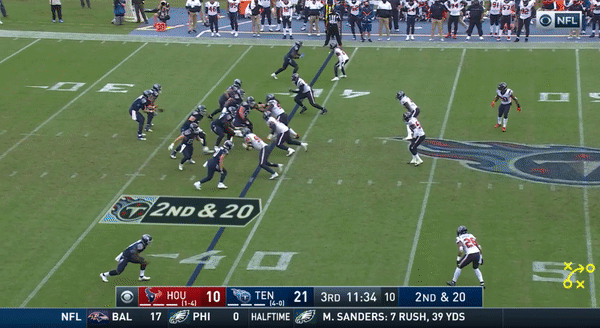 DEFENSIVE PLAYER OF THE WEEK
Verrett has had one of the most unfortunate starts to an NFL career that the world has ever seen. He showed some promise in a limited rookie campaign in 2014 with the Chargers, earning an 85.1 PFF grade on 223 coverage snaps, then came out in Year 2 and was the league's second-highest-graded corner. He then played in just four games in that next season due to a torn ACL and would go on to play just 67 snaps from 2017 to 2019 due to injuries. We have finally gotten a healthy Verrett these last few weeks and last night against the Rams, he looked like his 2015 self. The cornerback produced a 94.0 PFF grade for the game. He did not allow a single catch on his three targets in coverage, recorded an interception and forced two incompletions.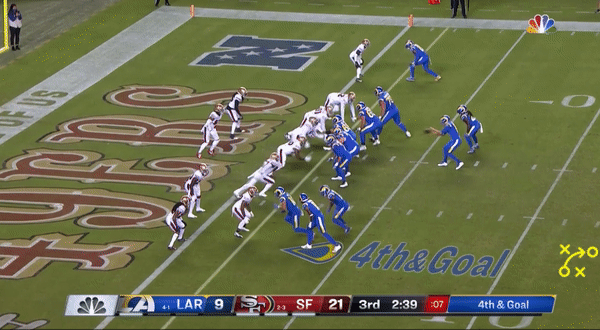 Verrett has now played four games this season and has allowed just 0.18 yards per coverage snap at outside corner. That leads the NFL by a substantial margin (second is Jalen Ramsey at 0.47) and is a full yard better than the league average.
ROOKIE OF THE WEEK
I have said this before, and by the looks of it I'm going to be saying it quite a bit this year. The highest-graded wide receiver of the week is none other than Justin Jefferson at 92.6. He has earned that and Rookie of the Week honors in three of the last four weeks. That brings his receiving grade in that span to 92.5 — 2.5 grade points higher than any other wide receiver. Some of his production this past week did come in garbage time, but regardless, being more productive than any other wide receiver of Week 6 on a per route basis by a full yard at 4.88 yards per route run is still impressive. Take the play below for example: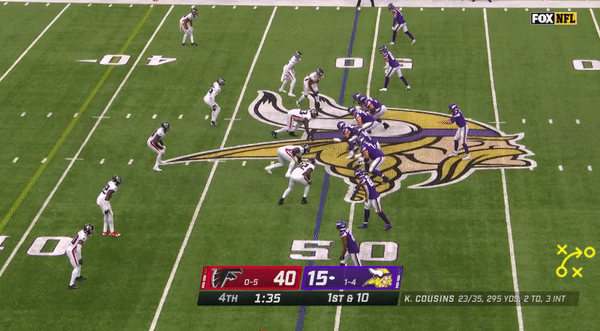 Garbage time be damned — Jefferson burnt Kendall Sheffield to a crisp on that route. In addition to that touchdown, Jefferson had another reception result in a gain of over 20 yards. That brings his total over the last four weeks to nine, which is three more than any other wide receiver.
OFFENSIVE LINE OF THE WEEK
The Los Angeles Rams weren't able to pull off the win against Kyle Shanahan's San Francisco 49ers on Sunday Night Football, but their offensive line did all they could to help out. The Rams' unit was the only one of Week 6 to not allow a sack or hit on their quarterback. Guards Austin Corbett and David Edwards did still get fried in pass protection and lost a few reps, but they — along with the rest of the line — made an impact for the run game. The offensive line combined to be the highest-graded run-blocking unit of the week and helped give the ground game on average 2.8 yards before contact (second-highest of the week). The most impressive aspect of this line is the stout play of soon-to-be 39-year-old Andrew Whitworth. He was the second-highest-graded left tackle of Week 6, bringing his season PFF grade to 90.1 — the best among all tackles.
SECRET SUPERSTAR OF THE WEEK
The storylines of Denver's upset win over New England consisted of how bad the Patriots offense looked as well the fact the Broncos won with six field goals and no touchdowns. What we should be talking about is how great New England cornerback Jonathan Jones played because he put the clamps on Jerry Jeudy in the slot — limiting him to just one catch for 16 yards. Overall, Jones saw six other targets on the day and didn't allow any of those to be caught with three forced incompletions and an interception.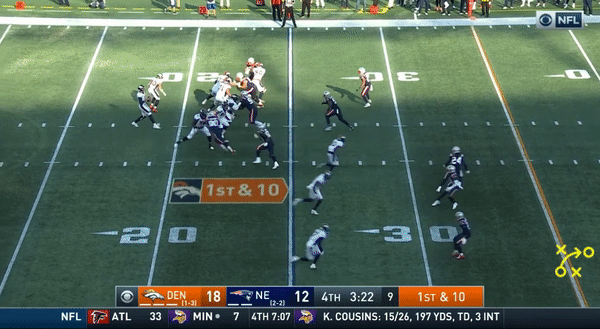 His 93.0 coverage grade on the day trailed only the PFF Defensive Player of the Week Jason Verrett. New England may not have gotten the win, but Jones did his job to near perfection.
PLAY OF THE WEEK
Buttception!
One of the most infamous plays in the NFL of the 21st century was the New York Jets butt fumble back on Thanksgiving 2012 when quarterback Mark Sanchez ran straight into the behind of his right guard and lost the ball. Yesterday, we saw another big Jets play involving a rear-end, but this time it's not one we will laugh at for years to come.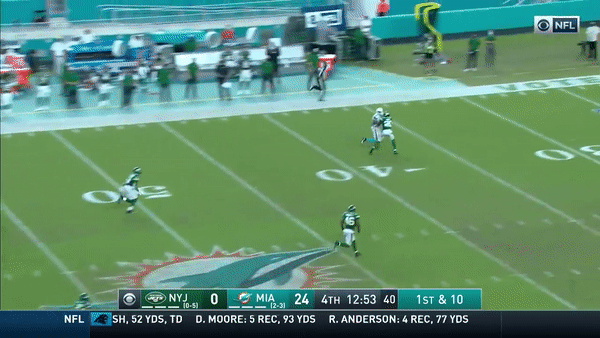 Safety Marcus Maye, who had been struggling entering the week with a coverage grade of just 58.7, made a play with his keister that is the early frontrunner for interception of the year. That helped him earn a 93.2 PFF grade for the game, the second-best of the week at the position.
AN EARLY LOOK AHEAD TO WEEK 7…
There are only three unbeaten teams left through Week 6, and two of them go head-to-head in Week 6 as the Pittsburgh Steelers take on the Tennessee Titans. The Steelers are fresh off a dominant defensive outing in Week 6 as they held Baker Mayfield and the Cleveland Browns to -0.5 EPA per play — the best mark a Pittsburgh has achieved in a single game since Week 17 of 2008. They did get some help from just how bad Mayfield was in general, but nonetheless, Blitzburgh will face their toughest test yet against Tennessee. Three of the Steelers five wins have come against teams that currently rank in the bottom five in offensive efficiency, and the Titans, of course, headline that top spot as of now.
The Monday Night Football game for this week is one that is likely to carry big playoff implications. The 5-1 Chicago Bears travel to Los Angeles to take on the 4-2 Rams, and this game could end up a huge tiebreaker if these two teams continue on the playoff paths they are on. While the Bears are better off with Nick Foles leading the offense than Mitchell Trubisky, the passing attack has still ranked in the bottom quarter of the league in EPA per pass play generated. Their 5-1 record is in large part due to their stout defense that is the fourth-highest-grade unit in the NFL. They'll be getting a Rams offense that is coming off a middling performance against the 'Niners in Week 6.