It may have been ugly to start the Saturday slate, with numerous blowouts and bad offensive showings, but we got to see some incredible games as the day progressed. From Memphis storming back to beat UCF in a 50-49 shootout to a once-mocked Florida State team upsetting a fifth-ranked North Carolina squad, Week 7 certainly did not disappoint. 
Now that the first run of our analysis is finalized and available in PFF's CFB Premium Stats+, we get to fill you in on everything you might have missed while providing further analysis on yesterday's games. Here we present to you the PFF Team of the Week, big takeaways and player awards from Week 7 of the 2020 college football season.
PFF TEAM OF THE WEEK
Offense
QB: Trevor Lawrence, Clemson
RB: Chaton Mobley, Middle Tennessee
RB: DeAndre Torrey, North Texas
WR: DeVonta Smith, Alabama
WR: Amari Rodgers, Clemson
WR: Jaelon Darden, North Texas
TE: Joshua Simon, Western Kentucky
LT: Liam Eichenberg, Notre Dame
LG: Tyler Witt, Western Kentucky
C: Drake Jackson, Kentucky
RG: Austin Dotson, Kentucky
RT: Doug Nester, Virginia Tech
Defense
DI: Thomas Gore, Georgia State
DI: O'Bryan Goodson, Memphis
EDGE: Quincy Roche, Miami (FL)
EDGE: Arnold Ebiketie, Temple
LB: Jamin Davis, Kentucky
LB: Grant Morgan, Arkansas
CB: Hudson Clark, Arkansas
CB: Kelvin Joseph, Kentucky
S: Nolan Turner, Clemson
S: Tykee Smith, West Virginia
FLEX D: Jaycee Horn, South Carolina
5 BIG TAKEAWAYS
1. Can any defense stop this Alabama offense right now?
This Georgia defense isn't just the top defense in the SEC, it is also arguably the best defense in college football, so it goes without saying that the Bulldogs figured to be a very tough test for this high-flying Alabama offense.
To no one's surprise, Alabama had no issue, as they generated positive expected points added (EPA) on 58.5% of their pass plays — over three percentage points higher than any other Power Five offense in Week 7.
Quarterback Mac Jones earned a PFF grade above 88.0 in his fourth straight game to open up the year, making him the highest-graded quarterback in the country through seven weeks of action. And just as he did in the three games leading up to this matchup, the Bama signal-caller limited negatively graded throws and maintained his FBS-leading spot in that metric by a good margin.
Jones was able to connect on an open deep ball to the speedster Jaylen Waddle that resulted in a 90-yard touchdown: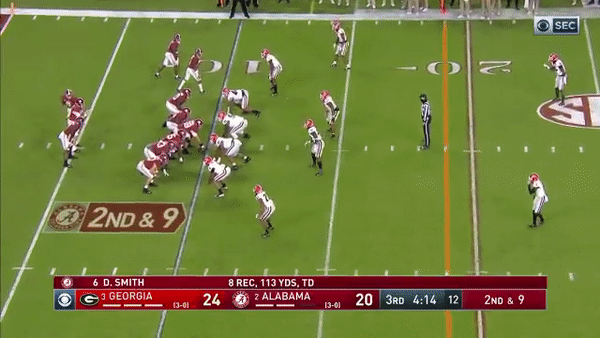 And DeVonta Smith showed off his top-notch ball skills and consistently moved the chains for the Crimson Tide, not only earning an elite PFF grade above 90.0 for the game but also gaining PFF Team of the Week recognition.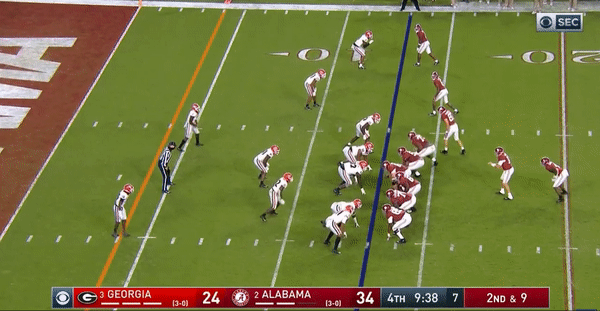 At this rate, the question shouldn't be, "which defense can stop Alabama?" It should be "which offense can outscore Alabama's?" And it's looking like there may only be one or two.
2. Zach Wilson and BYU are doing exactly what they need to do to convince everyone they are worthy of a CFP berth
It was another game, another outstanding offensive showing by Zach Wilson and the BYU Cougars in their 43-26 victory over Houston on Friday. And while there was a little lull there in the second quarter, BYU still managed to generate more EPA per pass than any offense of Week 7, and Wilson added another Heisman-worthy performance to his 2020 season.
The BYU signal-caller earned a passing grade above 80.0 for the game, giving him five straight such games to open up the 2020 season and taking him to a 94.2 passing grade on the year. There were only two quarterbacks who started the 2019 season with five straight 80.0-plus passing grades, and they finished the year first and third in the Heisman race (Joe Burrow and Justin Fields).
Wilson did let slip a turnover-worthy throw in the red zone that wasn't intercepted (though it should have been), but he had four big-time throws to make up for it. He once again displayed impeccable downfield passing — Wilson has now thrown a catchable ball on 87% of his throws that traveled 10 or more yards downfield in 2020. For perspective, that Burrow led the FBS in that metric last year at 80%.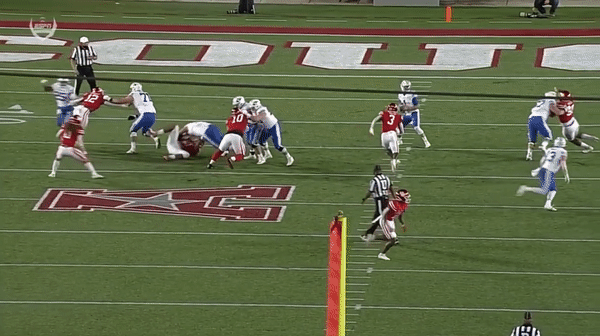 If they want to crack the CFP, BYU is going to have to routinely win by three scores against their easy schedule, just as they did on Friday.
3. Matt Corral had one of the steepest declines from one game to the next in recent memory
Back in Week 6, Lane Kiffin, Matt Corral and the Ole Miss offense hung 48 on Alabama and fielded the second-most-efficient passing attack to face the Crimson Tide since 2016. It wasn't a fluke, either, as it was consistent with what we saw from them in their first two outings, against Florida and Kentucky.
However, they took a big step backward against the Razorbacks. Ole Miss generated -0.62 EPA per pass play (fourth-worst the program has produced in a single game in SEC play since 2014), and Corral tossed six interceptions en route to the fifth-lowest-graded performance by a quarterback in SEC play in the PFF College era.
Surprising is an understatement. Corral started his 2020 campaign with three straight 75.0-plus passing grades and committed just one turnover-worthy play over the whole of that span. Then, against Arkansas, he had eight (!!!) turnover-worthy plays and not a single big-time throw. He entered the game with the seventh-lowest negatively graded throw rate in the FBS and proceeded to triple that rate in Week 7 for the fourth-worst of the week.
4. This game against Louisville verified that Notre Dame has no shot at Clemson and the ACC title
There were some genuine concerns with Irish quarterback Ian Book and the passing offense as a whole entering their Week 7 affair against the Louisville Cardinals.
The Notre Dame defense is championship quality, as is the offensive line that has been giving Book ample clean pockets and opening up holes for an efficient run game. Still, the passing offense had not looked like it could come close to hanging with the Clemson Tigers, whom they'd have to beat at least once to sneak into the CFP.
Book's Week 7 checklist was a relatively simple one on paper — he was to pick apart a Cardinals secondary that had earned the worst team coverage grade in the ACC and had allowed the highest passer rating on throws of 10 or more yards downfield. But instead of picking apart this Louisville defense — as he should have — Book struggled to move the ball altogether.
The Notre Dame passer attempted nine passes that traveled over 10 yards downfield, and he connected on just one. Two of those were dropped, but even had they been caught, this still would have been an ugly day for the Irish passing offense. They currently have generated 16 explosive pass plays of 15-plus yards, three fewer than any other team in the ACC and 29 fewer than the conference leader, Clemson. There's just no way this Irish offense can score enough points to beat Clemson here in a few weeks, let alone make it a close game.
5. Had UNC been more aggressive early on, I think we'd be talking about a different outcome
This North Carolina offense has looked vastly different from what we saw in 2019 — they've been far more conservative and are hardly taking any shots downfield.
Entering Week 7, quarterback Sam Howell had the lowest average depth of target in the ACC (7.6), which was 4 yards behind his average throughout his near record-setting 2019 true freshman season.
The first half of their showdown against Florida State in Week 7 was no different — Howell did not take a single deep shot and had an average depth of target of just 3.5 yards. In addition, North Carolina called a run play on 60% of offensive snaps. Consequently, the Tar Heels found themselves trailing 31-7 at the half to a 1-3 Florida State team whose one win came against Jacksonville State.
After the break, we started to see the UNC offense we all expected from the get-go. They passed the ball over 70% of the time, and Howell's average depth of target increased to 20.4. He attempted nine deep shots over 20 yards downfield and connected on six for 186 yards and three scores.
The Tar Heels scored 21 unanswered in the second half, but that wasn't enough to pull off the comeback. As good as that Tar Heels running back duo of Javonte Williams and Michael Carter is, a 60% run-play rate while trailing by double digits in the first half is inexcusable, as is not utilizing Howell's deep passing ability. The conservative nature of the offense is the reason why they lost this one.
OFFENSIVE PLAYER OF THE WEEK
I'm not going to lie, I felt bad for Georgia Tech in the first half of their game against Clemson, because Lawrence just had his way with that defense. He did have one bad decision when under pressure that resulted in an interception, but outside of that, the Clemson quarterback was nearly flawless and once again showed off every tool you could imagine at the position. Lawrence had an FBS-high 93.1 passing grade in the first half of action, as he completed nine of 12 10-plus-yard passes for 259 yards and four touchdowns.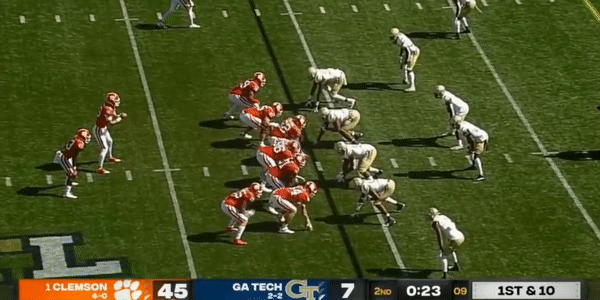 This was Lawrence's eighth 90.0-plus game grade of his collegiate career and his third of 2020. Godspeed to the Syracuse Orange next week.
DEFENSIVE PLAYER OF THE WEEK
Clark had virtually no recruiting interest in 2019 and ended up walking onto the Razorbacks. He took a redshirt his freshman year and wasn't expected to see much time in 2020, but a few injuries in Week 5 forced Arkansas to put Clark into action. Clark did perform fairly well in his first two career games against Mississippi State and Auburn (72.5 coverage grade), but no one expected him to ever have the type of game he had against Ole Miss. Clark saw four targets in coverage against the Rebels, and he intercepted three of them. He read Ole Miss quarterback Matt Corral like a book all game long and had two of those interceptions come on jumped out-routes.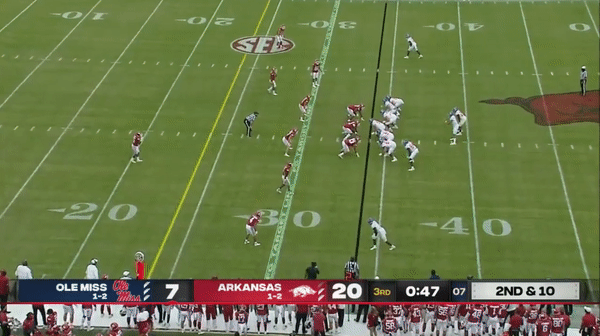 In less than three hours, Clark went from a complete unknown to an SEC household name.
TRUE FRESHMAN OF THE WEEK
McBride came to UAB as a three-star recruit with little Power Five interest and was the fifth man on the totem pole entering the season at running back. He managed to see 10 carries in UAB's 37-14 blowout win over Western Kentucky and had multiple huge plays. On those 10 carries, the true freshman broke four tackles and busted off three explosive runs of 10-plus yards, including this 71-yard score: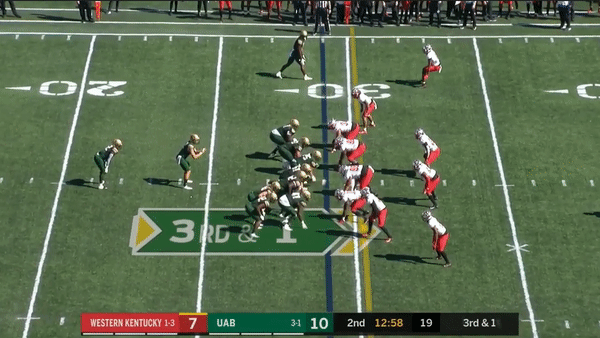 McBride now has an explosive run on seven of his 18 career carries for the Blazers in 2020. Spencer Brown will remain the RB1 for UAB, but it looks like we will be seeing a lot more of McBride the rest of the year.
OFFENSIVE LINE OF THE WEEK
The Wildcats' offensive line had its best game of the year as a unit against Tennessee and finally looked like one of the best offensive lines in college football. They finished the week as the only offensive line to produce a team grade above 90.0 and played near mistake-free in pass protection while opening up big lanes for the run game.
Unsurprisingly, tackle Darian Kinnard and center Drake Jackson had strong showings, but Austin Dotson was the best performer. He didn't get the start, but he filled in at right guard for 32 snaps and still managed to tie for the most positively graded run blocks of the entire week, regardless of position.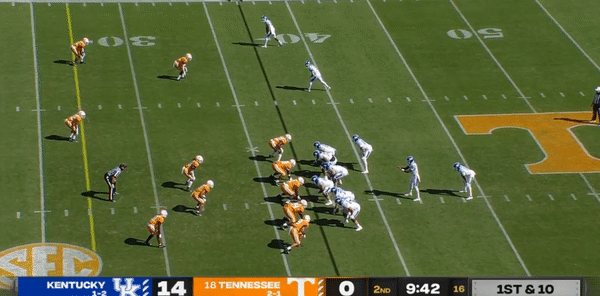 SECRET SUPERSTAR OF THE WEEK
We all know Trevor Lawrence, Mac Jones and Brady White had some of the week's top performances at the position, but North Texas quarterback Jason Bean was right there with them with his outing against Middle Tennessee. The redshirt sophomore replaced starter Austin Aune following the first quarter of action and finished the night with a PFF grade north of 90.0 that'll finish among the best of the entire week.
Bean made plays left and right through the air and on the ground in the Mean Green's 52-35 victory. In all, he picked up a gain of 20 or more yards on four of those nine carries and averaged 20 yards per attempt on the night.
Bean didn't put up monster numbers as a passer, but he missed very few throws and connected on two deep big-time throws to Jaelon Darden.
PLAY OF THE WEEK
Treylon Burks with the best catch of 2020 so far
True sophomore wide receiver Treylon Burks was Arkansas' top returning player from last year's squad. However, he has battled an injury these last couple of weeks, which limited him to only 10 receiving yards against Mississippi State in Week 5 and not even seeing the field in Week 6 against Auburn. Burks was a full-go in Arkansas' matchup against Ole Miss this week, and he made his return known with this unbelievable touchdown snag:
Treylon Burks, this is insane. pic.twitter.com/uSyVwybTnN

— CBS Sports (@CBSSports) October 17, 2020
He ended the game with an average of 3.81 yards per route run and generated a 142.0 passer rating when targeted. Burks is now one of the few SEC wideouts who has earned a 90.0-plus PFF grade through seven weeks of action.
AN EARLY LOOK AHEAD TO WEEK 8…
I never thought I'd say this in 2020, but we get to watch Big Ten football in less than a week!
The Ohio State Buckeyes (as usual) headline the conference as the favorites to win the title and are truly only of the few teams that can go toe-to-toe with the Clemson Tigers. Quarterback Justin Fields returns after an incredible first year as the Buckeyes' starter that ended in him owning the 10th-most valuable season we have recorded in the PFF College era (since 2014).
Fields and Ohio State will open up their 2020 season against the Nebraska Cornhuskers as 23.5-point favorites. Considering Nebraska's current quarterback situation with Adrian Martinez, who ranked 123rd in PFF grade among 130 FBS qualifiers last year, that's well warranted.
While that game is destined to be a multi-score blowout, there is one Big Ten matchup we get between two teams in the AP Top 25, as Michigan takes on Minnesota.
The Wolverines had cornerback Ambry Thomas and wide receiver Nico Collins opt-out of the season, but the good news is that their defense is still in solid shape thanks in large part to their very strong edge-rushing tandem. The bad news is that the offense is a huge question mark. They have to replace three of their top four receivers from last year's squad and will also have a new face at quarterback. Joe Milton, who has only 16 career dropbacks to his name, will now lead the Wolverines' offense. The Golden Gophers, however, have no big red flags with their offense, as they return the third-most-valuable QB-WR connection in college football with Tanner Morgan and Rashod Bateman.