Week 5 began with a great down-to-the-wire matchup between the Tampa Bay Buccaneers and the Chicago Bears on Thursday Night Football, and the Sunday slate of games wrapped up with a couple of tight affairs, as well. 
Unfortunately, Dak Prescott suffered a gruesome injury, and while the Dallas Cowboys are undoubtedly worse off without him, they were able to pull out a victory with a game-winning field goal against the New York Giants. Then, to finish the night, the Seattle Seahawks rallied from being shut out in the first half to top the Minnesota Vikings, 27-26, after a fourth-and-goal touchdown from Russell Wilson to DK Metcalf in the final seconds.
Not to mention, the two reigning conference champions in the Kansas City Chiefs and the San Francisco 49ers were upset despite each being favored by more than a touchdown. And to cap it all off, the Atlanta Falcons fired head coach Dan Quinn and general manager Thomas Dimitroff.
PFF is here to break it all down for you in greater detail using advanced data and our unique play-by-play grading. Below, you'll find key takeaways from the Sunday slate of NFL action as well as the Week 5 PFF Team of the Week and numerous player awards.
ELITE subscribers can view player grades, advanced statistics, positional snap counts and more in Premium Stats 2.0.
PFF TEAM OF THE WEEK
Offense
QB: Ryan Tannehill, Tennessee Titans
RB: Raheem Mostert, San Francisco 49ers
WR: Travis Fulgham, Philadelphia Eagles
WR: Darius Slayton, New York Giants
TE: Gerald Everett, Los Angeles Rams
FLEX: CeeDee Lamb, Dallas Cowboys
LT: D.J. Humphries, Arizona Cardinals
LG: Quenton Nelson, Indianapolis Colts
C: Ryan Kelly, Indianapolis Colts
RG: Greg Van Roten, New York Jets
RT: Taylor Moton, Carolina Panthers
Defense
DI: Vita Vea, Tampa Bay Buccaneers
DI: Aaron Donald, Los Angeles Rams
EDGE: Demarcus Lawrence, Dallas Cowboys
EDGE: Aldon Smith, Dallas Cowboys
LB: Jaylon Smith, Dallas Cowboys
LB: K.J. Wright, Seattle Seahawks
CB: Jamel Dean, Tampa Bay Buccaneers
CB: Sidney Jones, Jacksonville Jaguars
S: Jeff Heath, Las Vegas Raiders
S: Jordan Fuller, Los Angeles Rams
FLEX D: Xavien Howard, Miami Dolphins
KEY TAKEAWAYS
The season-ending injury to Cowboys quarterback Dak Prescott was easily the worst thing that happened Sunday. He was having a great game against the New York Giants and seemed to be heading toward a career year. Prescott earned an 80.4 passing grade for the season up until his injury, which ranked seventh-best in the NFL and was on pace to be the best of his career. 
With him unfortunately out of the equation, the Cowboys are left with Dalton as their quarterback. It may sound bad, but considering that Dallas has a slew of offensive weapons, a top-tier play-caller and one of the easiest remaining schedules. Plus, the team plays in the weakest division in the NFL, so the Cowboys will still be competitive and have a clear shot at the postseason. The offense is going to take a step back, sure. But if anything is going to prevent the Cowboys from winning the NFC East, it's secondary — not Dalton leading the offense.
Despite Demarcus Lawrence and Aldon Smith putting on a pass-rush clinic, helping put Daniel Jones under pressure on a whopping 60% of his dropbacks (highest in NFL by 9 percentage points), the Cowboys' pass defense struggled mightily. Dallas had the lowest coverage grade of any team of the week, bringing its season coverage grade to dead last in the NFL.
Dalton performed well after coming in for Prescott, and he was the key reason they avoided the loss to the Giants. He posted an 85.8 passing grade, had just one uncatchable ball and delivered two big-time throws in the final minute to set up the game-winning field goal.
2. Being aggressive and taking shots downfield can help you upset the best team in the NFL. Who knew?
It was widely known that the Las Vegas Raiders have had one of the most conservative passing attacks in the NFL with Derek Carr as their quarterback. Entering Week 5, Carr had uncorked a 20-plus yard deep shot on just 6% of his throws, which was the sixth-lowest rate among starting quarterbacks. That said, the conservative offense has worked for them, as they still were efficient on a per-play basis.
Carr has been pinpoint accurate on those shallow throws, helping the Raiders rank 10th in the NFL in expected points added per play through the first four weeks of action. But if the Raiders ever wanted to compete with the league's best — such as their division rival, the Kansas City Chiefs — and actually threaten another team in the postseason, they needed to take more shots downfield. 
And they did just that against Patrick Mahomes and the Chiefs, which was an integral part in them securing the 40-32 upset win. Head coach Jon Gruden made it a point to let us know:
Gruden: "We threw the ball down the field. Some of the Pro Football Focus statisticians will have to scratch their head."

— Jimmy Durkin (@Jimmy_Durkin) October 11, 2020
Carr had an average depth of target of 9.2 yards for the game, which was nearly 2 yards more than he had than any of the first four games of the year. He attempted six deep shots on the day, connecting on four for 219 yards and two touchdowns. That was 79 more deep passing yards than he has ever recorded in a single game in his career. Of those four deep completions, three traveled over 35 yards downfield (most in a game in his career and fourth time he had more than two). This helped the Raiders have their most efficient offense in a game since Week 2 of 2017 against the Jets.
Henry Ruggs leads the NFL in 40+ yard receptions – 3pic.twitter.com/WBd93hryEc

— PFF (@PFF) October 12, 2020
Have to swing for the fences if you want to hang with the big dogs.
3. Jimmy G is officially on the hot seat
Jimmy Garoppolo has gotten a lot of slander in his time as the 49ers' starting quarterback, from being a product of Kyle Shanahan's scheme to not being able to see linebackers to failing to show up when San Francisco needed him most late in the game in Super Bowl LIV. And his performance to start out Week 5 against the Miami Dolphins was the tipping point for Shanahan, who benched Garoppolo at halftime in favor of C.J. Beathard.
In those first two quarters of action, Garoppolo earned a lowly 32.6 passing grade — the second-worst game of the 2020 NFL season, above only fellow 'Niner Nick Mullens in Week 4. Garoppolo also threw just 13% of his total passes accurately, according to PFF's ball-charting process — the worst single-game mark by 7 percentage points since we began collecting that data in 2016.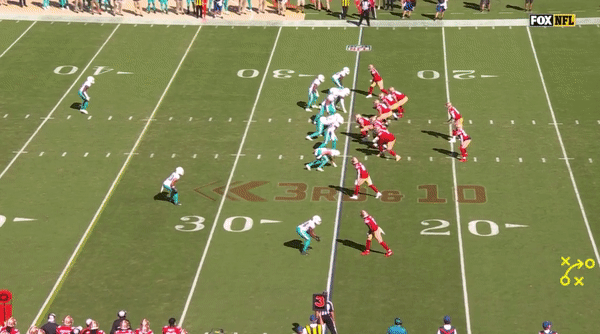 Garoppolo's decision-making and accuracy were at new levels of bad Sunday, and it rightfully led to him being taken off the field. The jury was still out on him after his first full year as a starting in the NFL in 2019, and this performance doesn't help his case any. Garoppolo is clearly going to be the starter in Week 6, but he's on a short leash, and it seems like it might be in San Francisco's best interest to start doing its due diligence on other options.
4. The Atlanta Falcons can make or break the next 20 years of their franchise in the coming weeks
In the middle of Sunday Night Football following the Falcons' loss to the Carolina Panthers, news broke that the team would be firing head coach Dan Quinn and general manager Thomas Dimitroff, effective immediately. Atlanta has five straight losses to start the 2020 season, the defense is in the conversation for the worst in the NFL and the team is far from built to take advantage of the Matt Ryan's final years in the NFL. Nonetheless, it's understandable why the moves were made. But it's what the Falcons have the opportunity to do in the coming weeks that can alter their franchise significantly for the better.
It's obvious, at this point, that the Falcons are not going to sniff the postseason this season — the firings of Quinn and Dimitroff aren't going to make them much better in the interim. Quite frankly, it's far from a guarantee that they even have a shot at being competitive within the next couple of years, given the numerous holes they have — particularly within the coverage unit, which has allowed the second-most expected points added per pass of the 2020 season.
That brings me to my next point: It seems like a very easy decision to trade Ryan, who turns 36 this offseason, and throw in the towel for the rest of 2020, subsequently securing the No. 1 overall pick and Trevor Lawrence in April. It might not be such an easy decision if Ryan was playing like he was in his prime, but right now, he is on the path to career-lows. This is the least efficient Falcons passing offense of Ryan's career thus far, and his 69.7 passing grade is five points lower than any season of his in the past decade. 
Not many teams would even consider a midseason trade with the Falcons for their aging quarterback right now, but the Chicago Bears would have to entertain the idea, given their 4-1 start, their troubles at the position now with Nick Foles, their stout defense and the pressure on the front office to win in 2020.
The only thing keeping Ryan around does for the Falcons is put them in quarterback purgatory, making them a mediocre franchise, at best. Embracing the full rebuild and trading the future Hall of Famer away to secure Lawrence in the 2021 NFL Draft is the right thing to do.
5. The Russell Wilson-to-D.K. Metcalf downfield connection is becoming one of the best in the league
When thinking of the league's best QB-WR connections, there are a handful that come to mind — Patrick Mahomes to Tyreek Hill, Aaron Rodgers to Davante Adams, Drew Brees to Michael Thomas, Matt Ryan to Julio Jones, and the list can go on. Russell Wilson to Tyler Lockett is also one that belongs in that group, especially following that 2018 season when the two connected for a perfect 158.3 passer rating.
While Lockett and Wilson continue to prove their chemistry from week to week, the one Wilson has formed with second-year wide receiver D.K. Metcalf looks even better. It belongs in the conversation for best in the league alongside Mahomes-Hill and Rodgers-Adams.
Wilson targeted Metcalf 10 or more yards downfield seven times last night against the Minnesota Vikings, and he came away with a 131.5 passer rating on those throws. One of those seven ended up being the biggest play of the night and one of the best of the week when Wilson hit Metcalf on a deep ball while losing by four on fourth down with just over a minute left to play.
DK IS MUST-WATCH TV ????pic.twitter.com/9m9RWoSbz0

— PFF (@PFF) October 12, 2020
That brings the Wilson-to-Metcalf connection at 296 deep (20-plus-yard target) receiving yards for the season, 90 more than any other quarterback-receiver combo. Metcalf is starting to become one of the league's most dangerous vertical threats, and his quarterback is arguably the best deep-ball thrower in the game. These two are only getting started.
6. Don't sleep on the Los Angeles Rams team to reclaim the NFC
Alright, I know they played a Washington Football Team that is one of the bottom five teams in the NFL, but the Rams have been on a roll to start 2020. They generated the fourth-most EPA per pass play of Week 5 while limiting Washington to the second-lowest EPA per play generated. This has helped bring their season rank in EPA per play to sixth and their rank in EPA per play allowed to fourth. They are the only team to rank sixth or better in both of those metrics so far. The schedule has been relatively easy as a whole, but they've performed like a contender, and Sean McVay has made this offense as strong as it was back in 2018.
Jared Goff in 2020

— 9.0 yards per att (1st)

— 6.4 avg depth of tar (2nd lowest)

Sean McVay in his bag turning short throws into big gains.

— George Chahrouri (@PFF_George) October 12, 2020
The above tweet perfectly sums up what McVay has done with Goff in 2020. He's making the quarterback's job as pain-free as a coach and playcaller can; he's creating room for his receivers to run after the catch, dialing up a high rate of play action and creating a high rate of open throws when they do attack downfield. This has played a big part in Goff recording the second-lowest negatively graded throw rate through Week 5.
The defense is doing their part, as well. Interior defensive lineman Aaron Donald just put up the 38th elite-graded game of his career, 29 more than second at the position. In the secondary, cornerbacks Jalen Ramsey and Darious Williams have led the Rams to just -0.15 EPA per pass allowed. That's the best in the NFL and far above second at -0.09.
I wouldn't overlook the Rams right solely because of the schedule they have faced — this team is looking like one of the few true candidates to win the conference.
7. The accuracy wasn't fine-tuned, but at least Carson Wentz didn't put the ball in harm's way
No player had a more underwhelming start to the 2020 NFL season than Philadelphia Eagles quarterback Carson Wentz. He tied for the most turnover-worthy plays a quarterback has recorded in the first four games of a season in the PFF era, and he earned the lowest passing grade in the league in that span at 43.5. But in Week 5, he bounced back big as he earned the second-highest passing grade of the week at 83.8. Wentz tossed up three big-time throws in total and didn't have a turnover-worthy play until his fourth-and-20 prayer he had to throw up when down by 9 with just a couple of minutes to play. 
The accuracy wasn't finely tuned, as he had the sixth-lowest rate of accurate passes thrown, but it wasn't non-starter like it was in the first four weeks when he ranked dead last in that metric by a good margin. His 14 turnover-worthy plays were mostly due to wildly errant throws, but a good chunk also stemmed from just really bad decisions. This was no issue for Wentz against a good Pittsburgh defense that loves to send blitz after blitz, and he led the Eagles to the ninth-most-efficient passing offense of the 24 teams to play so far this week. This is a promising sign for an Eagles team that resides in a division that's currently wide open for anyone's taking. 
OFFENSIVE PLAYER OF THE WEEK
Tannehill made big plays through the air and on the ground for the Tennessee Titans against the Buffalo Bills on Tuesday Night Football, earning a career-high 95.0 PFF grade for the game. He completed 21 of his 28 attempts for 195 yards and three scores on the night, going 7-of-8 for 61 yards and two scores on throws under pressure and 14-of-20 for 134 yards and one touchdown from a clean pocket.
DEFENSIVE PLAYER OF THE WEEK
While Giants rookie tackle Andrew Thomas will never forget catching a two-point conversion against the Cowboys in Week 5, he'll probably want to wipe from his memory going up against Lawrence (and Aldon Smith for that matter) in pass protection. The edge defender made Thomas and his teammate Cameron Fleming's lives hell when trying to protect Daniel Jones. Lawrence produced a 94.9 PFF grade for the game, the highest of his entire NFL career. He generated a pressure on 32% of his pass-rush reps, which is the highest we have seen in a single game thus far in the 2020 season.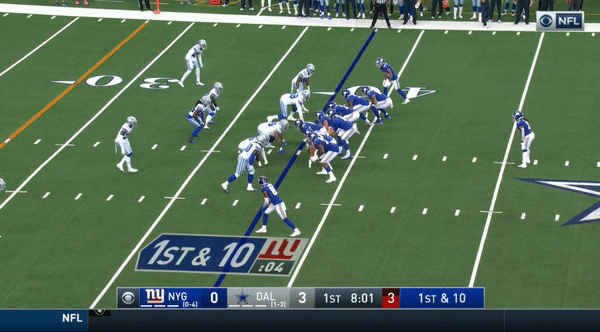 Lawrence had gotten off to a bit of a slow start in 2020. He recorded only eight pressures in four games (had nine in Week 5) and earned a 64.9 pass-rushing grade over the course of that span. This outing by Lawrence was reminiscent of his 2017 campaign when he was the league's highest-graded pass-rush at the position.
ROOKIE OF THE WEEK
It was a close battle between Lamb and Chase Claypool, but the former Oklahoma standout ultimately edged Claypool out. Lamb finished the week ranked second in yards per route run (4.96) and earned the third-best receiving grade of the week at 90.4. He exploited holes in zone coverage like clockwork and came up with three huge explosive receiving plays of 15-plus yards on such instances.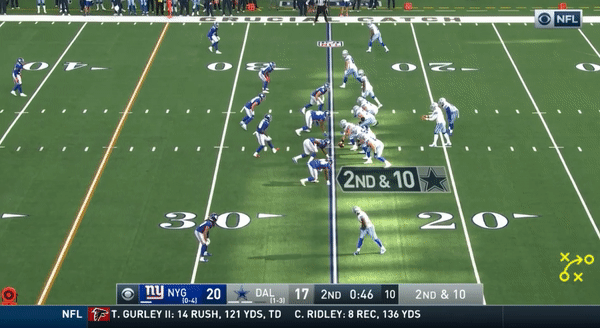 Almost all of Lamb's production, however, came with Dak Prescott throwing him the ball as the two had finally hit their stride. We shall see whether or not he can do the same with Andy Dalton, but regardless, it looks like you can count on him to do his part by creating open targets.
OFFENSIVE LINE OF THE WEEK
Humphries was the best man on the Arizona offensive line in Week 5, but the unit as a whole played exceptionally well. Which, in all honesty, is something that we haven't said about a Cardinals offensive line in years. Dating back to 2006, this was the third-best single game by an Arizona offensive line in terms of combined unit PFF grade. This kind of came out of nowhere considering the Cardinals ranked fourth-to-last in offensive line grade entering the week. Arizona's big men in the trenches allowed only three pressures all game long, nearly seven fewer than what they were averaging through the first four weeks. For the ground game, they helped give the ball-carrier on average 2.8 yards before contact, the second-best of the week.
SECRET SUPERSTAR OF THE WEEK
Fulgham was selected in the sixth-round of the 2019 NFL Draft by the Detroit Lions out of Old Dominion and spent his rookie season on the practice squad until the last few games of the year. He ended up seeing just three targets in regular season action and didn't catch any of the three with two being dropped. Detroit waived him prior to the 2020 season, then was with Green Bay for nine days before being waived again, then the Eagles scooped him up and had him on the practice squad until their Week 4 affair against the 49ers. Fulgham had a couple of big plays in that contest (caught two of three for 57 yards and a score), but even with that, no one expected him to go off like he did in Week 5 against the Steelers.
He was Carson Wentz's top target this past week with twice the amount of targets as any other receiver on roster. And he made the most of those by earning the highest receiving grade of Week 5 at 92.2, tying for the most contested catches (three) and explosive plays of 15-plus yards (five) in the process.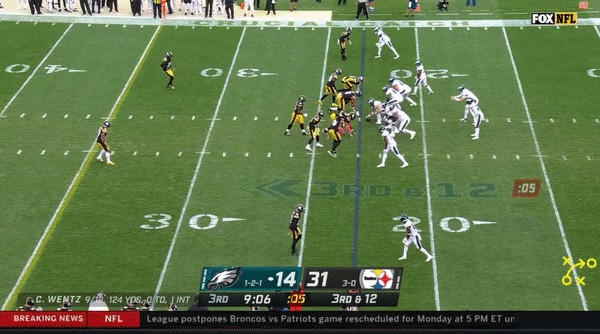 When playing for the Monarchs a few years ago, Fulgham was one of the top downfield contested receivers in the country and he has transferred that skill to the NFL.
PLAY OF THE WEEK
Andy Dalton with a clutch throw and Michael Gallup with an even better catch to set up the game-winning field goal
Following the unfortunate injury to Prescott, long-time Cincinnati Bengal Andy Dalton came in to help lead the Cowboys to victory over their division foe. But as expected, the transition was rocky to start. Dalton did help Dallas put up a touchdown after he came in for Prescott in the red zone, but the next two drives set them up for a possible loss. They had a three-and-out then fumble by Dalton on the very first play of that next drive, which gave the Giants the ball in the red zone and set them up to take the lead in the midst of the fourth. After a long field goal drive to tie up the game by Dallas and subsequently a punt by New York, Dalton had a chance to lead this team to victory as they had the ball on their own 12 with a minute to go. Dalton had a couple of explosive plays to help put the ball on their own 46 — one to Lamb, one to Gallup — with just about half a minute left to play. Then he proceeded to drop this seed to Gallup over 35 yards downfield along the sideline, where he made one of the best catches of the year:
MICHAEL GALLUP, ARE YOU KIDDING?!????

— PFF (@PFF) October 11, 2020
After that, the Cowboys had all the yardage they needed to trot out Greg Zuerlein and win the game with a 34-yard field goal as time expired. With the way Gallup came through in that final drive as well as the big day from rookie wide receiver CeeDee Lamb, this game was just another example of why the Cowboys may legitimately have three WR1s with those two and Amari Cooper.
AN EARLY LOOK AHEAD TO WEEK 6
Next week is highlighted by two incredible quarterback showdowns — one between two ageless wonders and one between two of the NFL's premier young talents.
Aaron Rodgers of the Green Bay Packers and Tom Brady of the Tampa Bay Buccaneers are those two ageless wonders, and both have been looking like they are in their prime in 2020 by producing at elite levels. Rodgers is coming off a bye in Week 5, but his spot as the NFL's highest-graded quarterback still remains intact. He has earned a 96.3 PFF grade through the first four weeks of action, the highest we have seen in the first four weeks of a season since 2006. Brady is a couple of spots behind him at third, as he has produced an 88.4 PFF grade in his five games as a Buccaneer, and he'll be looking for blood after being upset by the Chicago Bears in Week 5.
Reigning Super Bowl MVP Patrick Mahomes and the Kansas City Chiefs will be vying for a bounce-back game as well in Week 6 against Josh Allen and the Buffalo Bills after they lost outright as double-digit favorites to the Las Vegas Raiders this past weekend. As for Allen, he will be looking to continue his remarkable breakout year. He has now produced three of his highest-graded games as a passer of his three-year career in the last three games.