Tom Brady came into this game looking for revenge on Nick Foles, who infamously took a seventh ring away from Brady in Super Bowl LII when he led the Philadelphia Eagles to a 41-33 victory over the New England Patriots. It looked like Brady was easily on the path to getting that sweet revenge to start, as his Tampa Bay Buccaneers were up 13-0 on Foles' Chicago Bears early in the second quarter. A blowout was definitely on the table. Then, Foles and the Bears scored 14 points in the final minutes of the first half, and Brady's Bucs fell apart from that point on.
PFF is here to break down Chicago's upset win over Tampa Bay, using our unique play-by-play grading and Premium Stats 2.0. Here are the big takeaways from Week 5's edition of Thursday Night Football.
RYAN PACE SHOULD BE BLOWING UP THOMAS DIMITROFF'S PHONE
No disrespect to the 4-1 Chicago Bears, but they have had one of the luckiest starts in recent memory. It ranges from the D'Andre Swift drop in Week 1 to the Atlanta Falcons' defensive collapse in Week 3 to now pulling off the win against the Bucs despite having one of their worst offensive and defensive outings of the year. Whether it has been Mitchell Trubisky or Nick Foles leading the way, the Bears' offense has been no better than units in recent years. 
Foles did have a few incredible throws last night — there's no doubt about that. In fact, he had three big-time throws for the game, bringing his season big-time throw rate to 6.4%, the eighth-best in the NFL. He had two at the end of the first half, both of which were to Jimmy Graham in the end zone (one fell incomplete, the other was a one-handed snag for a touchdown). The biggest of them occurred on that final drive on a second-and-11 on their own 41 when Foles floated one perfectly to an open David Montogmery for a first down while under pressure: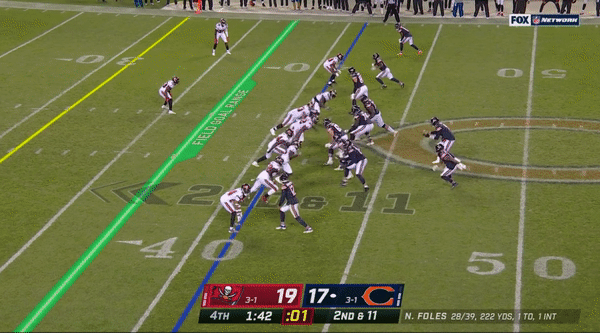 That kind of big-time throw rate is something the Bears haven't seen since the Jay Cutler era. But as great as those throws are, Foles is concerningly erratic on a throw-for-throw basis. The same thing that happened against the Falcons in Week 3 occurred again last night — Foles made multiple game-changing throws but was inaccurate downfield. Against Atlanta, just 20% of his passes 10 or more yards downfield were accurate, but he had three big-time throws hidden in there.
Against Tampa Bay, Foles improved marginally, generating a 31% accuracy rate on throws 10 or more yards downfield accurately — but he again had three big-time throws. That brings his season total rate of accurate passes thrown 10-plus yards downfield to 29%, the second-worst in the NFL.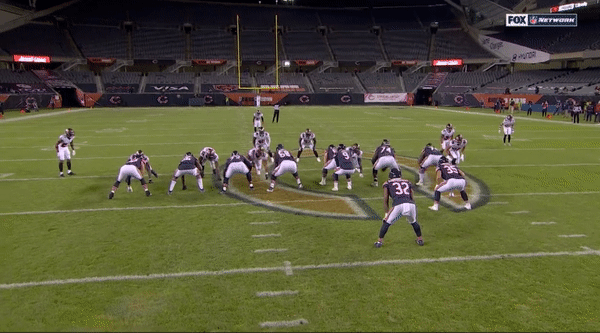 Foles' ceiling is far better than Trubisky's, thus making him the right choice as the starter. That being said, he is not consistent enough to lead this team on a deep run. Chicago has a contending roster outside of the quarterback position — the team just needs a signal-caller who is reliable and consistent on a throw-for-throw basis. If they don't make a move now, the Bears are headed for quarterback purgatory.
Long-time Atlanta Falcon and future Hall of Famer Matt Ryan can take this team to contention status. Given the fact that the 0-4 Falcons are in no position to contend in any of Ryan's final years left of playing and are in the small race for the No. 1 overall pick in the 2021 NFL Draft, trading away the veteran and committing to the tank shouldn't be off the table. The Bears acquiring Ryan midseason would be something unlike anything we have seen before, but it gives them the best chance to actually contend.
If I'm Ryan Pace, I would be blowing up Thomas Dimitroff's phone and doing everything I can to make this deal.
I STILL WOULDN'T BET AGAINST BRADY AND THE BUCS THE REST OF 2020
Brady clearly did not have his best game against the Bears on Thursday night. He earned just a 64.2 passing grade, which is nearly 10 grading points lower than any of his other four games as a Buccaneer. On top of that, his Week 5 negatively graded throw rate was twice the rate he had through the first four weeks of the season, and he didn't produce a single big-time throw.
But just as we preached following the Buccaneers' Week 1 loss to the New Orleans Saints, don't write off Brady and the Bucs for the rest of the season — they are still very much in contention for the NFC alongside the Green Bay Packers and the Seattle Seahawks.
Not having Chris Godwin, the NFL's most valuable wide receiver of the 2019 season in regard to PFF WAR, certainly didn't help matters any. And while Brady had Mike Evans to throw to, he wasn't at full strength. But more than anything, Brady just had a subpar game altogether, which will happen to every quarterback in a season, even those who end up producing at an MVP level. 
Let's not forget that Brady was the league's third-highest graded quarterback and the leader in big-time throws entering the game. Despite that hot start, the offensive efficiency still wasn't all the way there to start out the year. Tampa Bay's receiving unit has been banged up all season long and performed poorly on the field as a whole. In the first four weeks, Brady dealt with the most drops of any quarterback (13) and the third-worst rate of catchable passes that went for receptions (86%). Four of those drops occurred in the red zone and three played a role in the Bucs walking away with just a field goal instead of a touchdown. 
This offense just has yet to fully click. The supporting cast and injuries hurt them in the first four weeks, and Brady then returned the favor in Week 5. Once this receiving unit gets healthy, it's only a matter of time before the Bucs' offense is lighting up the league.
Mack consistently made life a living hell for Tampa tackles Tristan Wirfs and Donovan Smith and Brady last night. He finished the game with an 18% pass-rush win rate and put the six-time Super Bowl champion on the ground multiple times with dominant reps. If anything best sums up how annoying Mack was for Brady, it's this clip FOX luckily captured:
Tom Brady's eye roll when he sees that Khalil Mack sacked him again tonight.

???????????? pic.twitter.com/cxlxTGsvBx

— Steve Frederick (@_SteveFrederick) October 9, 2020
One of the many times Mack put Brady on the ground ended with the edge rusher heaving the 320-pound rookie Wirfs with one arm like he was ragdoll:
Khalil Mack RAG DOLLS Tristan Wirfs for the sackpic.twitter.com/0DlJ4AEMp8

— PFF (@PFF) October 9, 2020
There are not many people on this planet capable of doing that. 
This great game from Mack continues his hot start to 2020 after a bit of a down year in 2019. He has produced at least five pressures in each of his five games played, helping him earn a 91.8 PFF grade for the year (second-best at the position). This is actually the first time since his stretch from Weeks 8-16 in 2016 that Mack has had five or more pressures in five straight games. In 2019, Mack finished the season with the worst PFF grade of his career… at 86.2, which still ranked 13th in the NFL. After a "down year," Mack looks like he is back on the track to be one of the top three pass rushers in the league.
JAMEL DEAN IS QUIETLY BECOMING ONE OF THE TOP YOUNG CORNERS IN THE GAME
Dean was a secret superstar down the stretch in his 2019 rookie campaign. He was introduced in Week 9, and from that point on, he led the league in forced incompletion rate and earned a 78.9 coverage grade. He was relatively quiet to start out his 2020 campaign, as he didn't make many plays on the ball (just one pass breakup in the first four weeks). But he was also quiet for the better, as he allowed under 40 yards in each of those first four games. Against Chicago last night, Dean looked like his playmaking self from 2019 — particularly in the second half.
In the final two quarters of action, Dean saw five targets in coverage and allowed just one to be caught for 5 yards while the four incompletions were all pass breakups. Granted, a couple of these were handed to him due to ball location, but it's impressive nonetheless. Dean also had a couple of passing stops on third down.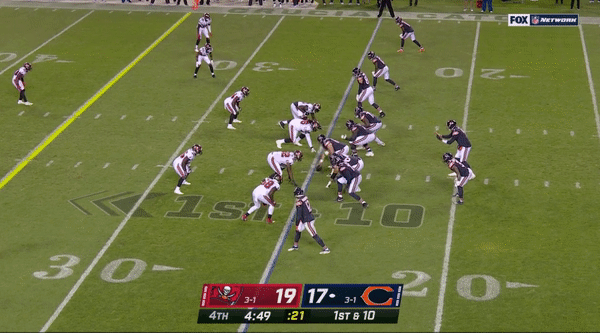 He ended up earning a 92.0 PFF grade for the game, bringing his season grade to 82.4, which is the third-best in the NFL at the position. His four forced incompletions brought his career total to 19, which is three more than second-place Carlton Davis (his teammate) since Week 9 of 2019. At this point, Dean appears to be more than just a quality cornerback — he looks like one of the premier players at the position.
KYLE FULLER WAS THE SECONDARY'S — AND THE ENTIRE TEAM'S — SAVING GRACE
The play of this game belongs to cornerback Kyle Fuller for his hit-stick forced fumble at the end of the second quarter that put the Bears inside Tampa's 30 — setting up a touchdown and a lead into the half: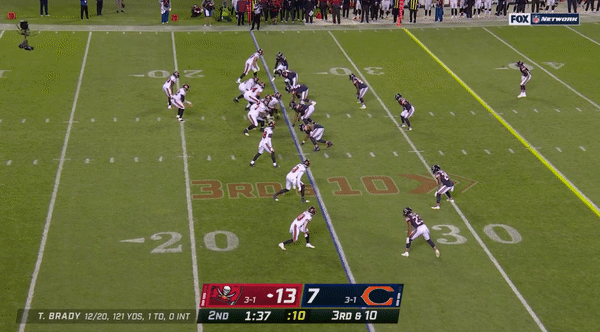 That right there was a game-changer for Chicago. 
Fuller was really the only impact player in the secondary all game long. Rookie corner Jaylon Johnson had a night to forget, as he earned a 30.9 coverage grade and allowed a 133.3 passer rating when targeted. Star safety Eddie Jackson also had one of the worst games of his career, recording a 35.0 coverage grade.
In all, Chicago produced a 51.8 coverage grade, and that's including Fuller's 89.9 coverage mark. The Bears have a great defense from top to bottom, but this was far from their best outing. If it weren't for Fuller, Chicago would have more than likely lost this game and this unit would subsequently not be considered one of the best in the NFL.