Another week, another mailbag. You guys brought the heat with your questions this week, and I did my best to do the same with my answers. The SEC is back and Notre Dame ruined my Saturday plans, but we're all still going to have a blast this weekend. Let's begin.
Subscribe to
Mike, do you think Dave Gettleman will draft Penei Sewell or some other non-QB if they get the #1 overall pick not because he should but because his fate is tied so much to Daniel Jones and also cuz he's stubborn?

— Josh Ahlstrom (@josh_ahlstrom) September 24, 2020
Whew, this is quite the can of worms. If the New York Giants truly do end up with the No. 1 overall pick, that would mean they finish somewhere in the neighborhood of 3-13. That would bring the Giants to 12-36 in three years under Gettleman, with their record getting worse every single year. I'd be hard-pressed to see any GM keeping their job in this hypothetical scenario, but let's assume he's still there.
If they did have the No. 1 overall pick, he'd draft Clemson's Trevor Lawrence. If he knew Daniel Jones was "the guy" after one series, he'd know Lawrence is the guy after one throw. Lawrence is every old school NFL evaluator's dream — he wouldn't throw that golden ticket away.
Dear Mike, this is a debate at my work that blows my mind it's even a question, Dr Pepper or sprite?

— Josh Ahlstrom (@josh_ahlstrom) September 24, 2020
This is a wild debate to me, as they are seemingly on opposite ends of the flavor spectrum. Like, I can see organically debating Dr. Pepper vs. Coca Cola or Sprite vs. Mountain Dew. That being said, Dr. Pepper all day, every day.
Why do most Americans refuse to accept that there isn't a better beer than Miller Lite?

— Gordon McGuinness (@PFF_Gordon) September 24, 2020
Lite beer has gotten a bad rap in the craft-beer boom. They're different products altogether, in my opinion, as the former is meant to be drunk in volume while the latter for "taste." The real head-scratcher for me is how Bud Light still outsells Miller Lite. Miller Lite has fewer calories (96 vs. 110), looks cooler and tastes better. In short, Bud Light sucks.
What do you put the likelihood at for the Packers extending both Bakhtiari and Jones?

— Wesley Miller (@wmiller0830) September 24, 2020
While the Green Bay Packers have been doing their best to alienate Aaron Rodgers lately, I don't see any way they can let David Bakhtiari walk. He's been quite comfortably the highest-graded pass-blocking tackle over the past decade, and Rodgers has been on record as seeing he'd choose an elite offensive line over elite receivers if forced to chose.
Bakhtiari is only 28 years old and could feasibly have another decade of elite play if he's anything like Andrew Whitworth — there's no reason he shouldn't get another big deal. The problem is he'll likely ask to at least match Laremy Tunsil's absurd, market-setting $22 million a year — and with good reason. Since 2015, Bakhtiari's 95.9 pass-blocking grade is well clear of the next best active tackle in the NFL (Whitworth, at 92.6). If they can't get a deal done, he will 100% be getting the franchise tag.
I can't see the Packers retaining Jones, though. His recent production will put his contract demands on par with the likes of Alvin Kamara, who just got a deal worth $15 million a year. Even though they're vastly different backs, the Packers just invested a second-rounder in running back A.J. Dillon, too. That would be a ton of resources dedicated to a position that everyone now knows "analytics" isn't high on. I can't see that happening.
Are you looking forward to seeing Jordyn Brooks take the field this week? He is a supposed starter now according to the coaches.

In context, what have you thought about Patrick Queen through the first 2 weeks? They both were compared a lot during the draft.

— Udit Ranasaria (@uditranasaria) September 24, 2020
While the pick garnered a good deal of blowback, Jordyn Brooks fits what the Seahawks want to do defensively. His range next to Bobby Wagner's should mean some tough sledding for teams that want to run laterally. That said, we've seen how difficult it's been for this year's rookie linebackers to transition from college to pro because of the abbreviated offseason.
There are only two rookie linebackers across the league who've even garnered true starting positions so far — Patrick Queen for the Ravens and Kenneth Murray for the Chargers. And it's been tough for both. With Queen, you can still see the gears turning in his head, though that will improve. Devin White looked very similar last year early on for the Bucs, and he played even faster than Queen the year prior at LSU.
If there is one legitimately worrisome thing, it's taking on blocks. Unless he has a serious head of steam, he's had a difficult time disengaging from offensive linemen this season. He needs to develop a plan B for block destruction because stacking and shedding won't be his game in the NFL.
Can you break down how you expect the NFL to "weigh" this college season grades versus other years and does the NFL believe a prospect holding out of the year to be a positive or negative.

— The Horror Mailman (@TheHorrorMail) September 24, 2020
Unless there's a nagging injury — Grant Delpit at LSU last year, for example — or a position change — L'Jarius Sneed playing safety at L.A. Tech as a senior but being evaluated as a corner where he played as a junior — evaluators always, always, always weigh the final season more heavily.
While we have fewer games this year, if everything goes as currently planned, I don't see it really being a problem for Power Five prospects. The reason being, the games that have been cut are the "fluff" matchups that really don't get factored into the evaluation whatsoever. We'll still see the handful of quality matchups that would have been used to determine a player's final draft stock anyway.
Now, that's for big schools. Group of Five and FCS prospects have really been left out in the cold. The "fluff" games were actually their proving ground. For them, showcase bowls (Senior Bowl, Shrine Game, etc.) will be more important than ever this year.
What is one thing that has changed in your draft evaluation process as you have accumulated more years of data?

— Obby (@Observeman24) September 24, 2020
This answer could be its own long-form article. There's so much that's changed about what I look for in the six years since we started grading college football, and I've never been one who's been too proud to change my ways based on new evidence.
If I had to pick the single biggest, it's taking into account a player's role. Not just the role he plays at the college level, but also what he could be or will be asked to do in the NFL. We've seen linebackers grade out exceptionally well in college playing in simple schemes that ask them to do little more than spot-drop. That's not what linebackers do in the NFL. We've seen defensive ends have middling pass-rushing grades because they're asked to make run reads every play. If they go to an attacking one-gap scheme in the NFL, though, they look like a different player altogether.
Recognizing the role someone plays on their team and what role their skill set could fill at the next level is a critical part of the process that I was admittedly naive about when I started out.
You still play NCAA 14?

— Brett (@vikes2228) September 24, 2020
The last NCAA game I had was NCAA 07. After that Halo 3 kind of took over my life, and I wasted way too many hours on that in college. So much, in fact, that I had to quit video games altogether because my GPA was pretty awful and I needed a job. If they came out with a new one, though, that could convince Jordan to come out of retirement…
Who would be your first pick in a league wide redraft outside of QBs

— poyle mcpoyle (@McpoylePoyle) September 24, 2020
Does Taysom Hill count as a QB? Because if not, I'm still not taking him in the first 10 rounds.
I will assume in this scenario that the salary cap isn't a thing and we're solely talking about talent. Aaron Donald would have been the easy answer a few years ago, but at 29, are we really getting more than three or four truly special years? The guys who are young and so elite that I believe they have legit arguments are Peneii Sewell (yes, he's that good), Chase Young, T.J. Watt, Myles Garrett, Tyreek Hill and Jamal Adams. Derwin James and Nick Bosa would be considered if health wasn't an issue, while George Kittle and Quenton Nelson fit the criteria but the positional value is such that I'm not taking them first.
I think ultimately I'd lean Chase Young because of age (he's only 21) and the useful life of an edge defender (likely at least another decade). Hill is enticing for what he does to opposing defenses, but I don't know how long his elite athletic advantage will hold at already 26 years old.
Do you see a possibility where the Saints could have Jameis Winston play QB until the red zone then bring in Brees or Hill as a red zone only QB?

— ⚜️ Cole Haines ⚜️ (@cole_haines) September 24, 2020
I debated this topic with Sam Monson on our NFL recap podcast from Week 1. My thoughts were this: If the guy we've seen the first two weeks is what the Saints get the rest of the season, it truly seems like the best option. Currently, only Carson Wentz has a lower grade than Drew Brees on throws 10-plus yards downfield (47.5). If you can't generate explosive plays as an offense, every scoring drive becomes a grind.
Say what you want about Jameis Winston, but he can generate explosive plays. Realistically, though, Brees could be forced to throw left-handed and I'd still have a hard time seeing Payton benching him. He's a Saints legend and things would have to go disastrously south — which hasn't been close to the case yet — for him to make a switch.
Do you think they call it sand because it's between the sea and the land

— Brad Spielberger (@PFF_Brad) September 24, 2020
When I asked for some non-football questions, this is not what I meant, Brad.
What positives have you seen from the interior of the Ravens oline so far? What do you think needs to be worked on/can be fixed?

— Tits. Chicken. Sports. 2.0 (@TCS37) September 24, 2020
They're right in the middle of the pack with the 18th-highest-graded interior offensive line. I've been a Matt Skura fan dating back to his time at Duke, where he was the 128th player on PFF's draft board before going undrafted. He was not a scheme-diverse player or particularly impressive athletically, but he's great in a phone booth. That's what he's asked to do in Baltimore, and he has only allowed one pressure all season.
Bradley Bozeman has only allowed one himself and has looked much better than a season ago. He's similarly limited to Skura yet rarely cedes an inch into the pocket. That's huge with Lamar Jackson at quarterback, as giving him space to sneak up through can lead to big runs.
There are a couple of worrisome things, however. The first is that rookie Tyre Phillips is not Marshal Yanda. In fact, he's currently the lowest-graded rookie interior player in the NFL. And it's not as if the Browns and Texans defensive interiors are special whatsoever. Philips is a certified people-mover, but he's struggled to recover when he doesn't win on contact. The other worrisome thing is that the Ravens simply haven't had to drop back to pass much — their 27 true pass sets rank 24th in the NFL. Obviously, that's not their offense, but it's hard to make too many sweeping declarations until they're challenged.
Are you gonna dress up as long-haired Mike Renner for Halloween?

— Mike (@Burt_Macklin_70) September 24, 2020
I actually sent it to my hair off to a friend who makes wigs for cancer patients. So while I won't be going as long-haired Mike for Halloween, maybe someone will!
What have you seen that makes you so high on Tershawn Wharton?

— Sam Mitchell (@samhmitch21) September 24, 2020

Why am I so high? Because Wharton can get so low. That was corny as hell, but just look at the man's leverage on contact here against Texans center Nick Martin:
And here's the full rep: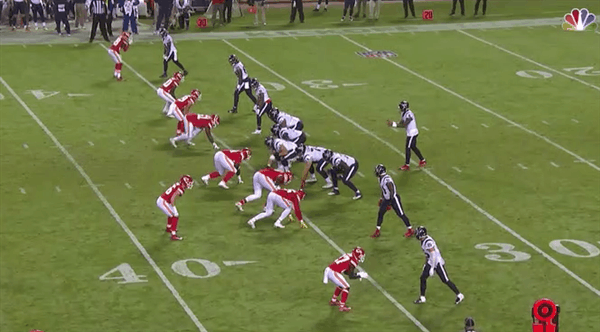 He really hasn't shown much other than he can stack linemen and collapse the pocket en route to a 74.5 overall grade through two weeks. There's obviously a ton of room for improvement, but that's a very, very good starting point.