The 2019 NFL regular season has sadly come to an end, but that means we are one step closer to seeing who will hoist the Lombardi Trophy come Feb. 2. Before we give you the best playoff analysis in the market, we here at PFF must give you the Team of the Week for Week 17.
PFF's NFL Team of the Week series features game grades and advanced statistics for the NFL's top players at every position in a given week. All of PFF's ELITE subscribers have access to game grades, advanced statistics, positional snap counts and more in Premium Stats. All of PFF's grades and advanced stats from this week and every other week this upcoming NFL season are made available to ELITE subscribers within 24 hours of the final whistle.
[Editor's Note: All of PFF's advanced stats and grades for every NFL player are made available in PFF's ELITE subscription. Subscribe today to gain access!]
49ers signal-caller Garoppolo came through in what was the biggest game of his NFL career by producing an elite 90.1 overall grade – securing the division title and first-round bye in the playoffs. Garoppolo led the offense with near-perfection, especially on his horizontal lead passing. When throwing to a receiver that leads the receiver across the field, Garoppolo completed 90.9% of his passes and averaged 15.6 yards per attempt.
With Dalvin Cook out, Boone stepped up to the plate and got the job done in Week 17 for the Vikings run game. In addition to being the highest-graded back of the week, Boone was also the only one to have multiple rushes of 40 or more yards.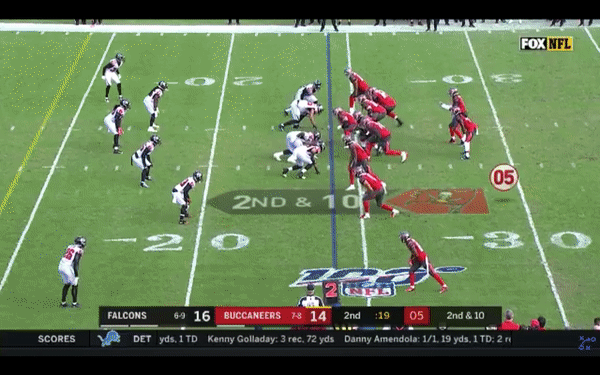 Perriman was heavily relied-upon over the last couple weeks with Tampa's top two wide receivers Chris Godwin and Mike Evans being out due to injury. Perriman has made of the most of this opportunity, especially in Week 17 by having an elite 91.8 grade. His four receptions of 20-plus yards were the most of Week 17 and was highlighted of course by his contested touchdown in the back of the end zone to close out the first half.
Rookie wide receiver Brown continued his hot streak in Week 17 with his third elite-graded game in the last six weeks. Three of Brown's four receptions resulted in a gain of 15-plus yards, leading way to an impressive 6.20 yards per route run. Not only has Brown proved he is worthy of winning Offensive Rookie of the Year, but he is proving he might be one of the best wide receivers in the NFL.
The tight end slot on PFF's Team of the Week in 2019 has been basically owned by Kittle, who had one of the best seasons we have ever seen at his position. Kittle had a 94.1 grade on the night and was instrumental in the 'Niners victory over Seattle, picking up four explosive plays and averaging 4.53 yards per route run.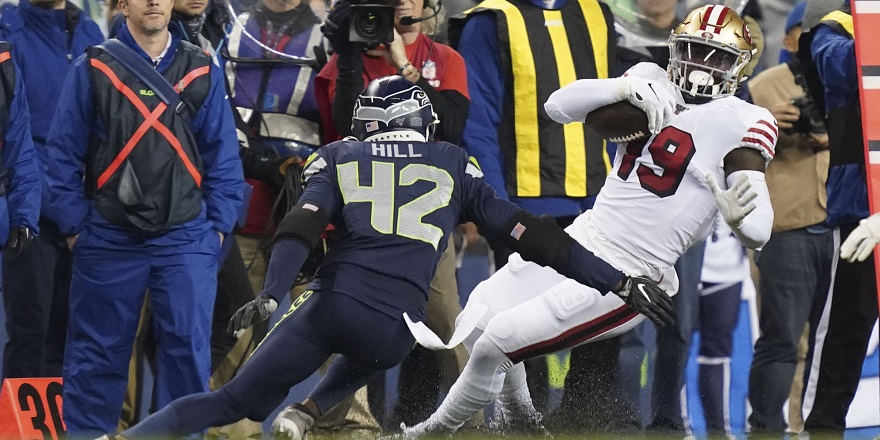 © Kyle Terada-USA TODAY Sports
Samuel's 90.0 grade in Seattle was a career high for the young rookie. Samuel produced four explosive plays and broke four tackles on his five catches and racked up yards after the catch with 64, the most by a wide receiver in Week 17.
The best game of Bakhtiari's 2019 season came in the regular season finale, finishing his game in Detroit at an 86.2 PFF grade. While protecting Aaron Rodgers, Bakhtiari lost just one of his 59 pass-block reps.
Veteran guard Foster's 78.8 run-blocking grade against the Ravens was the best of his 2019 season. He let up a couple of pressures, but overall was the top left guard of Week 17.
Jensen's best season of his NFL career continued Sunday, producing the seventh-best game grade at his position of 2019. In pass protection, Jensen allowed just one quarterback pressure on his 31 pass-block snaps. A majority of Jensen's success came in the run game, making some impressive blocks – leading the way to an 83.7 run-block grade.
Making his NFL debut, 2019 fourth-round pick Powers was exceptional when he entered the game in the second quarter. Powers didn't allow a pressure and was solid in run-blocking making way to a 78.8 run-block grade.
The secret superstar of Week 17 was Tennessee right tackle Conklin, who had a 92.8 overall grade – the second best in a single game by a right tackle in 2019. Conklin's run-blocking was on another level as he had a 94.7 run-block grade, leading the way for Derrick Henry to claim the rushing title.
Jones was the star of the Kansas City defense in their win against the Chargers in Week 17 at a PFF grade of 89.1. He thrived in the pass-rush, producing five total pressures with two being a sack/hit and winning over 22% of his 45 reps.
The last few weeks have been slow for Donald, but the 2017 and 2018 Defensive Player of the Year didn't let that cold streak go into Week 17. Donald's 89.8 overall grade was his best since Week 12 and got his pass-rushing back to par with nine pressures and a pass-rush win rate of 33.3%.
Campbell's 90.1 overall grade cracked elite status and led all defensive linemen. He only rushed the passer 19 times but made an impact on those limited reps with a pass-rush win rate of 26.3% and pressure rate of 21.1%.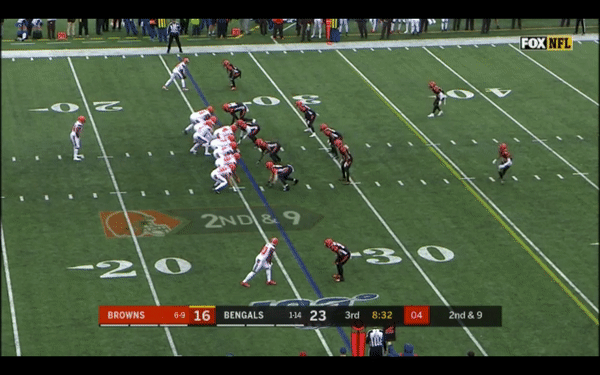 Being a part of a 2-14 Bengals team, Dunlap has been overlooked and forgotten about – but not in the eyes of PFF. He has strung together solid performances in the second half of 2019 and had his best against the in-state rival Cleveland Browns in Week 17. Dunlap's elite pass-rush grade of 90.3 was the best of the week and put up three sacks and five hurries in their underdog win.
Saints linebacker Klein had the best performance of his seven-year career Sunday in Carolina recording a 94.3 overall grade. While in coverage, Klein allowed just eight yards on his 36 coverage snaps and had a pick-six. This one was even more special for Klein since the first four seasons of his NFL career were with the Panthers.
Kuechly's Week 17 was full of great plays in all phases. Against the run, Kuechly had five defensive stops on 18 run snaps and added a quarterback hit in the pass-rush. In coverage, Kuechly allowed just one catch for seven yards and had a pass breakup on his other target.
Jenkins was picked up by New Orleans after being waived by the Giants a few weeks ago and was great in his first start in Week 17. Jenkins had an 89.4 overall grade on the day and didn't allow a play that resulted in a gain of more than 13 yards, while grabbing an interception and pass breakup in coverage.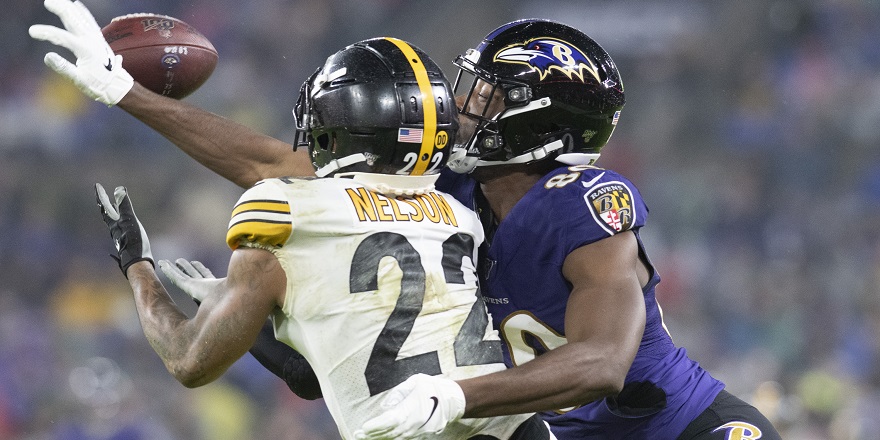 © Tommy Gilligan-USA TODAY Sports
Nelson's 87.1 overall grade in Baltimore was the best of his time as a Steeler. Nelson was targeted five times and allowed just one catch for eight yards, paving way to a 39.6 passer rating allowed.
In his second career game with significant snaps, Marshall cracks the Team of the Week. Overall, he had an 81.9 overall grade and had a clutch forced fumble late in the second quarter that saved an Oakland Raider two-minute drill leading to a score.
NFL journeyman Riley's 80.4 overall grade against Denver was a career day. Riley flew in on a few plays and made some impact with a forced fumble and a couple of tackles for loss against the run.
In his second career start, Hamilton's 84.8 overall grade was one of the best at his position in Week 17. He was targeted eight times in coverage and allowed just two to be caught while adding four pass breakups. Hamilton also made an impact as a blitzer with two pressures.