PFF previews the 16 NFL games ahead of Week 17, highlighting players to watch while also taking a fantasy football and betting approach to offer insight for every NFL fan.
[Editor's Note: ELITE subscribers have access to all of PFF's fantasy football projections, rankings and lineup tools in addition to PFF NFL and College Greenline, an online dashboard with predictions for the spread, total and moneyline for every FBS and NFL game every week. Subscribe today to gain access!]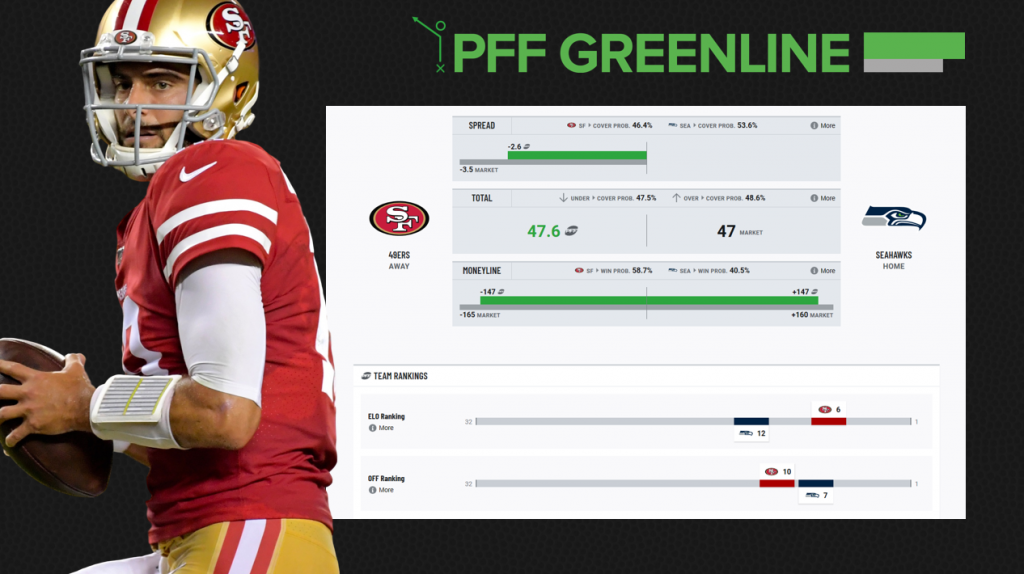 Headline of the Game: The Bills' defense is one of the best in the league, but it's their offensive improvement that got them back in the postseason
The Bills' defense gets a lot of credit for how well they have played this season, and deservedly so. That unit, headed by Tre'Davious White and his 46.3 passer rating allowed on 84 targets, has been among the best in the NFL this season. But as PFF data scientist Kevin Cole pointed out in a recent article, the offense deserves their fair share of credit for their improvement this season, regardless of your opinions on Josh Allen and his long-term prospects. 
The Bills spent significant resources on their offensive line this offseason, and it has resulted in improvement from 22nd to 15th in pass-blocking grade and 29th to ninth in run-blocking grade. They've also reduced what Allen is asked to do downfield, which has resulted in a lower pressure rate, sack rate and interception rate for Allen in 2019. That smart offensive scheme paired with one of the best defenses in the NFL is what has the Bills playoff bound. 
Fantasy Football Preview
Devin Singletary played on a season-high 96% of the snaps in Week 16's loss to the Patriots, marking his sixth straight game with a snap share of 70% or higher. However, with the Bills locked into the No. 5 seed, we shouldn't expect to see much – if anything – from him on Sunday (or the rest of the starters). That means Frank Gore (potentially looking to pad his Hall of Fame numbers) or T.J. Yeldon could be top DFS plays.
Betting Preview
If you like points, it may be best to skip this matchup that offers the lowest total on the Week 17 slate. The Bills have pushed out to two-point favorites after opening as a pick-em despite no incentive to perform in Week 17. They are locked into the fifth seed, and Greenline is locked into a certain side of the spread and total. 
Headline of the Game: The Drew Brees-to-Michael Thomas connection has proven to be nearly impossible to defend
Thomas officially broke Marvin Harrison's record for the most receptions in a single season against the Titans this past Sunday. Thomas caught 12 passes for 136 yards and a touchdown, and the crazy part is that this sort of performance has been the norm, not the exception. Thomas isn't just having the best season of any wide receiver this season, he's having one of the best seasons of any wide receiver in the PFF era stretching back to 2006. 
A big part of his dominance is the connection he shares with Brees. There isn't a quarterback in the NFL who does a better job of putting the ball where it needs to be than Brees, and his league-leading accurate throw rate (67%) shows it. Thomas leads all wide receivers with 50 or more targets in completion rate (84%) as well as contested catch rate (77%); his skillset paired with the accuracy of Brees makes that duo the best the league has to offer right now.
Fantasy Football Preview
As absurd as Christian McCaffrey has been this year – the second-best fantasy season by any player in NFL history – he's still a fairly risky play this week. It's hard to know for sure whether the mathematically eliminated Panthers will let McCaffrey go after the third 1,000/1,000 season in NFL history (he needs just 67 receiving yards), or if they pull him out after the first quarter like they did last year.
Betting Preview
The Saints' spread has dropped slightly after opening as greater than two-touchdown favorites over Carolina. Crossing the key number 14 has dried up all the value that once existed on the Panthers. New Orleans needs a win — with our current odds giving them an 85.3% win probability — and a Packers or 49ers loss to secure a first-round bye. 
Headline of the Game: Regardless of the outcome of this game, the Bengals get their prize in April
The most exciting game of Week 16 happened to be the game between two of the worst teams in the NFL — the Dolphins and the Bengals. Quarterback Andy Dalton led a furious rally for Cincinnati; they recovered an onside kick and they converted on a Hail Mary to Tyler Eifert to send the game to overtime. Ultimately, they got the best possible outcome — an entertaining game that finished in an overtime loss, which secured the No. 1 overall pick in next year's draft.
LSU quarterback Joe Burrow is presumed to be taking over as the Bengals' franchise quarterback, and it should be a no-brainer, as it's possible that he had the best season of any college quarterback since PFF began grading college football in 2014. The most promising thing about Burrow's seemingly imminent arrival, given the state of the Bengals' offensive line, is the fact that he absolutely dominated when under pressure this season at LSU, generating a 146.5 passer rating on throws under duress. If things go according to plan for Cincinnati, we'll be sure to see some very interesting battles in the AFC North for years to come.
Fantasy Football Preview
It's a meaningless game for both teams, but with Freddie Kitchens on the hot seat, look for the Browns to do everything they can to win in a convincing fashion. That makes Baker Mayfield and, especially, Nick Chubb intriguing DFS options this week. Against running backs, Cincinnati ranks bottom-six in rushing yards allowed per game (115.7) and rushing yards allowed per carry (4.66). Against quarterbacks, Cincinnati ranks bottom-three in fantasy points allowed per dropback (0.61).
Betting Preview
Two of the bottom-five teams against the spread face off in this matchup of AFC North basement-dwellers. The spread has dropped below a field-goal road favorite for the Browns. The total has also been trimmed two points since the open. Greenline plays abound in this battle of ineptitude.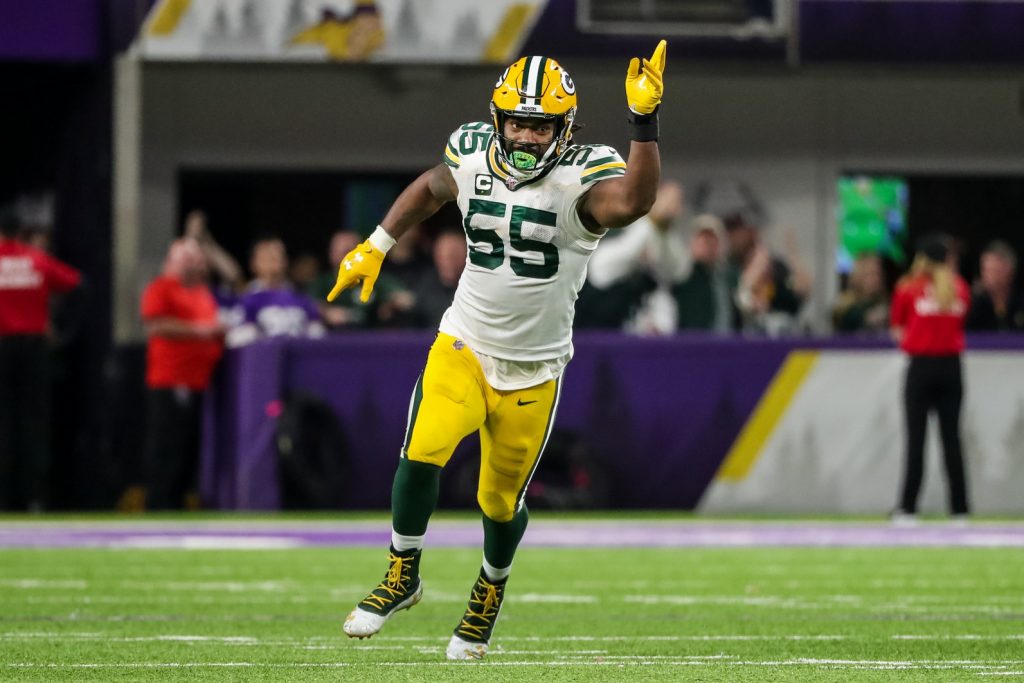 © Brace Hemmelgarn-USA TODAY Sports
Headline of the Game: The addition of Za'Darius Smith and Preston Smith has given the Packers one of the league's best pass-rushes
Za'Darius Smith was on one Monday night, as he absolutely terrorized the Vikings' offensive line for nine total pressures. Four of those nine pressures were sacks (3.5 in the eyes of the official NFL numbers). On the season, he now ranks second among edge defenders in total pressures — behind only Danielle Hunter with 87 — and his 88.3 pass-rushing grade is in the territory of other elite players at the position like Chandler Jones and Joey Bosa. His running mate, Preston Smith, hasn't been too shabby in his own right, as Preston's 55 pressures fall inside the top-20 players at the position, as well. 
Those additions have had a massive impact on the Packers' pass-rush overall. This season, they're fourth in team pressure rate (38.4%) behind only the Steelers, Saints and Patriots, even though they've blitzed at the 26th-highest rate in the NFL (24%). Getting pressure without blitzing is a massive win for the defense, and that's exactly what the Packers have been able to do this season.
Fantasy Football Preview
By no means is it shocking that Aaron Jones totaled 30.0 fantasy points last week. What is surprising is that he played on 68% of the team's snaps (52 total) while being handed 23 carries, both numbers representing season-highs (excluding games Jamaal Williams missed or left early due to injury). That bodes well for his Week 17 matchup, against a Detroit defense that's giving up the third-most fantasy points per game to enemy running backs.
Betting Preview
Green Bay has risen dramatically in our Massey defensive rankings and now sits tied for the best record against the spread in 2019. The market has bought in, too, pushing this spread from a 10-point cushion out to 13 in spots. Greenline has a play at the current price, but check quickly with this one still on the move. 
Headline of the Game: Tyrann Mathieu gives the Chiefs a playmaker at the safety position that they haven't had since Eric Berry in 2016
The Chiefs' defense has been viewed as a liability in recent seasons — if the Chiefs failed, it was likely because the defense hadn't been able to string together stops. That perception has started to shift in recent weeks, and a big part of that defensive revival has been the play of Mathieu in the middle of the defense. Since Week 11, Mathieu's overall grade of 87.5 ranks fourth among safeties. Over that span, he has played mostly in the slot, an area that he has dominated from in seasons past.
Mathieu has been targeted 20 times in the slot since Week 11, and on those targets, he has allowed just 11 completions for 59 receiving yards while intercepting a pass and forcing three incompletions. He has locked down the slot for the Chiefs, and in doing so, has provided the Chiefs with the defensive playmaker that they needed in the secondary.
Fantasy Football Preview
Keenan Allen and Mike Williams have tough matchups this week, as Kansas City is giving up the second-fewest fantasy points per game to opposing wide receivers. Look instead for Philip Rivers to feed Austin Ekeler and Hunter Henry through the air. They draw the far more exploitable matchups – Kansas City is giving up the third-most receiving fantasy points to running backs, while also ranking bottom-six against tight ends.
Betting Preview
The bottom has fallen out of the total despite both teams ranking in the top half of our Massey offensive rankings. Greenline thinks the current 45-point total is well-priced, but it could have a small play on the moneyline with Kansas City given a 77.3% win probability. The Chiefs need a win and a Patriots loss to secure a first-round bye heading into the playoffs. 
Headline of the Game: Kirk Cousins has been one of the best quarterbacks in the NFL this season, but he needs to show that he can perform like that in a big game
Cousins has had one of the best quarterback seasons in the NFL this season. His PFF overall grade of 84.3 ranks fifth in the league behind Drew Brees, Ryan Tannehill, Russell Wilson and Lamar Jackson, and he has shredded opposing defenses with play-action (129.2 passer rating) and passes 20 or more yards downfield (119.7 passer rating). The Vikings' offense has also been a top-five unit this season in terms of EPA per play. Yet, Cousins isn't getting the recognition he deserves for that, and games like the one we saw from him against the Packers in Week 16 are a big reason why.
On the national stage in a game that would have kept the Vikings in the hunt for the NFC North with a win, Cousins produced the second-worst PFF overall grade of the season (55.6) behind only his prior meeting with the Packers in Week 2. Cousins floundered under pressure, leading the offense to -1.2 yards per pressured dropback, and he produced three turnover-worthy plays compared to just one big-time throw. He folded in the big moment, and if the Vikings have any hope of making noise as a wild card team, those are the moments he'll have to rise to.
Fantasy Football Preview
Allen Robinson and Anthony Miller disappointed last week, but their numbers still look impressive over a broader sample. Since Week 12, Robinson ranks third in targets per game (11.2) and fourth in fantasy points per game (20.1), while Miller ranks 13th in targets per game (8.6) and 19th in fantasy points per game (15.6). The matchup is far more attractive for Robinson than for Miller, however, as Minnesota ranks top-10 in fantasy points per game allowed to slot wide receivers but bottom-three to wide receivers running their routes on the outside.
Betting Preview
Primetime Captain Kirk did little to instill belief into the Vikings faithful after his lack of production on Monday Night Football. The Vikings draw another NFC North opponent in Week 17, but it has turned into a meaningless game with Minnesota cemented into the sixth seed. Despite the Bears' defense slotting in at just 17th in our Massey defensive rankings, we have the second-lowest total price on the slate in this matchup. The anchor is more than likely the Bears' 29th-ranked offense, which sits just 23rd in expected points added (EPA) per pass attempt.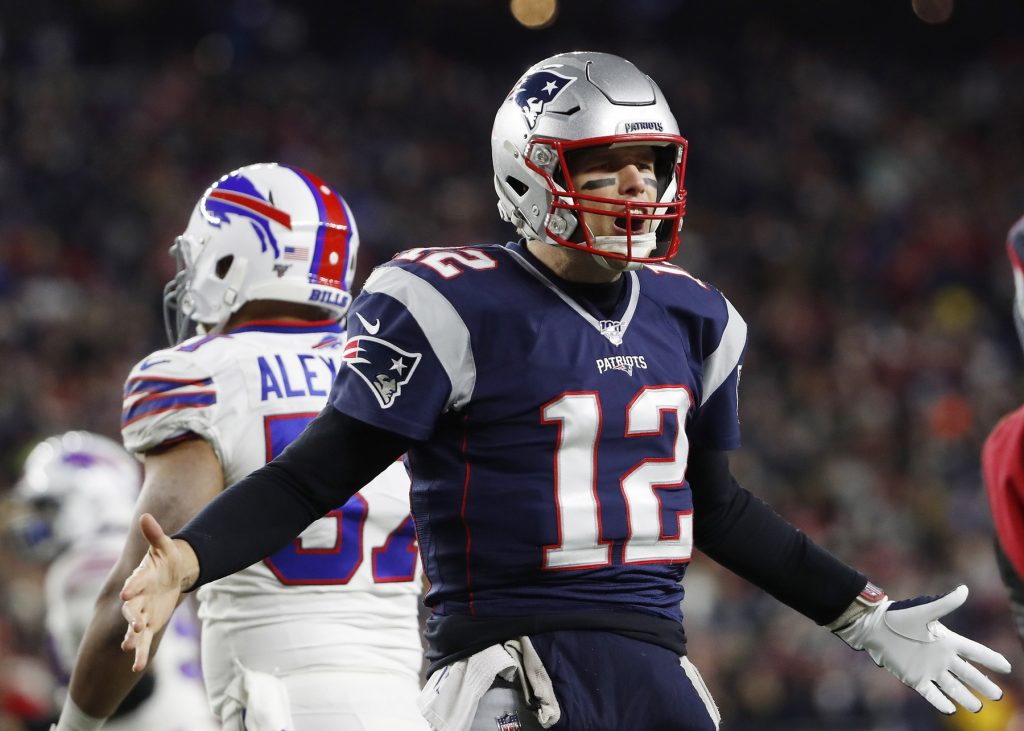 © Winslow Townson-USA TODAY Sports
Headline of the Game: The Patriots just need to hold off the Dolphins to earn a tenth consecutive first-round bye
We've seldom seen the Patriots have to earn a first-round bye in Week 17, but that's where they sit right now. Fortunately for them, the team standing in their way is the Dolphins, who have been feisty at times this season but have one of the least talented rosters in the NFL.
The Patriots' offense isn't exactly loaded with the kind of talent that they've grown accustomed to, either, as their offense ranks just 26th in yards per play this season. In fact, this is the first time that they've fallen outside of the top-12 teams in the NFL in that measure since 2006, and they haven't even been close. In contrast, their defense has been excellent, allowing a league-best 4.0 yards per play on the year and forcing 33 offensive turnovers. Heading into the postseason, New England will be relying on their defense to carry them to yet another Super Bowl.
Fantasy Football Preview
DeVante Parker's matchup couldn't be any worse this week (he caught zero of seven targets against New England in Week 2), so he's probably still a fade for DFS. But he needs to be commended on a terrific career-salvaging season. Since Week 4, he ranks fifth among all wide receivers in fantasy points, averaging 17.1 per game.
Betting Preview
The Patriots need a win to clinch a first-round bye in the loaded AFC playoff bracket. The market has moved toward Miami after opening with the Patriots as 17-point road favorites. Greenline finds consensus with the betting markets on this spread and total. It gives our third-ranked Patriots a 90.4% win probability over our 31st-ranked Dolphins. 
Headline of the Game: Can Jameis Winston add five more touchdown passes?
Prior to last week's game against the Texans, PFF analyst Steve Palazzolo dove into why the Buccaneers should give Winston one more season. Winston's performance in Week 16 perfectly encapsulated the volatility that makes him so intriguing. He had five turnover-worthy plays, an average depth of target of 14.0 yards, and he nearly brought the Buccaneers back from the hole that he dug early in the game. On the season, Winston now leads the NFL in pass attempts (602), passing yards (4,908), interceptions (28) and he trails only Lamar Jackson in touchdowns (31). Five more touchdowns would draw him even with Jackson for the season, and I can see no more fitting end to the 2019 regular season than to have Winston lead the NFL in passing yards, touchdowns and interceptions.
Fantasy Football Preview
Across the first 12 weeks, Breshad Perriman eclipsed 6.0 fantasy points only once. Over the last four weeks, Perriman ranks fifth in fantasy points, averaging 20.4 per game. With Chris Godwin and Mike Evans both out, against an Atlanta defense that ranks bottom-10 in fantasy points per game allowed to outside wide receivers, Perriman should be started with confidence.
Betting Preview
Atlanta has come alive to finish out the season, claiming covered victories in each of the past three weeks. Markets are not buying in, though, as Atlanta opened as a pick-em but has slid out to a one-point road dog. That correction may not be done yet, with Greenline offering a play at the current spread but no discernible edge on the total, which is well-priced at 48.  
Headline of the Game: Can the Steelers' offense finally become viable?
For much of this season, this Pittsburgh Steelers' offense has been anemic. Injuries have crippled the depth at skill positions and quarterback, and the offensive line has regressed after the departure of offensive line coach Mike Munchak. That has resulted in an offense that ranks dead last in PFF's offensive Massey ranking. Amazingly, their defense has propelled them to an 8-7 record and a potential postseason berth despite their uninspiring offense. But as the last two weeks have shown, the Steelers' offense needs to be able to move the ball at least a little bit.
That is even truer when Devlin Hodges — who was benched in last week's game against the Jets before being called back into action — is turning the ball over at the rate that he has the last two weeks. Hodges leads the NFL with eight turnover-worthy plays across Weeks 15 and 16. The reason he got the nod initially over Mason Rudolph was that he was limiting those turnover-worthy plays. If the Steelers have any chance of beating the Ravens and getting into the playoffs with help, Hodges will have to return to that form.     
Fantasy Football Preview
With the No. 1 seed already locked up, there's little incentive for Baltimore to play their starters on Sunday. We shouldn't expect to see Lamar Jackson or Mark Ingram play a single snap, and Mark Andrews and Marquise Brown could also be limited. That means, even in spite of the tough matchup, Robert Griffin III and Gus Edwards could draw heavy DFS ownership at a lowly salary.
Betting Preview
The Steelers are begging for help from the Texans, as they need a win over a handful of Baltimore second-stringers and a Titans loss to squeeze into the sixth seed. Markets have flipped heavily since it was announced that the Ravens' stars would be taking the week off. Games like this can be tough to handicap, so make sure to monitor Greenline and tune into the PFF Forecast to get up-to-date thoughts on this matchup. 
Headline of the Game: A season of disappointment leaves the Cowboys needing help to make the postseason
PFF data scientist Eric Eager said it best when diagnosing the Cowboys' disappointing finish to the season: "The Cowboys' play-level fundamentals were not that of a loser." The Dallas offense led the entire league in yards per play and it one of the most efficient units in the entire NFL all season; Dak Prescott had his best season since he burst onto the scene as a rookie in 2016, and their defense hasn't been a liability either, ranking sixth in PFF defensive Massey ranking. They have the outward appearance of a good team, and yet, they sit at 8-7 with help needed from the New York Giants to make the playoffs following their loss to the Eagles in Week 16.
As a team, no offense dropped more passes than the Cowboys did (39), and in the biggest game of the season, those drops reared their heads again. The Cowboys dropped five passes in Week 16, while the rag-tag group of receivers that the Eagles were working with didn't drop any at all. There wasn't a fundamental issue of talent with the Cowboys this season, but it was the other things — coaching, turnover luck, drops, etc. —that put them in the hole that they're in heading into Week 17.
Fantasy Football Preview
In a must-win game for the Cowboys, and with Dak Prescott and Amari Cooper both banged up, look for Dallas to lean heavy on Ezekiel Elliott. Dallas is favored by 11.0 and Washington ranks third-worst in fantasy points per game allowed to opposing running backs. Elliott was quiet last week but still ranks second among all running backs in fantasy points over the last six weeks, averaging 21.1 per game.
Betting Preview
It feels fitting that the Cowboys sit right above average at 15th in our ELO power rankings. Their fifth-ranked offense struggled when it mattered most in their crushing loss to the Eagles. They now must rebound quickly and get help from others, with our win expectancy at 82.7% for their Week 17 matchup against the Redskins. This spread has held steady throughout, with Greenline offering a small lean despite no one knowing what version of the Cowboys will show up Sunday.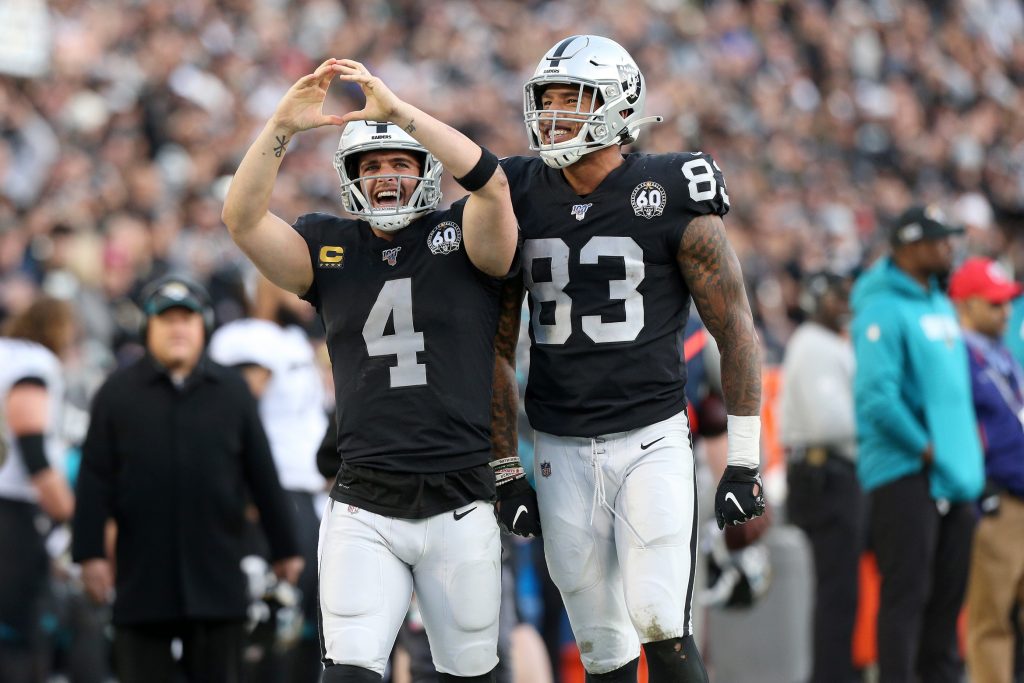 © Cary Edmondson-USA TODAY Sports
Headline of the Game: As unlikely as it seems, the Raiders have plenty to play for in Week 17
Heading into last week, five different outcomes had to happen for the Raiders to maintain their playoff dreams. All five happened, including a Raiders victory over the Chargers in Los Angeles. Now, the hopes and dreams live another week. They need the Ravens to beat the Steelers, the Texans to beat the Titans and the Colts to beat the Jaguars to go along with a victory of their own over the Broncos. Crazier things have happened. 
The Raiders can only control their game against the Broncos, and to do that, they'll need to rely on an offense that ranks eighth in the NFL in PFF's offensive Massey rankings. The offense has been led by Derek Carr and his 79.3 overall grade (12th among quarterbacks), and his favorite target hasn't been Antonio Brown, as many would have expected coming into the season, but it's been Darren Waller instead. Waller has been a problem for opposing defenses all season — his 2.40 receiving yards per route run are fourth among all tight ends and his 27 receptions of 15 or more yards are fewer than only Travis Kelce.
Fantasy Football Preview
The odds are slim, but Oakland isn't yet mathematically eliminated from the playoffs. DeAndre Washington remains an intriguing DFS option if Josh Jacobs sits out. In the two games Jacobs has missed, Washington has played on 63% of the snaps while averaging 18.5 carries, 5.0 targets, and 20.1 fantasy points per game. Hunter Renfrow is also interesting, averaging 15.9 fantasy points per game across his last five complete games.
Betting Preview
For a team with a losing record, Denver has done well against the spread, sitting at 9-6 overall in 2019. The 3.5-point spread looks like a lot to cover between two teams that are separated by only four spots in our ELO rankings, though. Strength on strength will pit the eighth-ranked Raiders offense against the 14th-ranked Broncos defense. Which unit wins out will determine whether the 41-point total goes over or under. 
Headline of the Game: This is Ryan Tannehill's time to show the league that this offense is for real
Thanks to the Steelers losing back-to-back games against the Bills and the Jets the past two weeks, the Titans now control their own destiny in the hunt for the No. 6 seed in the AFC. If you had said that when Marcus Mariota was getting benched early in the season, few would have believed you. The team in their way is a Houston team that beat them 24-21 just two weeks ago, but there are obvious question marks about their motivation, especially if the Chiefs win in their early game against the Chargers.
It seems that the majority of casual observers want to see the Titans earn the final wild card spot, and it's because this offense has the ability to make some noise in the playoffs given the way that they have been playing. Since taking over as the starting quarterback in Week 7, Tannehill trails only Lamar Jackson in overall grade, and the Titans have been a top-three offense in expected points added per play. For entertainment purposes alone, who wouldn't want to see that matchup with the Chiefs in Round 1?
Fantasy Football Preview
Improbable though it may seem, Tennessee's backup heading into the season, Ryan Tannehill, leads all quarterbacks in passer rating (116.5), while also ranking second-best in fantasy points per start (23.0) and fantasy points per dropback (0.69). Look for Tannehill to add to these impressive numbers this week in a must-win game against a Texans defense that's giving up the third-most fantasy points per game to opposing quarterbacks (25.5).
Betting Preview
It's a win-and-get-in scenario for the Titans, with the market heavily backing them as 3.5-point road favorites. The Titans own the slightly better ELO ranking in this matchup despite the Texans having already locked up a spot in the Wild Card round of the AFC playoff picture. Greenline has a strong lean on the current spread, but motivation could be a factor in this matchup.
Headline of the Game: Both teams have questions at quarterback heading into 2020
There was a point early in the season where Colts fans and Jaguars fans were singing the praises of Jacoby Brissett and Gardner Minshew, respectively. But through 16 weeks of the season, both quarterbacks reside in the bottom half of the NFL in overall PFF grade. Minshew's grade of 68.3 ranks 21st among 32 qualifying quarterbacks, while Brissett's grade of 61.2 ranks 30th ahead of only Mason Rudolph and Kyle Allen. 
The Colts' decision about what to do with Brissett carries a little more weight considering that he has a cap hit north of $20 million next season. They have a solid team and structure in place around Brissett, but he hasn't shown much this year that would indicate that he can be a top-half-of-the-league kind of guy for them in 2020. Minshew, on the other hand, carries significantly less risk for the Jaguars financially, though the decision to start him in favor of big-money free-agent acquisition Nick Foles for the rest of the season does carry some weight. Both teams will have decisions to make at starting quarterback next year, which makes for one of the more interesting subplots in a game that means next to nothing for the Colts and the Jaguars.
Fantasy Football Preview
Marlon Mack averages 4.7 fantasy points per game more in victories than losses, with five of his six highest-scoring games coming in victories. Expect a big game from him this week, with Indianapolis favored by 3.5 points, and up against a Jacksonville defense that ranks second-worst in both fantasy points per game to opposing running backs (24.9) and yards allowed per carry (5.34).
Betting Preview
The Colts added the hook to the opening field-goal spread and lost all the value on their price in the process. The market has little expectation for points, with the total dropping by 1.5 points to 43. Neither the spread nor the total appear playable currently, with both offenses sitting in the 20s according to our Massey offensive rankings. 
Headline of the Game: With their wide receivers decimated by injury, Eagles need to rely on tight ends and running backs in the passing game
The Eagles have been decimated by injury at the wide receiver position this season. Desean Jackson has hardly played all season. Alshon Jeffery is on IR. Nelson Agholor sat out Week 16 with a knee injury. Now, their top target, Zach Ertz is dealing with fractured ribs. The injury report hasn't been kind to the Eagles, but despite all that, they were able to come out on top against the Cowboys and now control their own playoff destiny. 
Last week, three players had five receptions for the Eagles, and those players were tight end Dallas Goedert, running back Boston Scott and running back Miles Sanders. That is the formula that they'll have to rely on in Week 17, as well. Sanders leads this Eagles team with 165 receiving yards on passes thrown 20 or more yards downfield — which is a pretty remarkable stat for a running back — and Goedert has the 10th-highest receiving grade among qualifying tight ends this season. Even with all the injuries, there is still something to work with in the passing game — the Eagles will just have to tap into receiving production from the running back and tight end positions to continue their momentum. 
Fantasy Football Preview
Reportedly, Zach Ertz suffered a fractured rib in last week's victory against the Cowboys. In another virtual must-win game for the Eagles, he could try to grit it out. But if he sits, or is limited, expect big numbers from Dallas Goedert. Last week, with Ertz in and out of the game, Goedert caught nine of 12 targets for 91 yards and a score.
Betting Preview
The 10th-ranked Eagles got it done when it mattered most, as they just need one more victory to limp into the playoffs with the 30th-ranked defensive unit. Markets have moved away from the Eagles, though, with the spread settled in at four for the road favorites. Greenline finds no value at current market prices but gives the Eagles a 66.4% win probability.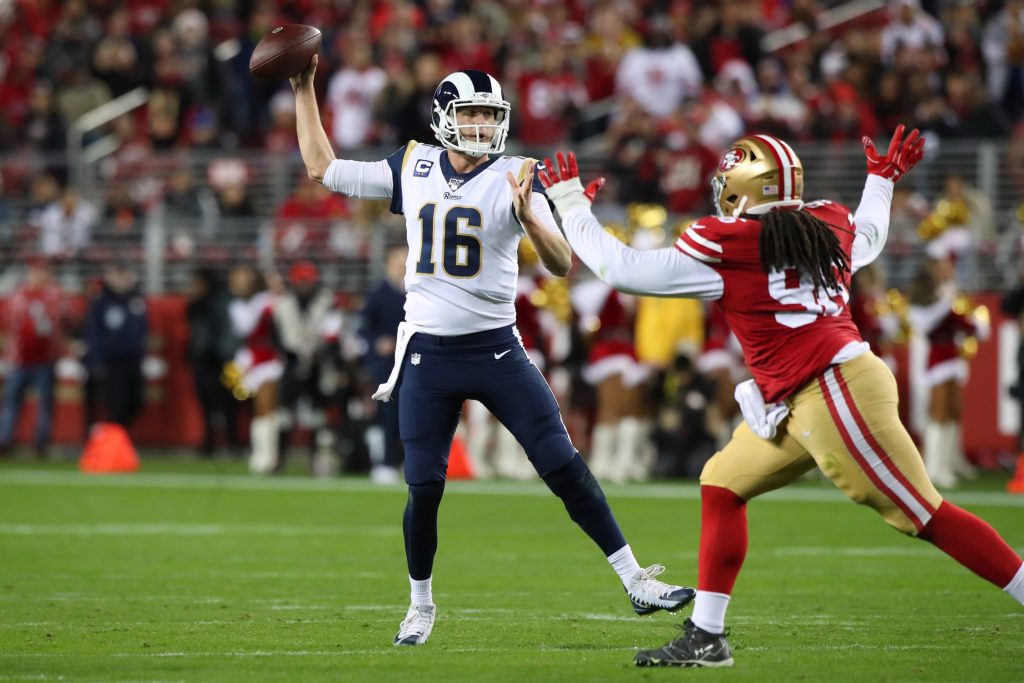 © Cary Edmondson-USA TODAY Sports
Headline of the Game: The Rams need this group of players to figure things out
Les Snead and the Rams have been the most aggressive team in the league over the past few seasons in their hunt for a Lombardi Trophy. They've signed Jared Goff, Todd Gurley, Aaron Donald and Brandin Cooks to massive contracts. They've flipped three first-round picks for Cooks and Jalen Ramsey. All that becomes worth it when you win a Super Bowl, as the Rams nearly did last season, but when you're sitting outside of the playoffs looking in (like they are now), questions begin to rise.
An offensive line that ranks 31st in the NFL in pass-blocking grade this season has sped up Goff and the Rams' offense this season, making them look like a different team than in 2018. Gurley has the worst PFF receiving grade of any running back in the NFL, and Cooks and Ramsey are having the worst seasons of their career from a PFF grade and production standpoint. Aggressiveness should be applauded, but the Rams are feeling the consequences of that aggressiveness right now with limited cap space and draft capital to improve their 8-7 team.
Fantasy Football Preview
On Saturday night, Tyler Higbee became just the fourth tight end in NFL history with four consecutive 100-yard receiving games. Over this span, he averages a position-high 11.0 targets per game and 21.2 fantasy points per game. So, basically, in Week 17, the league's hottest tight end draws the league's worst tight end defense. Arizona is giving up a league-high 19.2 fantasy points per game to opposing tight ends, which is 26% more than the next worst defense.
Betting Preview
Markets are taking their time posting lines for both the spread and total in this matchup. Early totals have started to trickle in, though, with 49-point prints and the spread currently settled at 7.5 points. Both numbers appear to be well-priced, with Greenline finding consensus with markets in the meaningless NFC West matchup. 
Headline of the Game: The 49ers' pressure on Russell Wilson, and how he handles it, will determine the winner of the NFC West
For the first nine weeks of the season, Wilson didn't seem to be fazed by pressure. He was under pressure on 42% of his dropbacks (second-most in the NFL), and yet the Seahawks were averaging over six yards on those plays (tied for a league second-best) and Wilson had a higher passer rating under pressure (112.1) than the average quarterback was able to muster from a clean pocket (102.6). 
Then the 49ers came in Week 10. Wilson proceeded to turn in his worst overall grade of the season (59.9), taking five sacks in the process, and he hasn't been the same quarterback under pressure since. Since that Week 10 game, the Seahawks have averaged a league-worst 0.0 yards per play when Wilson gets pressured, and Wilson's passer rating of 33.1 on those plays is 29th among quarterbacks.
We know that quarterback play under pressure is volatile. Traditionally, Wilson has been one of the best in the NFL at handling pressure, but he's also had more practice than he would like. How often the 49ers are able to move Wilson off his spot, and how well he deals with that pressure, will go a long way to deciding the league's last regular-season game.
Fantasy Football Preview
Last season George Kittle set the PFF-era record for yards per route run by a tight end (2.82). This year, he's poised to smash that mark and lead all players at all positions (3.02). I'd bet on a big game, and for Kittle to officially set that record this week, against a Seahawks defense that's giving up the second-most fantasy points per game to opposing tight ends.
Betting Preview
The matchup for the NFC West crown will feature in primetime on Sunday night. The hook has been added to the opening field-goal print for the road favorite 49ers. The total appears to be well-priced, but the spread is playable to a certain side, with a more detailed write-up coming later in the week.