There's just one week left in the 2020 NFL regular season, and the playoff picture is still far from settled. The No. 1 seed in the NFC is up for grabs between the Green Bay Packers, New Orleans Saints and Seattle Seahawks after all three secured wins in Week 16, the NFC East remains a toss-up and the Tampa Bay Buccaneers are the only team across the board to secure a wild-card spot.
PFF is here to break down NFL Week 16 in greater detail using advanced data and our unique play-by-play grading. Here, we present to you the PFF Team of the Week, a few big takeaways and player awards from Week 16 of the 2020 NFL season.
PFF TEAM OF THE WEEK
Offense
QB: Tom Brady, Tampa Bay Buccaneers
RB: Myles Gaskin, Miami Dolphins
WR: Davante Adams, Green Bay Packers
WR: Michael Gallup, Dallas Cowboys
TE: Jimmy Graham, Chicago Bears
FLEX: Darren Waller, Las Vegas Raiders
LT: Trent Williams, San Francisco 49ers
LG: Quenton Nelson, Indianapolis Colts
C: Erik McCoy, New Orleans Saints
RG: Brandon Scherff, Washington Football Team
RT: Ryan Ramczyk, New Orleans Saints
Defense
DI: Aaron Donald, Los Angeles Rams
DI: Chris Jones, Kansas City Chiefs
EDGE: Chase Young, Washington Football Team
EDGE: Randy Gregory, Dallas Cowboys
LB: Fred Warner, San Francisco 49ers
LB: Roquan Smith, Chicago Bears
CB: Darius Phillips, Cincinnati Bengals
CB: K'Waun Williams, San Francisco 49ers
S: Darnell Savage, Green Bay Packers
S: Jordan Whitehead, Tampa Bay Buccaneers
FLEX D: Donte Jackson, Carolina Panthers
BIG TAKEAWAYS
The Atlanta Falcons blowing their lead against the Kansas City Chiefs was franchise-altering for the better
Another week, another late blown lead by the Atlanta Falcons. This time around, though, the collapse wasn't one the Falcons' fan base or franchise should be upset about. A.J. Terrell dropping what would have been a game-winning interception and Younghoe Koo missing a 39-yard field goal to tie the game with 14 seconds left, in addition to the blown lead itself, were franchise-altering moments for the better. After losing to the Chiefs, Atlanta now sits at the fourth overall pick in the 2021 NFL Draft — a prime spot to select a premier signal-caller to replace Matt Ryan as the franchise quarterback.
Trevor Lawrence is a surefire Jacksonville Jaguar, but there is a debate to be had about who goes to the New York Jets at No. 2 — either Zach Wilson or Justin Fields. Wilson shattered the PFF College record for the best single-season passing grade (95.5) in 2020, establishing himself as a top signal-caller in this year's draft. Week in and week out, he showed off incredible arm talent and accuracy while making countless off-platform throws. 
He ended up recording a 90.0-plus passing grade in over half of his games played. Meanwhile, Fields has a 92.4 PFF grade for the 2020 season, just above his 91.5 mark from 2019. He's a true dual-threat quarterback and has been by far the most accurate passer in college football this year. Regardless of who goes second overall, whichever team ends up with QB3 in this draft (as of now, Atlanta) is still sitting pretty.
Following their Week 16 defeat, the Falcons now have a chance to draft either Wilson or the Atlanta native Fields next April to save themselves from being in quarterback purgatory with an aging Matt Ryan. Atlanta's Week 16 outing might show up in the loss column, but it was a clear win for the future of the franchise.
Sticking with Mitchell Trubisky in 2021 would be the wrong move for the Chicago Bears' future
Prior to the Chicago Bears' 41-17 victory over the Jacksonville Jaguars in Week 16, ESPN's Adam Schefter reported that some executives around the league believe the Bears will stick with Mitchell Trubisky in 2021 and possibly beyond if the team clinches a playoff berth. And entering Week 17, there is a very good chance that Chicago does grab that No. 7 seed in the postseason, with the team holding a 70% probability in our simulations.
Chicago's passing offense has seemed great on paper over the team's past four games with Trubisky under center. They have had the sixth-most-efficient passing offense and the second-highest successful pass play rate in that span. Trubisky, however, ranks 27th among quarterbacks in passing grade (61.2). Not to mention, these four games came against coverage units that rank 23rd, 30th, 31st and 32nd this season in expected points added allowed per pass play. In other words, Trubisky is not the reason for Chicago's most recent success.
He has had a lot carrying him in this most recent stretch, from the poor opposing defenses to help from the supporting cast to a whole bunch of luck. Sunday's game against Jacksonville was a prime example of the latter. It was one of the biggest discrepancies we have seen this season from an expected points added per pass compared to quarterback passing grade standpoint. 
Chicago had the fourth-most efficient passing offense of the week while Trubisky recorded a poor 56.5 passing grade. He finished fourth-to-last among quarterbacks in Week 16 in negatively graded throw rate while posting three turnover-worthy plays.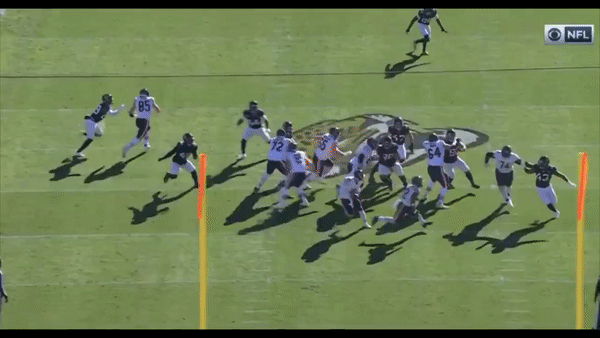 Moral of the story: We aren't seeing a new and improved Trubisky, and a commitment to him beyond 2020 would be a massive setback to the franchise.
OFFENSIVE PLAYER OF THE WEEK
The Detroit Lions — who entered Week 16 ranked dead last in EPA per play allowed — had to go up against Brady and the Bucs without their interim head coach, defensive coordinator, defensive line coach, defensive backs coach and linebackers coach due to COVID-19 contact tracing. And to no surprise, it took Brady 27 pass attempts to completely slice and dice Detroit's defense.
Brady produced the fourth-best single-game PFF grade of the past decade, at 93.3, with a performance that featured six big-time throws and just one turnover-worthy play. He completed 12 of the 15 passes that were thrown over 10 yards downfield for 267 yards and three touchdowns — all of which led every quarterback of Week 16. Oh, and he did all of this in one half.  Those 12 completions on throws 10-plus yards downfield are the most any quarterback has had in a first half in the last 14 years. 
The 43-year-old quarterback has had countless incredible performances throughout his 21-year career, but this one against the Lions was one of his best.
DEFENSIVE PLAYER OF THE WEEK & ROOKIE OF THE WEEK
Young was red-hot entering Week 16, having racked up four straight games with a PFF grade above 73.0. Not only did that hot streak continue against the Carolina Panthers on Sunday, but he just so happened to put on the best performance of his young career to date, as the No. 2 overall pick of the 2020 NFL Draft recorded an elite PFF grade above 90.0 for the very first time this season.
He was a force against the run, but the biggest reason for the career day had to do with his impact against the pass. Young earned a 92.0 pass-rush grade for the game, over 10 grading points higher than his previous single-game best.
Panthers left tackle Trent Scott had no answer for Young's blend of quickness and power. The rookie edge rusher came away with five pressures, mostly against Scott; one of those five was a strip-sack fumble that Young recovered, and another was a QB hit that resulted in an interception.
Only Khalil Mack, T.J. Watt, Joey Bosa, Myles Garrett and Demarcus Lawrence have a higher PFF grade among edge rushers this season. It's safe to say that he is the winner of this year's Defensive Rookie of the Year and will be an ongoing problem for NFL offensive lines in the years to come.
OFFENSIVE LINE OF THE WEEK
The New Orleans Saints' offensive line was the only unit that ranked in the top five in both pass-blocking and run-blocking grade for Week 16. They were anchored by season-best performances from tackles Terron Armstead and Ryan Ramczyk, who provided clean pocket after clean pocket for quarterback Drew Brees.
The Saints' offensive line allowed just three total pressures against a poor Minnesota Vikings pass rush, which is made all the more impressive by the fact that over half of their reps were charted as a "true pass set." Brees had his second-highest average time to throw of the entire season on Christmas Day (2.75 seconds) along with his highest average depth of target of the year (10.7).
While Alvin Kamara was great against Minnesota, we do have to give some credit for those six rushing touchdowns to the big men blocking for him up front. He wasn't contacted behind the line of scrimmage on any of his six rushing touchdowns, and three of the five starters — Armstead, Ramczyk and center Erik McCoy — ranked in the top three at their respective position in run-block grade for the week.
SECRET SUPERSTAR OF THE WEEK
Generally, quarterbacks are exempt from this award because they are the most notable players on the field, but this week is a little bit different.
Cincinnati's Brandon Allen had truly one of the most shocking and underappreciated performances of the entire day. Sure, the game was meaningless to the playoff picture, as the now 4-10-1 Bengals took on the 4-11 Houston Texans, but the fact that Allen — who had a 44.5 passing grade in six career starts in five years before Week 16 — posted a 91.4 passing grade is nothing short of remarkable.
Allen displayed some incredible touch and anticipation downfield in Houston on Sunday. He finished the day with five big-time throws and zero turnover-worthy plays and was the highest-graded passer of the week on throws over 10 yards. Allen dropped several perfectly placed balls right over the receiver's shoulder and rifled in a few lasers deep downfield. Only Tom Brady completed more 20-plus-yard deep shots this week (six) than Allen (five).
Allen's outstanding performance led Cincy to its fourth-highest successful pass rate in a single game in the last decade. He truly played out his mind on Sunday and was the clear-cut second-best quarterback of the week behind Tom Brady.
PLAY OF THE WEEK
This play of the week might not just be the best of Week 16; it might just be the play of the year.
Ryan Fitzpatrick somehow managed to fire off a throw while his head was almost being ripped off, and he hit the Cover 2 hole (without even looking) to pick up a 34-yard gain (49-yard including the roughing the passer penalty) and to set up a game-winning field goal.
FITZMAGIC!!

— PFF (@PFF) December 27, 2020
Had Fitzmagic not made that throw, the Dolphins would enter their Week 17 contest in Buffalo on the outside looking into the AFC playoff picture. But as of now, they sit at the fifth seed.
Plays like this are why Fitzpatrick has to be the starting quarterback for Miami in Week 17 (and in the postseason, assuming they make it). The veteran quarterback threw only 13 passes in relief against Las Vegas, yet he was able to record a couple of big-time throws in the comeback. Tua Tagovailoa has just four big-time throws on 232 passes this entire season, the worst rate in the NFL.
With Fitzpatrick under center, the Dolphins have had the sixth-most-efficient passing offense in the league. With Tagovailoa, they drop to 22nd.
It might be a bit of a longshot for Miami to make a deep postseason run this season, but the quarterback who will give them their best shot at doing so is Fitzpatrick. Now, I'm not doubting Tua being the long-term guy for Miami at all — he still has the potential to be a franchise quarterback and quality starter — but Fitzpatrick has outplayed the rookie this year, and the offense has been far more successful with him under center.
AN EARLY LOOK AHEAD TO WEEK 17…
It's no secret that the NFC East has been a disaster this season. The division is set to send a team with a losing record to the postseason this year and that of course is going to be decided in dramatic fashion in Week 17. The 6-9 Dallas Cowboys and the 5-10 New York Giants will face off in the 1 o'clock slate and will be cheering for a Philadelphia Eagles win on Sunday Night Football over the Washington Football Team. If Philly prevails, then it'll be the winner of the Cowboys-Giants game in the playoff. If not, then the division and playoff spot belongs to the Football Team. Regardless, it's not going to be very pretty from a passing perspective as all three of those teams have failed to reach the 25th percentile among the 32 NFL teams in passing efficiency this year.
The AFC is, however, running into a problem that the NFC isn't really facing — they have too many quality teams and not enough playoff spots. Right now there are currently four 10-5 teams fighting for three wild card spots: Cleveland, Miami, Baltimore and Indianapolis. The Colts are an interesting situation because they can win the AFC South or miss the playoffs outright next week. The good news is that they do face the worst team in the NFL (Jacksonville), but the Tennessee Titans — whom they need to lose — faces the third-worst pass defense in the NFL in terms of EPA per pass allowed (Houston). If Indy beats Jacksonville and Tennessee beats Houston, then the Colts will either need the Browns, Dolphins or Ravens to lose. Cleveland is facing off against the AFC North champions — the Steelers — but they could very well get a Pittsburgh team that is resting starters. The Colts' playoff hopes could very well all come down to who is playing at quarterback for Miami next week: Ryan Fitzpatrick or Tua Tagovailoa.
The Green Bay Packers versus the Chicago Bears is also going to be one of the more impactful games of the day. If Green Bay were to win, they would secure the No. 1 seed while Chicago could get knocked out of the playoffs (with an Arizona win). If Chicago were to win, they'd clinch the seventh seed while the top seed would be up for grabs. It is worth noting that the last time these two teams went head-to-head this season, Mitchell Trubisky played extremely poor with zero big-time throws and five turnover-worthy plays en route to a 46.5 passing grade.