• Interceptions working against Patrick Mahomes: Most voters probably don't like interceptions, and only Matt Ryan and Davis Mills have more than Mahomes right now.
• Jalen Hurts leading the race: The Eagles signal-caller earned a 63.3 PFF grade in Week 14, taking his overall grade for the year to 88.6. 
• A $10 bet on Mahomes to win MVP would return $30.00 at BetMGM — qualified bettors from Kansas will also get a free PFF+ subscription and $200 in free bets!
Estimated reading time: 3 minutes

Patrick Mahomes threw three interceptions in the Chiefs' Week 14 win over the Denver Broncos, so Philadelphia Eagles QB Jalen Hurts is now the MVP favorite in the betting market.
Meanwhile, Joe Burrow and Josh Allen are hanging on, while Tua Tagovailoa is essentially out of the race. So, how do the odds stack up going into Week 15?
Every week throughout the season, we will rank quarterbacks by their estimated MVP chances. These chances are based on simulating the remaining season and looking at individual efficiency stats and team success. The full methodology can be found in our initial version of this year's MVP rankings.
2022 NFL MVP Favorites
Week 14 stats: 58.5 PFF grade | 0.04 EPA per play
Season to date: 90.6 PFF grade | 0.26 EPA per play
For the first 25 minutes of the game, it looked like Mahomes was going to cement his status as the leading horse in the MVP race, but then he suddenly threw two interceptions, one of which was a miracle catch by cornerback Patrick Surtain.
The star signal-caller went on to add another interception in the second half, putting his MVP campaign in real danger, even if the Chiefs win out from here. Most voters probably don't like interceptions, and only Matt Ryan and Davis Mills have more than Mahomes right now.
Nevertheless, the fact that he ended the game with average efficiency after throwing three interceptions also shows how well he played on all his other snaps against one of the best defenses in the league. All things considered, Mahomes should still be the choice for MVP right now, as he leads the league in efficiency and PFF grades despite having a worse supporting cast than Jalen Hurts.
Notably, he also leads all MVP candidates in volume.
Week 14 stats: 75.5 PFF grade | -0.08 EPA per play
Season to date: 90.3 PFF grade | 0.20 EPA per play
The Jets defense got the best of the Bills offense for the second time this season, even though Josh Allen and company managed to escape with a win this time.
His odds decreased because he didn't have an efficient day, but I think he is still underrated in the market. If the Bills win out with efficient play from Allen over the next four weeks and the Eagles lose one more game, Allen would have a very good chance of winning the award.
Week 14 stats: 63.3 PFF grade | 0.33 EPA per play
Season to date: 88.6 PFF grade | 0.16 EPA per play
Hurts and the Eagles continue with their impressive late-season stretch on offense, catapulting Hurts into the lead for the MVP award, according to the betting markets.
Week 14 stats: 74.3 PFF grade | 0.06 EPA per play
Season to date: 88.4 PFF grade | 0.15 EPA per play
Burrow produced above-average stats in Week 14. The Browns' pass rush made life tough for him all day, and he still made the necessary plays. As far as the MVP race goes, this was still a small hit for him because no voter cares that he actually played well in a 1 p.m. game in early December.
The Bengals quarterback needs to make up a gap in efficiency stats with four games to play. The Week 17 game between Allen's Bills and Burrow's Bengals will decide who of the two has a chance to challenge Mahomes and Hurts.

Defense adjustments
Our rankings also adjust for defenses faced. Quarterbacks who face easier defenses are more likely to put up stats that will eventually help win them the MVP award. We will update our pass-defense rankings throughout the season.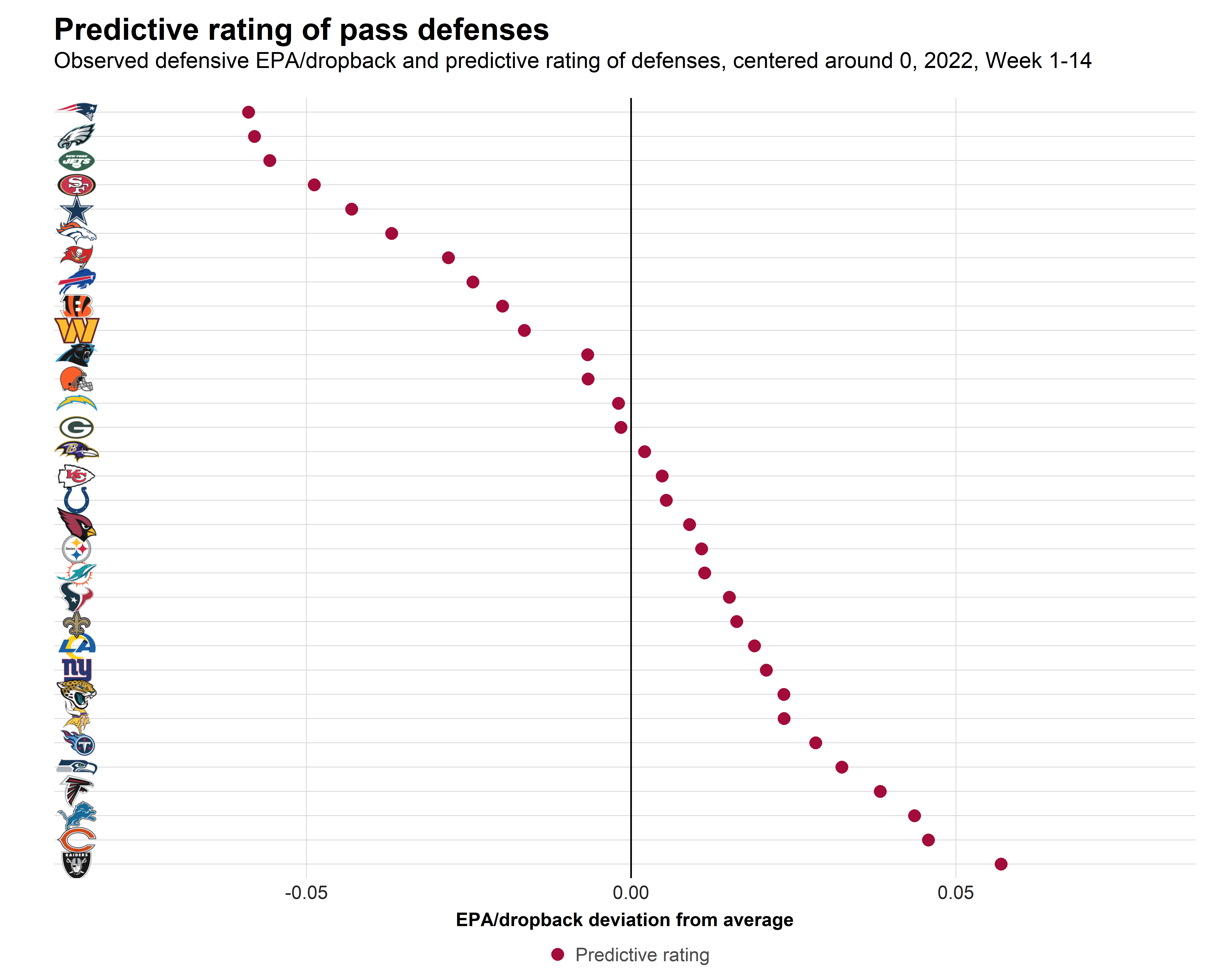 Using these rankings, this is the past strength of schedule of opposing passing defenses for quarterbacks: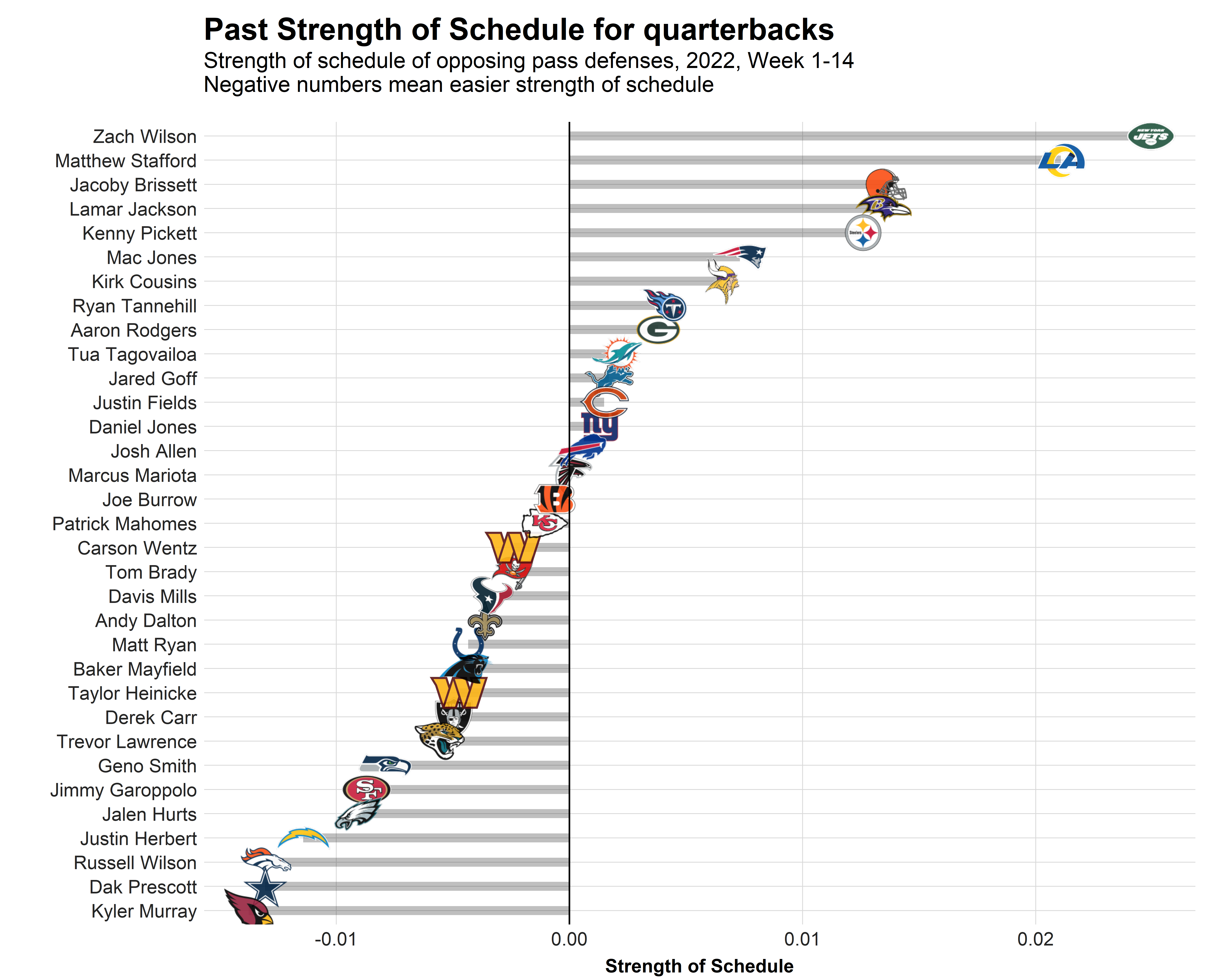 This is the future strength of schedule of opposing passing defenses: