New England Patriots quarterback Mac Jones captained a 17-point fourth quarter to put a comeback within reach, but it ultimately wasn't enough to overcome Indianapolis Colts RB Jonathan Taylor's 170-yard, one-touchdown performance.
Click here for more PFF tools:
Rankings & Projections | WR/CB Matchup Chart | NFL & NCAA Betting Dashboards | NFL Player Props tool | NFL & NCAA Power Rankings
---
The Colts led 20-0 going into the fourth quarter and put the nail in the Patriots' coffin when Taylor broke off a 67-yard rushing touchdown with under three minutes to play. Indianapolis defeated New England 27-17.
Quarterback
Carson Wentz was nothing special Saturday night. He only completed 5-of-12 passing attempts for 57 yards and an interception, and he completed just one pass that traveled more than 10 yards in the air. He was also lucky two of his incomplete passes weren't intercepted.
Running Back
Taylor was the only Colts back with a carry against New England, and he made the most of them. He rushed for 170 yards, including the game-clinching 67-yard touchdown, on 29 attempts. He gained more than 120 of his rushing yards after contact and still averaged more than 1.5 yards before contact per attempt behind a dominant Colts offensive line.
Backup Nyheim Hines didn't record any carries but found the end zone on his only reception of the game.
How about this play call? #ForTheShoe

????: #NEvsIND on @NFLNetwork
????: https://t.co/DL75sQUMR5 pic.twitter.com/sZsQd12R5S

— NFL (@NFL) December 19, 2021
Wide Receiver/Tight End
With Wentz passing for just 57 yards, Indianapolis' receiving corps didn't have too much of an impact on the game. No receiver or tight end finished with more than one reception in the game, and Zach Pascal led the group with 23 receiving yards.
Two notable plays from the group were Michael Pittman Jr. going against JC Jackson deep down the right sideline just to watch an overthrown Wentz deep ball hit the turf and tight end Mo Alie-Cox dropping a well-placed red-zone pass that would have been a touchdown.
Offensive Line
Indianapolis' offensive line was an absolute juggernaut in the run game. On PFF's first review of the broadcast film, Danny Pinter was the only starter with a PFF run-blocking grade below 70.0.
The unit didn't pass protect much but held up well when it did, allowing just three total pressures between the five offensive linemen.
Defensive Line
DeForest Buckner was the biggest impact player along the Colts' defensive line. He recorded two defensive stops, including a sack, and a 15% pass-rush win rate on PFF's first review of the broadcast film. Kemoko Turay also recorded a 16% PFF pass-rush win rate on limited reps.
Linebackers
Bobby Okereke and Darius Leonard both had interceptions and multiple defensive stops against New England. Neither missed more than one tackle, and the duo combined for just 47 yards and two first downs allowed in coverage.
Bobby Okereke laid out for the interception ????

????: #NEvsIND on @NFLNetwork
????: https://t.co/DL75sQUMR5 pic.twitter.com/fwo14SLW09

— NFL (@NFL) December 19, 2021
Secondary
Indianapolis' secondary was excellent in run support and consistently made tackles when New England worked its quick passing concepts underneath. None of the Colts' defensive backs specifically stood out, but the unit as a whole limited the Patriots' downfield passing attack and allowed very few big plays.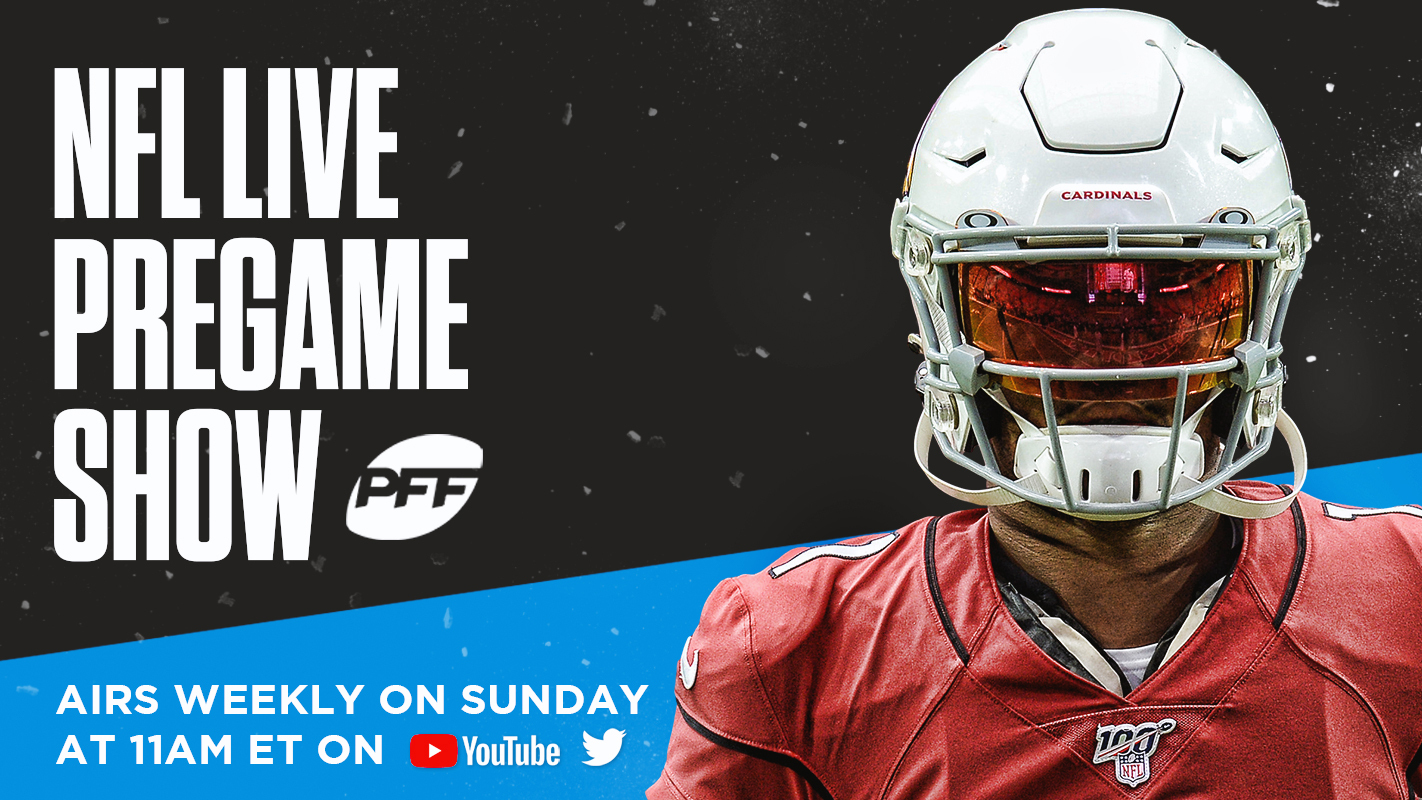 Quarterback
Jones was far from awful, but he still had two costly turnovers that obviously contributed to the loss. He threw the first red-zone interception of his career on a pass intended for tight end Hunter Henry that instead went right to Leonard's hands. His other interception was slightly late and behind running Brandon Bolden, but it was more of an outstanding play from Okereke than a terrible miss from Jones. His scoring drives were just too little, too late.
Running Back
With Damien Harris sidelined due to an injury, the Patriots turned to Rhamondre Stevenson and Bolden to handle the load — neither back had any success. The duo combined for 39 yards on 14 carries. The Colts just had the Patriots' number in the run game.
Wide Receiver/Tight End
| | | | | | | | |
| --- | --- | --- | --- | --- | --- | --- | --- |
| Name | Routes | Targets | Receptions | Receiving Yards | Yards After Catch | TDs | First Downs |
| Nelson Agholor (WR) | 19 | 6 | 4 | 34 | 0 | 0 | 1 |
| Hunter Henry (TE) | 38 | 8 | 6 | 77 | 13 | 2 | 6 |
| Jonnu Smith (TE) | 4 | 3 | 1 | 3 | 0 | 0 | 0 |
| Kendrick Bourne (WR) | 35 | 3 | 3 | 44 | 4 | 0 | 2 |
| Jakobi Meyers (WR) | 44 | 12 | 6 | 44 | 12 | 0 | 3 |
| N'Keal Harry (WR) | 28 | 5 | 2 | 52 | 2 | 0 | 1 |
| Gunner Olszewski (WR) | 3 | 2 | 0 | 0 | 0 | 0 | 0 |
Henry led the team with six receptions for 77 yards and two touchdowns on eight targets, and all six of his receptions either went for scores or first downs. No other Pats receiver recorded more than 60 yards receiving.
N'Keal Harry's 43-yard contested reception late in the fourth quarter was one of New England's biggest plays of the game.
Mac Jones connects deep with @NkealHarry15! #ForeverNE

????: #NEvsIND on @NFLNetwork
????: https://t.co/DL75sQUMR5 pic.twitter.com/oMUs2yxMaE

— NFL (@NFL) December 19, 2021
Offensive Line
On PFF's first review of the broadcast film, none of the Patriots' starters along the offensive line earned PFF run-blocking grades above 50.0. Isaiah Wynn, Ted Karras and Shaq Mason all shared the team lead in pressures allowed with two apiece.
Defensive Line
New England's defensive line took a beating against the run, and the Colts passed so infrequently that none of them could make too much of an impact as pass-rushers. It was a "burn the tape" situation for the front seven against Taylor and Indianapolis' rushing attack.
Linebackers
None of New England's off-ball linebackers had banner performance against the run, but Jamie Collins should finish reviews with an impressive PFF coverage grade. He led the unit with two defensive stops and allowed zero yards in coverage while forcing an incompletion.
Secondary
Jackson nearly gave up a long reception to Pittman Jr. early in the game if Wentz didn't overthrow him, but he played well outside of that play. He recorded two forced incompletions and allowed just one reception for 23 yards on four targets.
| | | | | | | | |
| --- | --- | --- | --- | --- | --- | --- | --- |
| Name | Coverage Snaps | Targets | Receptions Allowed | Yards Allowed | TDs Allowed | INTs | Forced Incompletions |
| Kyle Dugger (S) | 11 | 5 | 2 | 8 | 1 | 0 | 0 |
| J.C. Jackson (CB) | 14 | 4 | 1 | 23 | 0 | 0 | 2 |
| Devin McCourty (S) | 14 | 1 | 1 | 7 | 0 | 1 | 0 |
| Jalen Mills (CB) | 14 | 1 | 1 | 19 | 0 | 0 | 0 |
| Myles Bryant (CB) | 10 | 1 | 0 | 0 | 0 | 0 | 0 |
| Adrian Phillips (S) | 10 | 0 | 0 | 0 | 0 | 0 | 0 |