Alshon Jeffrey and Dallas Goedert both turned in outstanding performances in Week 13, joining several other NFL standouts on PFF's Week 13 Team of the Week.

PFF's NFL Team of the Week series features game grades and advanced statistics for the NFL's top players at every position in a given week. All of PFF's ELITE subscribers have access to game grades, advanced statistics, positional snap counts and more in Premium Stats. All of PFF's grades and advanced stats from this week and every other week this upcoming NFL season are made available to ELITE subscribers within 24 hours of the final whistle.
[Editor's Note: All of PFF's advanced stats and grades for every NFL player are made available in PFF's ELITE subscription. Subscribe today to gain access!]
Offense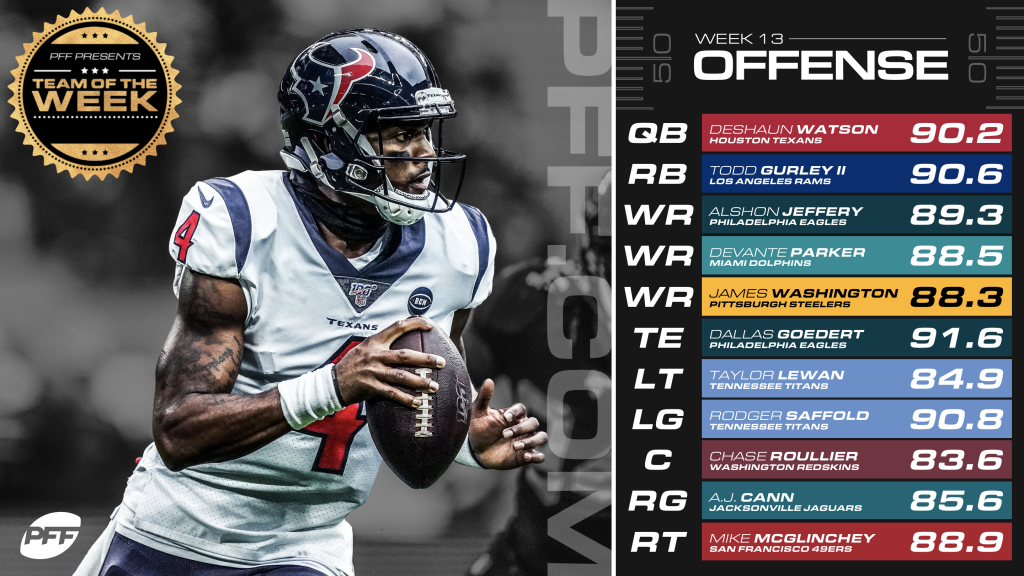 Watson made mincemeat of the New England defense on Sunday Night Football, completing 18-of-25 passes for 234 yards, three touchdowns, two big-time throws and zero turnover-worthy plays. Shredding the league's best secondary almost entirely, the MVP-caliber signal-caller also connected on four of his six pass attempts that were targeted 10 or more yards downfield.
It's been a quiet year for Gurley, but Week 13 did wonders for his season-long outlook. Tasked with 19 carries against the Arizona Cardinals, Gurley racked up 95 rushing yards, 61 rushing yards after contact, one touchdown, four additional first downs and three forced missed tackles. As if that wasn't enough, he also took his lone pass target of the day 22 yards after the catch for a touchdown.
The Eagles' receiving corps hasn't quite lived up to the hype in 2019, but the overwhelming disappointment didn't hold Alshon Jeffrey back in Week 13. Though they didn't do enough to secure the victory, Jeffrey caught all nine of his catchable targets against the Dolphins, racking up 137 yards, one touchdown and eight additional first downs. He caught 2-of-2 contested targets and averaged an impressive 3.11 yards per route run, as well.
Parker arguably had the best game of his career in Week 13 as he's finally looking more and more like the receiver the Dolphins expected coming out of Louisville. Targeted 10 times against the Eagles' reeling secondary, Parker caught all seven of his catchable targets for 159 yards, two touchdowns and three more first downs. He came down with all four of his contested targets, averaged 4.42 yards per route run and generated a 112.5 passer rating to cap off a mightily impressive outing.
The Eagles' sophomore tight end caught 6-of-6 catchable balls in Week 13 against the Dolphins, racking up 66 yards and five first downs in the process. Two of his receptions went for an explosive play of 15 or more yards, and he averaged 8.7 yards after the catch per reception on the day.
It was a different quarterback but the same result for the Steelers this week as they secured a 20-13 win over the Cleveland Browns at home. Washington connected well with new quarterback Devlin Hodges, catching all four of his total targets for 111 yards, one touchdown and two other first downs, with 105 of those yards coming on passes that traveled at least 10 yards in the air. All told, he generated a perfect 158.3 passer rating for the Steelers' offense.
The Titans' big left tackle didn't allow a single sack, hit or hurry on any of his 27 pass-blocking assignments, and he paved the way in the running game, earning a 79.4 run-block grade for his work.
Along with the teammate to his left-hand side, Saffold dominated the trenches in Week 13, earning top marks as both a pass-blocker (87.5) and as a run-blocker (86.5). He kept a completely clean slate across 29 snaps in pass protection.
Roullier did allow a single quarterback hurry across 32 pass-blocking snaps, so he wasn't quite perfect, but he was a key cog in the ground-and-pound machine that was the Redskins' Week 13 rushing attack. Paving the way for Derrius Guice and Adrian Peterson, Roullier earned a stellar 84.6 run-blocking grade for his effort.
The Jags' right guard put forth his highest-graded game since Week 15 of the 2016 season in this week's clash against the Buccaneers. He didn't allow a single pressure all game long, giving him a perfect 100.0 pass-blocking efficiency rating, and he also earned outstanding marks in the running game (81.2).
The bulldozing right tackle was back to his very best against the Ravens this week, paving the way for his side's outside-zone running scheme. He earned a stellar 88.4 run-blocking grade for his efforts on the ground and kept a completely clean slate in pass protection, too.
Defense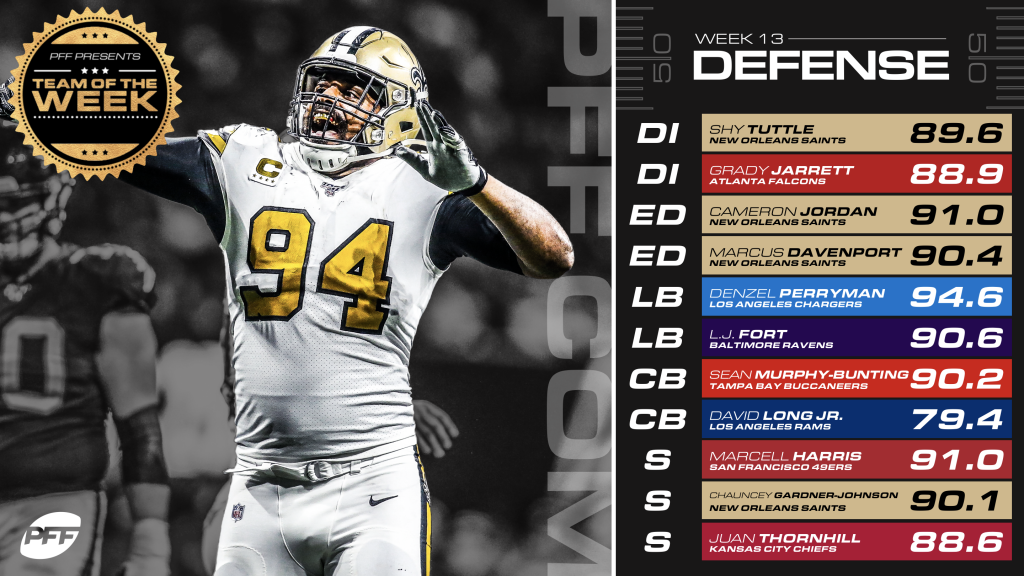 At first glance, one might think that the seldom-mentioned Shy Tuttle just stiff-armed quarterback Matt Ryan all the way into PFF Team of the Week contention. But, in reality, his game had a lot more to it than just his brilliant interception return on Thanksgiving Day. Asked to rush the passer 15 times in the game, Tuttle also recorded two quarterback hurries, and he produced a defensive stop against the run, too. The rookie interior defensive lineman ended the game with a career-high 87.6 pass-rush grade.
While it was tough for most on Atlanta's defense to get things going in the pass-rush, Jarrett asserted himself in run defense all night long. He was consistently able to get into the backfield to disrupt the Saints' running attack, notching an incredible five run stops in the game en route to an outstanding 88.0 run-defense grade.
Saying that Cameron Jordan got the better of his Thanksgiving Day matchup would probably be an understatement. He rushed the passer 48 times throughout the game and came away with 10 total pressures, four of which were sacks. Thanks to back-to-back recovered onside kicks, the Falcons had an improbable opportunity to cause a stir late in the game last Thursday — but Jordan's excellence as a pass-rusher quickly and mercilessly shut down those hopes.
Opposite Jordan was second-year edge-rusher Marcus Davenport, who had an excellent game for the Saints in his own right. He rushed the passer 36 times on the night, totaling two sacks, a hit and two additional hurries, and he also added a stop in the run game.
Perryman was only on the field for 15 snaps in Week 13, but he sure made those snaps count. Targeted just once in coverage across six snaps, he made the play of the game when he intercepted a pass intended for wideout Tim Patrick, which led to a field goal for the Chargers.
Fort was a force against the Niners in Week 13, as the eighth-year linebacker made an impact in almost every facet of play. He produced one QB hurry from three snaps as a blitzer, tallied two defensive stops and a tackle for loss against the run and held his lone target in coverage to just three receiving yards. All in all, it was a good day for Baltimore.
It was a miserable day at the office for the Jaguars' quarterbacks, and it was a day made much worse thanks to the presence of rookie cornerback Sean Murphy-Bunting. Targeted twice on the day, Murphy-Bunting intercepted one pass, forced an incompletion on the other and yielded a 0.0 passer rating in coverage.
One of PFF's pre-draft favorites, Rams cornerback David Long did a great job against the Cardinals' passing attack in Week 13, forcing an incompletion on his single target of the game. He ended the game having allowed a passer rating of just 39.6.
Harris made a noticeable impact against the Ravens' ground game this past week, tallying two solo tackles, one tackle assist and one forced fumble against Baltimore's juggernaut rushing attack.
The Saints' rookie safety was all over the field on Thanksgiving Day, logging 15 snaps on the defensive line, six snaps in the box, 15 snaps at slot cornerback and one snap at free safety. He recorded three pressures from nine pass-rush snaps, logged an interception and added a defensive stop against the run for good measure. He left the game, deservedly, with an elite 90.1 PFF game grade.
The Chiefs spread out their defensive secondary snaps with the score so far out of hand. As for notable performances, Juan Thornhill made Derek Carr pay dearly for misreading his double-team coverage on Tyrell Williams by jumping a hitch route and recording a 46-yard pick-six. Altogether, he allowed two receptions on three targets for only 23 yards, a touchdown and an interception.
Special Teams