It's about time we show love to the NFL rookies who weren't supposed to be playing this well. So, we'll focus on Day 3 players who were picked over again and again in the 2021 NFL Draft yet look like they belong already. Here are the highest-graded players from the fourth round or later so far this season, in addition to the usual snaps and grades reports for every team from Week 13.
Click here for more PFF tools:
Rankings & Projections | WR/CB Matchup Chart | NFL & NCAA Betting Dashboards | NFL Player Props tool | NFL & NCAA Power Rankings
---
Highest-Graded Day 3 Players
The first and most obvious takeaway is pretty much confirming what we've said for a while at PFF: Teams can find productive running backs on Day 3. Four of the 10 spots and three of the top five players here are running backs.
You've more than likely heard about Chiefs standout Trey Smith, and his inclusion here deserves an explanation. He slotted in at 85th on the PFF draft board, and you'd be hard-pressed to find a single public-facing board that had him all the way down at 226th — where he went to Kansas City. Smith's recurring issues with blood clots at Tennessee, however, almost certainly removed him from a lot of draft boards. That's a decision many are probably regretting at this point.
The most impressive of all Day 3 players, in my opinion, has been Las Vegas Raiders cornerback Nate Hobbs. That's because he fell to Pick No. 168 for no particular reason other than evaluation. It's an evaluation he's proven incorrect since Day 1. He's been one of the NFL's best slot corners this season, and an all-around one at that. He's earned an 80.9 run-defense grade to go along with a 75.1 mark in coverage.
Week 13 Rookie Snaps and PFF Grades
| | | | | |
| --- | --- | --- | --- | --- |
| Player | Team | Position | Snaps | Grade |
| Micah Parsons | Cowboys | LB | 65 | 86.9 |
| Chauncey Golston | Cowboys | ED | 42 | 49.7 |
| Osa Odighizuwa | Cowboys | DI | 39 | 66.8 |
| Quinton Bohanna | Cowboys | DI | 15 | 69.3 |
| Simi Fehoko | Cowboys | WR | 3 | 60.0 |
| Kelvin Joseph | Cowboys | CB | 1 | 60.7 |
| | | | | |
| --- | --- | --- | --- | --- |
| Player | Team | Position | Snaps | Grade |
| Paulson Adebo | Saints | CB | 44 | 57.0 |
| Josiah Bronson | Saints | DI | 22 | 43.0 |
| Pete Werner | Saints | LB | 13 | 84.5 |
| Adam Prentice | Saints | FB | 7 | 54.1 |
| | | | | |
| --- | --- | --- | --- | --- |
| Player | Team | Position | Snaps | Grade |
| Joe Tryon-Shoyinka | Buccaneers | ED | 28 | 62.9 |
| | | | | |
| --- | --- | --- | --- | --- |
| Player | Team | Position | Snaps | Grade |
| Jalen Mayfield | Falcons | G | 71 | 61.2 |
| Kyle Pitts | Falcons | TE | 67 | 61.3 |
| Darren Hall | Falcons | CB | 44 | 60.1 |
| Adetokunbo Ogundeji | Falcons | ED | 27 | 40.0 |
| Drew Dalman | Falcons | C | 26 | 47.9 |
| Richie Grant | Falcons | CB | 24 | 46.7 |
| Ta'Quon Graham | Falcons | DI | 22 | 57.7 |
| Avery Williams | Falcons | CB | 5 | 65.9 |
| | | | | |
| --- | --- | --- | --- | --- |
| Player | Team | Position | Snaps | Grade |
| Marco Wilson | Cardinals | CB | 68 | 61.6 |
| Rondale Moore | Cardinals | WR | 23 | 44.0 |
| Zaven Collins | Cardinals | LB | 3 | 25.6 |
| Victor Dimukeje | Cardinals | ED | 1 | 59.7 |
| | | | | |
| --- | --- | --- | --- | --- |
| Player | Team | Position | Snaps | Grade |
| Larry Borom | Bears | T | 76 | 79.3 |
| Khalil Herbert | Bears | HB | 22 | 71.9 |
| Khyiris Tonga | Bears | DI | 18 | 83.3 |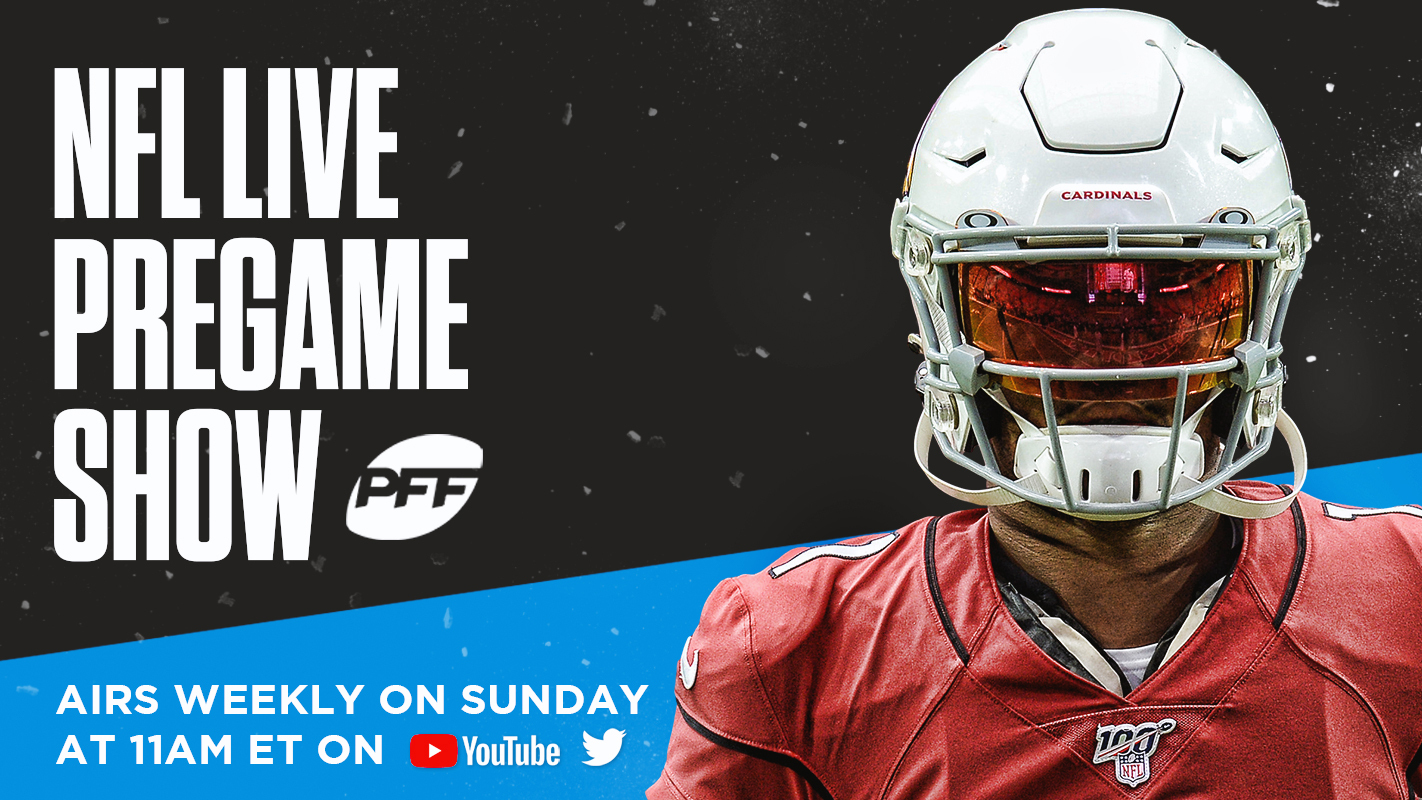 | | | | | |
| --- | --- | --- | --- | --- |
| Player | Team | Position | Snaps | Grade |
| Rashawn Slater | Chargers | T | 64 | 74.0 |
| Chris Rumph II | Chargers | ED | 31 | 57.2 |
| Josh Palmer | Chargers | WR | 22 | 48.1 |
| Tre' McKitty | Chargers | TE | 16 | 31.2 |
| Amen Ogbongbemiga | Chargers | LB | 2 | 67 |
| Nick Niemann | Chargers | LB | 2 | 46.3 |
| | | | | |
| --- | --- | --- | --- | --- |
| Player | Team | Position | Snaps | Grade |
| Trey Hill | Bengals | C | 75 | 55.8 |
| Ja'Marr Chase | Bengals | WR | 72 | 63.9 |
| Cameron Sample | Bengals | ED | 23 | 72.4 |
| Jackson Carman | Bengals | G | 11 | 77.9 |
Subscribe to PFF Edge to continue reading
Already have a subscription? Sign In