The Tennessee Titans are well represented on PFF's NFL Week 12 Team of the Week. Ryan Tannehill, A.J. Brown and Ben Jones all earned high enough marks to earn a spot on the list. Cornerback Adoree' Jackson also made the list in the FLEX spot. Check out all of the Titans players and the full list below.

PFF's NFL Team of the Week series features game grades and advanced statistics for the NFL's top players at every position in a given week. All of PFF's ELITE subscribers have access to game grades, advanced statistics, positional snap counts and more in Premium Stats. All of PFF's grades and advanced stats from this week and every other week this upcoming NFL season are made available to ELITE subscribers within 24 hours of the final whistle.
[Editor's Note: All of PFF's advanced stats and grades for every NFL player are made available in PFF's ELITE subscription. Subscribe today to gain access!]
Offense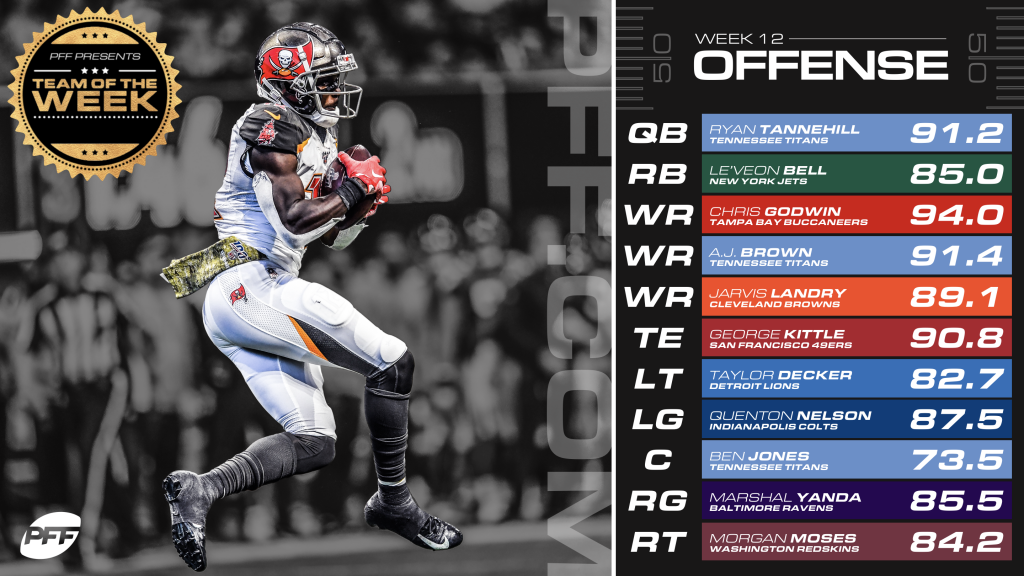 Tannehill was the NFL's best quarterback in Week 12. He made multiple plays with his legs and was nearly mistake-free through the air. He finished the week with an 87.5% adjusted completion percentage that led all quarterbacks with 10 or more dropbacks in Week 12.
Bell hauled in all five of his targets for 59 yards and three first downs in the Jets' blowout win over the Raiders this weekend. He finished the contest with a 92.1 PFF receiving grade and an 85.0 overall grade. He also totaled 35 of his 49 rushing yards after contact and forced two missed tackles on the ground.
Godwin caught seven of his eight targets for 184 yards and two touchdowns against Atlanta, including four first-down receptions and 65 yards after the catch. He also forced two missed tackles after the catch and finished the game with a perfect 158.3 passer rating when targeted.
Brown hauled in four of his five targets for 135 yards, including a 65-yard touchdown. He also forced two missed tackles after the catch, recorded a 158.3 passer rating when targeted and earned a 91.1 PFF receiving grade for his efforts.
An ankle injury couldn't keep Kittle off PFF's NFL Week Team of the Week. The third-year Iowa product hauled in all six of his targets for 129 yards and a touchdown against Green Bay on Sunday Night Football. He also recorded a perfect 158.3 passer rating when targeted.
Landry was spectacular in his revenge game against the Dolphins. He caught 10-of-13 targets for 148 yards and two touchdowns on the day, including seven first-down receptions and 22 yards after the catch. He also came down with four of his five contested targets in the game.
Decker earned an impressive 82.7 overall grade along with an 81.4 pass-blocking grade and a 79.7 run-blocking grade against the Redskins in Week 12. He allowed zero total pressures across 45 pass-blocking snaps in the contest, as well. He enters Week 13 ranked inside the top-15 in overall grade among qualifying offensive tackles.
Nelson is a frequent flyer in PFF's weekly Team of the Week articles. The second-year Notre Dame product is on pace for one of the best two-year starts we at PFF have ever seen from a guard. Against the Texans on Thursday, Nelson earned a position-high 87.5 overall grade and allowed zero total pressures across 31 pass-blocking snaps.
Jones led all centers in overall grade in Week 12 at 73.5. He allowed just one pressure across his 22 pass-blocking snaps and earned a top-five run-blocking grade among qualifiers at his position.
Yanda allowed zero pressures and earned an impressive 79.1 run-blocking grade in the Ravens' blowout win over the Rams on Monday Night Football.
Moses was a road grader against Detroit on Sunday. He earned a 90.6 run-blocking grade, which is far and away his best single-game mark of the season. In fact, Moses hasn't earned a single-game run-blocking grade above 90.0 since Week 6 of his 2017 campaign.
Defense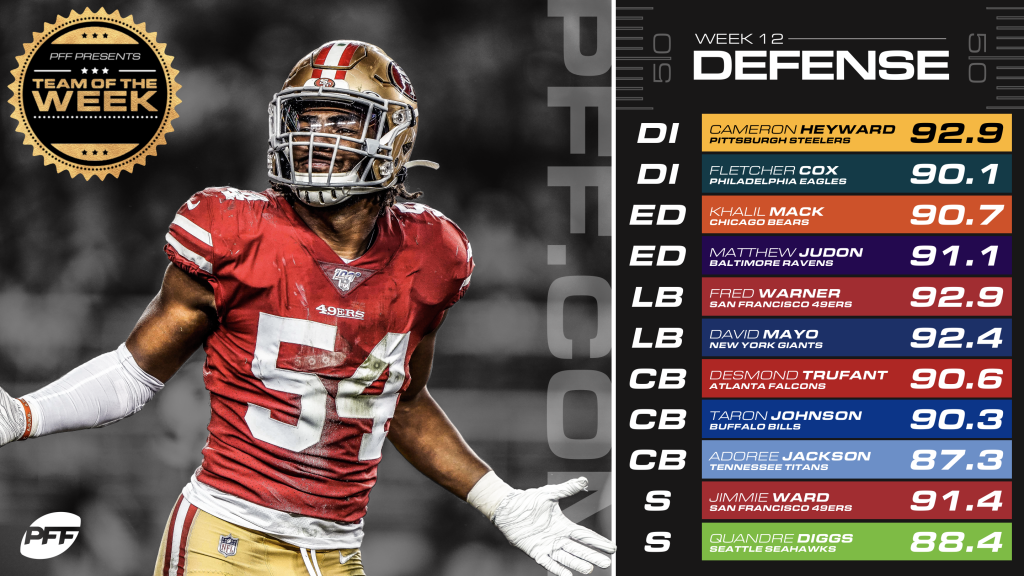 Hayward was a one-man wrecking crew against the Bengals on Sunday. He recorded five total pressures, including a sack, and tallied three additional stops in run defense. He also recorded a 92.6 run-blocking grade on the day.
Cox recorded two pressures and three additional pass-rush wins in the Eagles' 17-9 loss to the Seahawks on Sunday. He earned an impressive 90.1 overall grade and 90.8 pass-rush grade in the process.
Mack was dominant in the Bears' win over New York this weekend. He recorded eight total pressures, including a strip-sack, against the Giants. He also recorded three defensive stops and a 90.5 PFF pass-rush grade.
Judon recorded three total pressures, including an impressive strip-sack, in the Ravens' 45-6 win over Los Angeles on Monday. He earned a 91.1 overall grade and a 91.0 pass-rush grade in the process.
Warner played at a different speed than everyone on the football field Sunday night. Not only did he lead all off-ball linebackers in overall grade in Week 12, but he led all defensive players, as well. Warner earned a 92.9 overall grade against Green Bay, recording three total pressures and nine defensive stops in the process.
One of few bright spots in the Giants' 19-14 loss to Chicago, Mayo recorded a 92.4 overall grade across 36 defensive snaps on Sunday. He recorded six defensive stops and one pass breakup on his one target in coverage.
Trufant allowed just one reception from three targets for eight yards and recorded a pass breakup. However, his best play was his interception in coverage against Mike Evans. He jumped in front of an ill-advised Jameis Winston pass for an easy pick early in the contest.
Johnson — Buffalo's primary slot cornerback — allowed just one reception for zero yards from two targets against the Broncos on Sunday. He recorded a pass breakup and a 90.4 coverage grade in the process.
Ward allowed just two receptions for three yards against Green Bay Sunday night. He also recorded two pass breakups, including a diving tip of the ball on a third-down pass intended for Davante Adams.
Diggs finished Sunday's game against Philadelphia with an 89.1 coverage grade and an 88.4 overall grade. He allowed zero receptions in coverage, recorded one defensive stop and forced a fumble in the contest.
Jackson earned an 85.9 PFF coverage grade against Jacksonville on Sunday. He allowed just five receptions for 30 yards from seven targets. He also recorded one pass breakup and five defensive stops in the contest.
Special Teams