It certainly wasn't a banner game for either offense, but the San Francisco 49ers still came away with a 13-0 victory over the New Orleans Saints in Week 12.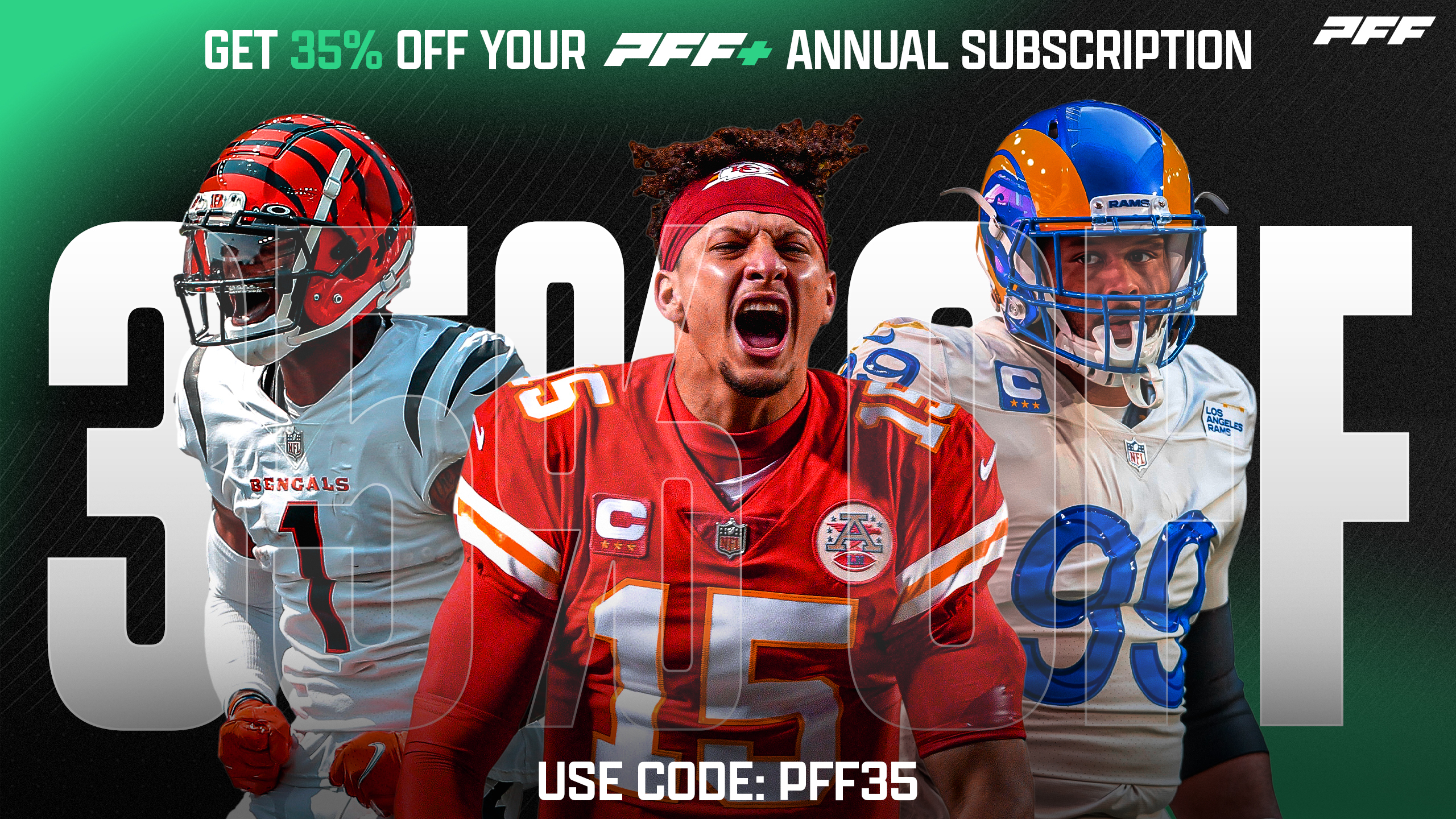 Offensive spotlight: Few tackles in NFL history to stack up with Trent Williams when he's at his best — and Williams was near his best tonight. The veteran tackle earned an 85.1 pass-blocking grade and a 91.0 run-blocking grade on first review.
Defensive spotlight: Niners linebacker Fred Warner made plays in all facets of the game on Sunday afternoon. Targeted three times, he allowed one catch for 20 yards, but he also forced an incompletion on the other two targets. He added three stops against the run and a QB hit as a pass-rusher to cap off a solid all-around display.
Rookie spotlight: New Orleans Saints WR Chris Olave continued his impressive rookie campaign, catching five of his six catchable targets for 62 yards and three first downs. Two of his catches went for 15 or more yards, and he was targeted on a third of his routes run.
Offensive line spotlight: The Saints struggled at points against a stout Niners pass rush, giving up a sack, three hits and eight hurries across 39 pass-blocking snaps on first review.
Box Score
Passing
Player
Fantasy
Comp/Att
Yds
YPA
TD
Int
Sacks
Rtg
Andy Dalton
10.3
18 / 29
204
7.0
0
0
1
83.1
Taysom Hill
3.0
0 / 1
0
0.0
0
0
0
39.6
Player
Fantasy
Comp/Att
Yds
YPA
TD
Int
Sacks
Rtg
Jimmy Garoppolo
13.3
26 / 37
222
6.0
1
0
1
94.7
Rushing
Player
Fantasy
Car
Yds
YPC
TD
Long
Fum Lost
Andy Dalton
10.3
4
21
5.2
0
10
0
Alvin Kamara
9.0
7
13
1.9
0
6
2
Rashid Shaheed
7.9
1
6
6.0
0
6
0
Taysom Hill
3.0
6
13
2.2
0
6
0
Mark Ingram II
1.0
4
10
2.5
0
5
0
Player
Fantasy
Car
Yds
YPC
TD
Long
Fum Lost
Jimmy Garoppolo
13.3
4
4
1.0
0
3
0
Christian McCaffrey
8.9
11
32
2.9
0
9
0
Deebo Samuel
7.3
2
0
0.0
0
3
0
Elijah Mitchell
6.3
7
35
5.0
0
12
0
Jordan Mason
2.5
5
25
5.0
0
9
0
Receiving
Player
Fantasy
Tgt
Rec
Yds
YPT
TD
Long
Chris Olave
11.2
9
5
62
6.9
0
20
Alvin Kamara
9.0
7
6
37
5.3
0
10
Rashid Shaheed
7.9
3
2
53
17.7
0
35
Jarvis Landry
4.0
4
2
20
5.0
0
12
Taysom Hill
3.0
2
1
7
3.5
0
7
Adam Trautman
2.7
1
1
17
17.0
0
17
Tre'Quan Smith
1.8
1
1
8
8.0
0
8
Mark Ingram II
1.0
1
0
0
0.0
0
0
Juwan Johnson
0.0
2
0
0
0.0
0
0
Player
Fantasy
Tgt
Rec
Yds
YPT
TD
Long
Jauan Jennings
16.9
7
6
49
7.0
1
13
Brandon Aiyuk
11.5
8
5
65
8.1
0
27
Christian McCaffrey
8.9
6
4
17
2.8
0
9
Deebo Samuel
7.3
7
3
43
6.1
0
20
Elijah Mitchell
6.3
2
2
8
4.0
0
5
George Kittle
5.6
4
3
26
6.5
0
14
Ray-Ray McCloud III
2.2
1
1
12
12.0
0
12
Kyle Juszczyk
2.2
2
2
2
1.0
0
2