CeeDee Lamb and the Dallas Cowboys' elite pass-rushing unit led the team to a crucial intra-division win over the New York Giants on Thanksgiving by a 28-20 score.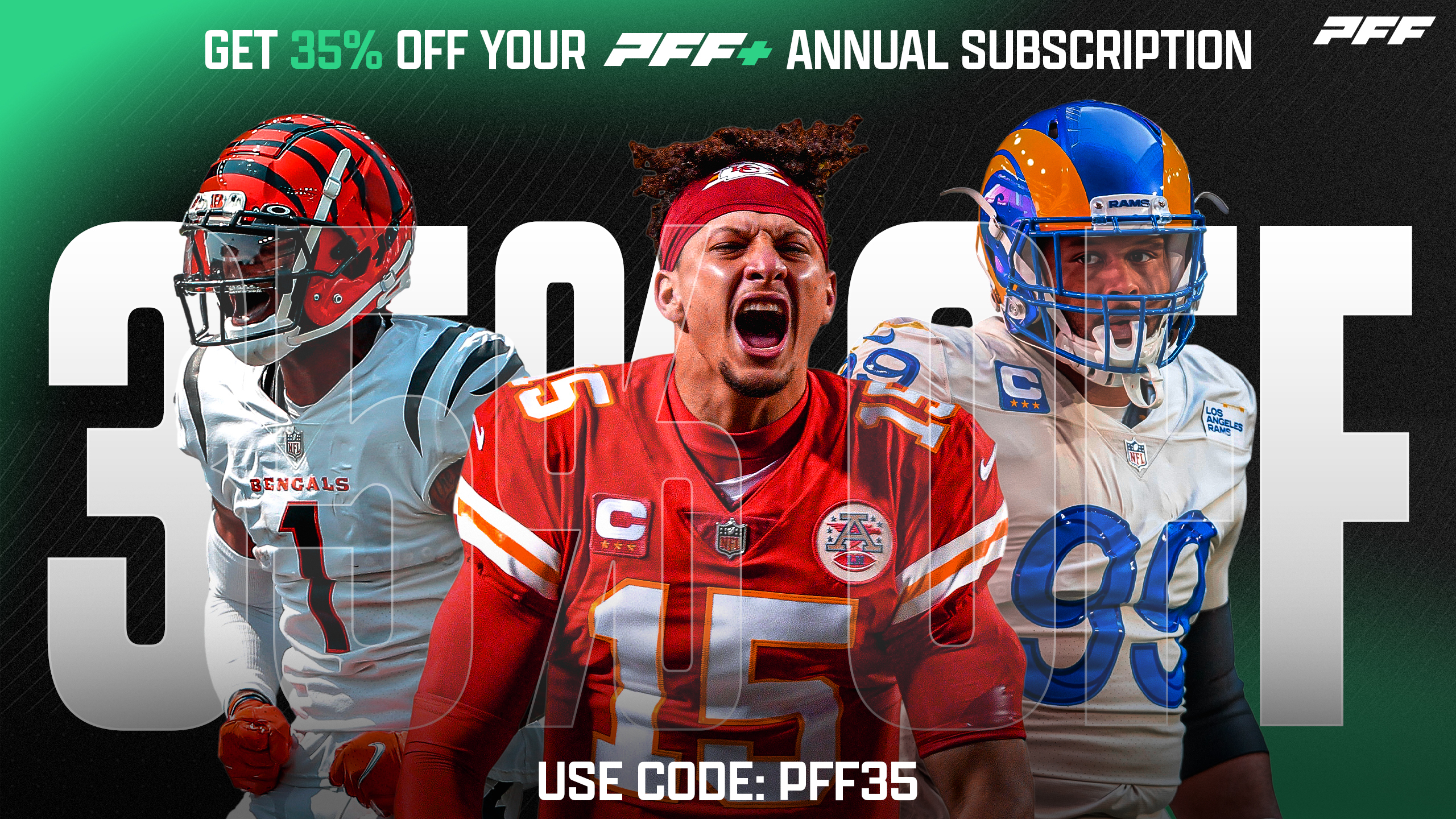 Offensive spotlight: Cowboys wideout CeeDee Lamb put on his best show for an on-looking Odell Beckham Jr., racking up 106 yards on six catches. He brought in three of his six contested targets on the day, including an impressive one-handed grab.
Defensive spotlight: Demarcus Lawrence and Micah Parsons combined for 11 pressures on first review. Parsons came away with two sacks and the better pass-rush win rate, but Lawrence was responsible for seven of those pressures.
Rookie spotlight: Speaking of edge-rushing prowess, Kayvon Thibodeaux recorded a game-high and career-high (if it holds after review) eight pressures on the day. His 23.8 pass-rush win rate led all players in the game.
Offensive line spotlight: The usually elite Andrew Thomas struggled to contain the Cowboys' elite pass-rushers, surrendering four pressures. He had allowed just three pressures in seven games prior to this Thanksgiving showdown.
Box Score
Passing
Player
Fantasy
Comp/Att
Yds
YPA
TD
Int

Daniel Jones

14.52

21 / 35

228

6.5

1

0

Player
Fantasy
Comp/Att
Yds
YPA
TD
Int

Dak Prescott

16.84

21 / 30

261

8.7

2

2
Rushing
Player
Fantasy
Car
Yds
YPC
TD
Long

Saquon Barkley

15.2

11

39

3.5

1

10

Daniel Jones

14.52

3

14

4.7

0

8

Gary Brightwell

6.9

5

31

6.2

0

15

Matt Breida

2.5

2

6

3

0

5

Player
Fantasy
Car
Yds
YPC
TD
Long

CeeDee Lamb

20.7

2

11

5.5

0

12

Dak Prescott

16.84

2

4

2

0

5

Ezekiel Elliott

16.5

16

92

5.8

1

22

Tony Pollard

8.1

18

60

3.3

0

13

Peyton Hendershot

6.2

1

2

2

1

2
Receiving
Player
Fantasy
Tgt
Rec
Yds
YPT
TD

Saquon Barkley

15.2

6

4

13

2.2

0

Richie James P

15.1

6

5

41

6.8

1

Darius Slayton

9.3

6

3

63

10.5

0

Gary Brightwell

6.9

2

2

18

9

0

Isaiah Hodgins

6.1

4

3

31

7.8

0

Chris Myarick

3.3

1

1

23

23

0

Lawrence Cager

3

2

1

20

10

0

Matt Breida

2.5

1

1

9

9

0

Tanner Hudson

2

1

1

10

10

0

Player
Fantasy
Tgt
Rec
Yds
YPT
TD

CeeDee Lamb

20.7

11

6

106

9.6

0

Dalton Schultz

19.1

4

4

31

7.8

2

Ezekiel Elliott

16.5

1

1

3

3

0

Michael Gallup

11.3

8

5

63

7.9

0

Jake Ferguson

8.7

3

3

57

19

0

Tony Pollard

8.1

2

2

1

0.5

0