Sunday brought us another wild day in the NFL, with several huge performances on both sides of the ball. From standouts in the defensive backfield, to big performances on the defensive interior, including Aaron Donald making his usual appearance, here are the players who stood out on defense on Sunday.
S Budda Baker, Arizona Cardinals, 99.7 overall grade
One of the top performances of the year, Arizona Cardinals safety Budda Baker fully justified his rise in playing time with a huge game in the loss to the Houston Texans. Making plays both in coverage and against the run, he finished the game with a 13.0 run stop percentage, with three tackles resulting in a defensive stop from 23 snaps when lined up within eight yards of the line of scrimmage.
CB Casey Hayward, Los Angeles Chargers, 97.5 overall grade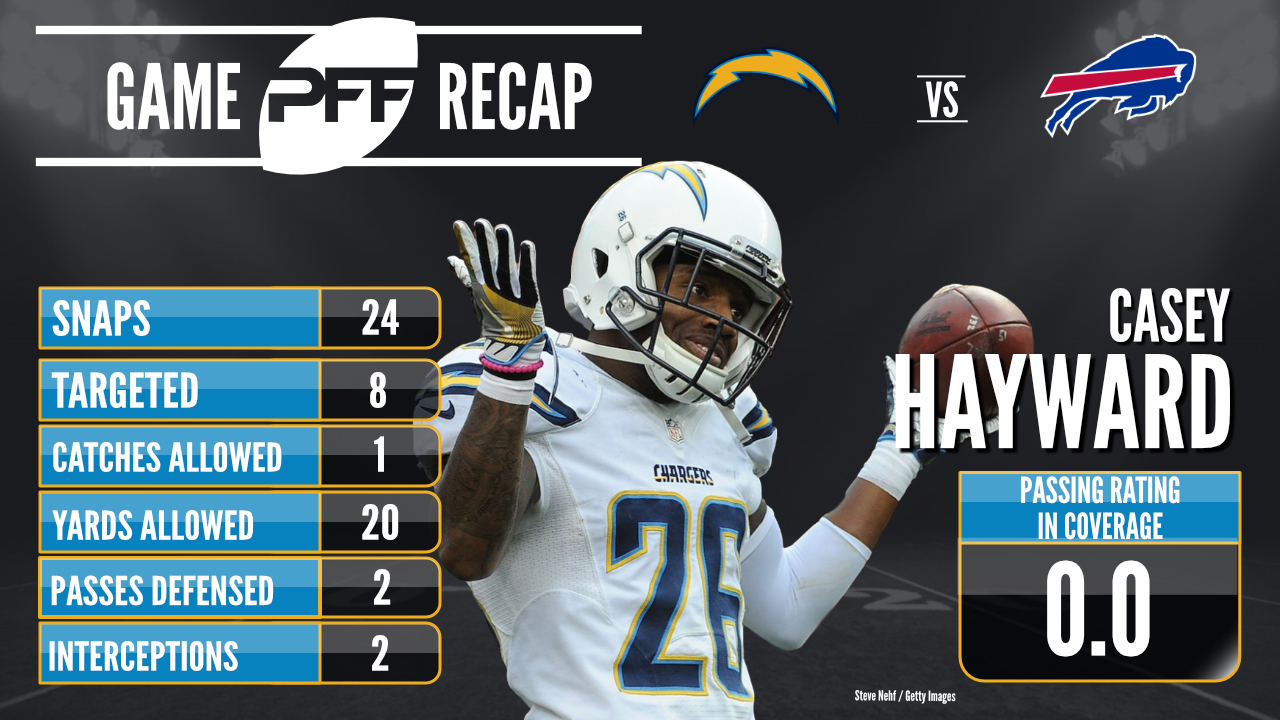 You'll struggle to find a better performance by a cornerback this season than the one by Los Angeles Chargers standout Casey Hayward on Sunday. Targeted eight times on 24 snaps in coverage, Hayward allowed just one reception for 20 yards and had two interceptions. All that adds up to mean he allowed a passer rating of 0.0 on throws into his coverage.
DI Gerald McCoy, Tampa Bay Buccaneers, 94.0 overall grade
The Tampa Bay Buccaneers picked up a 10-point win thanks to a freaky late touchdown as the Miami Dolphins attempted a miracle play, but they were worthy of their win thanks to some key performances, including defensive tackle Gerald McCoy. McCoy racked up a sack, two hits and three hurries on 35 pass rushing snaps, good for a 13.6 pass-rushing productivity rating.
CB Patrick Robinson, Philadelphia Eagles, 92.4 overall grade

The Philadelphia Eagles increased their grip on the NFC East with a road win in Dallas last night, and both of their cornerbacks were key to that. Patrick Robinson is enjoying a big season for the Eagles, and allowed just 0.53 yards per coverage snap yesterday.
CB Bashaud Breeland, Washington Redskins, 90.4 overall grade
Sunday saw another tough loss for the Washington Redskins, but cornerback Bashaud Breeland had another big game. In coverage he allowed five receptions on 10 targets, going for 55 yards, with no touchdowns, resulting in a 66.7 passer rating allowed.
DI Aaron Donald, Los Angeles Rams, 90.3 overall grade
The craziest aspect of Aaron Donald's performance this week is that it was technically a "down game" for the dominant defensive lineman. Even a down game for the Los Angeles Rams standout is impressive though, racking up seven total pressures and producing a 14.6 pass-rushing productivity rating on 36 pass-rushing snaps.
LB Vontaze Burfict, Cincinnati Bengals, 89.8 overall grade
The Cincinnati Bengals picked up the win yesterday and, in an AFC where no team looks like the dominant team for the final wild card spot, they are still in the hunt. Linebacker Vontaze Burfict had a huge game against the run, racking up six tackles resulting in a defensive stop on 27 snaps against the run, giving him a 22.2 run stop percentage.
CB Ronald Darby, Philadelphia Eagles, 89.8 overall grade
Robinson wasn't the only Eagles cornerback who stood out yesterday, with fellow new addition Ronald Darby standing out too. He allowed eight receptions for 74 yards, but with an interception, he allowed an NFL passer rating of just 50.3 on throws into his coverage.
Edge defender Alex Okafor, New Orleans Saints, 89.4 overall grade
Another wild win for the New Orleans Saints saw them keep close to the Philadelphia Eagles in the race to be the number one seed in the NFC, and edge defender Alex Okafor had a big game off the edge. With six total pressures on 24 pass rushing snaps, Okafor produced a pass-rushing productivity rating of 18.8.
S Landon Collins, New York Giants, 88.7 overall grade
A week after a loss to a team who had yet to pick up a win last week, the New York Giants shocked the world with a win over the AFC West leading Kansas City Chiefs, and safety Landon Collins was one of the keys to the game. With two tackles resulting in a defensive stop from 15 snaps when lined up within eight yards of the line of scrimmage, he produced a run stop percentage of 13.3.