Lamar Jackson was the star of the show, but several others also balled out en route to a spot on PFF's NFL Week 10 Team of the Week.

PFF's NFL Team of the Week series features game grades and advanced statistics for the NFL's top players at every position in a given week. All of PFF's ELITE subscribers have access to game grades, advanced statistics, positional snap counts and more in Premium Stats. All of PFF's grades and advanced stats from this week and every other week this upcoming NFL season are made available to ELITE subscribers within 24 hours of the final whistle.
[Editor's Note: All of PFF's advanced stats and grades for every NFL player are made available in PFF's ELITE subscription. Subscribe today to gain access!]
Offense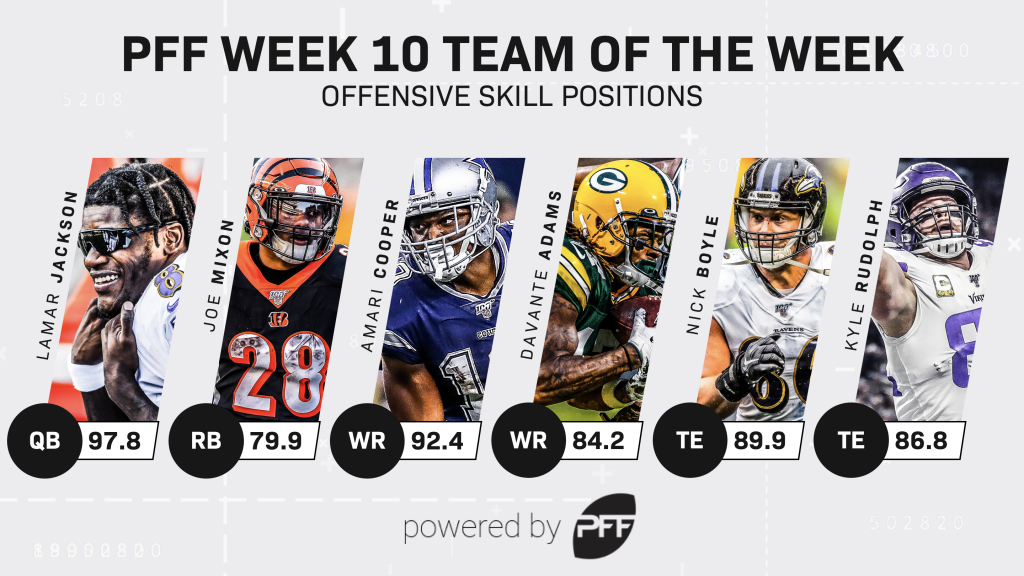 Jackson earned a 97.8 overall grade and a 97.1 passing grade in the Ravens' blowout win over the Bengals on Sunday. He is playing himself into the MVP conversation with his sensational efforts through the air and on the ground.
Though Mixon averaged just 3.8 yards per carry on the ground, he earned a bulk of his yards after contact and forced three missed tackles on the day. He also allowed zero pressures on six pass-blocking snaps. He finished the week with a position-high 79.9 overall grade.
Cooper made multiple toe-tapping snags on his way to a 92.0 PFF receiving grade against the Vikings on Sunday Night Football. He caught 11-of-13 targets for 147 yards and a score when it was all said and done, including eight first-down receptions.
Adams caught 7-of-10 targets for 118 yards and five first downs against Carolina on Sunday. He also earned an 82.2 receiving grade in the contest.
Boyle caught all four targets thrown his way for 78 yards and three first downs against Cincinnati, earning an 89.9 receiving grade in the process. He gained 25 of the 78 yards after the catch and forced a missed tackle in the affair, as well.
Rudolph caught only four passes for 14 yards, but two of his receptions went for scores. His best catch of the day was a one-handed snag at the back of the end zone for six points.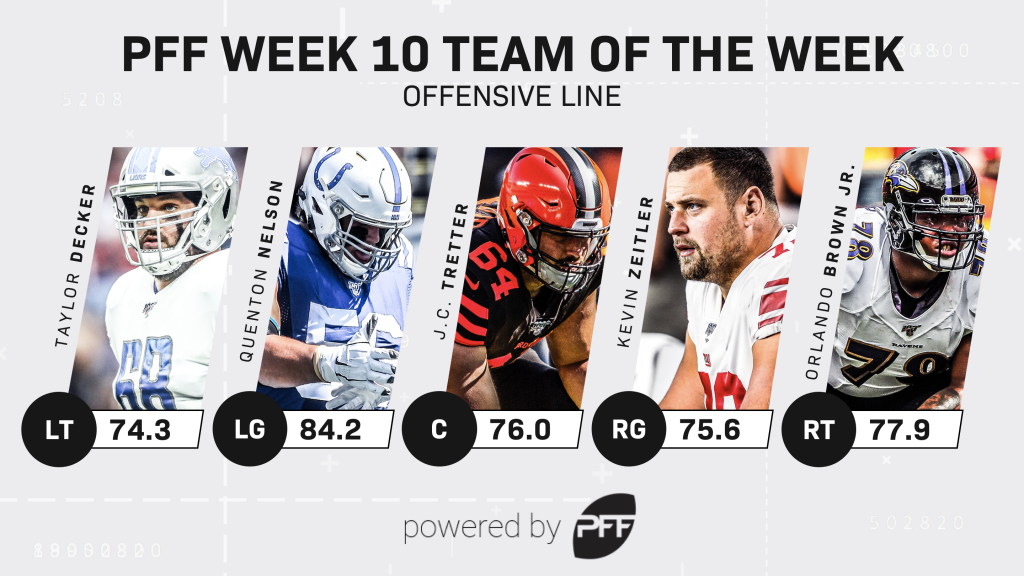 Decker earned a 74.3 overall grade and an 82.9 pass-blocking grade against Chicago on Sunday, allowing zero total pressures across 59 pass-blocking snaps in the process.
Nelson has now earned 70.0-plus overall grades and run-blocking grades in three consecutive games. Against Miami on Sunday, he earned an 84.2 overall grade, 89.6 pass-blocking grade and 77.1 run-blocking grade. He also allowed zero pressures across his 41 pass-blocking snaps.
After signing a contract extension earlier in the week, Tretter turned in a 76.0 overall grade and 79.9 pass-blocking grade against the Bills in Week 10. He allowed just one pressure across 44 pass-blocking snaps and earned a 73.5 run-blocking grade, as well.
Zeitler earned his highest single-game grade of the season (75.6) against the Jets in Week 10. He allowed just two total pressures and earned a 72.3 run-blocking grade.
Brown earned his best single-game run-blocking grade (74.8) of the season and allowed zero total pressures against the Bengals.
Defense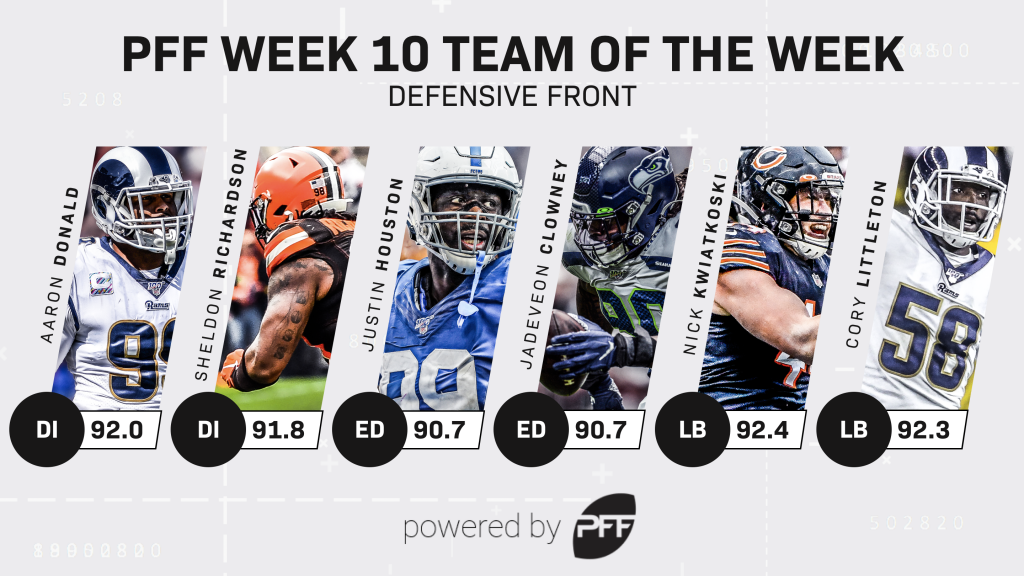 Houston recorded six total pressures against Miami on Sunday, including four hurries, one hit and a sack. He also logged four defensive stops in the affair.
Clowney Was a game-wrecker against San Francisco. None of the 49ers' offensive players stood a chance against the Seahawks edge defender, as he finished with an elite 90.7 overall grade, a fumble-six and multiple pressures.
Donald was his usual game-wrecking self on Sunday. He recorded five total pressures and three defensive stops en route to a 92.0 single-game grade in Week 10.
Richardson recorded three total pressures and two defensive stops against Buffalo this week. He also recorded an impressive 83.7 run-defense grade on the day.
Kwiatkoski played with his hair on fire against Detroit in Week 10. He recorded a 92.4 overall grade and a 90.3 coverage grade across 64 defensive snaps, picking up five total pressures, four defensive stops and an interception in the process.
Littleton continues to fly under the radar as one of the NFL's best coverage linebackers. He recorded five defensive stops, a forced fumble and allowed just three receptions for 16 yards.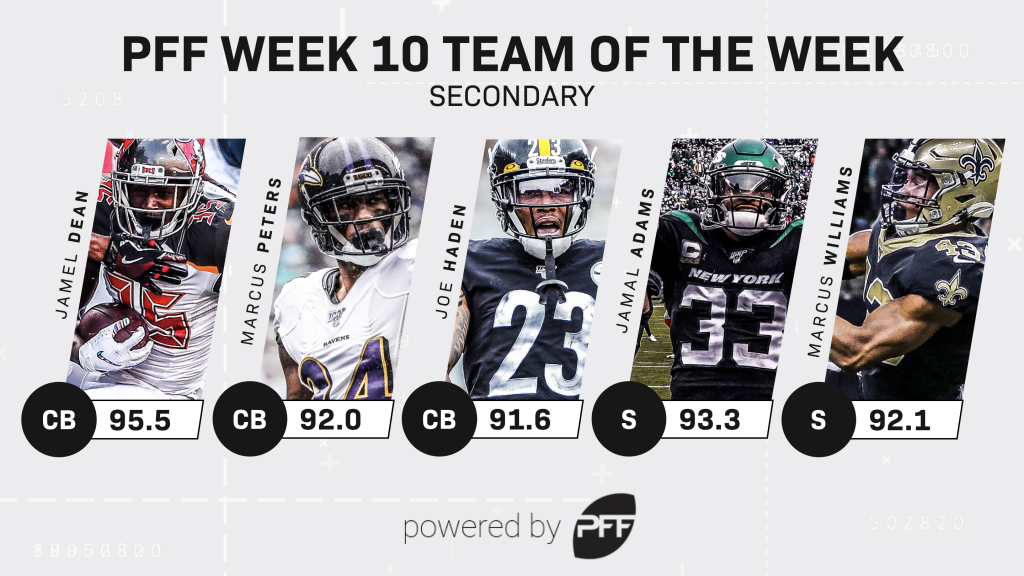 Dean was incredible against Arizona on Sunday. He allowed just one reception for -2 yards from five targets, and he recorded an interception to boot.
Peters led all Ravens defenders in overall grade against Cincinnati, as he recorded a 92.0 overall grade and a 93.4 coverage grade. He baited rookie Ryan Finley into an easy pick-six and allowed just 22 receiving yards on the day.
No safety outplayed Adams in Week 10. He literally stole the ball away from Daniel Jones and returned it for a touchdown in addition to six defensive stops on the day.
Williams recorded two defensive stops, an interception and a pass breakup en route to a 90.4 coverage grade on Sunday. He also allowed zero yards in coverage.
Haden played his best game as a Steeler on Sunday. He recorded a 91.6 overall game and a 90.9 coverage grade against Los Angeles. He allowed just five receptions for 51 yards from 10 targets and recorded three pass breakups in addition to his interception.
Special Teams