PFF previews the 13 NFL games ahead in Week 10, taking a fantasy football and betting approach to offer insight for every NFL fan.
[Editor's Note: ELITE subscribers have access to all of PFF's fantasy football projections, rankings and lineup tools in addition to PFF NFL and College Greenline, an online dashboard with predictions for the spread, total and moneyline for every FBS and NFL game every week. Subscribe today to gain access!]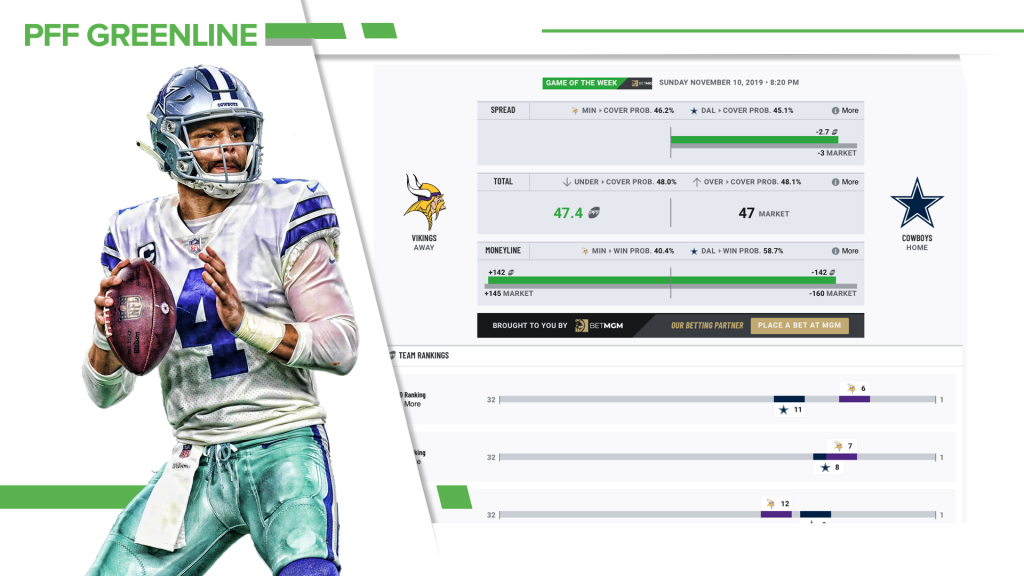 Fantasy Football Preview
Josh Jacobs came into the league touted as an excellent receiver, and maybe he is, but we've seen very little sign of it. Jacobs has had a carry on 54.9% of his snaps played this year (152 of 277)— among running backs with at least 200 snaps played, that's third-most, in the range of noted receiving vacuums Sony Michel (first), Adrian Peterson (second) and Derrick Henry (fourth). But here's the rub: It doesn't really matter. Jacobs has PFF's top rushing grade (90.5) and is sixth in the league in rushing yards. More receiving would be nice, but he's been a fantasy help regardless.
Betting Preview
After opening as a pick 'em, the Thursday night action in California has moved towards the Chargers as one-point favorites. Greenline projects that this line should continue moving towards our 15th-ranked Chargers squad. With two offenses ranked in the top five, we have seen this total continue to move out from the opening 47.5. If it continues to rise Greenline sees value on a certain side on the total, as well. 
Fantasy Football Preview
It hasn't been the rookie season people were hoping for out of David Montgomery when he was going as high as the third round in fantasy drafts, but the rookie has turned things on of late. After not topping 14 PPR points in any of his first six games, Montgomery has put up 24.7 and 22.6 the last two weeks, not coincidentally the first two times all season he's topped a 70% offensive snap percentage. Against a Detroit team allowing the most PPR points per game to running backs this year, Montgomery could keep it rolling.
Betting Preview
This NFC North matchup that had so much more intrigue before the season begin. The Bears have limped forward with the second-worst offensive ranking in the NFL. Bettors clearly aren't overjoyed backing the Bears, as they have dropped from a field goal favorite down to -2.5. If you can stomach backing Trubisky, Greenline leans toward the home favorite with a possible play also developing on the over. 
Fantasy Football Preview
How big a difference can Marcus Peters make? The Ravens DST put up only 4.3 fantasy points per game (fifth-worst) through Week 6. The team acquired Peters in a trade before Week 7, and in two games since (against the potent Seattle and New England offenses, no less), has put up 15.5 fantasy points per game, tied for second and only a hair out of first. Against Ryan Finley making his first NFL start this week, the Ravens DST is a must-stream in fantasy.
Betting Preview
Baltimore dominated our top-ranked team on Sunday Night Football but have been bet down in this week's AFC North matchup against the 32nd-ranked Bengals. After an opening print at 11.5, this number has shifted towards the Bengals and crossed the key number 10. The line is currently sitting at 9.5 points for the home dog. This number falls in line with Greenline projections, but a possible play awaits on the total, which hasn't moved far enough to the downside. 
Fantasy Football Preview
The next time Baker Mayfield throws for multiple touchdowns in a game will be the first time since Week 17 of last year. The Browns are the only team in the league without two touchdown passes in a game all season, and Mayfield is averaging 204 passing yards a game over the last month. This week, he draws a Buffalo defense that has held opposing quarterbacks to under 10 fantasy points in three of their last five games.
Betting Preview
This matchup features two evenly matched teams with both offenses in the bottom half of our league rankings. The Browns have held strong as field-goal favorites with Greenline giving them a 60.4% win probability. Both the spread and total fall in line with Greenline projections, making this game one to avoid from both a viewing and betting perspective. 
Fantasy Football Preview
On the one hand, Matt Ryan is expected to return to action in Week 10 after missing Week 8 and having a Week 9 bye. On the other, the Saints matchup isn't nearly as appealing for fantasy as it was early in the year. The Saints allowed more than 30 fantasy points per game to opposing quarterbacks in Weeks 1-3 but has allowed under 10 per game since. What changed? Well, among other things, Marshon Lattimore remembered he was good. Lattimore struggled mightily in the season's first three weeks, putting up a 58.5 defensive grade and allowing a 140.6 passer rating in coverage. Since then, the Saints got him back to shadowing, and his grade has ballooned to 72.5, while that passer rating allowed has fallen to 44.8.
Betting Preview
Drew Brees is officially back for the second-best team in the NFL. The Falcons hopefully put some things in place to increase their offensive production over their bye week. Bettors have been backing the Falcons early with the Saints opening as two-touchdown favorites. The number has been bet down to -12.5 with Greenline finding little value in the spread or total. 
Fantasy Football Preview
The Jets are the only team in the league to not yet reach 100 points scored on the season. From a scoring perspective, the Jets have been a disaster across the board. They are tied with Washington for a league-low 11 touchdowns, the fewest extra points in the league (7, fewest by 2) and the fewest field goals (5, fewest by 1). The lone area of very mild positive news? The Jets are one of only six teams to convert multiple two-point conversions. Regardless, there isn't much positive to take away from the Jets' offense on the whole, and that filters down to the individual players as well.
Betting Preview
The battle of New York is setting up as a spirited bout between our 31st-ranked Giants and the 29th-ranked Jets. The Jets have the worst offensive ranking in the NFL with the Giants having the second-worst defensive ranking. Something has to give but, unfortunately, this is another spot where Greenline falls in line with current betting consensus numbers. This is another game to avoid from both a viewing and betting perspective. 
Fantasy Football Preview
The Cardinals have had a running back put up a monster game in three of the last four weeks. That's notable, of course, because it's been three different backs — David Johnson (28.2 PPR points) in Week 6, Chase Edmonds (35.0) in Week 7 and Kenyan Drake (26.2) in Week 9. We'll see who the team runs out there for Week 10 (currently it appears Johnson and Drake will be active, but not Edmonds), but either way, things get hard against a Tampa Bay run defense allowing the second-fewest PPR points per game to the position.
Betting Preview
The highest total on the slate, but this number has dropped from an opening 53.5 down to 52 or 51.5 in spots. With both teams passing on 65% of plays, this is a prime spot for fantasy production. The spread is accurately priced, but the total becomes playable if line shopping for the right price.  
Fantasy Football Preview
Very quietly, since taking over as the Titans starter three weeks ago, Ryan Tannehill is the No. 5 fantasy quarterback, less than a point behind Deshaun Watson for fourth. He's thrown for six touchdowns, run for another and is top-eight in the league in attempts, completions and yards. The Chiefs have allowed three of the last four and five of the last seven quarterbacks they've faced to top 20 fantasy points, and if Patrick Mahomes returns, you can expect the Titans to have to pass to keep up.
Betting Preview
The question continues to linger. When will Patrick Mahomes return for the fifth-ranked Chiefs? Currently, the Chiefs are 12th in our offensive ranking with the Titans 18th. If reports are negative on Mahomes' return, we could see this total drop dramatically with Greenline already leaning under 48.5. 
Fantasy Football Preview
Brian Hoyer put up 15.3 fantasy points in relief of an injured Jacoby Brissett in Week 9, the second-most points put up by a backup quarterback in a game all season behind only Gardner Minshew in Week 1. This week, Hoyer (if Brissett can't go) faces a Miami team that has allowed every single quarterback group it has faced all year to exceed its seasonal average, the only team to have done that for any position.
Betting Preview
Miami has now covered in four straight games with bettors piling on the over two touchdowns opening print, pounding the line down to a current -10 price. If hoping to bet this game, it should have been done earlier, but the total has some potential value with more points expected than what the current market projects. 
Fantasy Football Preview
It's easy to be disappointed in Davante Adams' return to the lineup in Week 9 since he only had 41 yards and didn't find the end zone. That said, there were reasons for optimism. Even after a month off, Adams comfortably led the team in targets with 11 (Jamaal Williams was second at 6, and Allen Lazard's 4 was the only other receiver with more than 2) and hauled in seven catches. You'd expect a player of Adams' caliber to turn a 7-of-11 line into more than 41 yards most of the time. Better days are ahead for the first-rounder.
Betting Preview
The Packers still rank fourth offensively despite their struggles to move the ball last week. With both defenses in our top 10 rankings, this total of 47.5 could slide to the under. This is another example of needing to check Greenline early in the week with this total potentially becoming unplayable if the line movement continues from market-leading bookmakers. 
Fantasy Football Preview
Sandwiched around injuries to Cooper Kupp, Josh Reynolds played 40 or more offensive snaps in eight games last year. In those eight weeks, he was WR28 with 319 yards and five touchdowns and 10.8 PPR points per game. No monster lines in there, but definitely relevant for fantasy. He's one of the closest things we have to a wide receiver handcuff in the league, and with Brandin Cooks dealing with yet another concussion, Reynolds could see a big role in Week 10 if Cooks can't go.
Betting Preview
Greenline gives the Rams a 62.5% win probability as 3.5-point road favorites in Pittsburgh. The Steelers have just the 29th-ranked offensive unit, but both defenses in this matchup rank in the top fourth of the NFL. The spread appears well priced, but the total could see some additional movement with Greenline leaning towards the under at the current 44.5 price. 
Fantasy Football Preview
In non-PPR scoring, for non-quarterbacks, 10 fantasy points is a nice threshold for "good game." It means 100 scrimmage yards or 40-plus yards and a touchdown. It doesn't denote a monster outing, but it does signify a player you're never sad you used. After Monday, Ezekiel Elliott has played 48 games in his career and put up 10-plus non-PPR points in a whopping 45 of them, a 93.8% rate that is miles ahead of the next best in the league. Elliott's weekly ceiling might bounce around, but there's no one in the league, maybe ever, with a higher floor.
Betting Preview
Sunday night showcases two teams in contention for playoff spots in the NFC. Both offenses rank in the top 10, and both defenses rank in the top half of the league. This is an evenly matched game with Greenline giving the Cowboys a 58.7% win probability. 
Fantasy Football Preview
In the last 80 years, there have been five examples of an NFL quarterback having at least 10 passing touchdowns and one or zero interceptions: Steve Young (10/0) in 1987, Damon Huard (11/1) in 2006, and Josh McCown (13/1) in 2013 are three of them. The other two are this year, with Patrick Mahomes sitting at a 15/1 line and Russell Wilson running roughshod over the league at 22/1. Odds are heavily stacked against either of this year's examples making this work all season long, but it's been a good run so far. Against a San Francisco defense that is one of four in the league with double-digit interceptions, Wilson faces his toughest test yet in Week 10.
Betting Preview
Monday Night Football features a matchup of the two teams atop the NFC West. The 49ers opened as touchdown favorites but have slid down to -6 with Greenline leaning towards the Seahawks. The total could continue to move with no real discernible value at the current 46.5 price. An intriguing play could be the Seahawks moneyline if found at +230 or better.