F.I.G.H.T.
That is the Washington Football Team's "culture statement" as they head into a 2021 NFL season with expectations loftier than they've been in some time. It's an acronym, which stands for family, impact, growth, honor and trust.
But it also serves as a reminder of what every player on the roster must do every day in an effort to get back to the playoffs. Head coach Ron Rivera had to fight cancer throughout the 2020 season, his first in Washington, and fight he did — all the way to the team's first postseason appearance since 2015.
Guided by Marty Hurney and Martin Mayhew, Washington's front office added a ton of talent to the roster during the 2021 offseason, particularly on offense. And in their quest to get better on that side of the ball, they left no stone unturned.
Enter tight end Sammis Reyes.

Click here for more PFF tools:
Fantasy Draft Kit | PFF Betting Dashboard | PFF Fantasy Rankings
PFF Fantasy Projections | NFL Premium Stats | Win Totals Tracker
---
The first Chilean-born player in NFL history, Reyes fought his way onto Washington's 53-man roster after a 10-week crash course via the NFL's International Player Pathway Program. A former college basketball player at Tulane University, the newly minted Washington tight end draws his daily inspiration from the legendary Kobe Bryant. And he has clearly implemented Bryant's teachings throughout his remarkable journey to the NFL.
Family
Reyes had never played a snap of organized football before this year's preseason. In fact, he said he never saw the sport growing up and estimated his native Chile has maybe eight organized football teams. His family has never seen him play or even practice football.
Even so, Reyes has made a new home in Washington. Reyes' stateside family — his girlfriend Nicole and her relatives — reside in Washington, making his decision to sign there easy.
"I feel at home. This is my home now. I couldn't be more happy and thankful for the opportunity that Washington gave me." Reyes told PFF in an interview last week, going on to say that the coaches and personnel staff were upfront about the fact he'd never played but expressed their belief that his rare physical abilities made him a perfect developmental player. "Everybody … they were real. They were honest."
While his development is ongoing, Reyes has already carved out a role in this offense and made the 53-man roster.
The Washington Football Team family has recently undergone some sweeping changes in an effort to create a stronger culture, a culture that Reyes feels is genuine and encouraging. "The team started doing things in a new way," Reyes said. "A more proactive and advanced way of thinking that I really believed in."
Impact
The Santiago native estimates he gets 1,000 messages every day from fans worldwide and children who aspire to follow his path. He doesn't take the notoriety lightly, appreciating what he's been able to accomplish while still focusing his sights on much bigger goals.
"Where I'm from, we're not supposed to do this. We're not supposed to be here. It's been crazy. It's been a blessing. But at the same time, it's a big responsibility that I want to fulfill to the highest level possible because I don't want to be the last Chilean to make the NFL. I want to be the one that opens doors."
On the field, Reyes expects to make an impact in every facet of the game. "There's a lot of ways that teams are starting to use tight ends. The modern tight end is not just a guy that's blocking, but also catching passes and being a big factor in different types of protections."
Reyes also figures to be an asset on special teams. Wherever he can help the team, he's all in.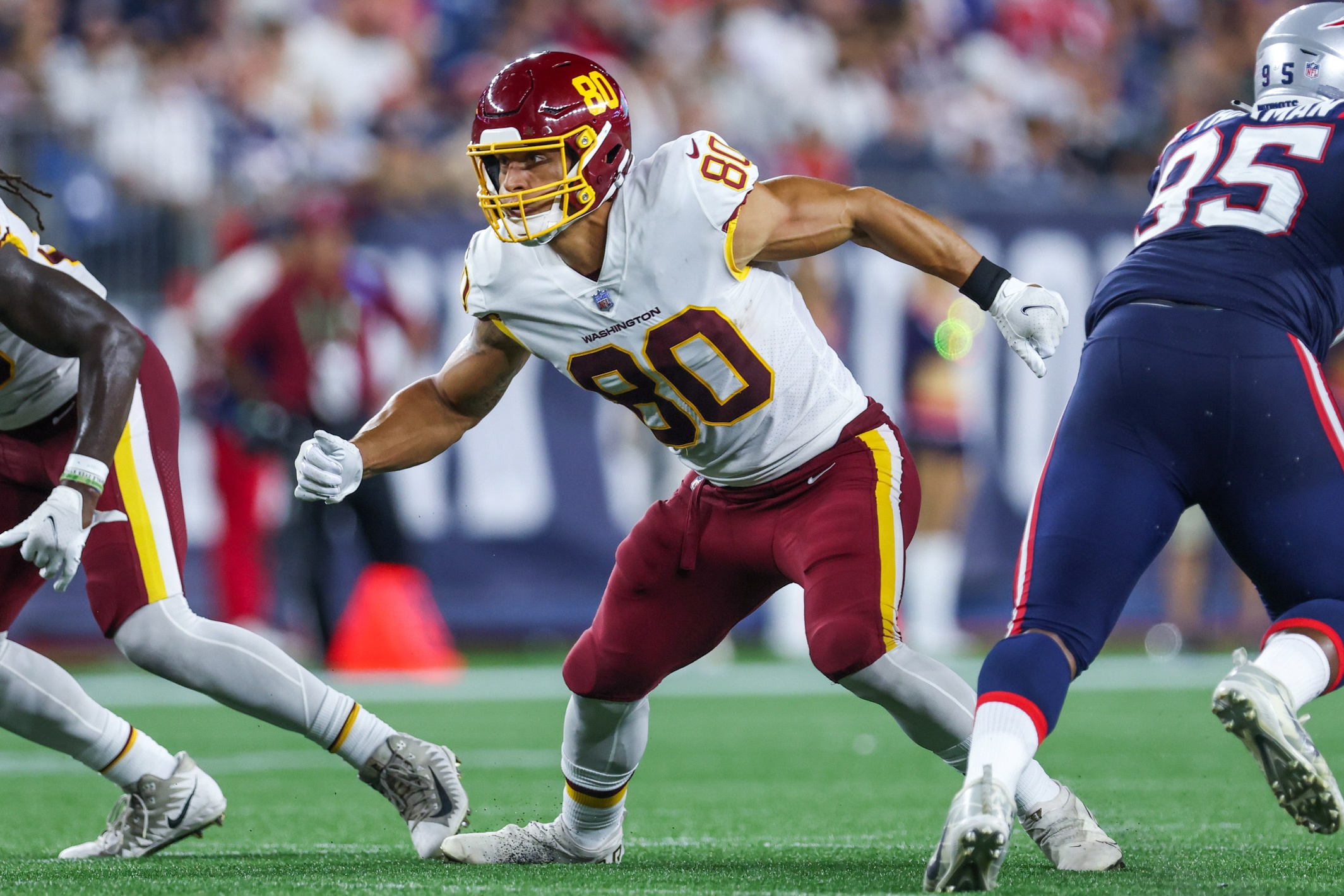 Washington Football Team tight ends coach Pete Hoener has worked with many great tight ends over his career, including longtime Carolina Panthers tight end Greg Olsen, who recently appeared on the Pardon My Take podcast and discussed how tight ends are asked to block like offensive linemen and run routes and catch passes like receivers.
These assignments and responsibilities can be overwhelming, but Reyes has received help from several fellow tight ends, including another Panthers tight end in Chris Manhertz, who also switched from playing college basketball to NFL football.
Reyes tells us that Washington tight end Logan Thomas was the first person inside the building who reached out to him when Washington signed him, and he's the first guy who is there to help him out when he does something wrong.
Thomas was the only tight end in the NFL to play over 1,000 snaps last season and has written his own incredible story with his career. After six years of bouncing around rosters and practice squads across the league, Thomas caught on in Washington for the 2020 season. He played his way into a contract extension signed this July, and at 30 years old, nearly doubled his career on-field earnings with the signing bonus alone.
Thin at the position in 2020, Washington didn't utilize a ton of 12 personnel (15.8%, 20th), but Reyes figures that will change.
He says it will ultimately be up to the coaches to determine how to best utilize his skill set alongside Thomas, 2021 fourth-round pick tight end John Bates and offseason addition Ricky Seals-Jones, but they've practiced a lot of different 12-personnel and 13-personnel looks, if that provides any indication of their desire to get Reyes and Bates on the field sooner rather than later.
---
Growth
At 6-foot-5 and 260 pounds and with a top-quartile result in every athletic test he participated in, Reyes' potential for growth appears limitless.
Before the 2021 NFL Draft, he participated in the University of Florida pro day, where he got to work alongside Kyle Pitts and compare his athletic abilities to the eventual top-five pick.

"Honestly, it worked out perfectly for me because all the eyes were on the tight ends. Every single team sent at least one scout out there."
Luck is what happens when preparation meets opportunity — and Reyes embodies that quote in every way.
"Sometimes you hear in the media … that football players are dumb or stupid … and that's the furthest thing from the truth," Reyes explained. "Football is a complicated game. It takes a lot of mental ability to be able to digest the amount of information that we have to digest. I could show you my playbook … it's a big playbook. You have to know the intricacies of every single play. You have to spend hours watching film. I take my hat off for football players."
Unfortunately for us, but probably smartly on his end, Reyes didn't end up divulging any secrets from the playbook.
The biggest distinction Reyes drew between football and basketball was how all five players on the basketball court are engaged in most plays and active on offense and defense. He discussed how you have to remind yourself that every single rep is important, no matter the result. For example, having the right depth, release and timing on a route can get somebody else open.
"It always comes down to the film … you know every single thing you do on there, the coaches will see. That's something that's been impressive for me to learn — that it's really eleven guys doing the best we can to allow one guy to get the ball … everybody is going to have an influence on every single play."
---
Honor
While it's certainly an honor for Reyes to have made the 53-man roster in Washington after never having played organized football a day in his life, the honor was earned, not given. Before he got his NFL shot, he used to deliver food for the app DoorDash and would listen to instructional videos breaking down defensive concepts in football or strengthen his mindset with motivational listening.
For someone with such freaky athletic abilities, the emphasis he places on the mental aspects of training may be the true reason he was able to make his meteoric rise in such a short time. Reyes says he's always had confidence in himself and his abilities, but his first preseason game against the New England Patriots is when he knew he belonged in the NFL.
Washington Football Team tight ends: PFF grades by facet, preseason Week 1
| | | | | |
| --- | --- | --- | --- | --- |
| Name | Snaps | Overall grade | Receiving grade | Run-blocking grade |
| Logan Thomas | 14 | 80.0 | 81.2 | 59.6 |
| Sammis Reyes | 33 | 69.8 | 65.4 | 76.2 |
| John Bates | 24 | 63.9 | 64.8 | 55.7 |
| Ricky Seals-Jones | 18 | 54.2 | 55.5 | 55.8 |
| Temarrick Hemingway | 21 | 32.9 | 49.3 | 47.5 |
He references his two receptions in that game and a few solid blocks he executed, which caused him to look at himself and reflect: "I belong here. I deserve to be here. I'm not just some feel-good story. I truly belong here."
---
Trust
Reyes' sky-high level of self-confidence — which comes without an ounce of arrogance — and his desire to be great is infectious. His trust in himself stems from a very simple philosophical approach we'd all stand to benefit from emulating: put in the work every day to get better, and the rest will take care of itself.
"I just lock in on what they ask of me, whatever that is, and just play my role to the best that I can." This sense of trust and belief that everyone is working together to be the best they can be is emblematic of a new culture in Washington that Reyes says is very genuine and noticeable.
It's more than that, though. Reyes just seems to trust that he's where he's supposed to be, and by getting 1% better every day, there is no ceiling on what he can accomplish.
However, there's still one thing Reyes says he can't be trusted to do. Unlike Reyes' teammate, Logan Thomas — the starting quarterback for Virginia Tech from 2011-13 who entered the NFL as a signal-caller before converting to tight end in 2016 — don't expect Reyes to drop back to pass any time soon.
"I can shoot a basketball," Reyes says while mimicking his jump shot form over Zoom, "but don't make me throw the ball ever, please."
Well, after leaving Chile to play college basketball only to find a home in Washington, D.C., as the unlikeliest tight end in the NFL, I suppose it's only fair that there is at least something in his life he is not great at.