With the sheer amount of talent lost to the 2021 NFL Draft and a number of the nation's top programs welcoming new starting quarterbacks, few knew what to expect from the 2021 college football season.
But we now have (almost) a full week of action in the books, so it's time to look ahead to Week 2 and update my top 25 rankings.
Below is how I'd order the top 25 teams after Week 1. Please note that this top 25 is not the same as PFF's ELO Power Rankings.
Editor's Note: This was updated following the conclusion of Ole Miss-Louisville on Monday night. Rank changes from last week are indicated in parentheses.

---
CLICK HERE FOR MORE PFF TOOLS:
Fantasy Draft Kit | PFF Betting Dashboard | PFF Fantasy Rankings
PFF Fantasy Projections | NFL Premium Stats | Win Totals Tracker
---
The Crimson Tide entered the 2021 campaign as a prime regression candidate, but signs of that anticipated step back were entirely absent during the team's 44-13 win against the Miami Hurricanes.
The Tide ranked seventh in the Power Five in expected points added (EPA) per pass play generated, and the defense finished as one of the Power Five's three highest-graded units of the week.
Quarterback Bryce Young's first start had featured pros and cons. He finished with a sub-70.0 passing grade, made a couple of turnover-worthy plays to just one big-time throw and tied for 34th among 50 qualifying Power Five quarterbacks in negatively graded throw rate. He could have been better, but he also could have been far worse. He showcased the tools that made him such a highly regarded recruit and gave us a glimpse of his ceiling as a passer. The most impressive aspect of Young's debut was his ability to evade sacks. Only 1 of his 20 pressured dropbacks ended with him going down.
Alabama looked unbeatable, and Young isn't even touching his ceiling.
Georgia upset Clemson in Charlotte thanks to a stellar defensive effort. Head coach Kirby Smart and company brought the heat, dialing up lethal stunts and blitzes that rattled the Tigers' offensive line and quarterback D.J. Uiagalelei. Georgia led all teams that played against a Power Five program this week in PFF team coverage grade. They finished second in EPA allowed per play, behind only East Tennessee State.
The biggest question mark with this team, however, still remains. Quarterback JT Daniels wasn't asked to do much, averaging a 3.5-yard target depth, a 1.88-second time-to-throw mark and seeing 84.4% of his passing yards come after the catch. When he didn't dump it off quickly, he faltered. Daniels earned a 49.7 passing grade on throws of 10-plus yards for the game. 
JT Daniels' depth of target vs. Clemson
| | | | |
| --- | --- | --- | --- |
| | Behind LoS | 1-9 yards | 10-plus yards |
| Comp/Att | 14/14 | 5/5 | 3/8 |
| Yards | 54 | 35 | 46 |
| TD:INT | 0:0 | 0:0 | 0:1 |
| Passer rating | 82.7 | 95.8 | 17.7 |
| Passing grade | 68.5 | 66.9 | 49.7 |
It quickly became evident that Spencer Rattler's 2020 form is back for 2021, which is both good and bad. He opened up the game by drifting back far too deep in the pocket, ignoring an open running back in the flat and launching a dangerous heave into double coverage that was picked off. He ended up with two turnover-worthy plays overall but still managed to earn an 80.0 passing grade for the game.
Rattler's 2020 campaign was full of highs and lows, culminating in a 92.5 passing grade. And he looks to be on that same path in 2021. His few poor throws played a role in the closer-than-expected finish, but so did a Sooners defensive unit that allowed positive EPA per play and produced the eighth-worst unit grade among Power Five programs in Week 1.
The Buckeyes' strengths and weaknesses are fairly well defined after their minor scare against the Minnesota Golden Gophers in Week 1.
Chris Olave and Garrett Wilson were both productive, with 4.88 and 3.33 yards per route run, respectively, while the pass-rush unit ranked fifth in the Power Five in pass-rush grade. Yet, Ohio State's corners ranked fourth-to-last in the Power Five in pass-rush grade, and new starting quarterback C.J. Stroud had a roller coaster of a performance. His accuracy was shaky, and he finished with more negatively graded throws than positively graded ones. Stroud recorded a quarterback-fault incompletion on over a quarter of his pass attempts, too.
Ohio State will need to improve at quarterback and cornerback to stay in College Football Playoff contention.
The Uiagalelei era of Clemson Tigers football got off to a brutal start, and the offensive line did little to help matters. The sophomore was sacked seven times against the Georgia Bulldogs — the most for a Clemson quarterback in a game in the PFF College era (removing sacks that were the quarterback's fault).
Clemson generated -0.89 EPA per pass on Uiagalelei's pressured dropbacks, but he didn't fare all that much better from clean pockets, recording a 61.0 passing grade and multiple turnover-worthy plays when the pass rush was kept at bay.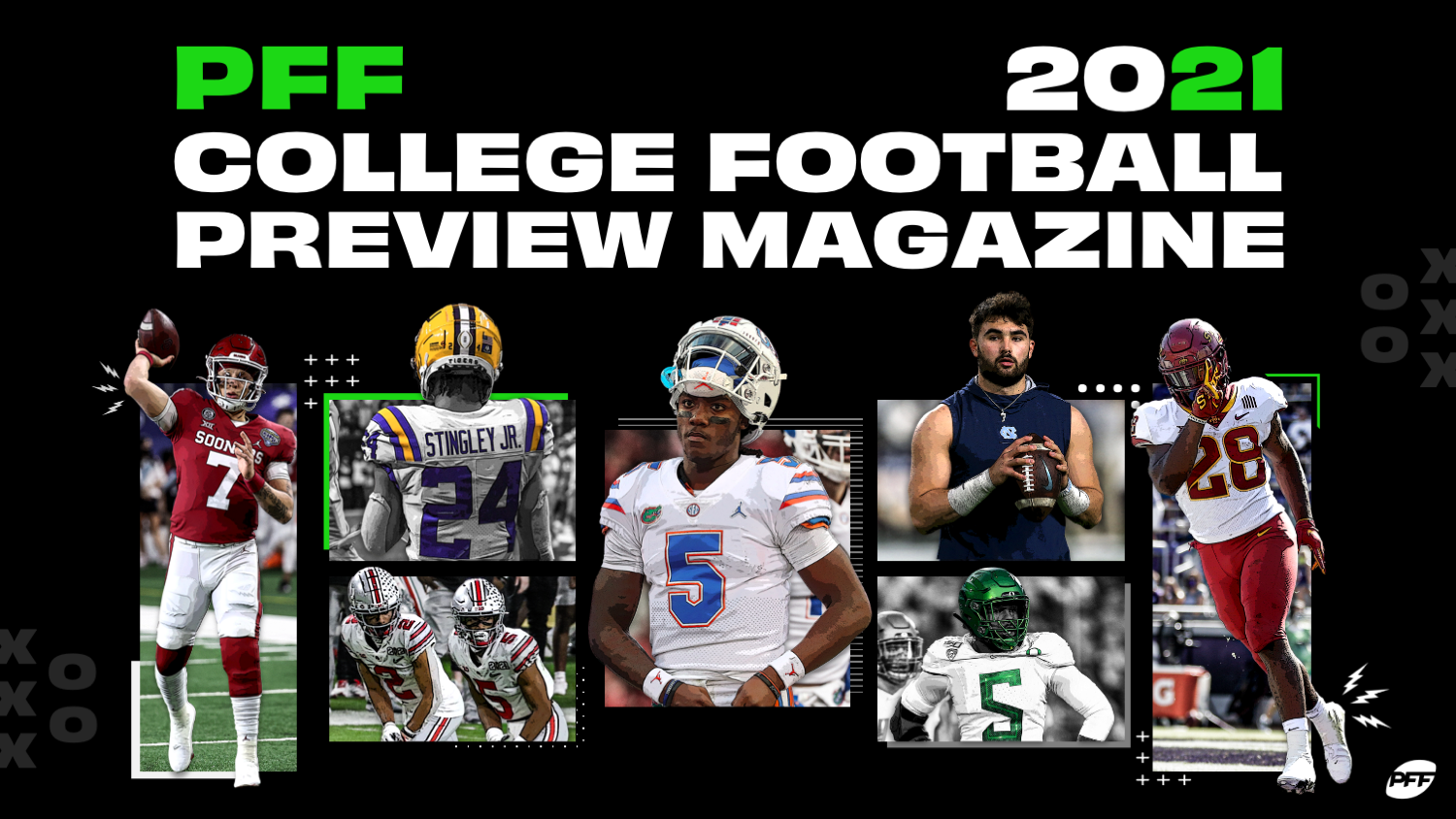 While it was against Miami (OH), quarterback Desmond Ridder and the passing offense looked far better than at any moment in the 2020 season. They generated a successful pass play over 64% of the time — a mark that tops any outing last year.
There were more short, quick pass concepts incorporated than before, and Ridder executed the plan. Sixteen of his 25 pass attempts were within two seconds of the snap, and he completed 15 for 133 yards and two scores. He attempted only one pass between 10 and 19 yards downfield but posted a couple of big-time throws on passes thrown 20 yards or further.
Texas A&M took on Kent State, which has one of the better offenses in the Group of Five. The Aggies still locked up the Golden Flashes' passing attack, allowing -0.38 EPA per pass play — the seventh-best mark in the Power Five. 
The Aggies boast a formidable rushing attack with backs Devon Achane and Isaiah Spiller, but the quarterback position is a different story. The jury is still out on first-time starting signal-caller Haynes King, who earned a 70.4 passing grade and led Texas A&M to negative EPA per pass play against a lower-tier Kent State defense.
Steve Sarkisian's debut as Texas' head coach could not have gone better, with the Longhorns cruising to a 38-18 win over Louisiana. Sarkisian played a huge part in his team hanging a Power Five-best 0.66 EPA per pass play on the Ragin' Cajuns, who fielded one of the nation's best coverage units a season ago. 
While Notre Dame scraped by Florida State in a thrilling overtime win, there were some clear positives to take away. Quarterback Jack Coan led the Fighting Irish to the highest successful pass play rate among Power Five programs for Week 1 (28.6% of plays picked up 15-plus yards). He was excellent at the intermediate level of the field, completing five of seven attempts for 117 yards and one score, with his two incompletions being dropped. His ability to consistently hit the deep ball is still suspect, but he matched his career-high for deep completions in a single game with three against Florida State.
Jack Coan depth of target vs. FSU
| | | | | |
| --- | --- | --- | --- | --- |
| | Behind LoS | 1-9 yards | 10-19 yards | 20-plus yards |
| Comp/Att | 10/10 | 8/10 | 5/7 | 3/8 |
| Yards | 74 | 86 | 117 | 89 |
| TD:INT | 1:0 | 0:0 | 1:0 | 2:1 |
| Adj. Comp % | 100% | 80% | 100% | 37.5% |
Now, the question is whether Coan consistently replicate that kind of performance. Notre Dame's 12 pass plays of 15-plus yards were three more than Coan ever helped create in a game in his college career.
Quarterback Kedon Slovis looked exactly the same against San Jose State as he did in his freshman and sophomore campaigns. He couldn't escape the game without a couple of head-scratching mistakes but played well overall.
Slovis earned an 80.3 PFF grade, featuring four big-time throws and two turnover-worthy plays. He also completed four of his five deep attempts for 107 yards and two touchdowns.
The most encouraging part of USC's 30-7 victory over a quality San Jose State team was the team's cornerback room. The Trojans' corners ranked sixth in the Power Five in coverage grade, with Issac Taylor-Stuart and Chris Steele combining for only one first down allowed in coverage.
Phil Parker has transformed his defense of two- and three-star recruits into a juggernaut. The unit picked apart Michael Penix Jr. and the Indiana Hoosiers this past weekend, allowing a successful pass play just 30.6% of the time. That was the best mark among teams that went up against a Power Five offense.
The Hawkeyes' passing attack was inefficient as expected, and quarterback Spencer Petras finished with a middling 67.6 passing grade. While that was the highest mark of his career, it won't get Iowa past Ohio State for the Big Ten crown.
It was David versus Goliath as quarterback D'Eriq King and the Hurricanes took on the Alabama Crimson Tide in Week 1. And the giant had its way with the ACC program.
King tied for the third-lowest-graded game of his career and completed only four passes over 10-plus yards downfield. Outside of putting pressure on Alabama quarterback Bryce Young via blitzes — which Miami used 56.1% of the time — there was no single facet where the Hurricanes performed even average in.
Next week will tell us more about the gap between Alabama and the rest of the pack, but as of now, there's seemingly only a couple of teams that can even hang with the powerhouse.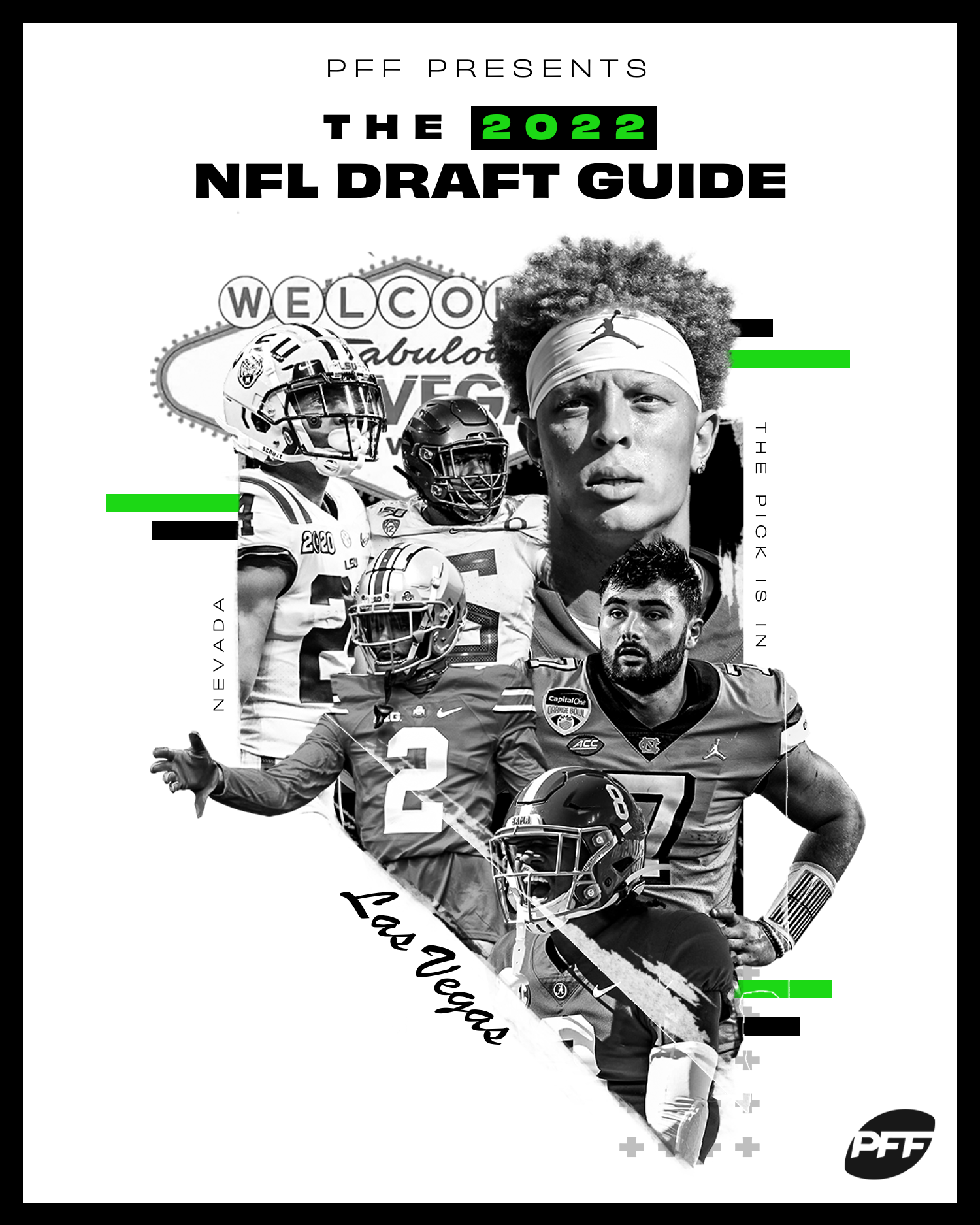 The Ole Miss offense didn't skip a beat with head coach Lane Kiffin out due to COVID-19. They had a successful offensive play on 52.6% of their plays against Louisville, over four percentage points higher than any other offense that played a Power Five program in Week 1. Quarterback Matt Corral was dealing and earned an 88.2 passing grade for the game. He also found a new top target in the post-Elijah Moore era with Dontario Drummond, who earned a 92.8 receiving grade and produced a Week 1-leading seven receptions of 15-plus yards.
Though the most encouraging part of their big win over the Cardinals was their defense. Ole Miss allowed 0.19 EPA per play in 2020, the second-worst in the Power Five. Against Louisville, they held them to negative EPA per play. For reference, they did that only twice in 2020. Ole Miss actually ranked third in the Power Five in team defense grade when looking at just the first half performances.
Dan Mullen finally got his wish: a dual-threat quarterback to lead this Florida team. And Emory Jones lived up to the hype on the ground, tallying four 10-plus-yard gains on 10 rush attempts. Unfortunately, he was all over the map as a passer, finishing with three turnover-worthy plays from a clean pocket en route to one of the worst single-game passing grades among Power Five signal-callers. Florida got the win over FAU, but it wasn't a pretty 21-point victory.
The most efficient offense of Week 1 was none other than the Chanticleers' attack. The Citadel had no chance at stopping quarterback Grayson McCall (86.0 PFF grade), wide receiver Jaivon Heiligh (94.5) and tight end Isaiah Likely (79.9). Heiligh took home PFF's Offensive Player of the Week for his performance. Next week, Coastal Carolina will take on the Kansas Jayhawks, whom they are favored by 27 points over, according to DraftKings Sportsbook.
Virginia Tech set the tone for Week 1's Saturday slate after upsetting 10th-ranked North Carolina in Blacksburg on Friday night. The defense performed admirably against Sam Howell, one of the top quarterbacks in college football, by picking him off three times. Howell produced a career-low passing grade and led the Tar Heels to -0.28 EPA per pass, by far the worst mark of his tenure.
Hokies quarterback Braxton Burmeister performed well on his few dropback opportunities, teaming up for a few explosive plays early on and notching a career-best 86.8 passing grade. The Hokies generally emphasize running the ball, but they were rather inefficient in that facet. Considering the team's slew of receiving threats, it'd be in Virginia Tech's best interest to ramp up its pass play usage.
Howell was gifted with an array of elite weapons as an underclassman, but this year will be decidedly different. Howell's top two wide receivers from last year have taken their talents to the NFL, as have Javonte Williams and Michael Carter, the best running back duo of the PFF College era. Along with that, Howell's top pass-catcher, Beau Corrales, is out to start the season, and No. 2 option Khafre Brown isn't 100%.
Howell needed to prop up the players around him against Virginia Tech on Friday night. Instead, they all fell flat. His pass-catching arsenal was less than inspiring, and Howell crumbled under duress. He let three turnover-worthy plays slip under pressure, resulting in the second-worst grade on pressured dropbacks in Week 1. 
Quarterback Carson Strong endured some lackluster pass protection but still managed to lead an efficient passing offense that was just about able to knock off Cal as a road dog. Strong's big arm shined as he completed both of his 40-plus-yard pass attempts, and he was lights out from a clean pocket.
Carson Strong vs. Cal
| | | |
| --- | --- | --- |
| When Clean | | Under Pressure |
| 18/29 | Comp/Att | 4/11 |
| 273 | Yards | 39 |
| 2:0 | TD:INT | 0:1 |
| 116.0 | Passer Rating | 9.3 |
| 85.6 | Passing grade | 43.1 |
Cal's pass rush is far from formidable, while Nevada's offensive line was widely considered one of the best units in the conference. So, it goes without saying that this was quite a surprise and is something to monitor in the weeks to come.
Penn State came out with an upset win over Wisconsin despite fielding the second-lowest-graded offense in the Big Ten. This speaks volumes about their defensive unit taking advantage of the poor play the Badgers got from their quarterback.
Penn State trailed only Iowa for the highest team coverage grade in the Big Ten in Week 1. As usual, Safety Jaquan Brisker was the star of the show, but edge defender Arnold Ebiketie also made a huge impact. He racked up six quarterback hits in his debut en route to an 85.6 pass-rush grade.
The Cyclones squeaked by Northern Iowa for a 16-10 win in a performance that did little to silence those who believe the program is being overrated. Running back Breece Hall couldn't get any breakaway plays against the Panthers. Across 23 carries, his longest run ended up going for 12 yards.
Quarterback Brock Purdy was sluggish himself, ending the game with zero big-time throws. Overall, the Iowa State offense generated -0.11 EPA per play against an FCS school. It was a massively disappointing offensive performance for an Iowa State team that will face off against in-state rival Iowa next Saturday night.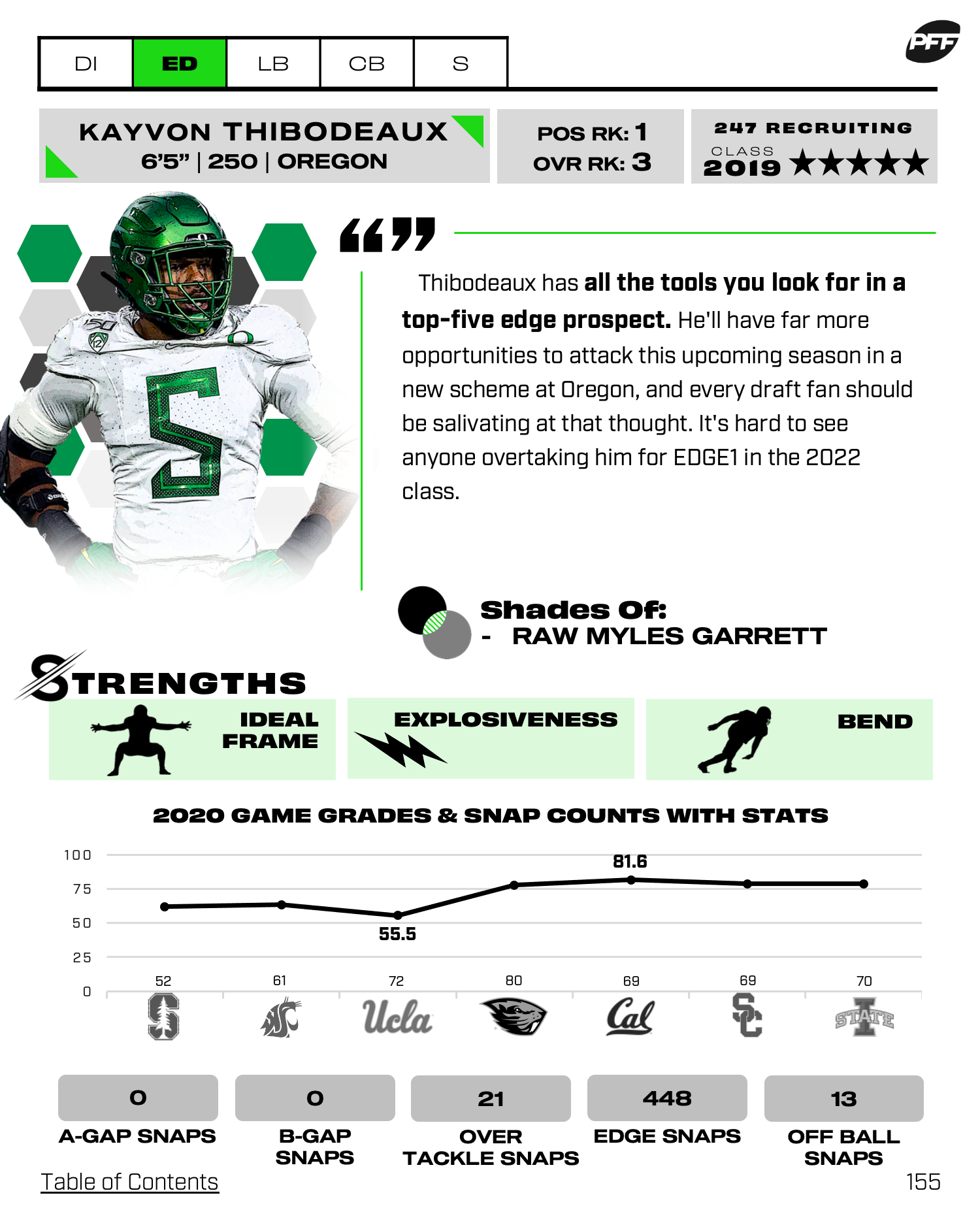 Despite being near three-touchdown favorites, Oregon came out of their home outing against Fresno State with just a 7-point win. And the biggest takeaway from their Week 1 performance was the shakiness at quarterback with Anthony Brown leading the way.
Brown earned a poor 53.7 passing grade and led the Ducks to a second-to-last finish in passing efficiency among Pac-12 programs. On 10-plus-yard throws, he had more quarterback-fault incompletions (four) than completions (three).
It's not going to get any easier for Brown, as Oregon faces off against Ohio State in Columbus next week. And being without star edge defender Kayvon Thibodeaux due to a sprained ankle doesn't help matters, either.
NC State's running back duo Zonovan Knight and Ricky Person Jr. is one of the top tandems in college football, and they helped produce with the fifth-most-efficient rushing attack of Week 1 among Power Five schools.
Knight and Person combined for nine runs of 10-plus yards and 20 broken tackles across 32 carries. That, along with four big-time throws from quarterback Devin Leary, led the Wolfpack to a 45-0 win over the Bulls. It was a good warmup before traveling to Starkville to take on Mississippi State in Week 2.
UCF barely holds onto this spot after their comeback victory over Boise State. They were down to a 22% win probability with five minutes left in the first half, according to PFF's models, before storming back.
Quarterback Dillon Gabriel got off to a rough start in his first game outside of Josh Heupel's offense. He earned the second-lowest passing grade of his career (53.6), buoyed by four turnover-worthy plays. However, one of the more encouraging performances came courtesy of wide receiver Jaylon Robinson, who earned an 80.2 PFF grade for his six-reception, 140-yard and one-touchdown night.
Seemingly everyone on the Auburn football team had themselves a standout day in their 60-10 pummeling of Akron, from quarterback Bo Nix (83.6 PFF grade) to running back Tank Bigsby (88.1 PFF grade) to edge defender Derrick Hall (90.2 PFF grade).
It is worth noting that this came against a Zips team that tied for last in the FBS in PFF ELO entering the week. Next week will be just as easy as the Tigers take on Alabama State.
There were a handful of teams considered for the final spot in the Week 2 top 25, including Liberty, Michigan, UCLA and Utah, but Maryland grabs a ranking for an impressive win over West Virginia.
Quarterback Taulia Tagovailoa played a clean game with three big-time throws and zero turnover-worthy plays, paving the way for an 84.0 passing grade for the game. Fifteen of his 24 completions came behind the line of scrimmage, but he hit the downfield shots when given the green light. He completed four 20-plus-yard throws for 185 yards and two touchdowns. He and wide receiver duo Rakim Jarrett and Dontay Demus Jr. look to lead this Maryland program to a winning record in 2021 for the first time since their Big Ten debut season in 2014.
Fell out of rankings: LSU Tigers, Indiana Hoosiers, Wisconsin Badgers, Washington Huskies