For the first time this season, Trevor Lawrence looked like he belonged at the NFL level. The No. 1 overall pick in the 2021 NFL Draft almost led the Jacksonville Jaguars to an upset win over the Cincinnati Bengals on the road on Thursday Night Football. Lawrence was upstaged late in the game by Joe Burrow, a former No. 1 pick in his own right, who helped consign the Jaguars to their fourth straight loss to open the season, matching the number of times Lawrence tasted defeat in his entire college and high school careers combined.
But did this mark a watershed moment for Lawrence?
---
Click here for more PFF tools:
Rankings & Projections | WR/CB Matchup Chart | NFL & NCAA Betting Dashboards | NFL Player Props tool | NFL & NCAA Power Rankings
---
He still leads the league in turnover-worthy plays, though he didn't add to that total against the Bengals. His performance against Cincinnati looked a lot more like the player he was expected to be during his rookie season — punctuated by big-time throws and impressive runs. The biggest difference between this game and his first three, however, was the absence of catastrophic errors and the presence of a higher degree of efficiency across the board.
Lawrence Weeks 1-3 vs. Week 4
| | | | | |
| --- | --- | --- | --- | --- |
| | PFF Grade | TWP Rate | Uncatchable Pass Rate | YPA |
| Weeks 1-3 | 50.1 | 7.00% | 31.10% | 5.7 |
| Week 4 | 79.8 | 0.00% | 19.10% | 8.5 |
That's not to say Lawrence was mistake-free. He threw a pass to Laviska Shenault Jr. early in the game that was broken up only because the ball was late. "Late"  has been the overriding theme of the first few weeks for Lawrence in the NFL.
Heading into Thursday night, 31.1% of his pass attempts this season had been uncatchable, which was the highest rate in the league outside of Chicago Bears quarterback Justin Fields, whose accuracy wasn't helped by running for his life on seemingly every snap against Myles Garrett and the Cleveland Browns in Week 3.
But Lawrence didn't just forget how to hit a target between Clemson and the NFL. Rather, those passes were being rendered uncatchable because of his tendency to be late on throws, resulting in windows that were closed by the time the ball arrived. When you couple that with an average depth of target from the first three weeks of 9.7 yards, one of the higher marks in the league, it creates a pattern of minor mistakes that lead to major repercussions. The further downfield a quarterback is targeting on average, the more time the ball spends in the air and the more time defenders have a chance to do something about it.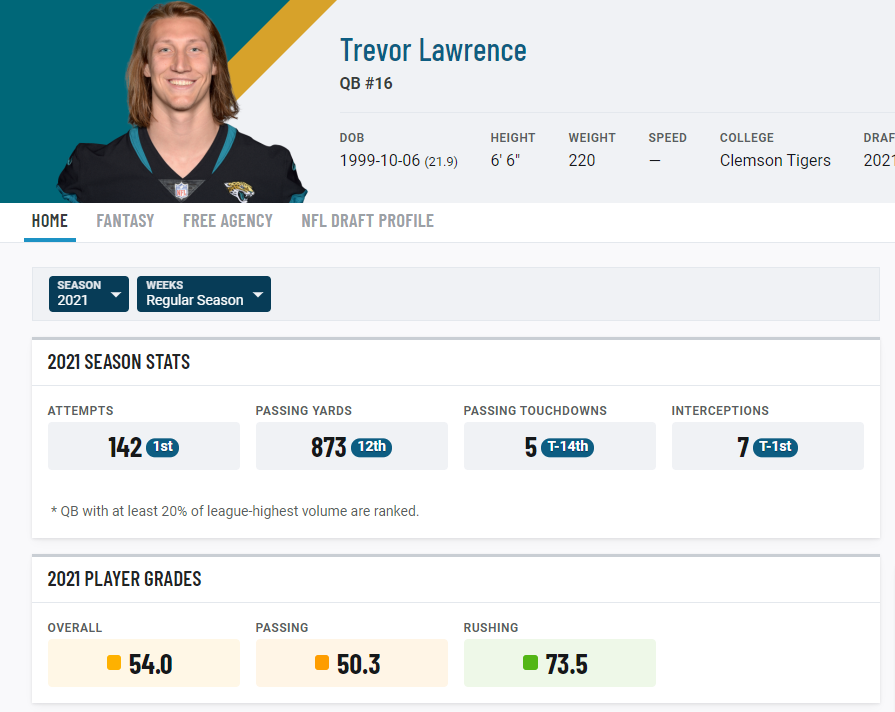 In a weird way, this is actually a good sign for Lawrence and the Jags long-term because it's something that typically improves as rookie quarterbacks adjust to the NFL. The entire concept is such a well-trodden path that it has become a cliche for players to improve once the "game slows down" for them. That describes what needs to happen for Lawrence to go from where he was in the first three games to where he was against Cincinnati. When the game slows down for Lawrence, passes that were half a beat too late leaving his hand are suddenly on time, and they hit their intended window when it is still open.
It wasn't just Lawrence that improved against the Bengals. The offense also gave him more layup opportunities than he had over the first three games, asking less of him on a down-to-down basis.  They generated some easier yardage so that Lawrence could pour gas on flames that were already flickering, not be forced to start the fire all by himself.
Lawrence's average depth of target against Cincinnati was 7.9 yards, almost two full yards lower than it had been coming into the game. His average time to throw on passes where he took a straight dropback was a lightning-quick 2.29 seconds, significantly faster than it had been in the previous three games. The game may have slowed down for Lawrence, but the offense also sped up to attack the problem from both directions.
The next step is to prove it wasn't just a one-time thing — that Lawrence has started to adjust to the speed of the NFL. His potential was never in question, and in virtually every game this season there has been a spectacular play to remind people if it ever was, but the key to his progress is reducing mistakes, exactly as he did this week.
It's too soon to definitively say if the former college superstar turned a corner in Week 4, but all he needs to do to prove he has is repeat that performance.