It's easy to get numb to how unique the 2021 NFL Draft class is. Outside of the quarterback position, not only have there been zero potential busts at the top of the class, but these first-year stars have played elite football at times this season.
This draft could rival 2011 in terms of potential Hall of Fame talent when all is said and done.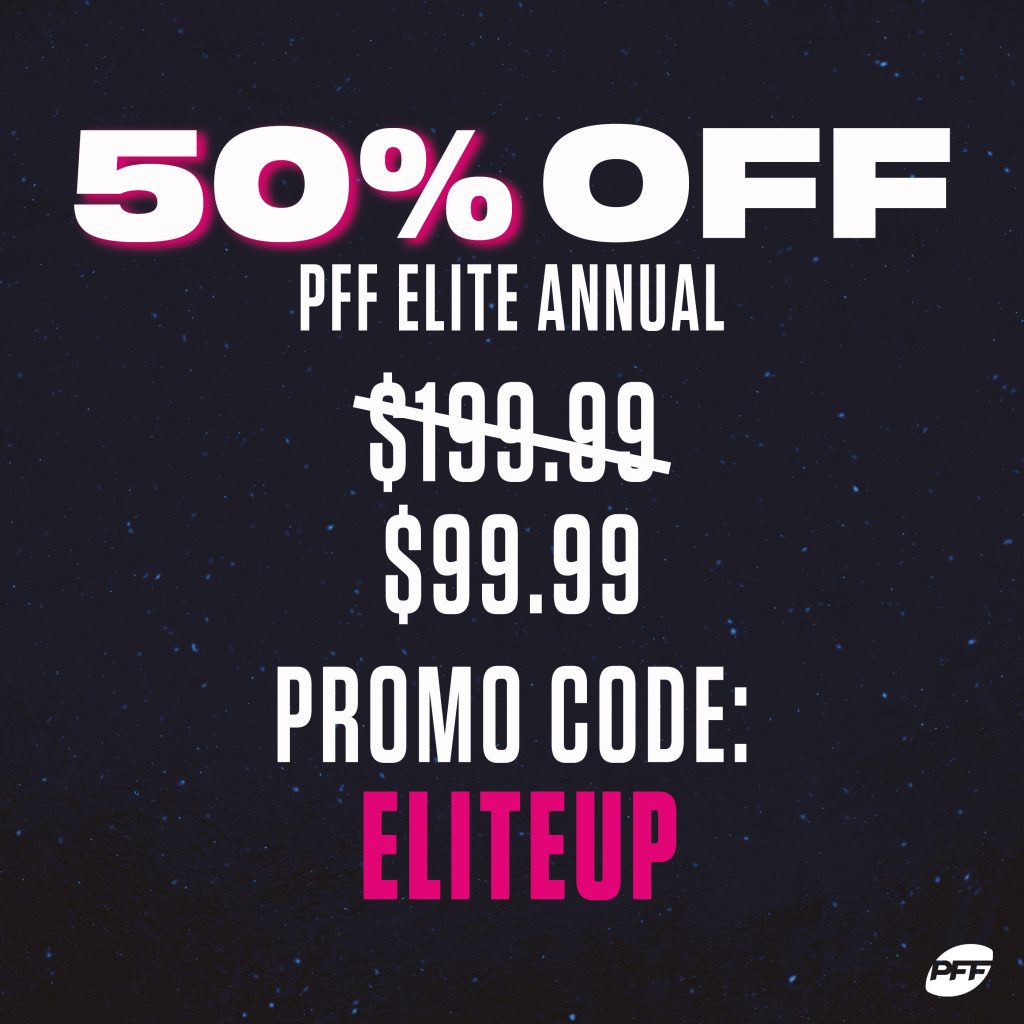 Click here for more PFF tools:
Rankings & Projections | WR/CB Matchup Chart | NFL & NCAA Betting Dashboards | NFL Player Props tool | NFL & NCAA Power Rankings
Best Bets Tool
---
PFF overall grade: 92.2
Despite not making the pro bowl, Humphrey could well be in store for an All-Pro nod soon. I don't think we appreciate how truly unprecedented Humphrey's rise has been — he was a late second-rounder and not even the first center taken in his own draft, yet he established himself as the best center in the NFL almost immediately.
PFF overall grade: 84.8
Parsons' Defensive Player of the Year candidacy is real, and it's only gaining steam with each passing week. He just notched his 13th sack of the season on Sunday night against the Football Team and is now up to 60 pressures on the season. His ability to get after opposing quarterbacks from any alignment has been invaluable for Dallas' defense.
PFF overall grade: 81.4
Waddle is already nothing short of a true No. 1 wide receiver, and Miami hasn't even been tapping into his elite deep speed. He's close to breaking the rookie record with 96 receptions and is 59 yards shy of a 1,000-yard season. He hauled in 10 more passes for 92 yards and a score on Monday night.
PFF overall grade: 81.4
With 102 yards on Sunday, Pitts now has the second-most yards of any rookie tight end in NFL history. He needs 128 more over his final two games to pass Mike Ditka's record of 1,076 yards set all the way back in 1961.
PFF overall grade: 81.1
Holland's streak of five straight games with either an interception or a pass breakup sadly came to an end Monday night against the Saints. It's not really his fault, though, as Ian Book refused to throw downfield to target the rookie safety. Holland has still quite easily been the best safety in the class.
PFF overall grade: 78.9
With the little help he's been given in recent weeks, Jones is finally getting to see how the rest of the starting first-round quarterbacks have lived. He's had four of his five lowest passing grades all season over the past four weeks. This past week against the Bills was his ugliest, as he went 14-of-32 for 145 yards with no touchdowns and two picks.
PFF overall grade: 78.8
Slater was back like he never left on Sunday against the Texans. While many of his teammates put in no-shows, Slater didn't allow a single pressure for the fourth game this season. His pro-bowl nod was more than deserved.
PFF overall grade: 78.6
It's rare to see a slot cornerback this consistent from Day 1 but even rarer for that player to have been drafted in the fifth round. Hobbs was out this past week with COVID-19, but he has been one of the best slot corners in the NFL up to this point. He's allowed just 330 yards — and zero touchdowns — across 467 coverage snaps, with one interception and one pass breakup.
PFF overall grade: 78.5
A week after his lowest output all season, Chase and the entire Bengals offense bounced back in a big way. He went for 125 yards, catching seven of his nine targets. He's now within striking distance of Justin Jefferson's rookie record, although he'll need to average 119 yards per game the rest of the season to get it done.
PFF overall grade: 78.0
The week-to-week consistency at right tackle over the past seven weeks has been a sight to behold. After he was nothing short of a liability at times early on, Sewell has only allowed nine pressures on the right side over that span. That's quite the improvement for only a 21-year-old.
PFF overall grade: 77.4
It was tough sledding on Sunday for the rookie. Against the Raiders, he only gained 12 yards on seven carries. He was hit 0.7 yards deep in the backfield on average, and not many backs will be able to overcome that. Williams still leads all running backs with 58 broken tackles on the season, though.
PFF overall grade: 75.6
Smith isn't in an offense that is conducive to putting up gaudy receiving stats, yet he is still is on the doorstep of a 1,000-yard season. After racking up 80 more yards on Sunday, Smith now needs 179 over his final two games to crack 1,000.
PFF overall grade: 75.0
Paye got to pin his ears back in the second half against Arizona on Christmas Day, and he had his best game in a few weeks. He notched five pressures and a 73.0 overall grade in the Colts' win.
PFF overall grade: 74.1
With linebackers getting picked on in coverage league-wide, it's been amazing to see how stingy a rookie second-rounder has been at the position. On 277 coverage snaps this season, JOK has only allowed 144 yards.
PFF overall grade: 73.4
A newcomer to the list, St. Brown has been quite easily the Lions' most reliable receiver the past four weeks. He now has 43 targets, 37 catches and 340 yards over the past four weeks. While he's getting featured a lot underneath out of the slot, he's still making the most of those targets.