We're only two weeks away from crowning our offensive and defensive rookies of the year. While second overall pick Nick Bosa has the defensive side of the ball all but wrapped up at this point, there's a trio of skill position players vying for the award on offense.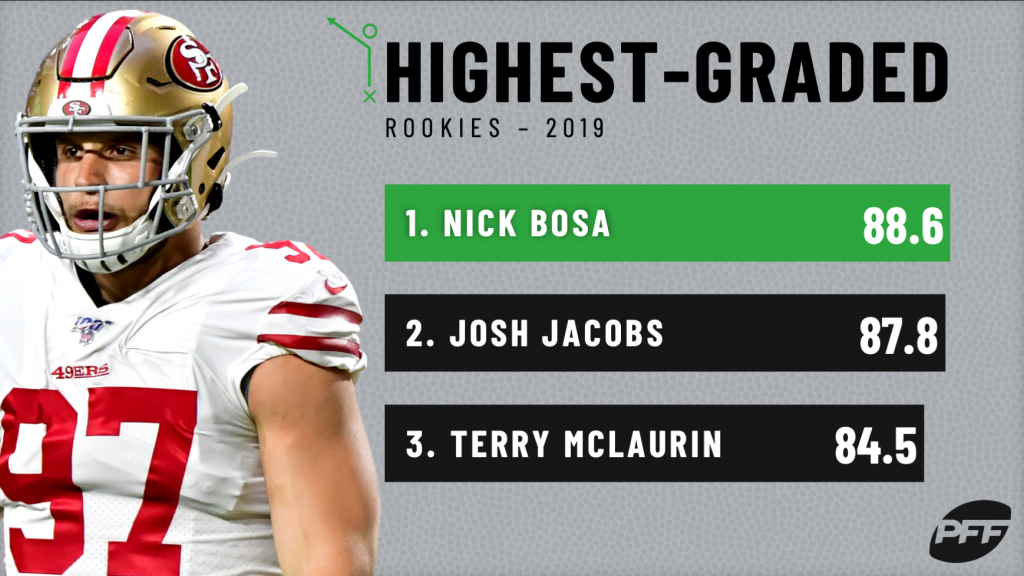 We'll see a PFF record fall at the hands of Bosa this weekend. He's currently tied with former 49er Aldon Smith for the most pressures we've ever seen from a rookie (64), and Bosa hasn't needed Justin Smith to hold offensive linemen on stunts to get there, either. His 18.3% pass-rush win rate is also currently a rookie record and ranks 11th among all qualifying edge defenders in the NFL this season.
Jacobs' name was front and center on our list of biggest Pro Bowl snubs. The Raiders rookie is leading the entire NFL so far this season in elusive rating, and his 69 broken tackles on the ground are seven more than any other back in the league. There's a legitimate argument for him as the best pure running back in the NFL right now — the Offensive Rookie of the Year award is his to lose at the moment.
Eleven wide receivers were taken before McLaurin's name was called last April, but none have graded out better on the football field. He's been able to win consistently down the football field and has 833 yards in one of the worst quarterback situations in the NFL. McLaurin is the increasingly rare kind of player who can step into the number one role from day one.
Like McLaurin, it's time to start talking about Brown as not just one of the best rookies in the NFL, but one of the league's best wide receivers period. He is currently ranked third at the position in yards per route run; that's not just among rookies or just over the second half of the year, he's third among all receivers in the league for the 2019 season. Brown's 2.63 yards per route would be the highest figure from a rookie since Odell Beckham Jr. in 2014.
Lawrence has been a handful in the running game all season for the Giants, producing 18 stops and a 77.5 run-defense grade. What gets us at PFF going, though, is his 29 total quarterback pressures. That's rare from a big fella, especially for one who only turned 22 years old a month ago. When we compare him to recent first-round defensive tackles (in the table below), you can see just how special he looks.
| | | |
| --- | --- | --- |
| Year | Player | Pressures |
| 2019 | Dexter Lawrence | 29 |
| 2019 | Christian Wilkins | 26 |
| 2019 | Ed Oliver | 25 |
| 2018 | Vita Vea | 26 |
| 2018 | Daron Payne | 27 |
| 2017 | Jonathan Allen | 16 |
Apparently, the Colts know how to scout the linebacker position. Okereke's 82.8 coverage grade is the highest of any rookie, regardless of position, on defense. One of the longest and most athletic linebackers in the class, Okereke has been exceptional at limiting yards after the catch with only nine of his 30 targets resulting in a first down or a score.
If only we saw Brown at 100% for the whole season, there'd have been a good chance of him being right up in the mix with McLaurin and Brown. Still, we've seen more than enough to know that he's going to be very good. He's already broken eight tackles on his 43 catches and Lamar Jackson has a passer rating of 137.5 when targeting him.
With all that centers are responsible for on the football field, rookies aren't supposed to be grading the way McCoy has at the position. He's not only filled former Pro Bowler Max Unger's shoes, but he's also outgrown them. McCoy is grading better than Unger did in past years and he hasn't allowed a single sack all season.
The lone Day 3 pick to make our top-10 ranking, Slayton's making a lot of draft analysts (myself included) look dumb. After dropping eight of his 43 catchable targets last season at Auburn — and four on 33 the season prior — Slayton's hands have looked drastically improved this season. He's dropped just three of his 47 catchable targets and has been excellent in contested situations where he's hauled in 11 of his 22 attempts.
It's always fun to see a player who has an elite trait in college immediately translate that skill to the pro game. For Rapp, it's undoubtedly his tackling. At Washington, he missed only 12 tackles on 176 attempts over his entire college career. Amazingly, he's been even better this season, with only four misses on 91 attempts.