He may have spent the 2020 NFL offseason looking to sign with the team that was stacked with the most talent, but the buried treasure that Tom Brady ultimately found in Tampa will come in the form of two talented coaches known for elevating quarterbacks and the passing game to historic levels.
Yes, the Tampa Bay Buccaneers may be home to Mike Evans and Chris Godwin, one of the most formidable wide receiver duos in all of football. Yes, the Bucs may have finished the 2019 season with a top-10 offensive line. Flying under the radar, however, is the fact that Tampa Bay head coach Bruce Arians and senior offensive consultant Tom Moore have been the architects of some of the NFL's most explosive offenses, and rest assured that the fact is not lost on Brady.
Here, we examine how both Arians and Moore have impacted both the game of football and the careers of some of the best quarterbacks in league history. We also look at their methods of collaboration and look at how their offense could lead to even more record-setting moments for a soon-to-be 43-year-old quarterback.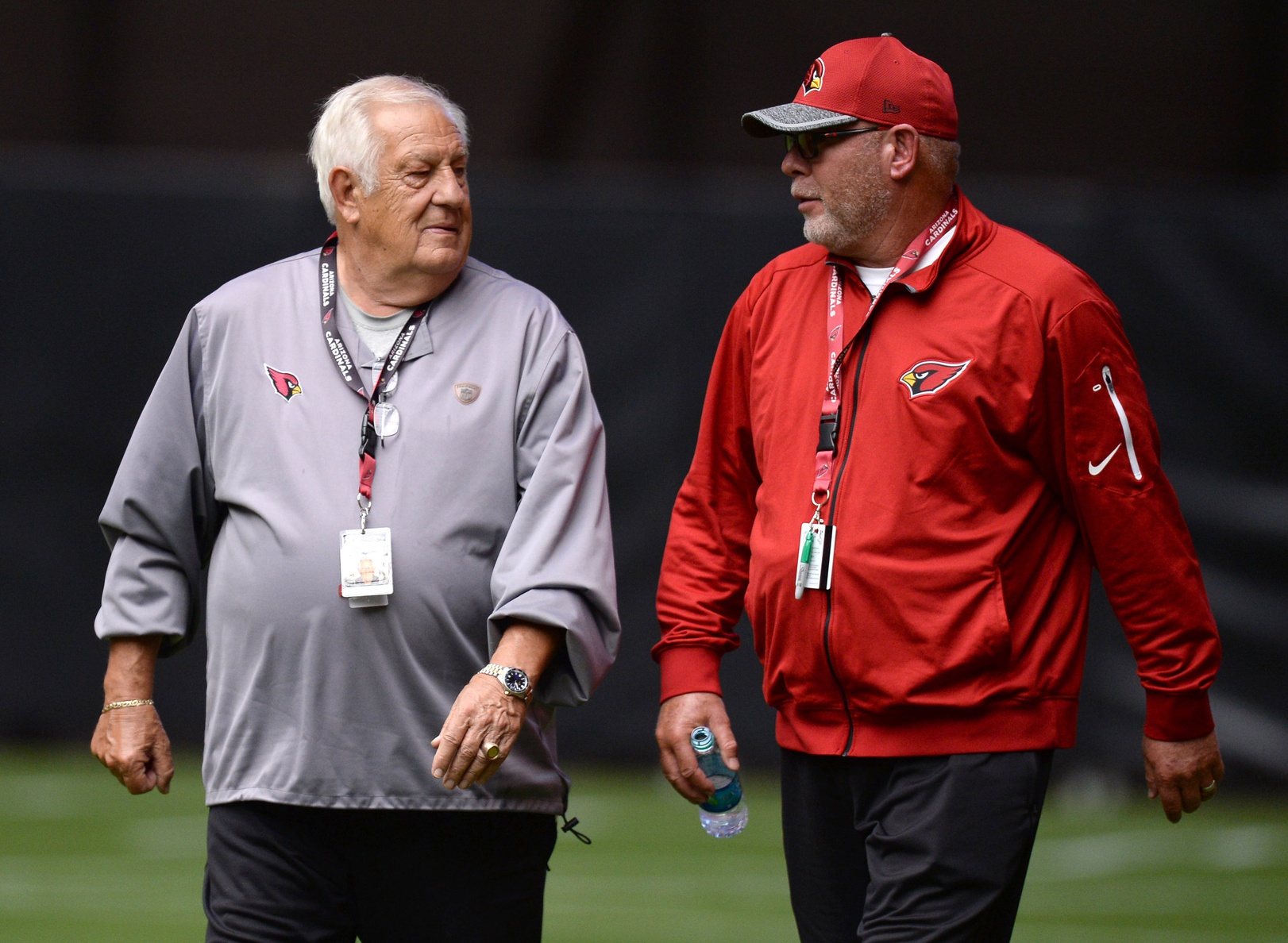 Moore's name is cemented in the history books
Only two teams in NFL history have ever produced a 4,000-yard passer, a 1,500-yard rusher and a 1,500-yard receiver in the same season. Those teams were the 1995 Detroit Lions and the 1999 Indianapolis Colts, and they were both led by offensive coordinator Tom Moore.
Most notable is the success that was enjoyed by the Detroit Lions' journeyman quarterback Scott Mitchell, whose production in '95 far exceeded anything he'd generated in any of his other 10 years in the NFL.
With Hall of Fame running back Barry Sanders as its centerpiece, Tom Moore designed an explosive offense in Detroit that saw wideout Herman Moore tally up 1,686 yards and receiving mate Brett Perriman come 12 yards shy of cracking 1,500 receiving yards himself.
After moving on from Detroit in 1997 and spending a year as the New Orleans Saints' running backs coach, Moore then landed in Indianapolis with the Colts where he would go on to have an incredibly successful 13-year run in which he groomed and developed a young Peyton Manning into becoming a record-setting quarterback.
| | |
| --- | --- |
| 1995 Detroit Lions | 1999 Indianapolis Colts |
| QB Scott Mitchell — 4,338 passing yards | QB Peyton Manning — 4,135 passing yards |
| RB Barry Sanders — 1,500 rushing yards | RB  Edgerrin James — 1,553 rushing yards |
| WR Herman Moore — 1,686 receiving yards | WR Marvin Harrison — 1,663 receiving yards |
While coaching for more than 40 years in the NFL, Moore has been instrumental in making 11 personnel (1 RB/1 TE/3 WRs) the most preferred grouping in regard to generating an explosive passing attack.
"This offense is designed to produce over 5,000 yards in total offense each season," says Moore. "Every year, we expect a 4,000-yard passer, a 1,000-yard rusher and two 1,000 yard receivers."
In both historical seasons — 1995 for the Lions (6,113 yards of total offense) and 1999 for the Colts (5,726) — Moore engineered offenses that perfectly matched his expectations.
Tom Moore has been on the winning side of three Super Bowl-producing offenses — the '78 Pittsburgh Steelers, the '79 Pittsburgh Steelers and the '06 Indianapolis Colts, with the latter unit providing Moore's only Super Bowl win within the PFF era (2006-present).
The 1978 Steelers ranked first in the NFL that season in both yards per pass attempt (7.9) and touchdown percentage (7.6%), and with a 13th-ranked 368 passing attempts next to their name, the Steelers finished fourth in yards per completion (14.1) while falling just four yards shy of gaining 5,000 yards of total offense.
The Steelers' championship-winning team of 1979 finished in the top five in yards per completion (14.4, fifth), yards per pass attempt (7.9, second) and touchdown percentage (5.5%, third). That season, the team finished seventh with 472 pass attempts but racked up 6,258 yards of total offense.
In his last Super Bowl-winning season, which came when he was serving as the offensive coordinator for the Indianapolis Colts in 2006, Moore implemented a system that generated 6,070 total yards with a first-ranked PFF team passing grade of 93.3. Peyton Manning was the only quarterback to finish the season with a PFF passing grade above 86.5 (Manning actually earned a grade of 92.1 that year), while his 104.2 passer rating from a clean pocket, his 91.0 passer rating under pressure and his 106.0 passer rating on deep throws (passes thrown at least 20 yards downfield) ranked fourth, second and sixth, respectively, among quarterbacks.
Manning also finished the 2006 season with the most big-time throws (41), the most touchdown passes (31) and the most first-down conversions (246) while leading the league in the percentage of passing yards that came through the air (70.1%).
The Colts ranked tied for third among regular-season offenses that year with an average of 7.9 yards per pass attempt, but they finished first in expected points added (EPA) per pass play by a big margin. In fact, between the Colts and Arizona Cardinals, Tom Moore has had a hand in orchestrating three of the 20 most efficient passing offenses of the PFF era, and five of his 13 seasons as an offensive coach are in the top 35.
| | | | |
| --- | --- | --- | --- |
| Rank | Team | Season | EPA/Play |
| 1 | Patriots | 2007 | 0.410 |
| 2 | Broncos | 2013 | 0.365 |
| 3 | Packers | 2011 | 0.364 |
| 4 | Chiefs | 2018 | 0.340 |
| 5 | Colts | 2006 | 0.329 |
| 6 | Packers | 2014 | 0.319 |
| 7 | Saints | 2011 | 0.309 |
| 8 | Chargers | 2009 | 0.295 |
| 9 | Falcons | 2016 | 0.283 |
| 10 | Ravens | 2019 | 0.280 |
| 11 | Patriots | 2011 | 0.267 |
| 12 | Cowboys | 2014 | 0.265 |
| 13 | Vikings | 2009 | 0.254 |
| 14 | Chargers | 2013 | 0.249 |
| 15 | Seahawks | 2015 | 0.246 |
| 16 | Patriots | 2010 | 0.244 |
| 17 | Colts | 2009 | 0.243 |
| 18 | Cardinals | 2015 | 0.239 |
| 19 | Bengals | 2015 | 0.237 |
| 19 | Patriots | 2016 | 0.237 |
[Editor's note: PFF's advanced database of grades and signature stats dates back to 2006, and it's available with a PFF Elite subscription! Use promo code "NFL2020" to save 25% on your new PFF subscription today.]