FOXBORO, Mass. — We don't know what was said in the visiting locker room at Gillette Stadium after the Tampa Bay Buccaneers narrowly defeated the New England Patriots, 19-17, through perpetual rain and wind on Sunday Night Football.
But the fact that a conversation occurred between Tom Brady and Bill Belichick and that it lasted for over 20 minutes should serve as solace to fans who are committed to harmony between the quarterback and his head coach of 20 seasons.
Click here for more PFF tools:
Rankings & Projections | WR/CB Matchup Chart | NFL & NCAA Betting Dashboards | NFL Player Props tool | NFL & NCAA Power Rankings
---
Brady, who went 22-of-43 for 269 yards in an unusually errant performance that his current head coach, Bruce Arians, described as "very careful," preferred to keep the discussion private. He's had countless talks with Belichick over the years, but this one was obviously different. Nearly all of that past talks occurred when they were working toward the same goal — not moments after they were adversaries.
The private meeting itself, which was preceded by a brief hug after the game at midfield, acknowledged the significance of Sunday night's matchup that both sides downplayed — and Arians continued to after the game — throughout the week because of their historic and continued connection.
"It was a big week for him, but it was a bigger week for the team," Arians said. "I was very, very frustrated with everybody saying this was a quarterback and a coach. This is a team sport. The Bucs won this game. We beat the Patriots. We were losing sight that this is a team game. Everybody wanted to make this all about Brady and Belichick. I don't think Bill played a snap. He had 22 guys out there playing their ass off, and I knew he would. We had 22 guys out there playing their asses off. One of them just happened to be named Brady."
Sunday night's matchup could be both important for the 3-1 Buccaneers, who were 7.5-point favorites Sunday, as they came off of a Week 3 loss to the Los Angeles Rams and on a grander scale. Those things are not mutually exclusive, and it's frankly ignoring the history of the NFL and the six Super Bowl wins Brady and Belichick accomplished together to gloss over the spectacle of the game.
Belichick, fresh off a defeat that came down to Nick Folk's missed 56-yard field goal try, which doinked off the left upright, wasn't in the mood to wax poetic about what led up to Sunday night's game either.
"Look, we went against Tom Brady every day in practice defensively," Belichick said. "So it's not like we've never seen Tom Brady before."
Belichick spoke to reporters prior to meeting with Brady. The quarterback came directly from his conversation with Belichick to the visiting press conference room.
"(We've had) a personal relationship for 20-plus years," Brady said. "He drafted me here. We've had a lot of personal conversations that should remain that way and are very private.
"And I would say so much is made of our relationship. You know, as I said earlier this week, from a player's standpoint, you just expect the coach to give you everything he's got, and I'm sure as a player that's what he was hoping from me. But nothing is really accurate that I ever see. It's all kind of — definitely doesn't come from my personal feelings or beliefs. I got a lot of respect for him as a coach and obviously a lot of respect for this organization and all the different people here that try to make it successful."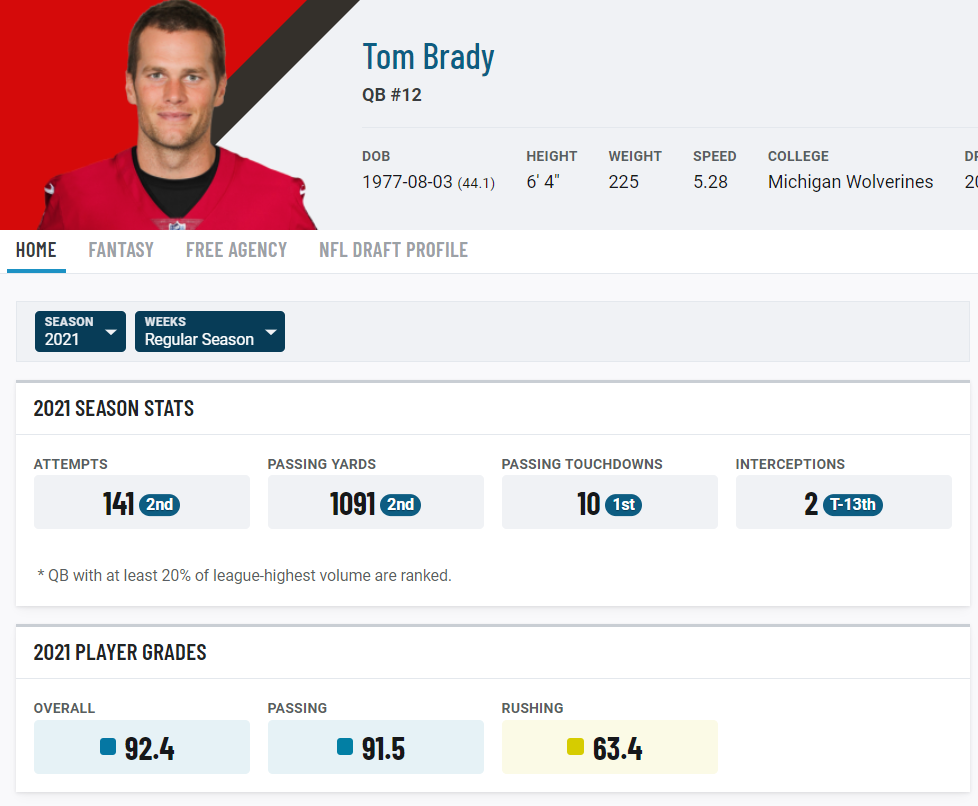 No working relationship of 20 years is perfect, and that applies to Brady and Belichick's, as well. But it's fair to say that any bad blood outsiders project onto the tandem might be overblown in Brady's estimation.
Belichick's defense played the 44-year-old Buccaneers quarterback well. New England was the first team to hold Tampa Bay to under 31 points. The Patriots lost the turnover and time of possession battles and still managed to come half the width of a goal post from at least forcing Brady into one more attempt at a game-winning drive. The 1-3 Patriots also forced five field goal attempts and allowed only one touchdown. There is no such thing as a moral victory in the NFL, but Belichick's team impressed against stiff competition.
The Patriots faced fourth-and-3 from Tampa Bay's 37-yard line with 59 seconds left in the game when Belichick elected to kick rather than go for it, an option he said after the game that he didn't consider.
"I mean, not really," Belichick said.
Belichick's call will undoubtedly be debated ad nauseam over the next week. But ultimately, even if Folk made that 56-yard field goal, there was still a chance Brady would orchestrate one last game-winning drive toward the lighthouse in the north end zone of Gillette Stadium. The Patriots' offense, led by talented rookie quarterback Mac Jones, had moved the ball well in its last two series — both scoring drives — and the Buccaneers were down four starting defensive backs to injuries. Alas, Belichick chose to kick.
The game, which easily could have been a blowout considering the disparity in both teams' records, lived up to the sizable hype. And even if the result wasn't what the 65,878 New Englanders who stood through the swirling rain hoped for, they can at least wake up content knowing that even after Brady left the Patriots, won a Super Bowl with another team and beat Belichick in their first-ever battle, there's still a connection between the greatest QB-head coach pairing in the history of the NFL.