We all strive for comfort. Whether it's as simple as spending five minutes to read a football article or as big as going on a vacation, taking care of yourself is important.
That's what Aaron Rodgers and Tom Brady are doing right now.
At their advanced ages — Rodgers will turn 39 in December; Brady turned 45 late last summer — both quarterbacks are looking for the comfort in avoiding hits. And while the two Hall of Famers have always done an excellent job of avoiding being mangled by opposing players, that philosophy is leading to poor results for their teams this season.

The Green Bay Packers and Tampa Bay Buccaneers have dropped to 3-4 on the season. Tampa Bay is riding a two-game losing streak heading into a Thursday Night Football clash against the Baltimore Ravens. Green Bay has lost three straight, dropping games against the New York Giants, New York Jets and Washington Commanders.
We've seen this play out before.
After a 2019 elbow surgery, former Pittsburgh Steelers QB Ben Roethlisberger returned to play in 2020 and 2021, though not as the resilient gunslinger who once stood tough in the pocket until he found the big play downfield. Instead, he tried to get the ball out of his hands as quickly as possible and almost never turned his back to the defense. The results were poor.
Then there is Drew Brees' final season, which saw his efficiency plummet even after a great year prior. And Peyton Manning fell off a cliff statistically in his last season.
Eventually, taking a lifetime of hits takes its toll, and no veteran quarterback wants to wake up with the severe aches and pains that come from taking hits from the opposing pass rush.
This season, Brady and Rodgers are getting the ball out quicker and throwing the ball shorter than they have in the last 10 seasons.
Aaron Rodgers & Tom Brady: Average time to throw (seconds) since 2013
| | | |
| --- | --- | --- |
| Season | Aaron Rodgers | Tom Brady |
| 2022 | 2.43 | 2.25 |
| 2021 | 2.59 | 2.34 |
| 2020 | 2.69 | 2.41 |
| 2019 | 2.92 | 2.61 |
| 2018 | 2.94 | 2.51 |
| 2017 | 2.77 | 2.62 |
| 2016 | 3.01 | 2.49 |
| 2015 | 2.94 | 2.34 |
| 2014 | 2.86 | 2.39 |
| 2013 | 2.66 | 2.45 |
The pair also rank highly in the percentage of throws that end up short of the sticks: Rodgers is first at 60.3%, while Brady is seventh at 56.8%. To better put those numbers in context, Rodgers was 18th in 2021, while Brady was 30th.
Both quarterbacks have had some offensive line issues, but the pass-blocking itself hasn't really been one of them: Both teams rank top-10 league-wide in our pass-blocking efficiency metric, the Bucs coming in at third and the Packers ranking sixth as we head into Week 8.
Still, Tampa started three different offensive line combinations and has been hurt by the retirement of Ali Marpet and the injury to Ryan Jensen. The Packers have started four different offensive line combinations and have been hurt by the on-again-off-again David Bakhtiari injury.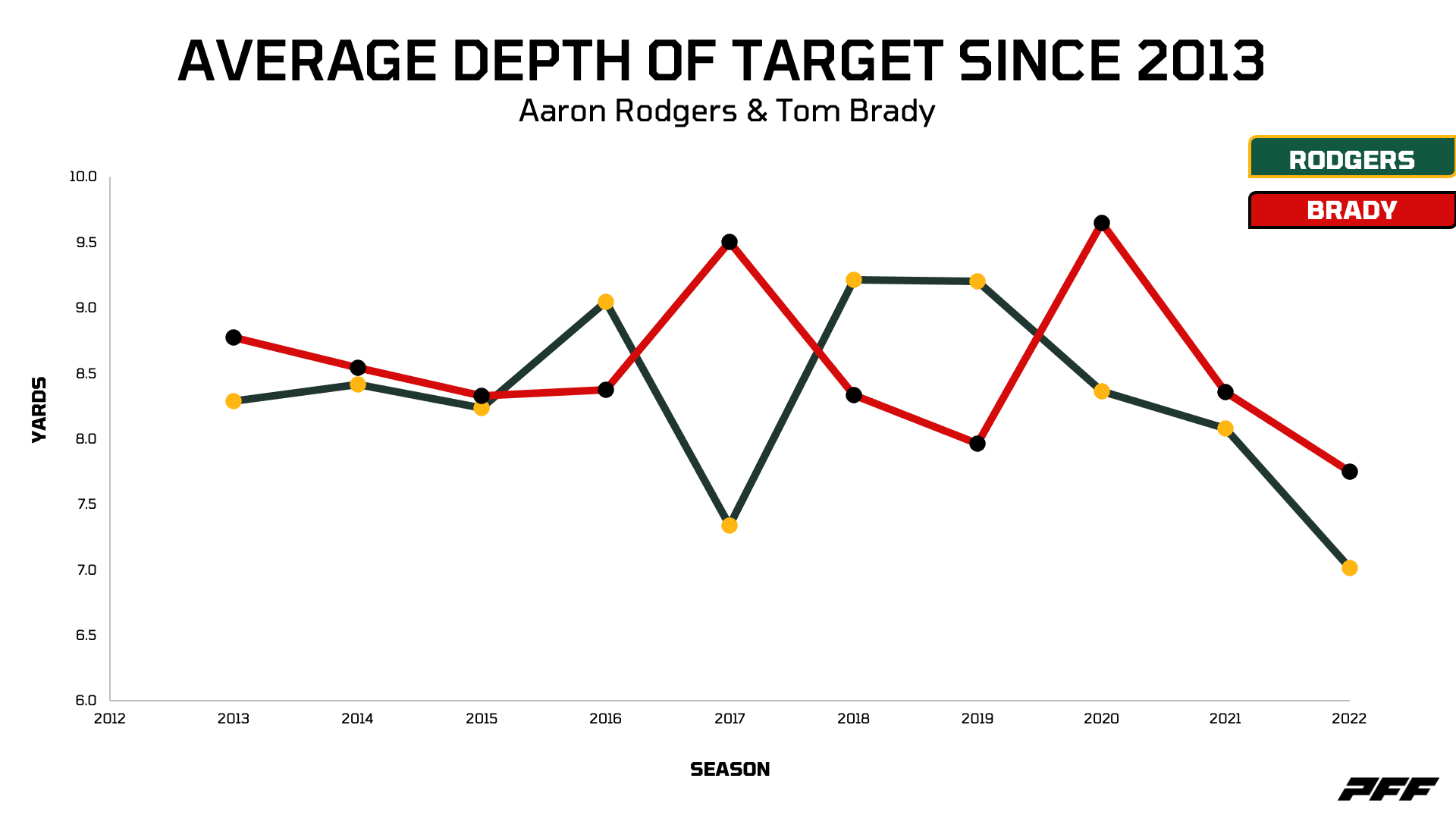 The speeding up of their process is leading to more errant throws, especially underneath. Discounting screens, run-pass options (RPOs) and play-action attempts, Brady has a 66.8 PFF passing grade on throws of less than 10 yards — his lowest over the last 10 seasons and 8.3 points below his previous low (2019). Rodgers has earned a 69.6 passing grade on those same throws, his lowest mark over the same period.
And there hasn't been much of a change for the two passers compared to last year on these throws, as their receivers have run very similar routes.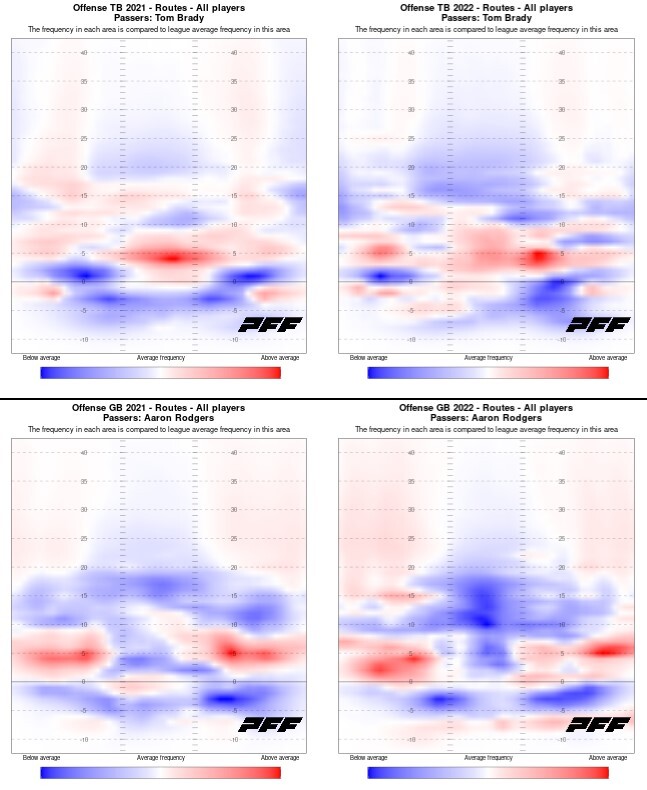 Speeding up the process while running the same plays and taking shorter options on these throws can cause a quarterback to suffer.
This is what happened to Drew Brees in 2020 as he tried to avoid getting hit: He finished the season with the lowest average depth of target of his career that season, a season derailed even further by an injury he took from being hit in the backfield.
Finding a shorter receiving option after exhausting the progression is how quarterbacks play the position effectively. Doing it for the sake of not getting hit is not.
Brady's 45-year-old arm might be at the end of the line, as well. Only Matt Ryan — and there's a lot to be said about Ryan also hitting the wall — has thrown more passes that we've charted as being underthrown or thrown behind, slightly low or slightly behind, which are symptoms of an arm that can't keep up anymore.
Rodgers' slightly fresher arm is not a cause for immediate concern. However, he has had some accuracy issues in recent weeks and is passing up countless opportunities down the field, especially in the 10-19 yard range. Whether that stems from a lack of trust in his receivers is irrelevant; he is not pulling the trigger and is throwing short instead.
Since these are sure-fire Hall of Famers without any recent major injuries, we can believe that this is just a dip in play. But the end of Brees', Manning's and Roethlisberger's careers show it might not be as easy as it sounds.
Player
Penultimate
Season
Final
Season
Peyton Manning
79.5
62.6
Drew Brees
91.4
73.0
Ben Roethlisberger
(2018 and 2021)
78.2
62.8
It was a severe drop for the now-retired quarterbacks.
These are worrying signs for both the Packers and the Buccaneers. When Patrick Mahomes played below his gaudy levels for parts of 2021, it was only a matter of time before he and the Chiefs figured out their issues. For Brady and Rodgers, time is now their adversary.