After winning a division title and fielding one of the best defensive performances of the season in 2018, the Bears were an obvious regression candidate a year ago. That eventually proved true as the Bears stumbled to a disappointing 8-8 record.
Heading into the 2020 NFL season, they not only have the same question marks at quarterback, but they also have growing concerns over turnover in the secondary. Nick Foles was acquired to compete with Mitchell Trubisky, and Foles may bring more stability with the potential for high-end play (see two-game sample in 2017 Super Bowl run). Defensively, the back seven has lost pieces over the last two seasons, and the Bears need a few players to develop if they want to maintain their status as one of the league's best defensive units.
Their success this season will be determined by what they get at the quarterback position as well as the development of the coverage unit.
Subscribe to PFF's EDGE or ELITE subscriptions get access to the following tools, charts, etc. 
– All Premium Article Content
– Fantasy Football Rankings & Projections
– Fantasy Football Draft Guide, Cheat Sheets & Advanced Stats
– Fantasy Football Mock Draft Tool (DraftMaster)
– Fantasy Football Strength of Schedule Matrix
– NFL Player Grades
– NFL Premium Stats
ADDITIONS/SUBTRACTIONS
QB Nick Foles (via trade)
LB Danny Trevathan (re-signed for three years, $21.75 million base, $14 million guaranteed)
EDGE Robert Quinn (signed for five years, $70 million, $30 million guaranteed)
TE Jimmy Graham (signed for two years, $16 million)
S Deon Bush (re-sign for one year)
CB Artie Burns (signed for one year)
S Jordan Lucas (signed for one year, $1 million)
Losses
CB Prince Amukamara (cut)
WR Taylor Gabriel (cut)
LB Nick Kwiatkoski
EDGE Leonard Floyd (cut)
LB Kevin Pierre-Louis
QB Chase Daniel
G Kyle Long (retired)
S Ha Ha Clinton-Dix
 QUARTERBACK
Here's what I said about Mitchell Trubisky after the 2019 season:
There wasn't too much of a difference between Trubisky's 2018 and 2019 seasons on a throw-for-throw basis, but he received far more help from playmakers and had better overall luck in 2018. In 2019, he missed too many passes, ranking among the league's worst in negatively graded throws, and he ranks in the bottom third in catchable-pass rate. Trubisky was a weapon with his legs in 2018, but that regressed this past year as he took off on fewer scrambles. While Trubisky played his best football during the second half of the season, he still finished the year with eight games of sub-60.0 PFF grades (after seven such games in 2018), and there are still many question marks to his game as we head into his fourth year in the league.
 Part of the trouble with predicting quarterback play is isolating the QB's performance with that of their playmakers, and Trubisky's 2019 statistical regression is a good example. His stats took a big hit while his grades remained static, and given his low-level performance in each of the last two years, there was too much risk for the Bears to go into 2020 with him as the starter. Enter Nick Foles, who comes with caveats of his own.
Here's a snippet of what I said about Nick Foles prior to the 2019 season:
Foles' 2013 season is one of the best statistical seasons in history, though it was aided by Chip Kelly's brand-new scheme. The 2014 season saw regression, his 2015 season was a disaster with the Rams when multiple quarterbacks struggled, then 2017 and 2018 saw Foles rejuvenated when given a chance to start for the Philadelphia Eagles, leading one of the most improbable Super Bowl runs in history in 2017. His last two years have been incredibly volatile as he's posted the top two PFF game grades for the Eagles despite starting fewer games than Wentz, but he's also put up six of the top-10 worst grades. It shows Foles as both streaky and scheme dependent…
When you add it all up, Foles gives the Bears the best opportunity for high-end play, but he's also dabbled in a "game manager" role at points in his career. Foles generally takes good care of the ball, and if the Bears defense remains strong, that may be enough to put them back on the winning track.
RUNNING BACK
Last season saw the Bears go with rookie third-rounder David Montgomery as the lead back, and he finished with a 65.3 rushing grade and just 3.7 yards per attempt. A broken tackle machine in college, Montgomery showed off some of that prowess with 47 forced missed tackles in 2019, though it didn't translate to rushing production behind one of the worst run-blocking units in the league. While Montgomery does not have breakaway speed, he does have the skill set to maximize runs, and he should be more effective in Year 2.
Tarik Cohen is the more versatile option. He's a Swiss Army knife who lines up all over the formation. However, the ball was forced to him too often last year, and he caught 77 passes for just 456 yards at a pedestrian average of 5.8 yards per reception. Montgomery and Cohen should make for an effective duo, and with better production around them, they are in line to bounce back in 2020.
WIDE RECEIVER
The receiving corps was one-dimensional last season, as Allen Robinson posted the 12th-best receiving grade in the league at 81.1, but no other receiver graded higher than 67.9.
Robinson finished with 393 yards on deep (20-plus yard) passes, and his drop rate of 3.0% was 11th-best out of 101 qualifiers. At his best, Robinson is a complete receiver who can win at all levels of the field and at the catch point. Anthony Miller had the second-highest receiving grade on the team at 67.9, and he may be ready to take the next step to be a true No. 2 option behind Robinson.
The No. 3 role is wide open after Taylor Gabriel was released this offseason after a disappointing 62.0 overall grade last season. Riley Ridley, a 2019 fourth-rounder, is a smooth route-runner who could fit as more of a possession receiver after catching six passes in his debut last season. He'll compete with Javon Wims, a big-bodied target who ranked fifth on the team with 186 yards a year ago. Cordarrelle Patterson is more of a gimmick player at this point, and his 6.4 yards after the catch have a place as long as he's not relied upon too much on the outside.
The Bears also added speed this offseason with Ted Ginn Jr. and fifth-rounder Darnell Mooney out of Tulane, so the goal is to have at least one of them to emerge as a much-needed deep option to complement the other pieces in place. There are plenty of question marks beyond Robinson, and the fate of this receiving corps depends on Miller's development and the emergence of a downfield threat.
TIGHT END
After posting the third-worst receiving grade among tight ends (51.2), the Bears will have a completely new look in 2020. They signed Jimmy Graham in free agency, despite him coming off a career-low 56.9 receiving grade. His grades have steadily declined over the past three seasons. He also provides little as a run blocker, but perhaps the Bears may be able to steal some production out of him as a receiver in a No. 2 role with limited snaps.
Chicago then went on to draft the No. 2 tight end on the PFF Big Board, Cole Kmet, in the second round — he was one of the better all-around options at the position in the draft. Kmet showed good explosiveness at the scouting combine, but it didn't always translate to the field. He is a big-bodied threat in the middle of the field who has the size to line up against defensive ends in the run game, though his 56.9 run-blocking grade last season is a concern.
The Bears are taking a see-what-sticks approach to the position, as seven other players are competing for the last one or two spots, but this unit's success will be determined by what Graham has left in the passing game and how ready Kmet is to be a viable contributor as a receiver and as a run blocker. Even with the hefty offseason investment, Chicago's tight ends come with plenty of question marks.
OFFENSIVE LINE
The Bears regressed from a fringe top-10 offensive line in 2018 to the 25th-ranked unit last season despite most of the group remaining intact. Left tackle Charles Leno saw the biggest drop-off in play, as he had four straight seasons grading in the 70s from 2015 to 2018 but finished at just 58.6 overall last season, good for just 64th out of 82 qualifiers. Leno earned his worst pass-blocking grade since 2015 while posting the lowest run-blocking grade of his career, at 47.5.
At right tackle, Bobby Massie has been the epitome of league average since 2015, ranking 57th out of 109 qualifiers over that span. However, he also took a step back last season, ranking just 51st with a 63.2 grade. The Bears need both tackles to get back on track if they're going to get back into the top half of the league's offensive line rankings.
On the interior, Cody Whitehair and James Daniels have played musical chairs cycling between left guard and center, and it appears that Whitehair will be the center, with Daniels the left guard moving forward. Whitehair is one of the best run-blockers in the league, grading 11th among interior offensive linemen with an 80.8 grade since 2016. Daniels has been solid with 66.4 and 69.9 overall grades since entering the league, and another step forward is expected for him in Year 3.
That leaves the right guard as the biggest question mark for the Bears, as Kyle Long has retired and projected starter Rashaad Coward ranked just 71st among 89 qualifying guards on his 660 snaps last season. Chicago signed Germain Ifedi, who had his struggles as the Seattle Seahawks' starting right tackle the last four years, but he could compete for guard snaps with Coward.
The Bears have the pieces to rank among the top 10-15 offensive lines in the league, but they need the tackles to get back to their 2018 form to go with progression from at least two players on the interior.
Charles Leno: PFF overall grade and rank, 2015-19
| | | |
| --- | --- | --- |
| Year | Overall grade | Rank |
| 2015 | 71.5 | 35 |
| 2016 | 70.1 | 43 |
| 2017 | 78.7 | 12 |
| 2018 | 75.7 | 18 |
| 2019 | 58.6 | 64 |
 DEFENSIVE LINE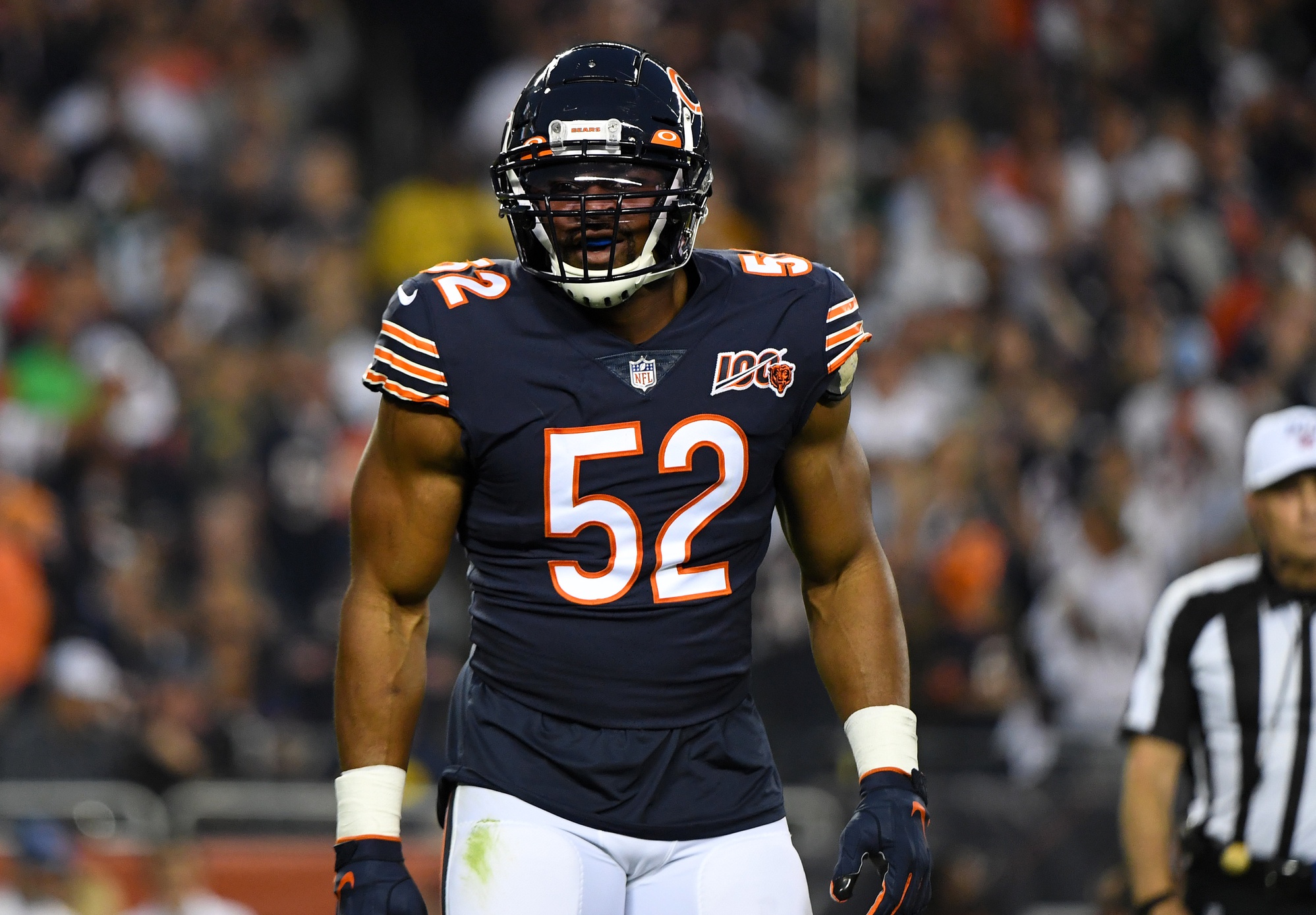 Chicago's defensive front is still led by Khalil Mack, but he was something of a one-man band in 2019 — Akiem Hicks was limited to just 191 snaps of action, and nobody else was able to consistently dominate. Mack, for his part, had something of a down year, but that still meant posting an 86.2 overall PFF grade and ranking inside the top 15 of all edge rushers. His 70 total pressures ranked 10th, and his PFF pass-rushing grade (81.3) ranked 13th.
At his best, Mack is a game-changing force along the defensive front, but it's now three seasons since he last posted a pass-rushing grade above 90.0, and 2019 was the lowest overall grade of his career. The Bears need the best version of Mack possible given what they gave up to acquire him, and the key to finding that player might be surrounding him with a better supporting cast.
Hicks' return should help with that. He had the best year of his career in 2018 and was on pace for his second-best season before injury shut him down. A healthy Hicks is a dominant run defender and power pass-rusher who can create space for Mack and pull attention away from him. The other side of the line is more of a question mark. The Bears said goodbye to former first-round pick Leonard Floyd and have effectively replaced him with veteran Robert Quinn.
While Quinn has the talent to more than replace the pressure that Floyd generated (just 39 total pressures last year), he is less versatile in terms of alignment and stance than Floyd is and needs to be deployed with his hand in the dirt to effectively get after the quarterback. Chicago's defense is capable of accomodating that, but if it doesn't, Quinn won't be at his best. Eddie Goldman was a solid nose tackle last season, but nothing more. Depth is a real concern for this defensive front, which has few consistent threats and nobody outside of the players already mentioned who posted a pass-rushing grade north of 65.0 in 2019.
LINEBACKER
The Bears didn't have a linebacker play more than 12 games last year as the position was ravaged by injuries, though a stellar performance by Nick Kwiatkoski helped the unit post the eighth-best grade in the league.
Kwiatkoski moves on to the Raiders, leaving the starting role in the hands of Roquan Smith and Danny Trevathan. It's a pivotal year for Smith, a 2018 first-rounder who looked like the prototype for the modern-day linebacker coming out of Georgia. Instead, we've seen a solid rookie season followed by a poor 52.4 overall grade last season that ranked just 76th among linebackers. Smith must do a better job of taking on blocks in the run game, but more importantly, the Bears need him to show off the playmaking ability in coverage that made him a top-10 pick.
Trevathan has a different story, as he's graded at 65.0 or better in every full season until his 61.9 grade in 2019 that including a career-low 50.3 mark in coverage. Trevathan was once one of the league's best coverage linebackers, and it's not crazy to expect him to get back to those heights as he enters his age-30 season.
The only other linebacker on the roster with any experience is Joel Iyiegbuniwe, who has 27 career snaps in his two seasons. James Vaughters is a hybrid linebacker/edge with 26 career snaps to his name, while Barkevious Mingo is another hybrid who has two years with 70.0-plus grades on the edge (2017 with the Colts, 2014 with the Browns).
A thin linebacking corps is very dependent on Smith's development and Trevathan returning to form. And that gives the Bears one of the most volatile groups in the league.
SECONDARY
Eddie Jackson and Kyle Fuller return along with nickel corner Buster Skrine, but the other two starters from Chicago's secondary last season — Ha Ha Clinton-Dix and Prince Amukamara — will play elsewhere in 2020, opening up a couple of spots.
Artie Burns will try and hold off second-round rookie Jaylon Johnson for the cornerback spot, while Deon Bush is the most likely starter at safety. Burns has been somewhat of a letdown in the NFL so far, declining in both play and playing time, and he is not a great schematic fit for what the Bears will be doing in 2020. Johnson is a good fit, however, and was a first-round talent on PFF's Big Board. For his entire college career, he allowed just 48.9% of passes thrown his way to be caught for a passer rating allowed in the 50s, and if he picks up in the NFL where he left off in college, he will be an upgrade for Chicago.
Skrine is something of a liability covering the slot, and he presents a huge downgrade over what the Bears once had in Bryce Callahan. Skrine has been beaten for a passer rating of over 100 in each of the past two seasons and has given up nine touchdowns over the same time without an interception to his name. His PFF coverage grade has never topped 61.4, and he has seven seasons with a grade in the 50s.
The Bears will hope Eddie Jackson can get back to his 2018 level of play — when he was the best coverage player in football — as opposed to last season when he was good but not great.
The 2018 Bears had one of the league's best defenses, mainly due to their efficiency in the back seven combined with a strong pass rush. Smith's development is a crucial factor as to whether they get back to that level. The former first-rounder has the tools to become a valuable player in all phases of the game, but we just haven't seen him put it all together. The Bears have lost key players over the last two years, from cornerback Prince Amukamara to safety Adrian Amos, so Smith becoming a versatile coverage player will help mitigate the losses on the back end.
DRAFT CLASS REVIEW
With no first-round pick, the Bears had to make do with their two seconds, and they came away with tight Cole Kmet and cornerback Jaylon Johnson. Kmet is a solid tight end, but perhaps too rich for the 43rd overall pick, while Johnson presents first-round value and looks like a good fit at No. 50 overall.
The last five picks all came in Round 5 or later, with wide receiver Darnell Mooney the most intriguing given his 4.3 speed. Overall, it's a solid draft for the Bears, but it would have looked better if they had taken more of an impact player with their first second-round pick.
BEST BET
The addition of Nick Foles has some proclaiming that the Bears resolved their quarterback situation, but when you are forced to choose between Foles and Trubisky, your situation has been anything but resolved.
The Bears' win total peaked at 8.5 around the signing of Foles but has since slid back down to a more respectable 8 wins. The juice is tilted to the under, but this is still one of the best unders left on the board, with our simulation seeing the Bears barely surpass 7 wins.
It is going to be a tough division — even if the Packers and Vikings underperform — which is why the expectation that the Bears win 2.5 division games is actionable information as it pertains to their win total.