But can they repeat?
As soon as a team wins a Super Bowl, attention instantly turns to whether they can back it up with another one. That's where we are currently with the Tampa Bay Buccaneers, who stopped Kansas City's quest to achieve just that only months ago. Now it's Tom Brady & Co.'s turn to wear the crown and chase immortality.
Unlike the Chiefs, whose chances rest heavily on having Patrick Mahomes at quarterback and just enough around him to let him work magic, the Bucs may well have the best roster in the NFL.
Related: NFL roster rankings for all 32 teams for 2021: Strengths, weaknesses and X factors for every team's starting lineup via Ben Linsey
It's easy to forget because of how the playoffs went, but Tampa Bay didn't even win the NFC South last year. They needed a wild-card spot to make the playoffs, and they even went into their bye week reeling at 7-5 before going undefeated for the remainder of the year.
There was a lot of adversity working against the Bucs last year, some of which is just now coming to light.
First and foremost, Brady was playing his first NFL football outside of New England, doing so in a completely different style of offense without having the benefit of preseason to work on the pressure points. But, as we have recently discovered, the future first-ballot Hall of Famer was also playing on a fully torn MCL in his knee all season.
Subscribe to
At 43 years of age, did Brady let slip any throws that might have possibly hinted at a physical decline? Yes. Could those same throws also be explained by a torn ligament in his knee that hampered his throwing mechanics? Also yes.
Brady ended his first season in Tampa Bay with a 92.5 PFF grade, second only to the 2020 MVP, Green Bay Packers QB Aaron Rodgers. At this point, we may have to start considering the possibility that Brady isn't just the match of any quarterback who has ever played the game but that he has the beating of Father Time, as well.
Obviously, decline has to hit Brady at some point, but his career over the past five or six years means we should stop trying to anticipate it.
Tom Brady: PFF grade and rank among quarterbacks since 2016 (among QBs with 200 or more dropbacks, regular season only)
| | | |
| --- | --- | --- |
| Season | PFF Grade | Rank |
| 2016 | 95.2 | 1st of 34 |
| 2017 | 92.9 | 1st of 36 |
| 2018 | 90.7 | 5th of 37 |
| 2019 | 80.5 | 10th of 35 |
| 2020 | 92.4 | 3rd of 36 |
As everybody tries to get ahead of that decline, there does remain the frightening prospect that Brady will be even better this year than last. The "run it back" operation the team was able to successfully execute this offseason — aided by Brady's presence, no doubt — means he is throwing to the same group of receivers. And any additions serve only to add reinforcement to an already stacked depth chart.
Brady's season was impressive enough that it seems unlikely he will be significantly better in Year 2, but many influences suggest he should be.
There were suggestions that the Bucs offense eventually settled into being closer to a Brady Offense than an Arians Offense, but Brady still led the league in average depth of target (9.8 yards). While that can't match what Jameis Winston did the year before (10.9), it's higher than any other mark he has managed over his career. It suggests that the veteran passer has bought into his coach's infamous downfield passing offense.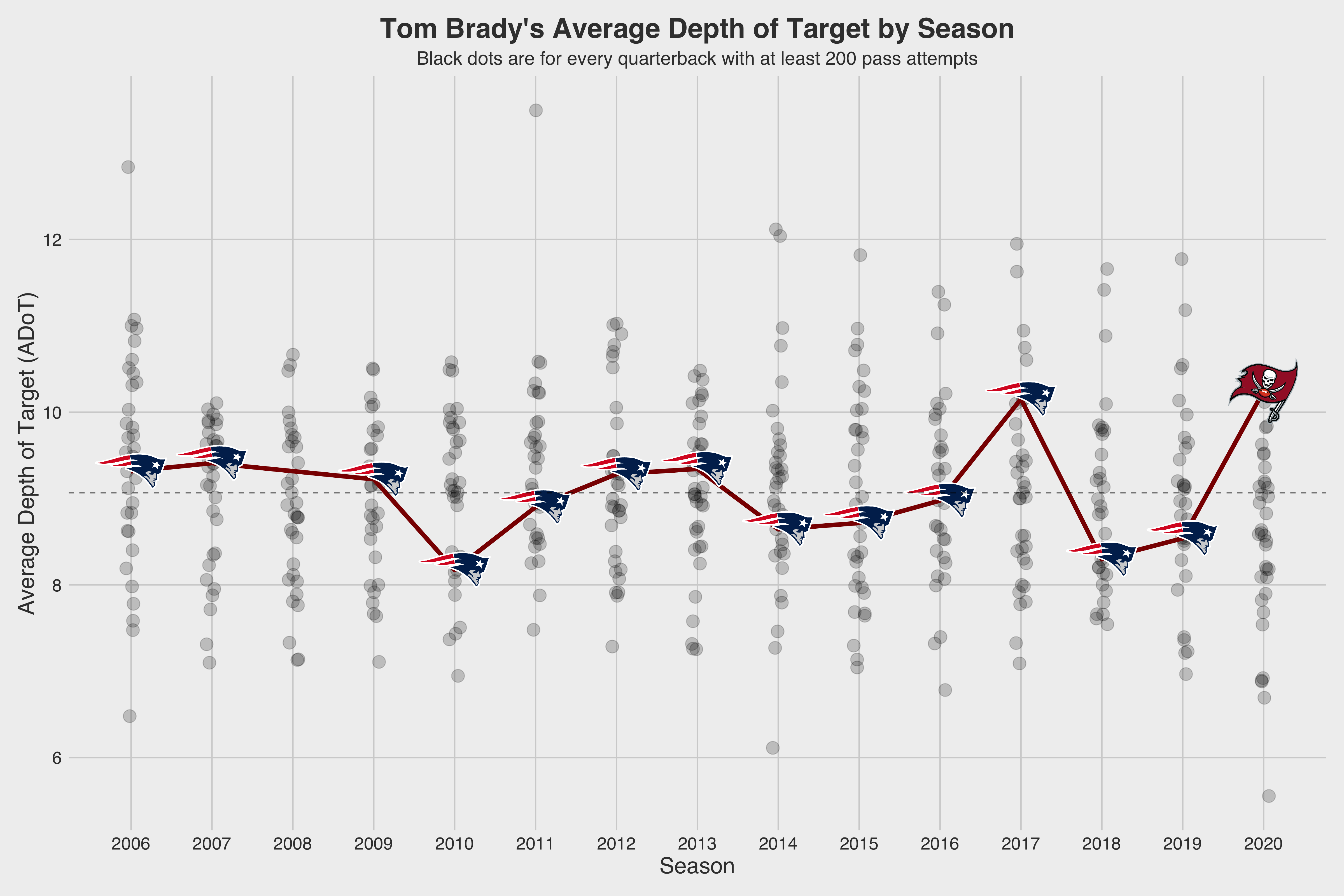 Brady and Rob Gronkowski obviously provided a stockpile of previously earned chemistry, even if Gronk needed time to get back up to speed and into playing shape after retirement, but Brady's top two receivers were new to him last season.
While Tampa Bay's offensive line was one of the best in the league last year, injuries and the subsequent reshuffling caused some wobbles. The team moved Ryan Jensen from center to left guard whenAli Marpet got hurt, making two positions worse instead of one. This year, the Bucs added depth to the offensive line in the draft, and if that group stays healthy, it will likely be an even more imposing force than it was a year ago.
Tampa Bay's offense has a lot working in its favor when it comes to being a better group in 2021 than it was last year, but the defense can also make some arguments.
Vita Vea was one of the team's best players last season, but he played just the first five weeks of the season before going down injured and having to work his way back in time for the NFC championship game and Super Bowl. Vea looked like the best nose tackle in the game when he was on the field, generating multiple pressures in every game he started, including five in the Super Bowl against Kansas City's makeshift offensive line. A full season of Vea is a needle-mover for that defense.
Highest-graded interior defensive linemen from Week 1 to Week 5 (2020, among 31 DIs who played 200-plus snaps)
| | | |
| --- | --- | --- |
| Player | Snaps  | PFF Grade |
| Vita Vea | 224 | 90.1 |
| Aaron Donald | 277 | 90.0 |
| DeForest Buckner | 255 | 85.5 |
| Grady Jarrett | 264 | 76.4 |
| Fletcher Cox | 264 | 76.2 |
On top of that, their secondary is still loaded with young talent. With players such as Antoine Winfield Jr. making a significant contribution in his rookie and Jamel Dean (79.9 coverage grade in 2020) and Carlton Davis (66.4) developing quickly, there is every reason to expect this secondary to be a better group than it was a season ago, given the youth it possesses.
The Buccaneers are defending Super Bowl Champions, but they also have the No. 1 roster in the league, according to PFF's preseason rankings. When the discussion was whether the Chiefs could repeat as champions, it centered around whether Mahomes would have enough support around him that he could do his thing and overcome the best teams in the league. When we look at the Bucs, the conversation is different — they have one of the best situations of any team in football and should be markedly better than last year with a year under their belt to come together as a unit.
Maybe we saw the realization of that last year, when they began their undefeated run, but even if that is an indication of what this team can be, we are looking at a side that should be a juggernaut.
Injuries can always derail any team's charge, but as we look into the season, that seems to be the only thing that has a chance to prevent this year's version of the Buccaneers being a significantly stronger force than the version from a year ago. And that version was good enough to win a championship.