• QBs Baker Mayfield and Kenny Pickett put forth solid preseason debuts in their quests to become QB1 for their respective teams.
• In a cloudy backfield, rookie Dameon Pierce emerged following a promising preseason Week 1 showing.
• Antonio Gibson's preseason fumble opened up an opportunity for rookie Brian Robinson Jr. to see backfield work, lowering the former's stock.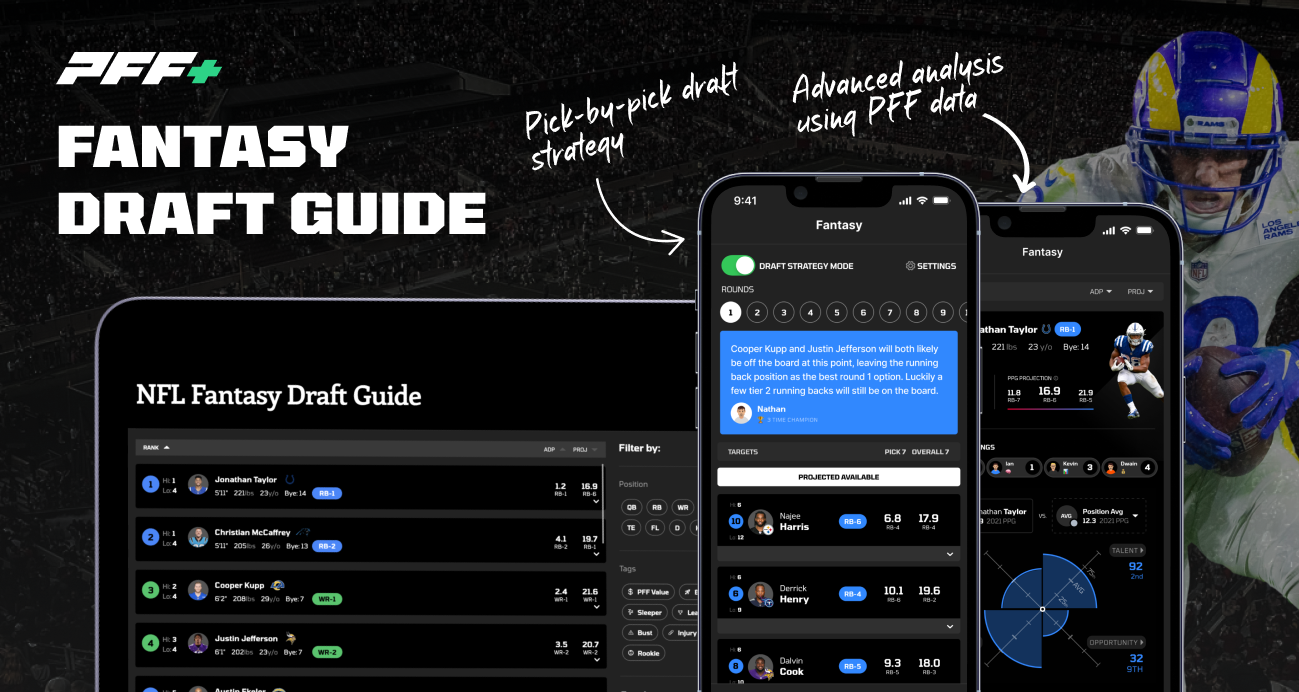 ---
Week 1 of the NFL preseason is done, and with it, the first new football played in months.
It's just one small piece of the puzzle, but we now have a chance to evaluate whose stock went up and down in that first glimpse of action.
Stock Up
PFF passing grade: 84.6 (6th)
Mayfield and Sam Darnold are still in the midst of a competition for the starting job, but Mayfield was given the first crack with the starters in the preseason and looked good in his limited action. He completed only four of seven attempts for 45 yards but had a big-time throw and was able to extend the drive on third down a couple of times. Everything we know about the respective careers of Mayfield and Darnold says this competition should only have one winner, and Mayfield took another step in that direction against Washington.
PFF overall grade: 74.0 (2nd among rookies)
Pickett put up some impressive box score numbers (13-of-15 for 95 yards and two touchdowns, 132.6 passer rating), but most impressive was how he executed a game plan that leaned heavily on quick passing. This was his biggest question mark heading into his rookie season, as he had an average time to throw of 3.2 seconds last season in college, a mark that would be the slowest in the NFL more often than not over a full season. Pickett's average depth of target against Seattle was 5.5 yards downfield, and if we remove a scramble that skewed his time, his passes came out in just 2.32 seconds on average.
PFF overall grade: 91.2 (5th)
Pickens was as advertised in his preseason debut. He caught three of five targets for 43 yards and a score, generating 3.07 yards per route run. Two of his targets were contested, and he came up with both of them. Plus, his touchdown showed excellent body control in tight spaces. Pickens also registered one of his trademark pancake blocks on a cornerback on a run play — something that was a feature of his college tape. The Steelers may have found a star receiver after 10 other rookie receivers had been drafted.
PFF overall grade: 66.0 (83rd)
A dropped pass dragged his PFF grade down, but Doubs continued the training camp hype into the preseason for the Packers, scoring a touchdown and catching three passes for 45 yards. The 49ers left him in man coverage with no help, and that was just too easy for Doubs and the Packers' offense on his touchdown catch. Doubs was a fourth-round draft pick but has a real opportunity to enter the regular season as a significant feature of Green Bay's offense.
PFF overall grade: 81.3 (14th)
Jones was a dominant run defender in college (PFF run-defense grades of at least 86.8 in two of the last three seasons) but doesn't have quite the same freakish athletic profile as Jordan Davis (who does?), so he slipped to the third round. Baltimore has a good track record with big-bodied, throwback-type defensive linemen, and Jones looked like he can make an immediate impact for them. He had two pressures, including a sack, and two defensive stops, and he looked much more agile and capable of sideline-to-sideline range than most gave him credit for at draft time.
PFF rushing grade: 90.0 (1st)
Houston's backfield was always set up for somebody to emerge and claim the lion's share of the work, and the rookie Pierce may have done that with a strong training camp and preseason debut. Pierce handled five carries for 49 yards (9.8 per carry), generating 42 of those yards after contact and breaking multiple tackles. The fact that he was withdrawn from the action so early might be the best indicator of how large a role he will have with the starting offense this year.
---
Stock Down
PFF passing grade (39.0)
The story coming out of the Jets' first 2022 preseason contest was Wilson's knee injury, and as unfortunate as that was, it hid the fact that on five pass attempts he had already pitched the ball to the defense once and wasn't looking any more comfortable than he did during his rookie season. Wilson will now miss valuable time recovering from his injury (that, fortunately, wasn't far worse), and will be entering his second season under significant pressure given the improved environment around him and coming off an injury.
PFF rushing grade (32.5)
Gibson fumbled the ball six times last season, negating a lot of positive plays, and he put it on the ground again in his preseason debut after just four carries. Gibson was carrying the ball a little too loose and away from his body as he went to ground, allowing it to be punched out. That opened up an opportunity for rookie Brian Robinson Jr., who looked solid and will likely now push Gibson for playing time even more than was the case. Gibson is a talented back, but coaches hate fumbles. His issues with protecting the football could see him lose opportunities, especially now the team has a viable alternative.
PFF overall grade: 28.7
There are few faster players in the NFL than Schwartz, whose speed was electric in the SEC and continues to be rare even in the NFL. The problem is, that speed isn't paired with much in the way of receiving ability. Schwartz isn't a polished route-runner, doesn't have great size (6-foot and 179 pounds) and has questionable hands. He was targeted three times in the preseason debut and dropped two of those passes, catching none. The Browns added Amari Cooper to their receiving corps this offseason but would love a player like Schwartz to develop and become a real weapon. Still, this game was a step in the wrong direction.
PFF overall grade: 52.1
The rookie third-rounder has a rare opportunity for immediate playing time, given Michael Gallup is still working his way back from injury, but he did little to seize that opportunity in his preseason debut. Tolbert played 40 snaps against Denver and was targeted six times, but he caught just two of those passes for 10 yards, with a drop amongst the incompletions. Tolbert primarily lined up in the slot, and while multiple incompletions were simply terrible passes from the Cowboys' quarterbacks, he wasn't generating a lot of separation on his routes during the game. 
PFF pass-blocking grade: 37.4
Neal wasn't disastrous in his debut — particularly on a small sample size of just 18 snaps — but he was given trouble as both a pass protector and run blocker by Patriots defensive players. Anfernee Jennings was able to easily shed his block multiple times and throw him off balance, while Josh Uche beat him for speed around the edge on one occasion. Neal has immense size and athletic potential but may have a ways to go in order to combine that with enough experience and technique to become an outstanding tackle from the outset.