• Vegas loves the 49ers: And an analytics executive called San Francisco "maybe the most talented team in the league."
• Christian Watson is a touchdown machine: The Packers rookie receiver ranks first among NFL wideouts in touchdowns over the past three weeks.
• The Cardinals' broken offense: Only one of Arizona's offensive players has played all 12 games this season.
Estimated Reading Time: 7 mins
---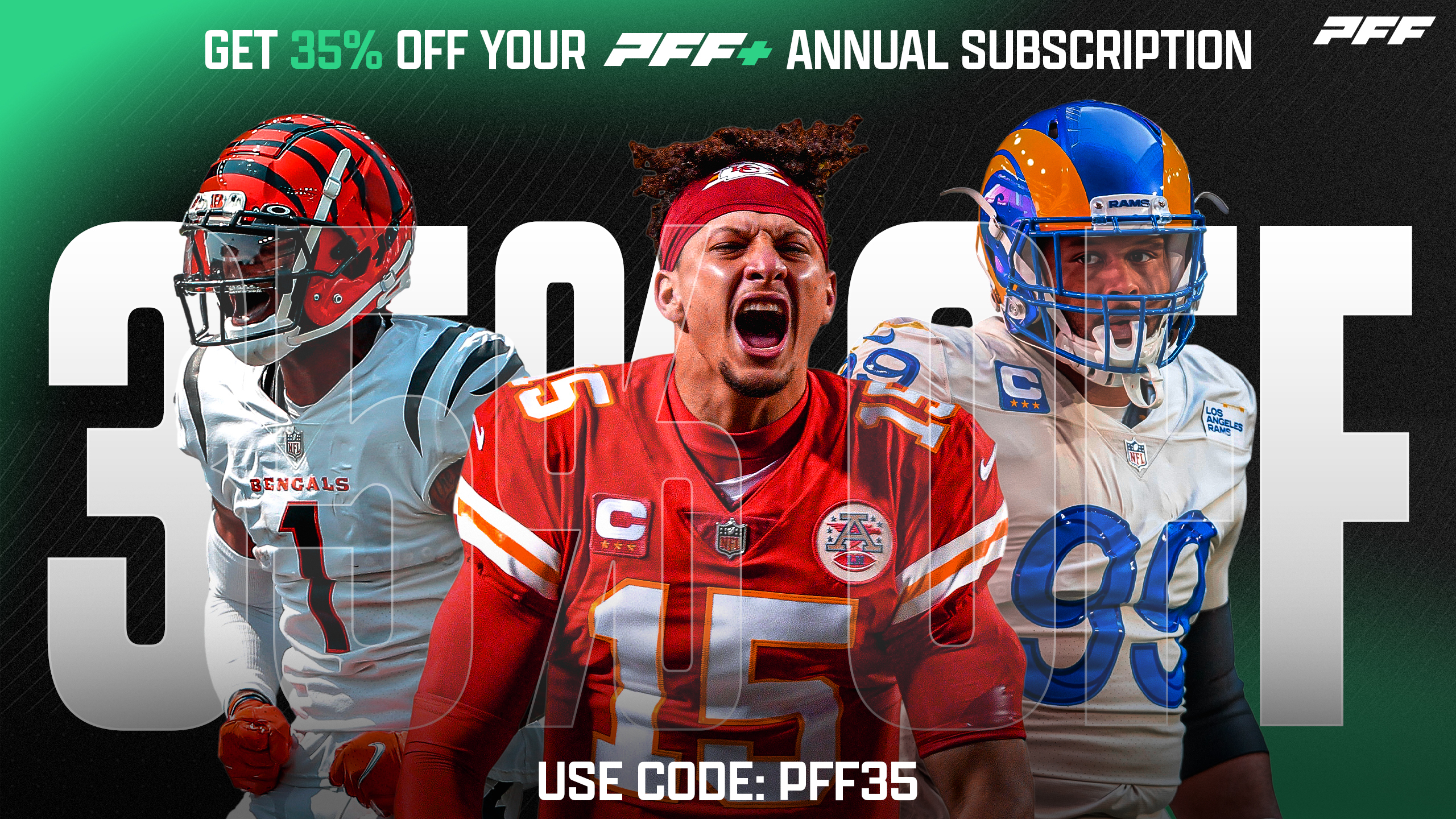 NFC analytics executive: Buy
In the midst of a four-game winning streak, the San Francisco 49ers are now 7-4 on the season after starting out a disappointing 3-4. But they have just two wins over teams with winning records (the 6-5 Los Angeles Chargers and 6-5 Seattle Seahawks) and posted losses against the lowly Chicago Bears, Denver Broncos and Atlanta Falcons. Their fourth loss came in a Week 7 drubbing to the Kansas City Chiefs.
So, are the 49ers for real? Or are they just a product of, to date, the NFL's least difficult schedule?
"Yeah they're real," an NFC analytics executive said. "Maybe the most talented team in the league."
The 49ers rank third in Inpredictable's betting market rankings, which is sorted by "generic points favored" or "what you would expect the team to be favored by against a league-average opponent on a neutral field" behind the Buffalo Bills and Chiefs. And they're sixth in PFF's point spread rating behind the Chiefs, Bills, Dallas Cowboys, Baltimore Ravens and Philadelphia Eagles.
Betting markets love the 49ers. At +600, they have the third-best odds of winning the Super Bowl this season behind the Chiefs and Bills, and they're +230 to win the NFC over the Eagles at +260. BetMGM has the 49ers' win total set at 11.5 after they entered the year at 10.5. PFF's projections have the 49ers finishing with an average of 10.8 wins.
They're also one of the league's most complete teams.
Over the course of the season, the 49ers rank sixth in expected points added (EPA) per play and fourth in EPA per play against. They're one of four teams with a top-10 offense and defense, joining the Eagles, Cincinnati Bengals and Cowboys. Since the start of their winning streak in Week 8, the 49ers rank third in EPA per play and fourth in EPA per play against. Including the 44-23 Week 7 loss to the Chiefs, they're still fifth in EPA per play and 14th in EPA per play against since Week 7.
San Francisco faces its most difficult test in weeks this coming Sunday against a familiar Miami Dolphins team coached by former 49ers offensive coordinator Mike McDaniel. They have three other borderline playoff teams left on their 2022 slate in the Tampa Bay Buccaneers, Seahawks and Washington Commanders, but they only have the 20th-most difficult remaining schedule, as they finish against the Las Vegas Raiders and Arizona Cardinals.
The biggest strength of Kyle Shanahan's offense is the passing attack despite starting quarterback Jimmy Garoppolo's limitations. Garoppolo currently ranks 17th out of 38 qualified quarterbacks with a 70.5 PFF grade. He's starting only because San Francisco lost second-year pro Trey Lance to an ankle injury in Week 2 after going 1-1 as a starter. Still, San Francisco ranks fifth in EPA per passing play this season thanks to an offensive line that slots in at seventh in PFF's most recent offensive line rankings and one of the NFL's most complete set of skill players. San Francisco ranks just 17th in EPA per run play, though they're 12th since acquiring Christian McCaffrey in a trade with the Carolina Panthers. Since that time, however, second-year pro Elijah Mitchell has actually been San Francisco's higher-graded rusher, though McCaffrey has been effective in the passing game.
The 49ers are much more balanced on defense, ranking seventh in EPA per pass play against and fifth in EPA per run play against. They're fifth in pressure rate and seventh in pressure rate when not blitzing. So, they can generate pressure when sending four or fewer pass-rushers thanks in large part to Nick Bosa, who ranks fourth among qualified NFL defenders with a 25.4% pass-rush win rate when his team isn't blitzing. Charles Omenihu also ranks in the top 20, and Samson Ebukam is 44th.
---
NFC analytics executive: Buy
The Green Bay Packers made things competitive against the Philadelphia Eagles on Sunday night even after Jordan Love replaced an injured Aaron Rodgers at quarterback. Love's biggest play was unsurprisingly — if you've watched the past three weeks of the NFL season — to rookie wide receiver Christian Watson. In that span, Watson ranks first with six receiving touchdowns, first with an 18.6-yard average depth of target, third with 22.1 yards per catch, third with 3.44 yards per route run, sixth with 265 receiving yards, sixth with four contested catches and second with four drops.
Watson dealt with hamstring injuries and a concussion this season, so there's a reason why he got more involved so late, but there were six games earlier this year when he barely produced before his recent breakout. With just 6% odds of making the postseason at this point, the 4-8 Packers would have benefited from getting this production earlier, but drops were a major issue for the rookie.
The real question is whether this is sustainable from Watson.
"Watson's got a lot of unique physical tools, and he's made some pretty explosive plays as a result so far," a second NFC analytics executive said. "It hasn't been very high volume, so curious to see if he can keep up the high number of TDs."
Watson, 23, was selected 34th overall out of North Dakota State and was believed to be a raw prospect due in large part to the fact that the Bison ran the ball nearly twice as much as they passed in 2021. He has an elite size-speed profile for his position at 6-foot-4, 208 pounds with a 4.36-second 40-yard dash, 38.5-inch vertical leap, 11-foot, 4-inch broad jump, 4.19-second short shuttle and 6.96-second three-cone drill, however, and that's showing up with his big plays.
Watson is still dropping passes, but he's making up for it with touchdowns, contested catches and explosive plays. This has been a lost season for Green Bay, but perhaps the upside that Watson and fellow rookie wideout Romeo Doubs have shown could convince Rodgers not to retire. If not, then Love actually showed some potential late in the Week 12 loss to Philly.
---
AFC Scout: Sell
The Arizona Cardinals are among the NFL's most disappointing teams this season. They came in with a win total of 8.5 and have started the year 4-8. Head coach Kliff Kingsbury is still employed for now, and one AFC scout expects him to keep his job at least in the near future.
"I don't see (team owner Michael) Bidwill making an in-season change," he said. "But something's gotta give there."
Quarterback Kyler Murray was asked about a second-quarter interception that occurred on a fourth-and-1 passing attempt to wide receiver DeAndre Hopkins after the game.
"That wasn't for (Hopkins) actually," Murray said. "Schematically, we were kind of f–ked."
The Chargers read the play well and took out who appeared to be Murray's intended target on the RPO, tight end Trey McBride.
Kingsbury initially was hired by the Cardinals (after being fired as Texas Tech's head coach and accepting a job as USC's offensive coordinator) for his play-calling acumen. The Cardinals rank 19th in EPA per play, 21st in EPA per passing play and 14th in EPA per run play this season, however. And Kingsbury appears to be a major source of those woes.
"The play calling is kind of scattershot, and the QB doesn't have patience," the AFC pro scout said. "That combination is just not working. Their O-line injuries are only making it worse."
It's been a tumultuous season for Arizona. Murray missed two games with injuries, Hopkins missed six games due to a suspension, wide receiver Marquise Brown missed five games due to injury … and you get the point. Only one (!) Cardinals offensive player has played in all 12 games this season: right tackle Kelvin Beachum. Among the Cardinals' five Week 1 starting offensive linemen, four are currently on injured reserve. And Justin Pugh, who replaced Sean Harlow in Week 2, is also on injured reserve. On top of all of that, tight end Zach Ertz is out for the season, so things likely won't be getting any better in Arizona.
The Cardinals signed Murray to a five-year, $230.5 million extension with $160 million guaranteed this offseason, so despite the fact that he's PFF's 23rd-highest-graded quarterback this season, he's not going anywhere. It seems much more likely that Arizona will go through a change at head coach or with general manager Steve Keim at some point before the 2023 season.