The output on the stat sheet that every quarterback covets is completions. It's how we judge quarterbacks. Each passer in the NFL brings a unique skill set used to complete passes. There are so many different inputs and variables that lead to finding consistent completions, and changing a few inputs can go a long way to creating a better output on the stat sheet. The 2019 rookie class of quarterbacks had some trouble in this facet, so we'll look at one variable that they each could change, even before throwing the football, that could lead to more completions.
The first order of business that Daniel Jones needed to address this season was to convince Saquon Barkley to work on his pass blocking. The elusive running back ranked 40th out of 48 running backs with over 10 pass-blocking snaps in our pass-block efficiency metric.
Meanwhile, Jones has issues with his pocket presence. He presents himself to anyone who is willing to come into the pocket, with the Duke alum finishing third-to-last in the NFL last in sack rate among the quarterbacks who will start in 2020. The Giants' pass blocking as a whole wasn't that horrendous, either. The team finished with a cumulative pass-block efficiency rating of 82.4, which was good enough for 19th in the league.
Jones' problem is that he really just stands there in the face of pressure. It's odd, to say the least. You do appreciate the quarterbacks who are willing to stand around in the pocket to take a hit. However, Jones seems to sometimes forget that there are people who get paid a lot of money to squeeze him and throw him to the ground.
He needs to gain a better understanding of the pass-rush clock that starts to tick the second he calls for the ball from center. With that said, Jones performed admirably in 2019. His 65.6 passing grade was better than Eli Manning and better than some veteran quarterbacks, as well. The grade suffers so much because of the 38 sacks, a lot of which were credited to him, and the whopping 18 fumbles.
Murray flashes some incredible high-end talent on a week-to-week basis, while the team around him had major issues. He produced a 61.1 passing grade in 2019, but with some roster improvements inbound, Murray and the Cardinals could be in for a big season. Arizona had no one on offense who could consistently beat man coverage — hello, DeAndre Hopkins — and a porous offensive line forced Murray to make even more plays out of structure than the team would have hoped. He's a tremendous athlete, but he has to learn how to use his running skills moving forward and not backward.
Murray would too often try to escape the pocket by bubbling out of the backdoor rather than looking for the open front door. NFL athletes on defense had an easier time chasing him down when he ran backward. Moving up the pocket and then out gave him a full view of his receivers and kept most of his five targets available to him on the play, helping him find some success.
Lock seems to have really evolved as a passer since he burst onto the scene in 2017 at Missouri. That breakout season as a Tiger was more due to the scheme employed by offensive coordinator Josh Heupel than anything else. Lock hit the one-read vertical option routes time after time, but when he was forced to read a defense, the results were not optimal. Fast forward two seasons — after one year spent under Derek Dooley, who had just come back from coaching in the NFL, and half a season spent learning on the bench under Joe Flacco, Lock looks like a changed person.
His four-game starter sample pack gave us 169 throws, but there's a feeling when watching him that he did "get it." His reads, for the most part, made sense and he didn't put the ball in harm's way that often. The problem is that his accuracy is just not close to where it should be. Here are his accuracy rankings from our 2020 QB Annual.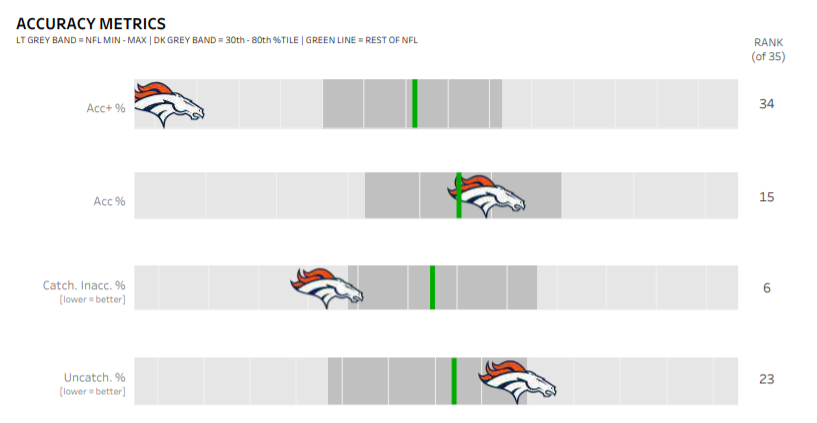 One of Lock's specific weaknesses is how often he throws way behind his receivers. The quick fix is to over-exaggerate the placement of his back foot when he throws. If he's throwing behind too much, he needs to aim and set his feet further down the path of where the receiver is going. Quarterbacks start the aiming process by setting the back foot — in Lock's case, his right foot — and then the process of the throw can start. Just a half-inch difference can cause dramatic improvement in throw accuracy.
Minshew threw a lot of checkdowns last season, with 8.5% of his dropbacks ended with him throwing a check-down target. That was behind only Derek Carr and Mason Rudolph last season. However, Minshew actually threw the ball effectively down the field, as he ranked third in the league with a 94.7 passing grade when throwing beyond 20 yards. The plays are there to be made down the field, even with his lack of arm strength.
If Minshew can be a little less panicky in the pocket, he can stay on schedule and hit more plays down the field and especially in the intermediate area of the field. Checkdowns are fine if you've exhausted all your available options —but not if you're throwing them only because your quarterback process is not up to snuff. The former Washington State Cougar threw the second-most checkdowns from a clean pocket in 2019.
Haskins played well in spots last season, and there is reason for optimism if you're a fan of Washington. He has a fine feel of how to avoid pressure, although he might be inviting it a bit too often. Unfortunately, like Lock, Haskins' accuracy is all over the place. Haskins misses in front of his receivers too often, with most of those inaccurate throws coming on attempts to his left.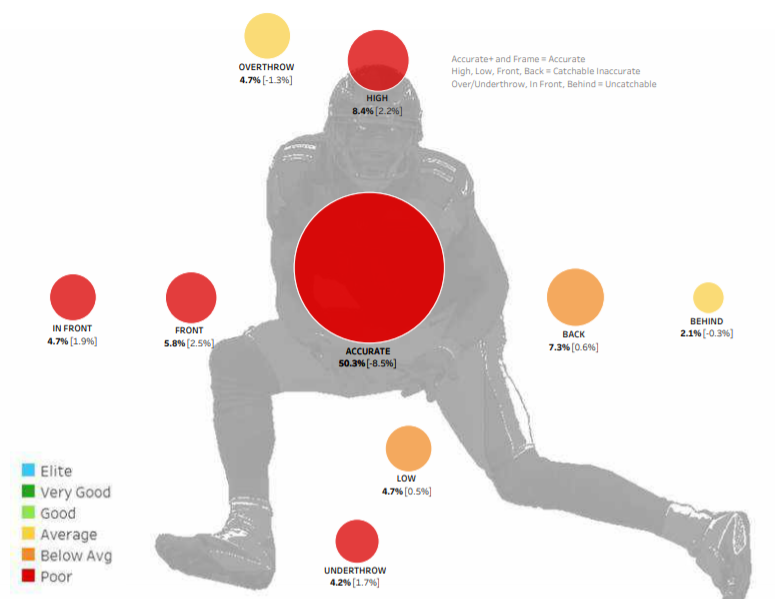 It's reminiscent of Mitchell Trubisky, who will often step too wide with his front foot, and the angle that he's set with his backfoot is then overridden by how open his body is. Haskins is probably OK in that regard, but he could do a better job keeping his spine erect throughout the throw. Once you start curving it to one side or another, you are going to have problems. The best quarterbacks keep their spine straight, and then the rotation of their body happens around it.