In many ways, the NFL has become a copycat league, but innovation is still the fastest pathway to success. Find something different — something that teams haven't seen or prepared for before — and take advantage of it. Not all ideas work out, but it's hard to find success as a copycat, as my colleague Eric Eager wrote earlier this week. For good or bad, here are four situations where teams did things differently than the rest of the NFL schematically in 2019.
[Editor's note: Subscribe to PFF ELITE today to gain access to PFF's Premium Stats and new Player Grades experience in addition to the 2020 NFL Draft Guide, 2020 Fantasy Rookie Scouting Report, PFF Greenline, all of PFF's premium article content and more.]
There are outliers, and there is the Ravens' usage of the pistol formation. During the 2019 regular season, Baltimore ran 569 offensive plays out of pistol. The next closest offense was the Arizona Cardinals at 62. That is more than 500 plays ahead of second place — a number so large that the NFL average sits between the fifth- and sixth-place teams in pistol usage.
It doesn't take a detective to find out that Lamar Jackson is the root cause of the one-of-a-kind scheme. Louisville ranked third in the FBS in plays out of pistol across the 2016 and 2017 seasons. It's what Jackson is comfortable with and where he excelled before coming to the NFL. Rather than forcing him into a role that doesn't best suit his talents, the Ravens molded an offense around him.
| | |
| --- | --- |
| Team | % of read-option rushes from shotgun |
| Baltimore Ravens | 28% |
| Rest of NFL | 93% |
Whereas the rest of the NFL is running nearly all of their read-option out of shotgun, the Ravens are doing so primarily out of pistol, giving the running back time to build up speed heading into the line of scrimmage. With the kind of outside threat Jackson poses on the keep, it makes sense that Baltimore would want its running backs getting downhill quickly to capitalize on any hesitance from defenders with an eye on the reigning MVP. That strategy worked. Baltimore averaged 6.9 yards per play on 170 read-option runs out of pistol in 2019.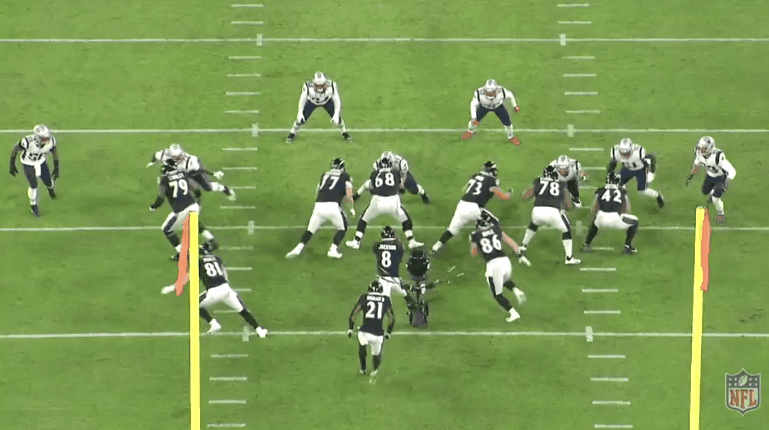 It's not complicated football for the running backs — they simply hit the hole. That's part of what makes the Ravens' running game so effective.
Formations with one running back and no tight end aren't all that common in the NFL. The league average for 10 personnel during the 2019 regular season was just 2.7% of all offensive plays, and that was heavily influenced by the team at the top — the only team above 10% on the season. The Cardinals played out of 10 personnel on 32.1% of their offensive snaps in 2019.
First-year head coach Kliff Kingsbury's offense did see significant improvements over Arizona's 2018 results. They went from ranking dead last in expected points added per play in 2018 to 13th this past season, a promising start under rookie Kyler Murray, but they actually saw a dip in EPA per play when going to 10 personnel. They also ran 10 personnel significantly less over the second half of the season. Arizona cut its usage nearly in half from Weeks 9 to 17, dropping to 21.3% (still first in the NFL) from 42.3% in Weeks 1 to 8. It will be interesting to see how Kingsbury's offense continues to evolve in Murray's second season with DeAndre Hopkins now in the fold.
A cool, unique offense and defense? Simply put, the Ravens are doing things differently than the rest of the NFL. And in conjunction with fitting those different schematic elements to the strengths of their players, that's a big reason for their success.
The Ravens didn't have a dominant pass rusher on their roster last season. Matthew Judon was the clear-cut leader, but as we've documented this offseason, over 50% of his pressures came largely thanks to the Ravens' scheme on cleanup and unblocked plays. That lack of high-end pass-rushing talent didn't stop Baltimore from putting pressure on opposing quarterbacks, though. They just did so by bringing extra rushers.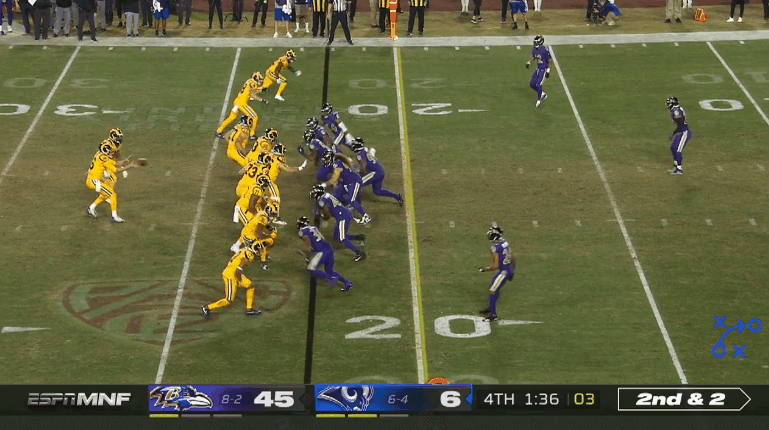 Baltimore blitzed on more than 55% of its pass-rushing snaps in 2019, over 12 percentage points higher than the second-place Tampa Bay Buccaneers. Often times, you put a lot of pressure on your secondary when you blitz that much, but the Ravens have the secondary to hold up in those situations with players such as Marcus Peters, Marlon Humphrey and Earl Thomas on the back end. Despite the frequency with which they blitzed, no team allowed a lower success rate (percentage of plays with positive EPA) than the Ravens at 37%. If you find something that works that well, there is no reason not to do it often.
Traditional base defense puts just four defensive backs on the field. As the NFL continues to put more wide receivers and receiving threats at tight end who can split out to the slot on the field, calling it base is disingenuous at this point. Defenses are in nickel or dime often, putting five to six defensive backs on the field to match the bevy of offensive weapons that opposing offenses are throwing their way. In fact, only one team ran "base" on more than 50% of their defensive snaps in 2019 — the Seahawks.
Not only did they cross the 50% threshold, but they ran it on nearly 69% of their defensive snaps in 2019. For comparison, the next closest team was the Arizona Cardinals at just over 38%, and the NFL average sat at 27%. In a league where teams are moving more and more toward versatile defensive backs who can play multiple roles, Seattle is standing pat with its three off-ball linebackers. It's hard to see that changing after taking Jordyn Brooks in the first round of the 2020 NFL Draft.
A lack of a true slot cornerback can be pointed to as one of the contributing factors for the Seahawks ranking 24th in yards per pass play allowed last season. This is one situation where being different isn't necessarily a good thing.